Today we have a guest post by Michelle (@sew_fearlessly_michelle), who is very much hoping for a spring break getaway to escape the winter blues. Her new tapered leg Montauk Trousers are just the ticket for that balance between relaxed vacationer and not a tacky tourist. Here's Michelle.
View this post on Instagram
***

Fancy Joggers
One wonderful summer day, so very many years ago, I found myself on a train with my brand new husband. We were in northern Italy. The train was a little grubby looking, and so were we. Upon reaching the Austrian border we were required to change trains. As we settled in, we became aware that our surroundings had significantly improved. This train was clean, the upholstery unstained, our fellow passengers were tidily dressed, and spoke in polite, hushed tones. My husband also clearly noticed the change to our surroundings. He reached for his backpack and quietly mentioned to me that he was going to the washroom to put something more "fancy" on. Fancy? I didn't think there were fancy clothes in that backpack. In fact, I was certain that neither of us had packed anything remotely fancy. I had to laugh when he returned in the same casual outfit, save for a different t-shirt. "That's fancy?" I questioned? "Well, it's clean, has sleeves, and there's no writing on it." This is the moment the term "fancy t-shirt" entered our vocabulary. We would jokingly use it frequently going forward.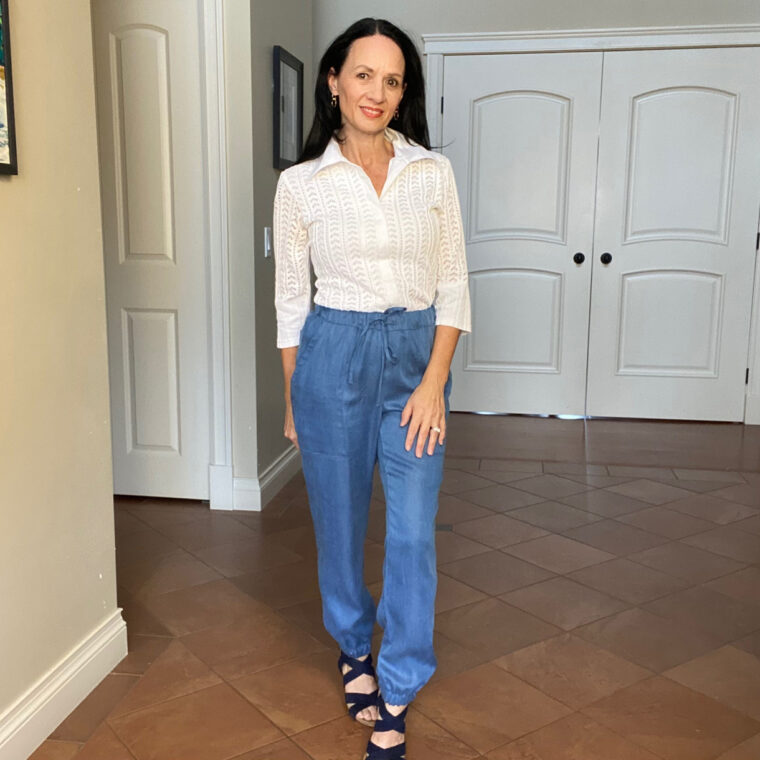 These, ladies and gents, are my fancy joggers. I have several pairs of Montauk Trousers, so I knew these would be my starting point. The fabric is a super smooth Tencel, with just a touch of sheen. As always, I skipped the paperbag waist feature – because I'm short everywhere, but especially in my torso. While I love the look of a paperbag waist it just does not help that situation. Shortening the pattern is a must for me and those adjustments were quickly made by comparing the key pattern points to my own body.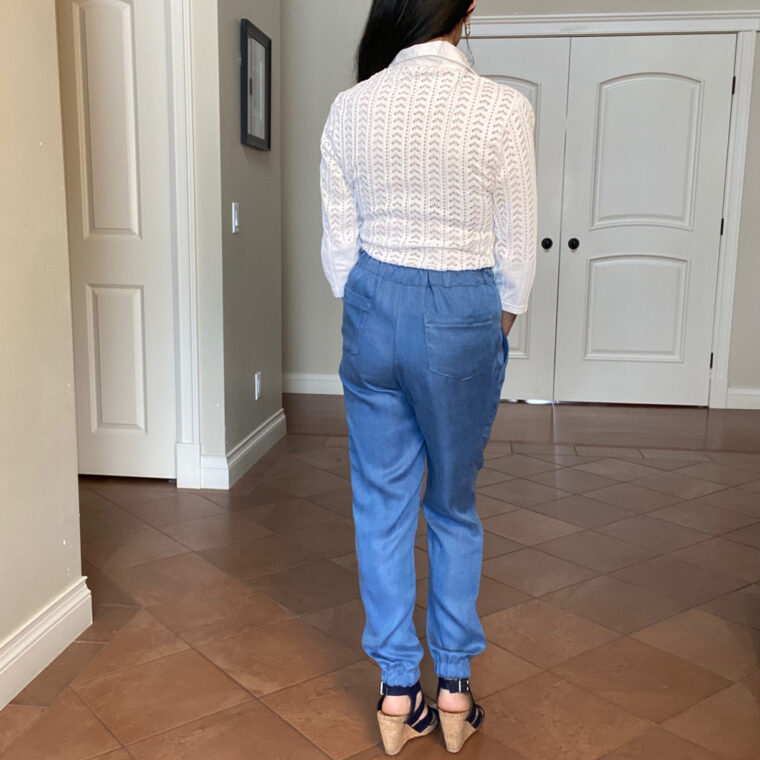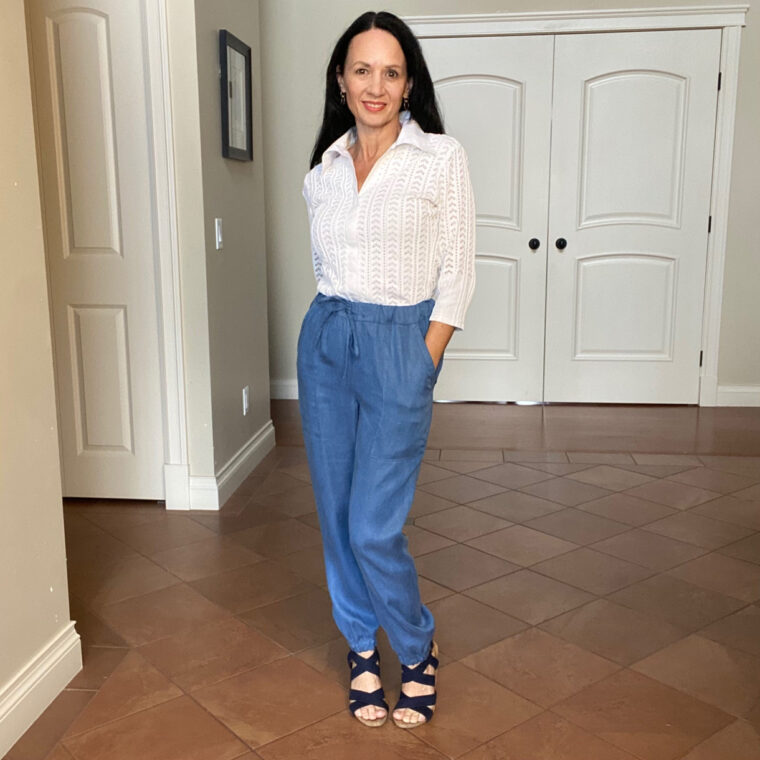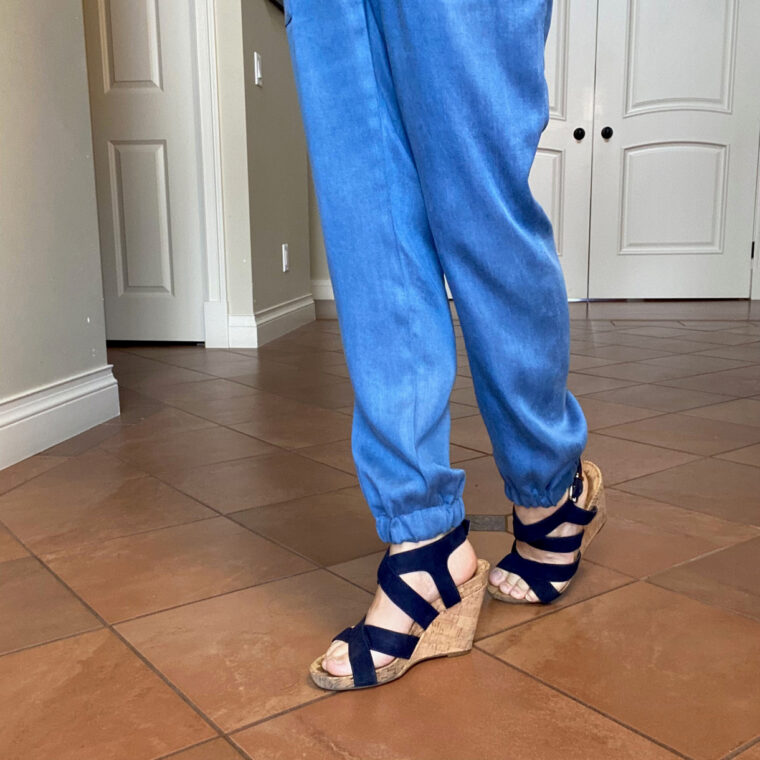 The Montauk Trousers have become a very quick make for me. As always with Liesl + Co., the instructions are very clear, so no head scratching time is required. I moved quickly between sewing machine, ironing station, serger. I appreciate that the order of construction allows for an opportunity to easily start off with long basting stitches on the inner and outer leg seams and try them on before committing. I find that just tweaking the leg width is a small change that can really change the look of the finished garment. Liesl has made a great video detailing just how to narrow or widen trouser legs. It was at this point that I decided on the jogger look, so I gradually took a bigger seam allowance beginning just below the waistband seam. At the hip I reached a full one inch seam allowance before continuing on with the one inch seam allowance down to the ankle for the slimmer leg fit of a woven jogger. A tidy double turn of the hem and insertion of 3/4" elastic et voilà . . . my fancy joggers!

***

You can pick up your own copy of our Montauk Trouser sewing pattern if you'd like to make fancy joggers for yourself!