Depending on the fabric choice, two garments sewn from the same pattern can look entirely different. We love the fabulous special occasion dress Sharon made using the Enmore pattern. She demonstrates how choosing the right fabric can take a dress from daywear to something made for a celebration.
I am happy to be back today to share my Enmore dress that I made for special occasions. I already adore this pattern. It is perfect for summertime and a great transitional piece for early autumn. I also love the built-in shelf bra; it makes it very functional for everyday use! When this pattern was released, I immediately saw this as a dress to wear for a holiday party or a date night out with my husband. I am hot-natured, and I love the style of this dress for this reason, so I knew it would be perfect for a special occasion!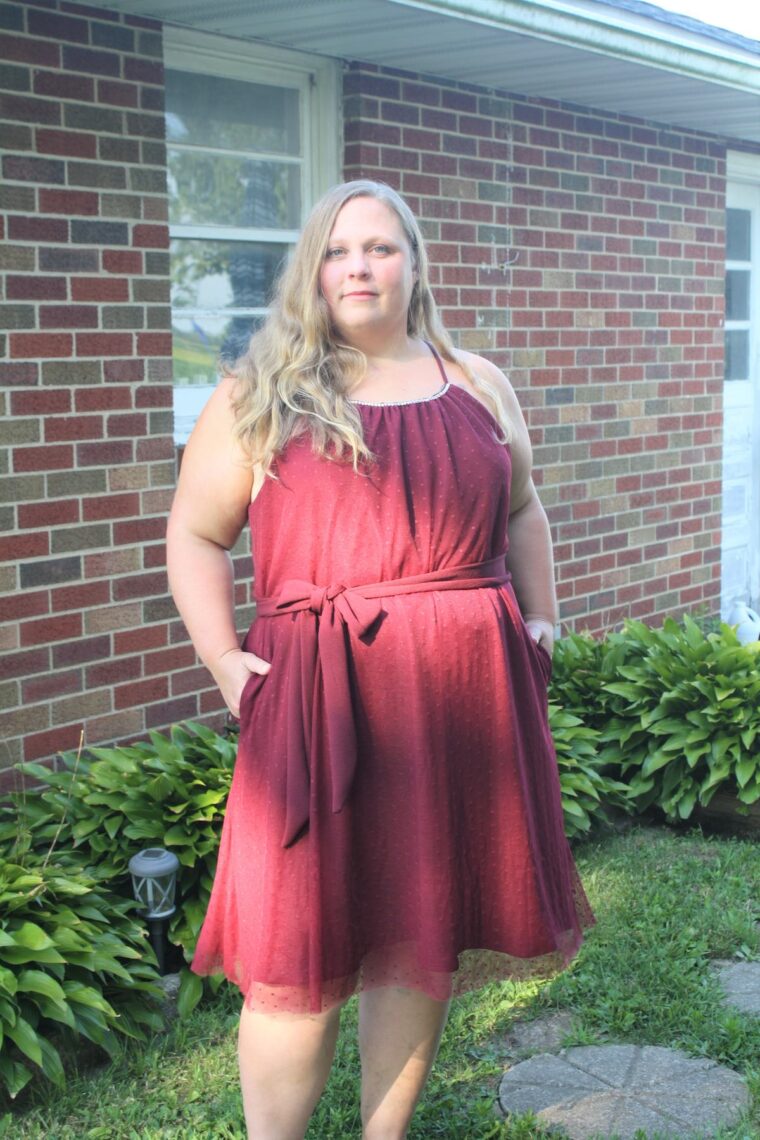 For a special occasion look, I added an overlay fabric. I used a Liverpool knit with a great texture for the main fabric. I sized down one size because the fabric had stretch in one direction. I wanted it to have a gathered look to it. I added 4″ width to the front dress panel to achieve this look. ( I did not add width to the lining bodice piece.) I added one inch to the length of the overlay fabric. To finish the look, I made a sash using the same fabric as the main portion of the dress.
For the dress's construction, I sewed the overlay and main fabric as one piece up to 1″ below the pockets. I sewed the overlay and main fabric separately on the back center seam.  I separated the overlay and main fabric for the pockets, sewing each separately so the overlay would be free-flowing on the dress. I only hemmed the main portion of the dress and left the overlay unhemmed. I used a rotary cutter and mat to ensure the overlay fabric had a clean cut.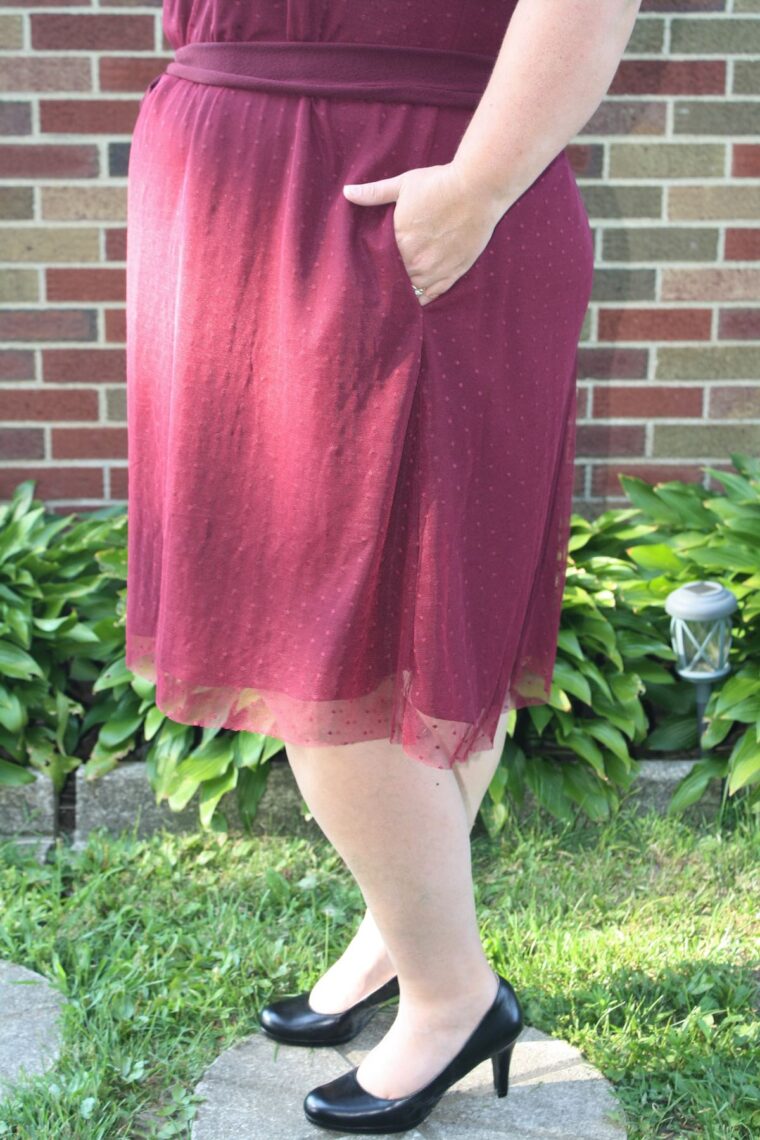 After finishing the dress, I hand-stitched a bit of "bling" to the top of the neckline.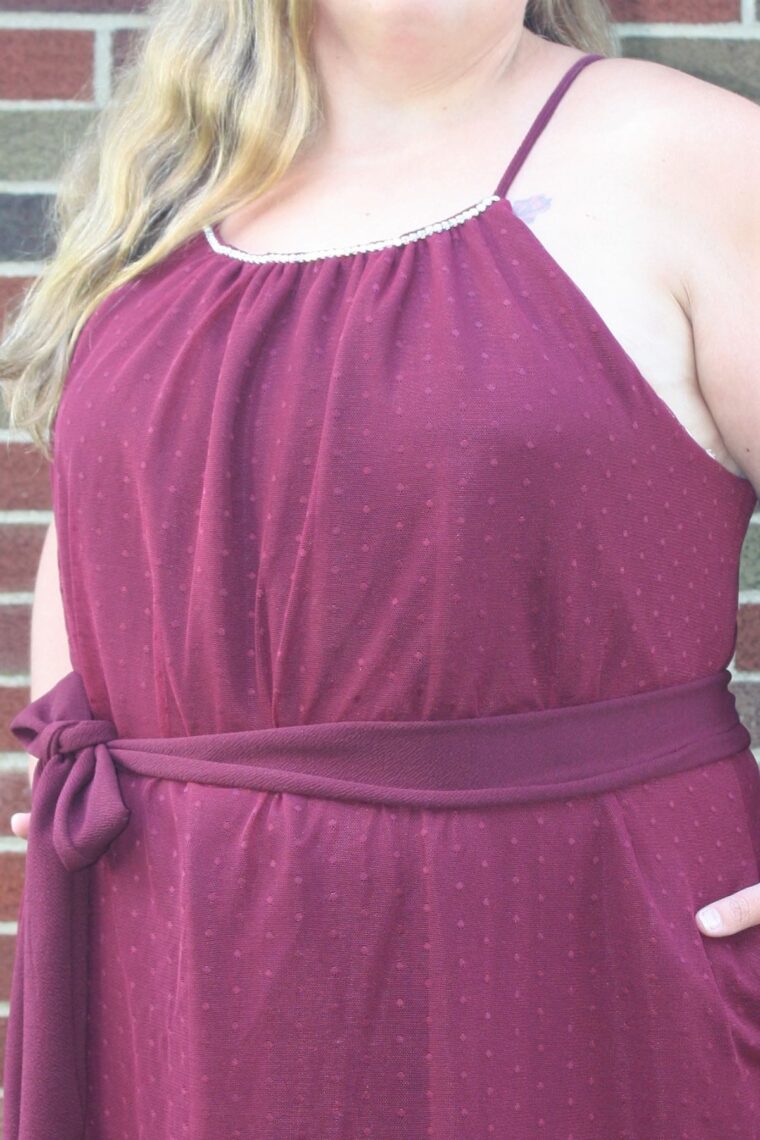 I plan to wear the Enmore as a holiday dress this winter, so I am all set for those parties! I am thinking about sewing a lovely jacket for when I am outside. I am still undecided on which pattern to use and what fabric I would like. It needs to be something dressy for sure! I am overall so impressed with the versatility of this pattern. I highly recommend it for all seasons!