Our advisor Lyndsey always has great tips to share with you. Today she's stopping by with photos of her gorgeous Camp Shirt and some valuable advice.
Hi, I'm Lyndsey, and I'm here today to share some tips on sewing with sheer fabric. The fabric I selected for my Camp Shirt was a very sheer silk batiste. Sheer fabrics can vary from very crisp (like an organdy) to very soft (like a chiffon). Batiste falls in the middle. Sewing with sheer fabrics requires additional planning before you begin your project.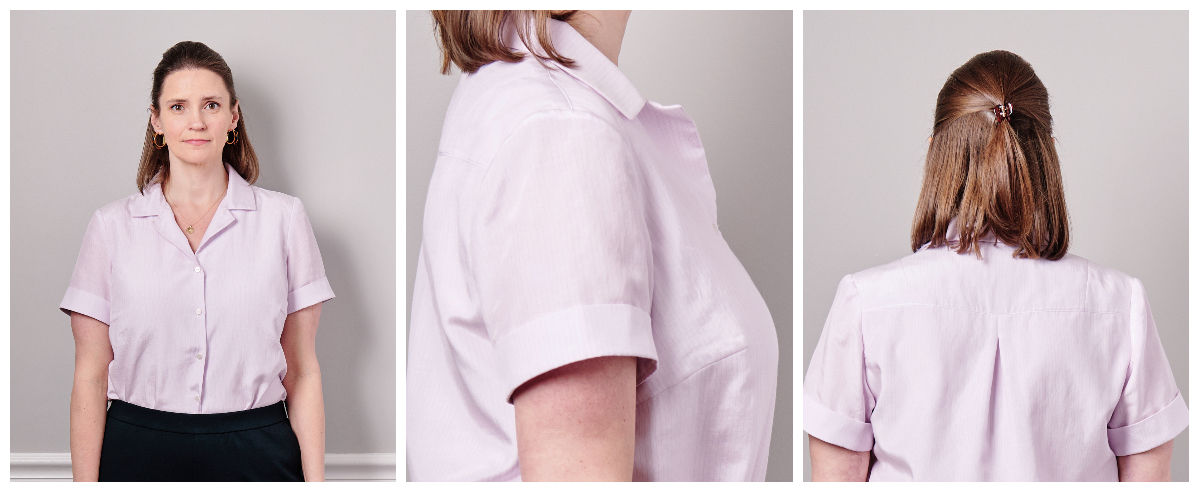 Pattern considerations for sheer fabrics
Since sheer fabric is translucent, you will be able to see the interior structure on the outside of the garment. Often very simple patterns with minimal seam lines and narrow hem finishes work well with sheers. If you decide to leave your garment sheer, the seams and internal structure can become a design detail, as layering a sheer fabric will introduce opacity.
For example, in the black blouse below, the waist seams and dart seams become horizontal design lines and the button placket becomes a strong vertical line. In Liesl's sheer linen Verdun, the outline of the neck facing became a new style line. This method works well if the garment will be layered over another piece of clothing such as a camisole.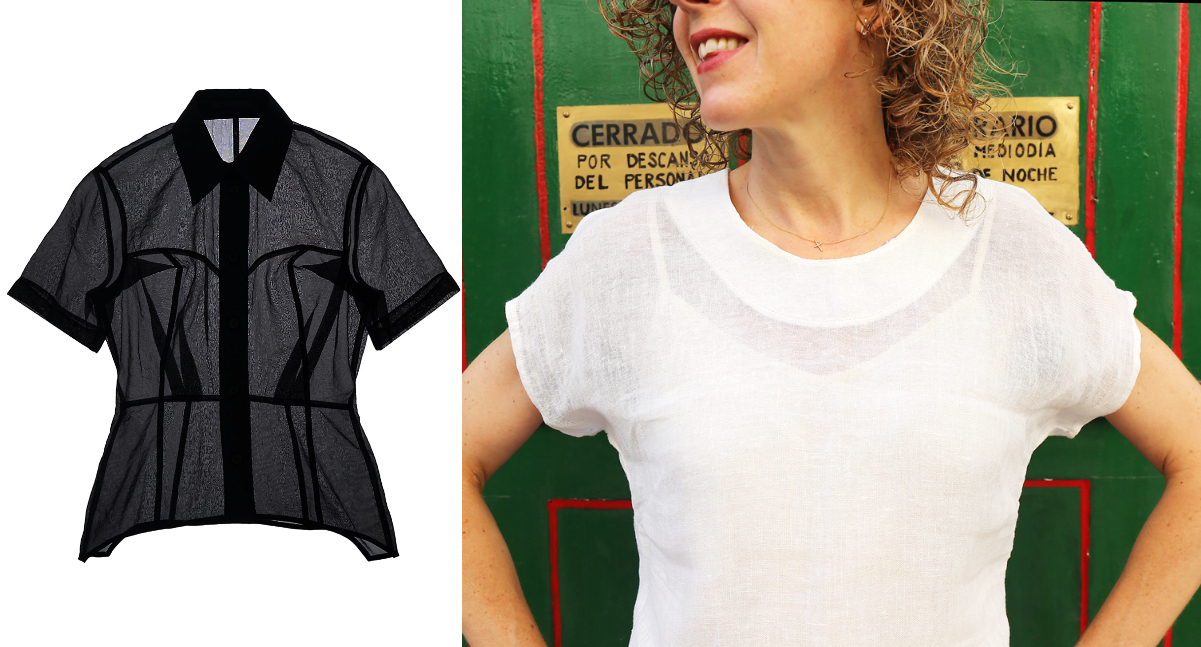 However, if you don't want to layer or want a more modest garment, you can partially line or underline your sheer fabric, only converting some pattern pieces to opaque and leaving others sheer. For example, in the tan blouse, only the shirt front and shirt back were underlined, and the yoke and sleeves were left sheer.
This adorable Fairy Tale Dress has an underlined bodice and lined skirt, leaving the sleeves sheer.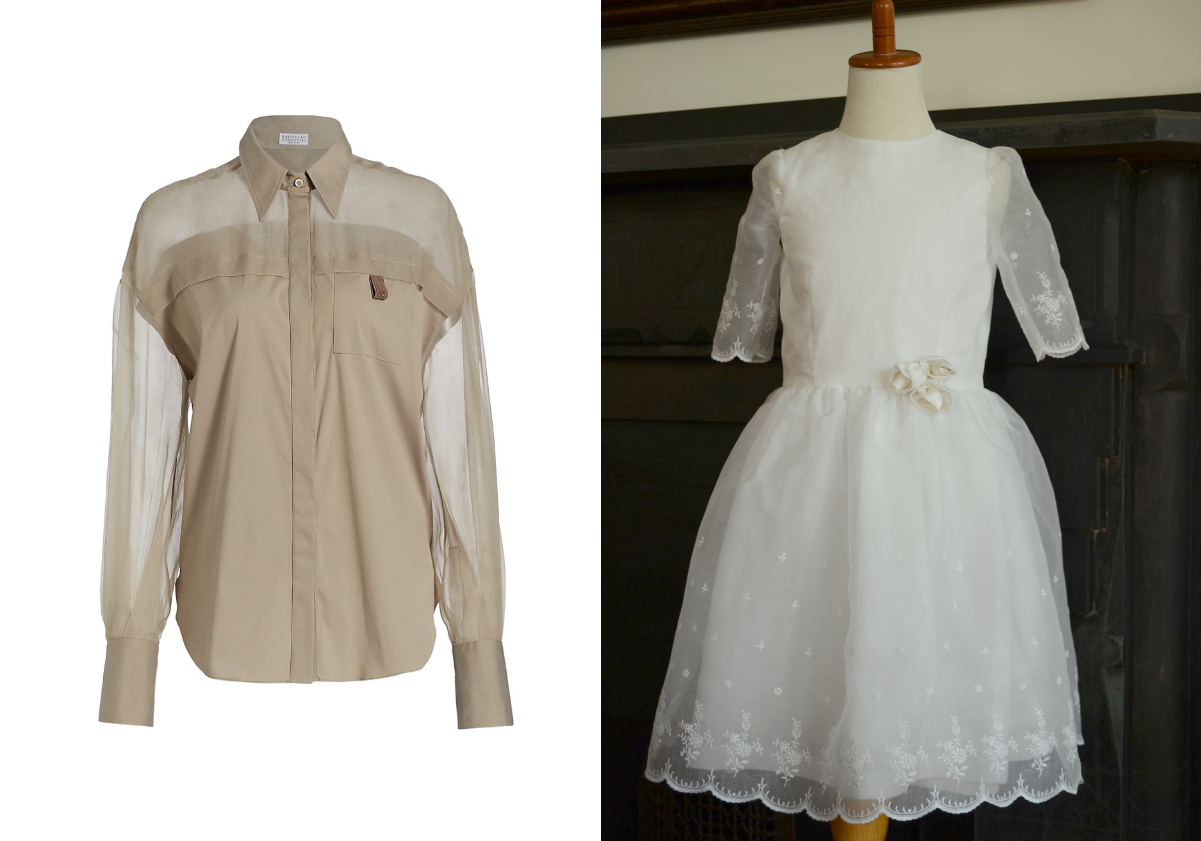 The final option is to fully line or underline your garment, altering the fabric to be completely opaque. You may choose to do this because you like the fabric but did not envision a sheer garment. That is the choice I made for my Camp Shirt. The beautiful fabric I purchased was very sheer. However, the Camp Shirt + Dress pattern has a facing, a collar, darts and a cuffed sleeve. I decided that these elements would be too distracting in the final garment. I underlined each pattern piece with a cotton batiste.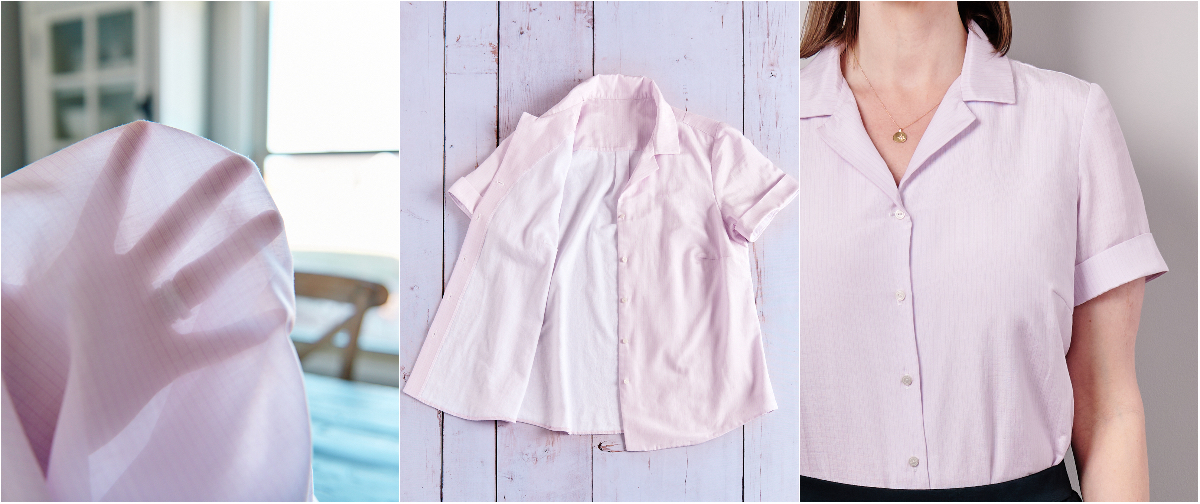 How to underline your sheer fabric
Underlining is a technique in which a second fabric is used underneath your fashion fabric in order to change the body of the fabric, add support, or to conceal inner construction details. For this project, I didn't want to change the body of my fabric, I only wanted to hide the inner construction. For the underlining fabric, I selected a lightweight cotton batiste. To make sure the batiste underlining wouldn't produce more body than I wanted, I simply layered the two fabrics on top of each other to observe the drape. The pictures below show the sheer fabric on the left and the underlined fabric on the right.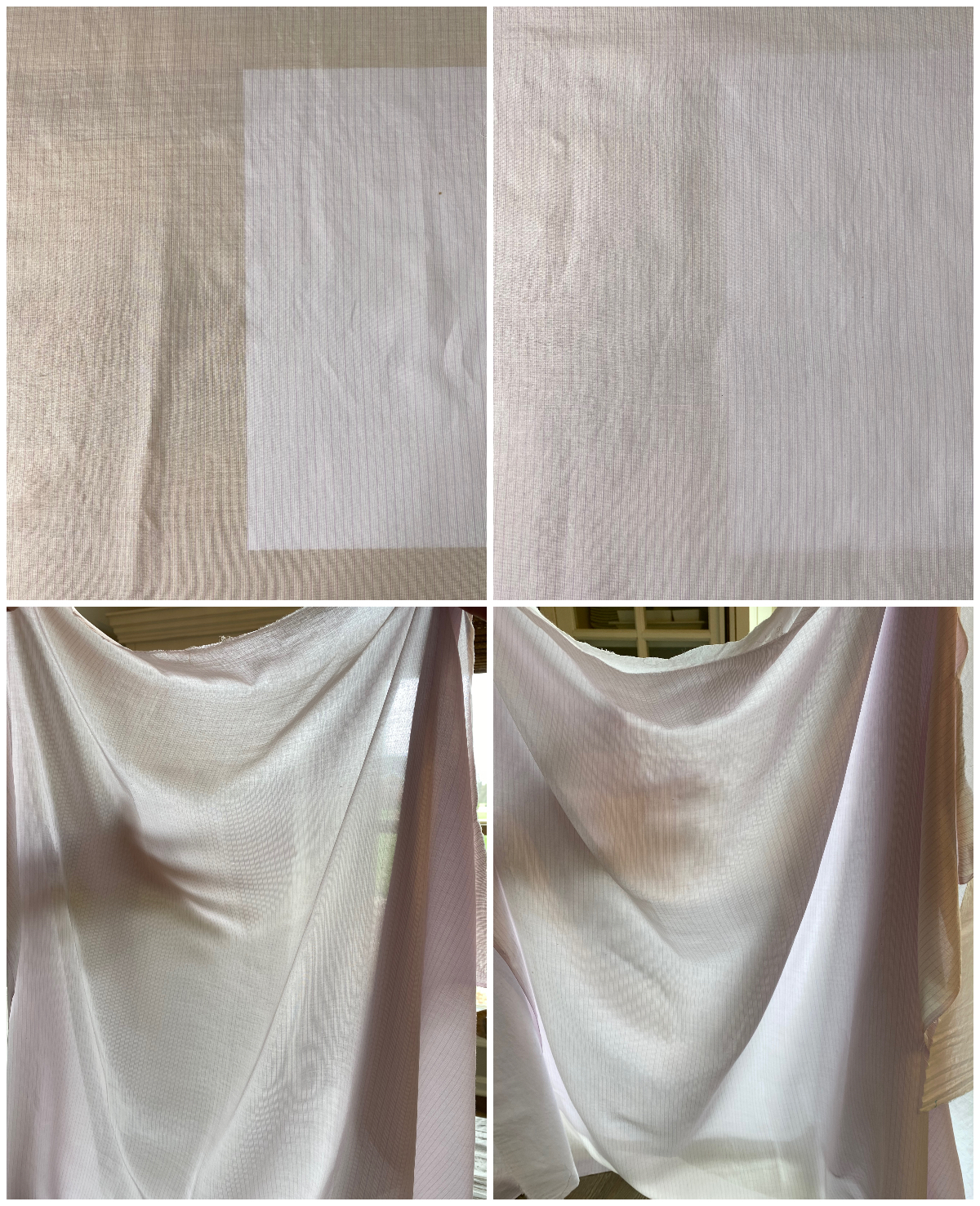 Steps for Underlining
Cut each pattern piece twice, once for the exterior fashion fabric and once for the interior underlining fabric.
Layer the cut exterior and interior pattern pieces on top of each other, wrong sides together, smoothing the fabric flat and making sure the edges align.
Work at a table so that your pieces can remain flat while you baste. Hand-baste the two pieces together using a long running stitch inside the seam allowance. Begin by taking a backstitch to secure your thread, baste to the other edge, take a second backstitch and cut the thread. Do not turn a corner with the thread as this can cause a bubble. Continue to hand-baste each cut fabric edge.
Hand-baste any dart lines, basting inside the sewing line.
After basting, the two layers of fabric will be treated as ONE piece of fabric for the rest of your project.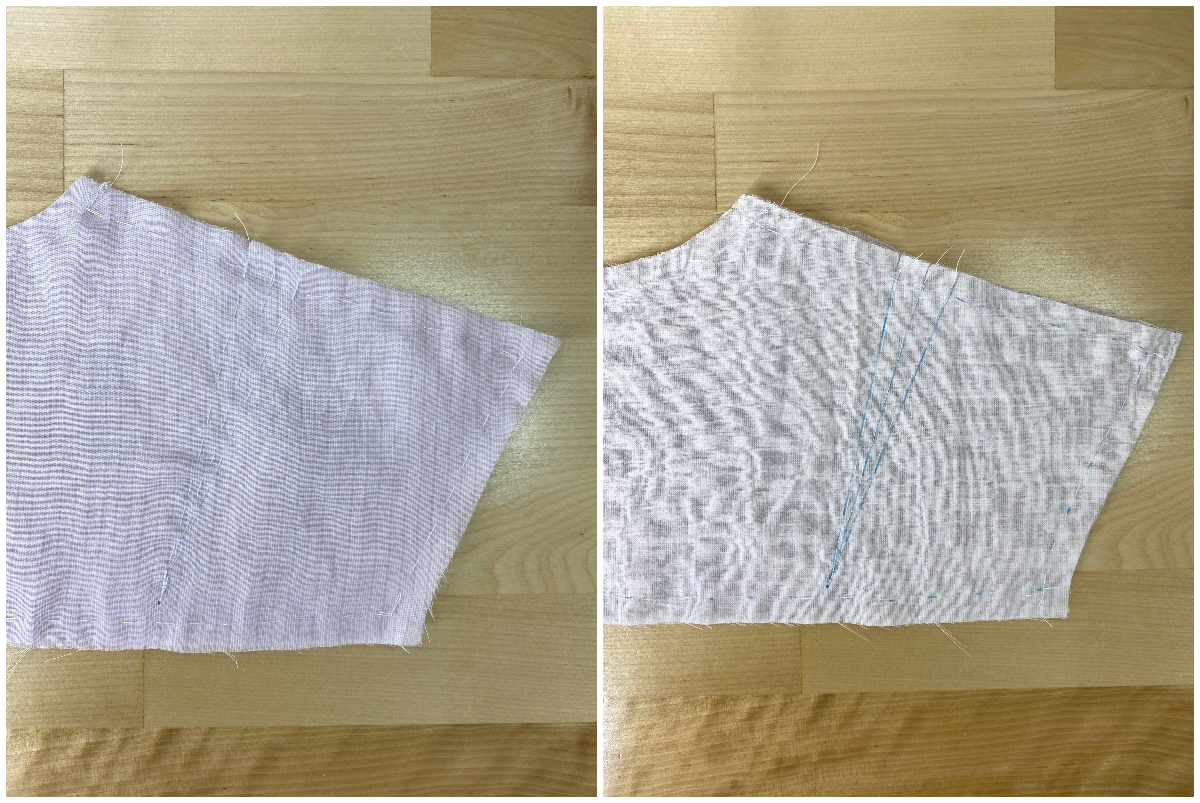 Depending on how many pieces are required for your garment, this may take a bit of time. I usually cut all the pieces in one night and save the basting for a night in front of the TV.
One final tip is that I usually staystitch before I underline. I've never seen any guidance on this, but I like to stay stitch immediately after cutting to ensure that all of the bias edges remain in shape. Underlining naturally requires more handling of the fabric, and I don't want to risk distorting the neckline or another bias edge during the basting process.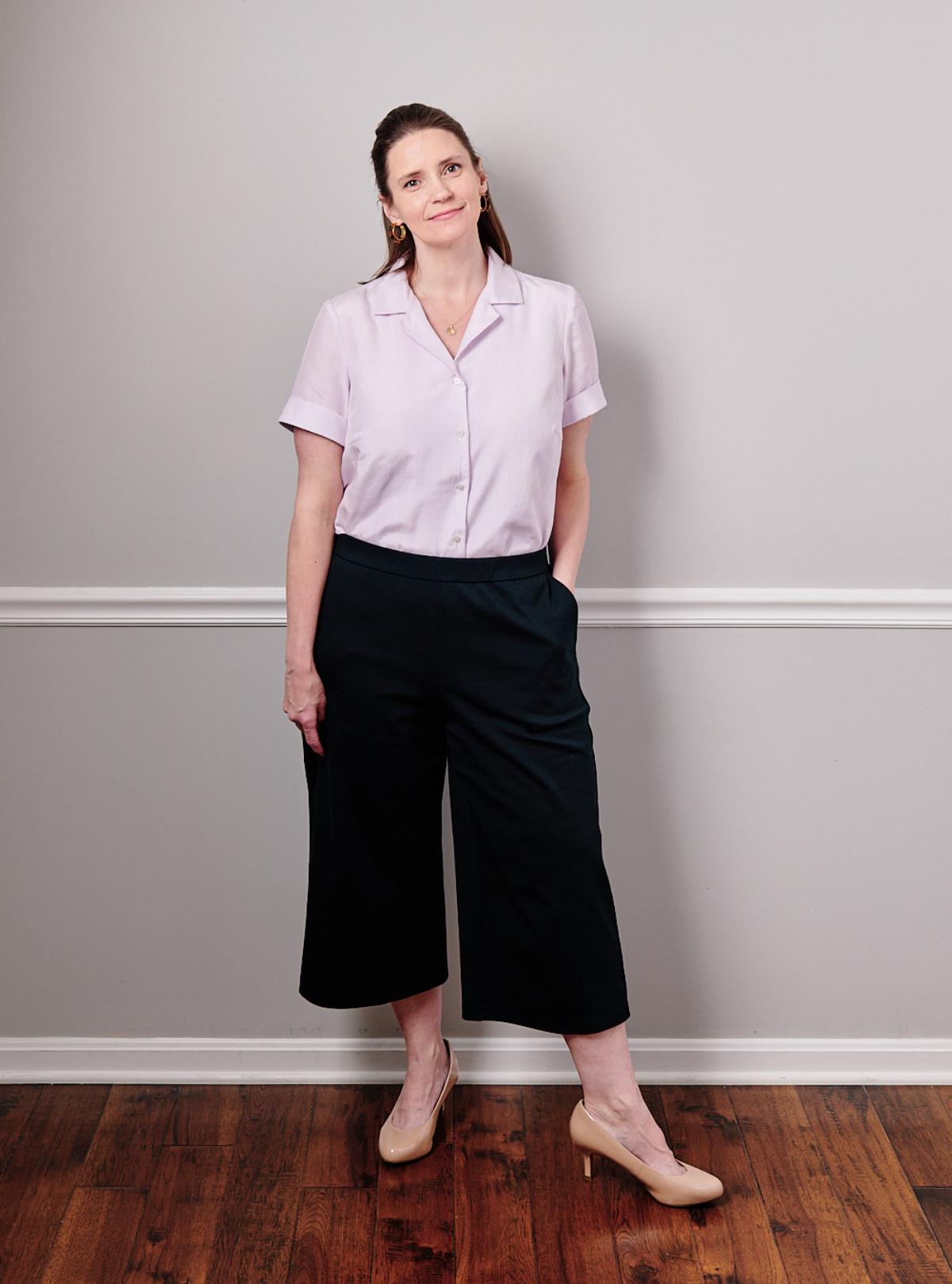 With a little extra planning you can create very different looks from the same pattern using a sheer fabric! I love how my Camp Shirt turned out.