Liz is back from the Advisors Circle to show off the amazing Queen of Hearts sundress she created for her daughter by mashing up a number of Oliver + S patterns. Here she is to tell you all about it.
Since the Noord Sweatshirt I last wrote about, I've been enjoying sewing a few things for myself. But last week I got to return to my favorite thing, sewing for my daughters, and in particular, making fancy dress!
My 7-year-old was invited to an Alice in Wonderland-themed tea party. She decided that, instead of Alice, or the White Rabbit, or the Cheshire Cat, she wanted to go as the Queen of Hearts, so that she could shout "Off with their heads!" I love that spirit and sense of fun, so I was absolutely sold on making her ideal costume.
It's the start of summer here in North Carolina, so I decided a sleeveless cotton dress would be best, and would hopefully be something she'd wear not just for parties but over the rest of the summer (we have a love of "everyday fancy dress" in this house).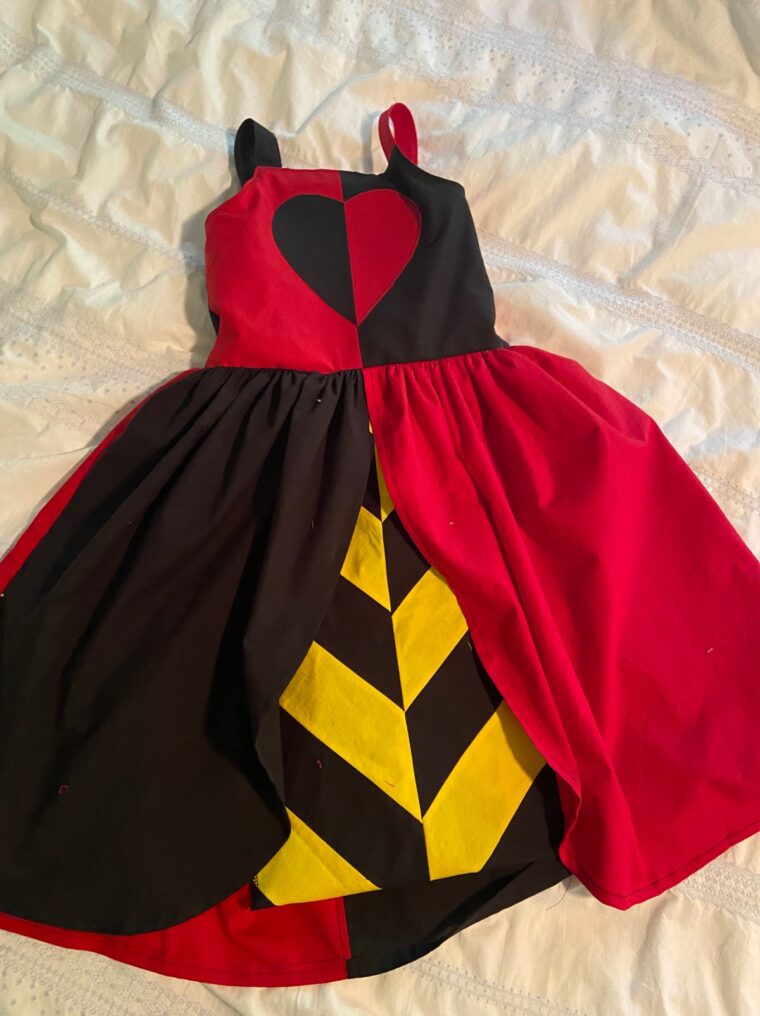 I've made a LOT of different Oliver+S dresses; each of the patterns, numerous times. Each of them has given me new skills, a new understanding of constructing clothing, and helped me develop the confidence to adapt and alter the patterns to come up with the perfect garment.
In this case, we went for the Queen of Hearts from the classic, 1951 Disney version of "Alice in Wonderland," so we needed black, red and yellow cottons. Quilting cotton was the perfect weight for what would essentially be a summer sundress, and offered a huge range of colors to pick from.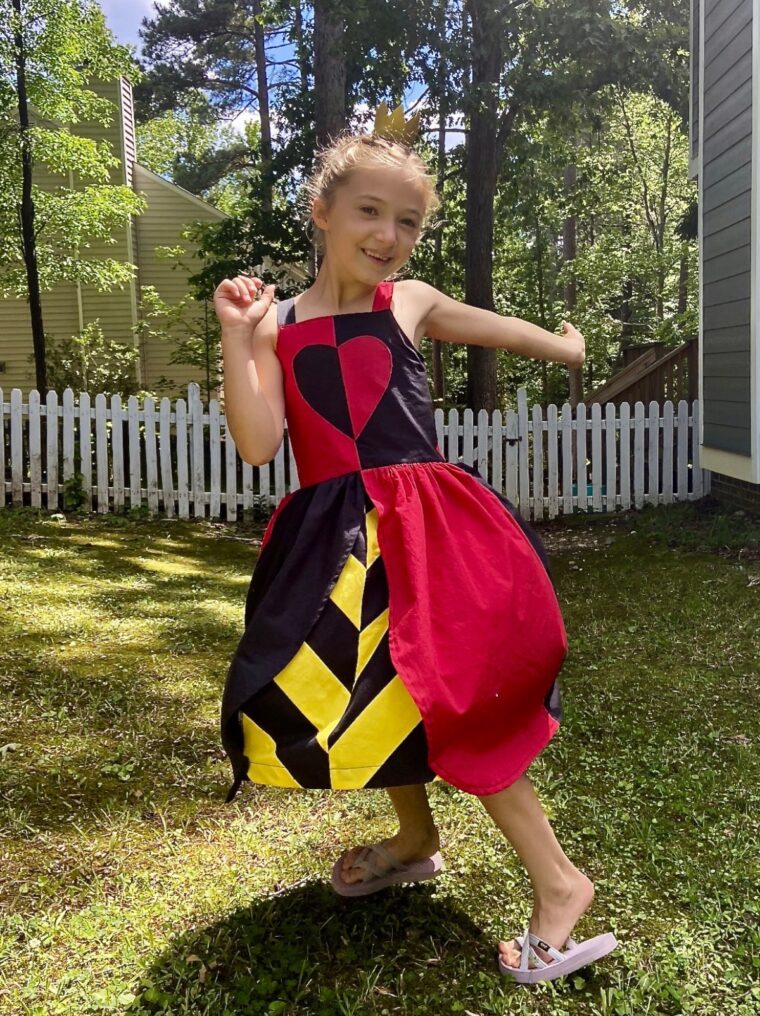 The resulting dress is a mash-up. I took measurements using the Building Block Dress Book and a taped together and cut down various bodice pieces, mainly from my favorite Fairy Tale Dress. I also used the armscye and neckline from the Popover Sundress pattern. Thicker straps and lined construction inspired by the yoke/strap construction of the Swingset Tunic made for a classic sundress neckline. The skirt fullness is taken from the measurements for the Jump Rope Dress, but with a few more seams in it to get the black/red panels.
I French-seamed everything to give it longevity as it is going to get thrown in the wash a lot, and for ease of getting it on and off. I sewed a shirred panel in the back as back buttons are never appreciated by my 7-year-old. I used the Fairy Tale Dress bodice as a guide for getting the width of the panel and the solid side pieces to fit correctly.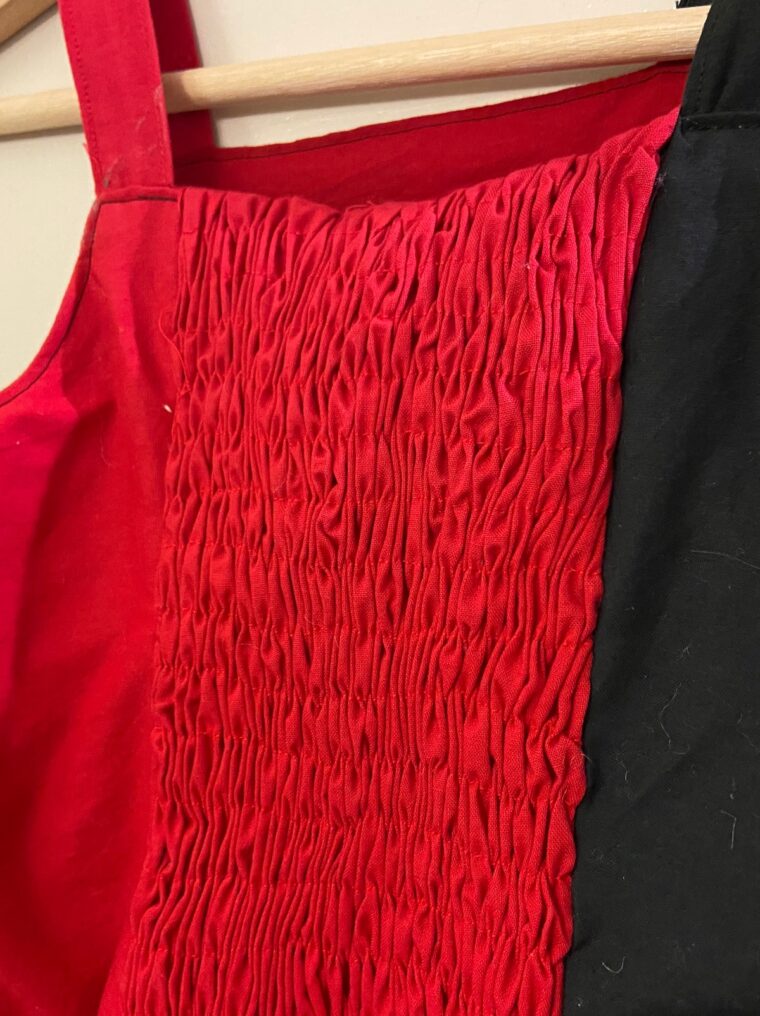 I pieced together the yellow and black chevron panel on the front  with my 1/4″ quilting foot. It doesn't go the full width of the front skirt, but the over-skirt panels frame it nicely, and no one but me will notice that the points aren't all perfectly aligned.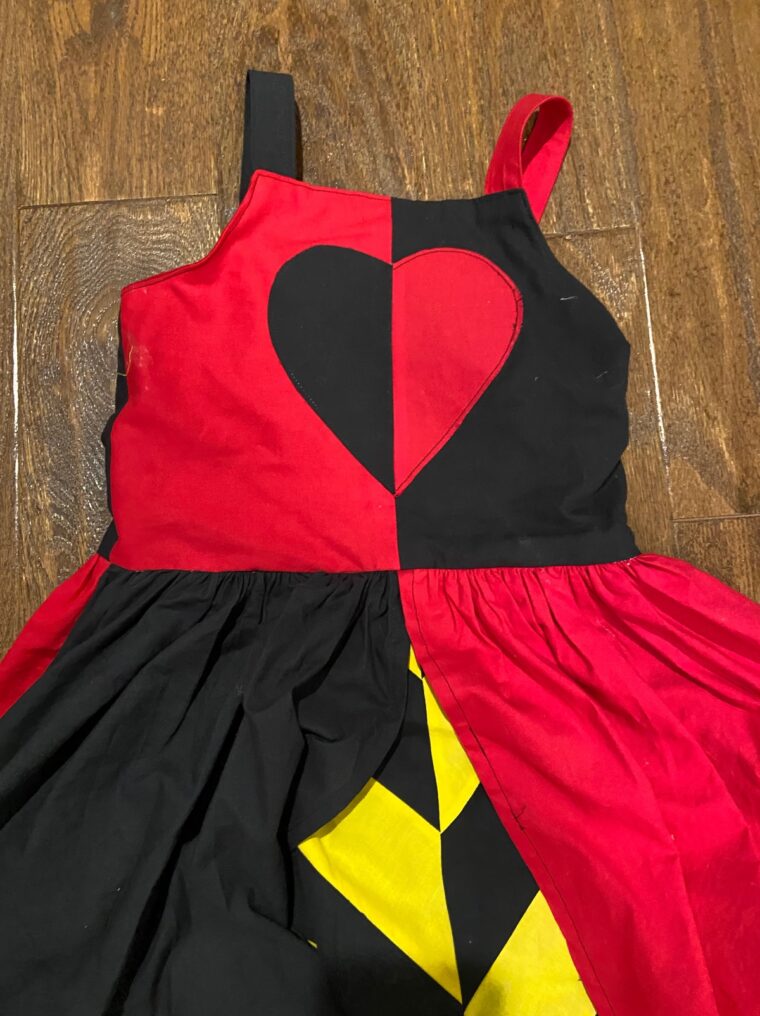 I do love to follow a well written pattern, but I also love using the skills developed from those patterns, to go slightly off-piste and come up with something completely unique. Turning $12 of quilting cotton into a dress that made my little one so excited to wear to the tea party, stood up to a lot of trampolining that afternoon, and is now going to be part of her summer wardrobe, makes me oh so happy!