A few years, ago Lyndsey shared a post about her favorite Oliver + S pattern, the School Days Jacket + Coat. She's back today with a second favorite pattern, the Sleepover Pajama Pants.
Hello! I'm Lyndsey Stanfill, and I'm happy to be back today to share another of my favorite Oliver + S patterns, the Sleepover Pajama pants. I like this pattern so much that I've now sewn 30 pairs of these pants since 2017! It's a go-to pattern that I include in my sewing plans twice a year, as well as a pattern I often use for a last-minute projects or as a palate cleanser after a more complicated project.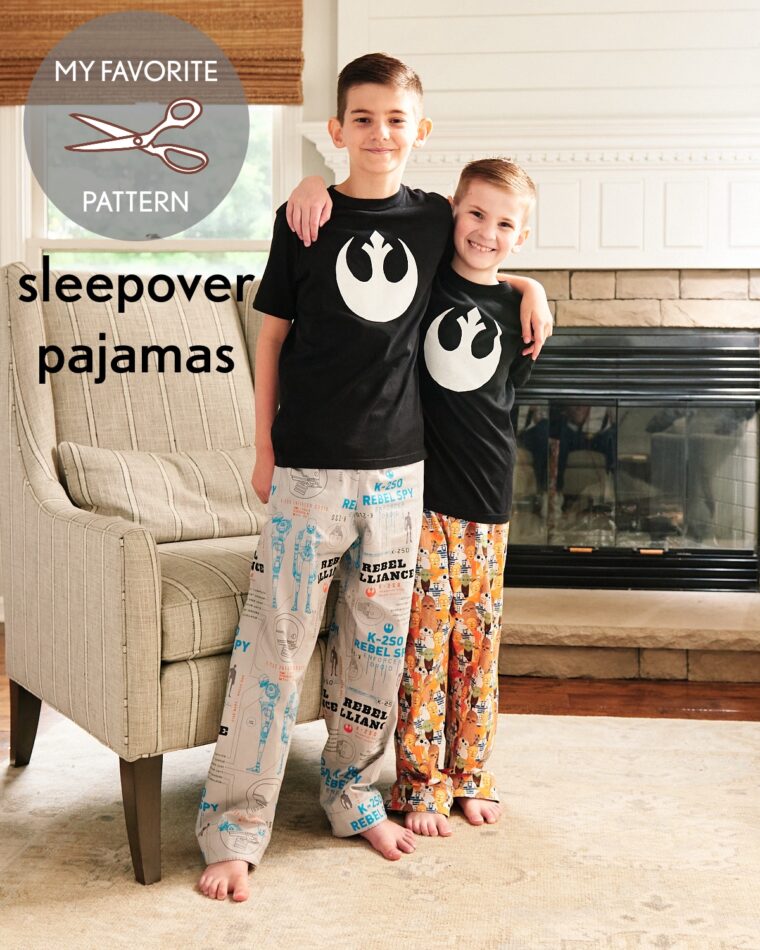 The first time I sewed the Sleepover Pajamas, I was looking for a classic woven pajama pattern with a button-up top. What sticks out in my memory from the first time I sewed the pattern is how well-written the instructions are and how clean the finishing looks on the inside of the garments. When I sew the full pattern, I like to start with the pants because they come together quickly, giving the project momentum.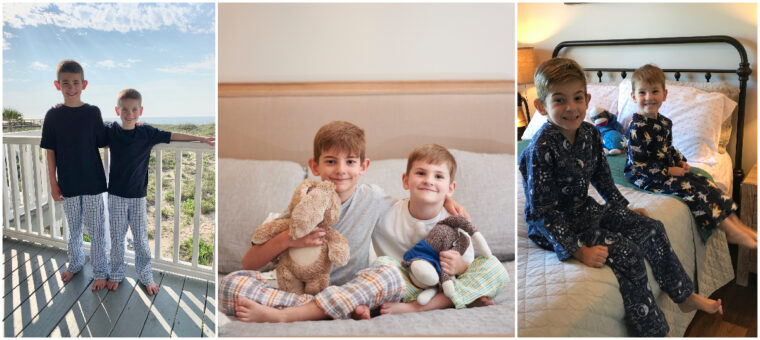 I chose fun quilting cotton prints for the first pajama sets. The hand and weight of quilting cotton works really well with this pattern, and quilting cotton feels great for sleeping. While I was sewing the first set of PJs, I remember wondering if my boys would even wear them since they mostly slept in knits. No worries there! They have practically lived in every pair I have sewn. Sewing a new set of pajamas for the boys at the holidays has become an annual tradition!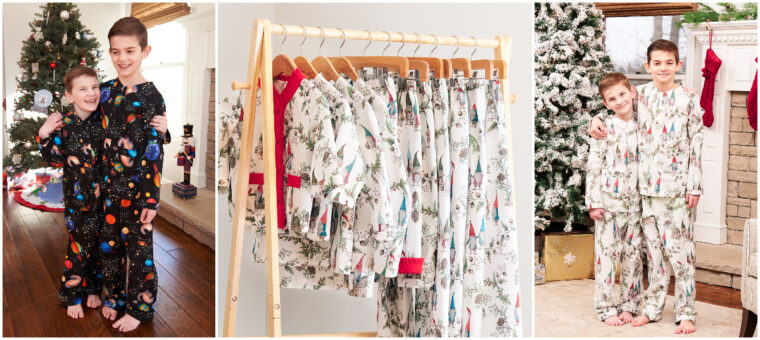 During a heat wave three summers ago, I noticed that while my boys always chose pants for bedtime, many of the pants in their wardrobe were too warm for summer sleeping. For a quick weekend project, I decided to whip up some sleeping pants, using the Sleepover Pajamas pattern and fabric I had on hand. Digging through my fabric stash, I found two seersucker fabrics that I had purchased when my oldest son was an infant and never used. Instantly I knew that the airy and lightweight fabric would make perfect sleeping pants for warmer weather. For the summer, I usually pair the pants with a plain t-shirt like the School Bus T-shirt pattern.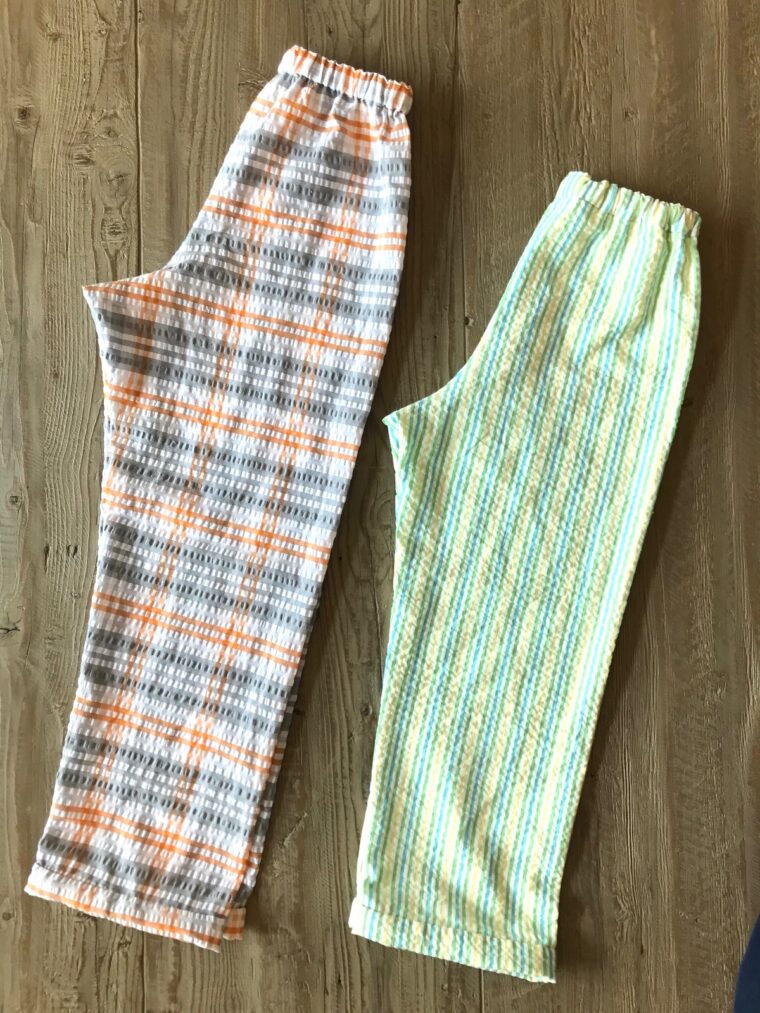 Because these pants sew up so quickly, this is a great pattern for sewing gifts. In fact, 12 of the 30 pairs of Sleepover Pants that I have sewn have been gifts. I've sewn every size from 12 months to Size 10. The pattern does not list the yardage requirements for pants only, but I was able to just fit a size 10 on 2 yards of fabric. For the tiny sizes, I can often squeeze in an unplanned pair from the offcut scraps!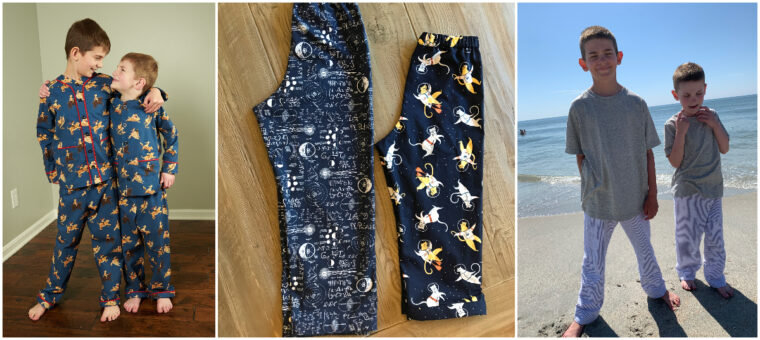 In my experience these pajamas hold up really well. I have found that my boys can usually wear them for a couple of years before we pull them from their wardrobe. One of my favorite tips from the instructions is to fold up the completed cuffs and stitch them in place by hand so that the pants can be let down as your child grows. When the pant legs and sleeves get too short on my little guy, I often convert the pajamas to a short sleeve top and shorts. I just eyeball the length to remove and sew a simple 1/2" double fold hem to finish. The adjusted version is so cute, I think this would be a great pattern for a short pajama set, too!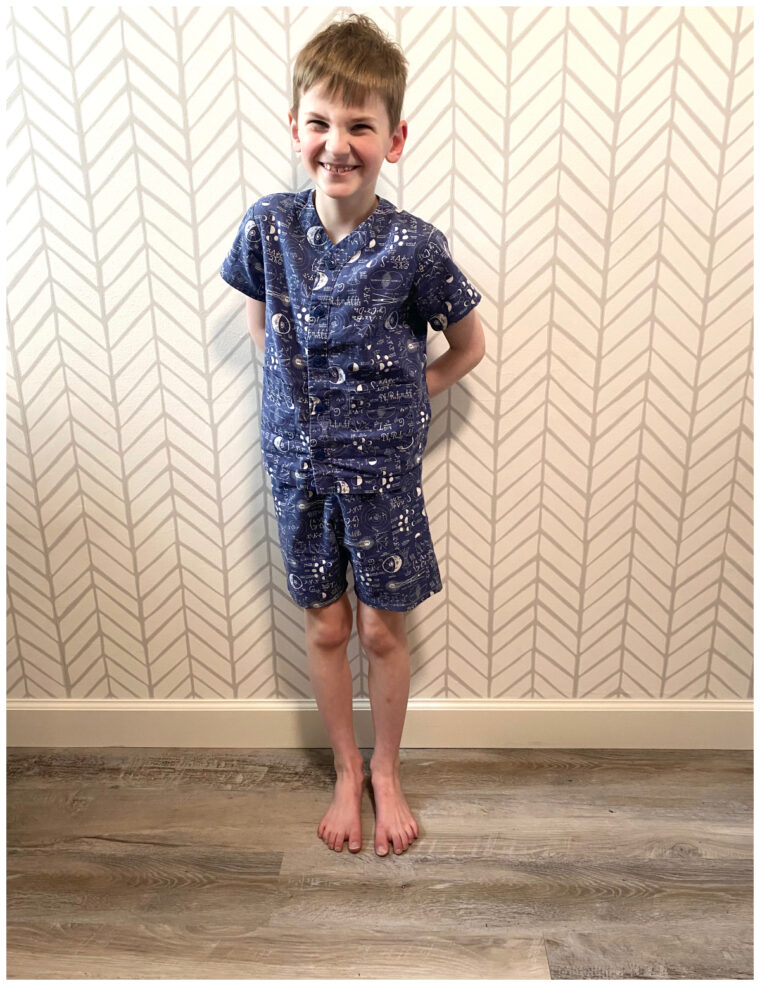 A second tip I love in the instructions is to include a ribbon in the center back seam to make it easier to tell the front from the back. I am able to tell the front from the back, but my little guys definitely can't, so I would say a little tag is a must. I really like using rayon seam binding because is soft and pliable and won't irritate the wearer. For the last few projects I have started using the character stitch capability on my sewing machine to stitch the pant size in the waistband during construction. Having the size on the waistband makes it easier to sort during laundry!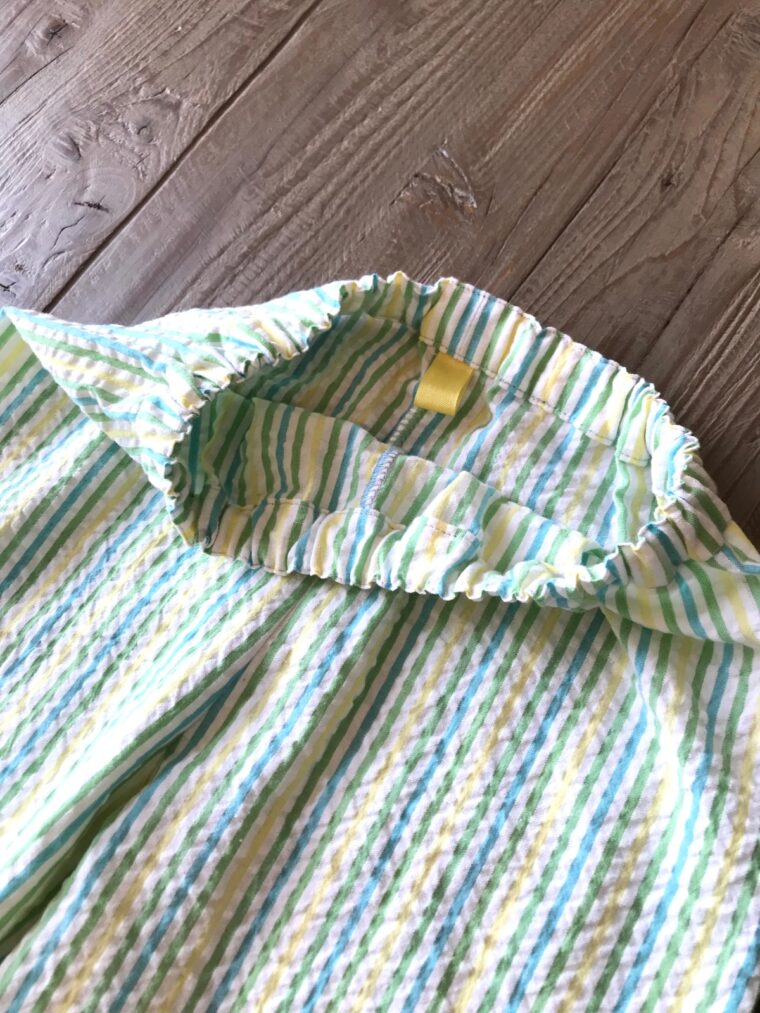 If you haven't sewn this pattern yet, I would highly recommend it. I think I will be sewing these pajama pants for years to come, if not decades. Thanks for letting me share all my sleeping pants with you!