The new Wynwood Robe makes a luxurious addition to your loungewear collection, but it can also be sewn and worn as daywear. A few members of our Advisors Circle sewed it up and are sharing the results today. See what they made to get a sense for how versatile this pattern is.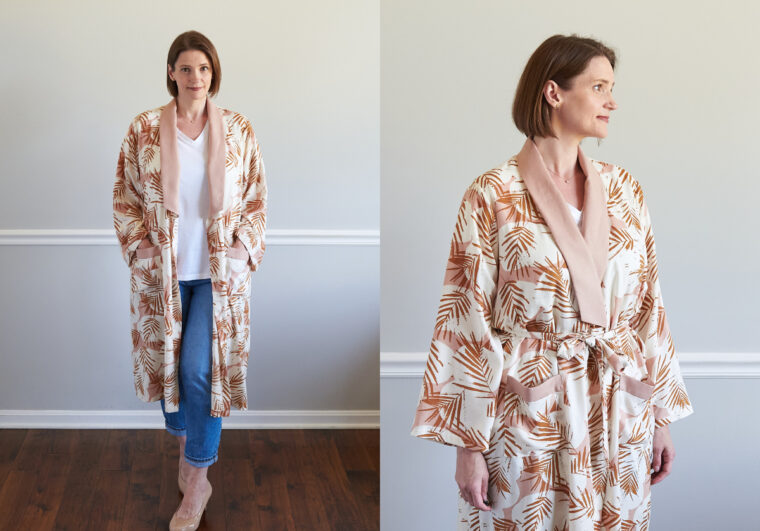 Lyndsey:
For my Wynwood Robe, I wanted a slinky, lightweight fabric for a boho daywear look. I searched high and low to find the perfect fabric and settled on an incredible viscose crepe from Atelier Brunette.
I sewed the large size and added 9" to the length to get that longer boho look. Some of the inspiration pics I found had even longer robes (which would have required adding up to 12"-14") but I was afraid the proportions would overwhelm me if I made it too long. I had intended to sew the pattern without any of my usual pattern alterations, but at the last minute decided to go ahead with a high round back and forward shoulder adjustments. Without those two adjustments I knew that the robe wouldn't lay just right on my shoulders, and those alterations are so simple to do.
The fit is great and the length is perfect. Rayon can be a tricky fabric to sew with, but with a little extra care my robe turned out amazing. I'll share some of my tips on sewing with rayon in another post. I don't know how many robes a person possibly needs in their wardrobe, but I can tell you that I will sew more than one. It will also make a great gift to sew for others since the fit it is so forgiving.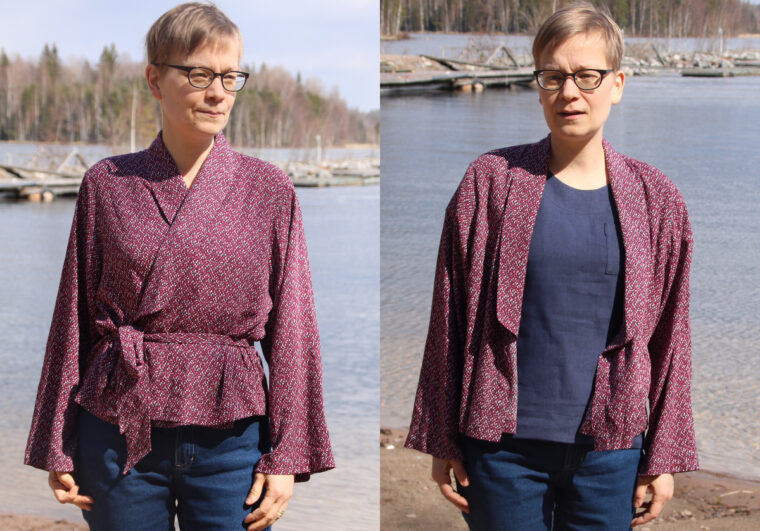 Mire:
I used rayon from my stash for my Wynwood Robe. I will wear the Wynwood as a short jacket for daytime, so I shortened the pattern. I cut along the lengthen/shorten line and used only the upper part of the pattern. I didn't make any other alterations. The instructions are great and I enjoyed sewing the Wynwood. I was surprised how quick the robe was to sew and I am also pleased with the result.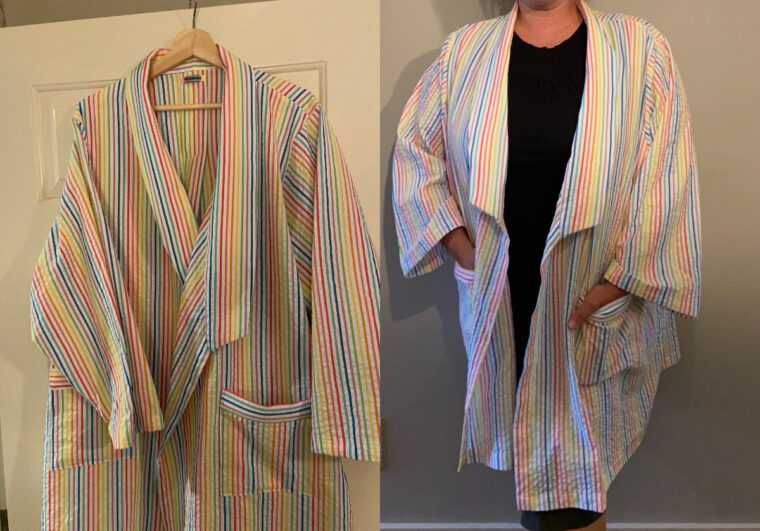 Liz:
The Wynwood Robe was the one out of the three new Liesl + Co. patterns which I immediately had to make for myself. Living in North Carolina, the summers are HOT (and the spring and autumn both pretty warm), so a summer weight robe is something I've wanted since we moved here.
I had some rainbow striped seersucker which I'd bought for matching summer tops for my two daughters and my niece. But having seen the robe pattern, I decided this was the perfect lightweight, summery fabric to make a robe that would make me smile (and that I'd get some more rainbow stripe for their tops at a later date).
The pattern pieces are big, but tile together quickly, and the robe itself sews together in super quick time. Even deciding to French seam it all, as the fabric was very lightweight and I wanted this to be a piece that stands up to lots of wear and washing, didn't add too much time to the construction. The pattern as ever goes through the steps perfectly, and even the collar was simple.
The pockets were a perfect height placement for me, and I'm going to attach belt loops (adapted from the Oliver + S Jump Rope Dress) for the sash. The rainbow stripes don't fail to make me smile, and this is something that's going to get worn and worn.
Next on the list is a shorter "day/evening" version to wear out. I'm inspired by some of the amazing patterned robe jackets out there, and am trying to find something in navy (to go with my mainly blue wardrobe) with a statement print to make an awesome summer layering piece.