Liesl + Co.'s spring pattern collection is so versatile, and the Marais Knit Dress + Top is no exception. I know you're going to love seeing the unique takes on the pattern that our Advisors Circle is sharing today.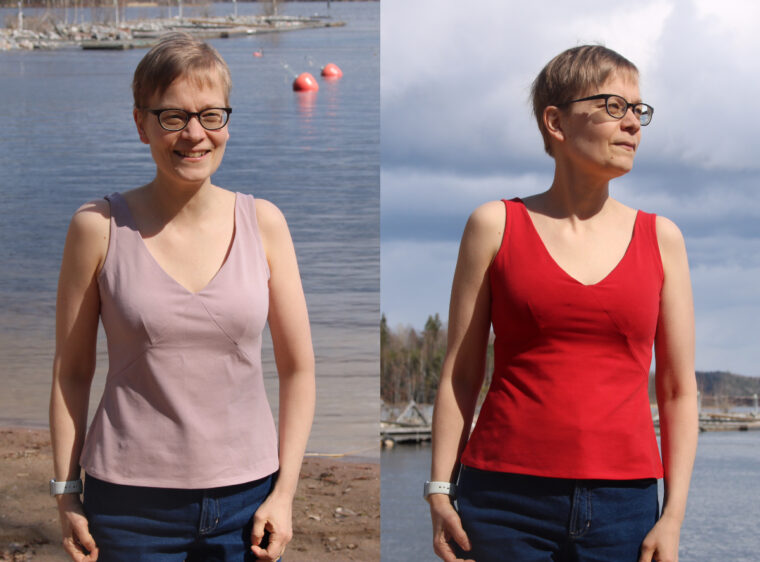 Mire:
I don't usually wear sleeveless or v-neck tops. But the Marais top looked so beautiful that I wanted to make it. I used remnants of knit fabrics from my stash. The Marais top is great for scrap busting. As I wasn't sure which size to make, I made the size S and size XS (the red one) and I didn't make any adjustments. This was such fun to sew that I want to make a dress as well.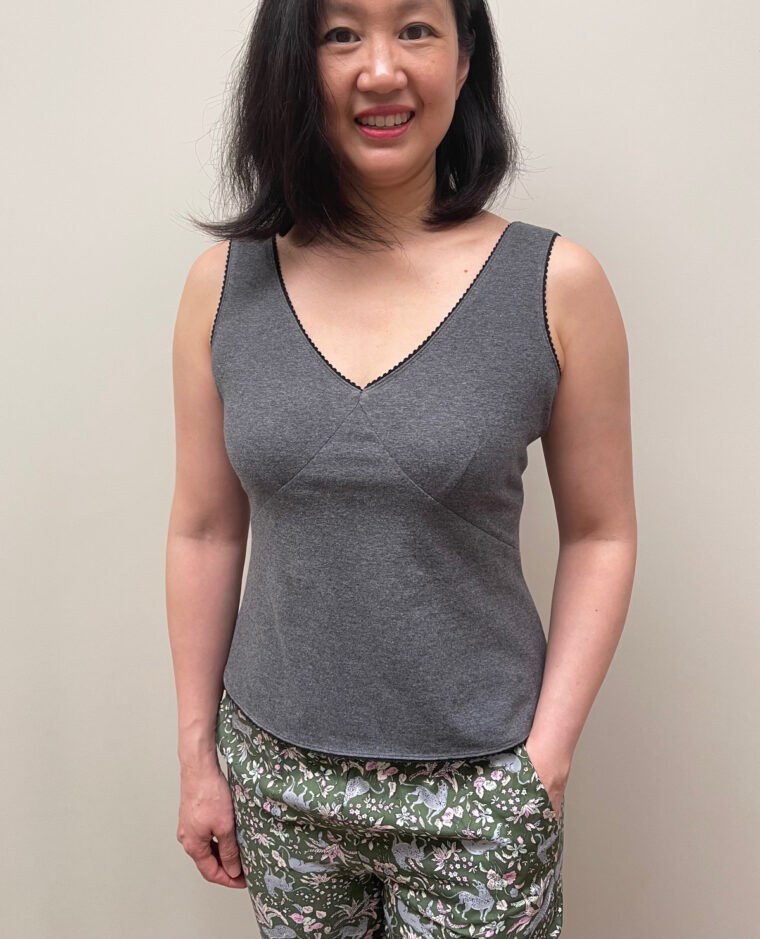 Erica:
As soon as I saw the new Marais pattern, I knew immediately that I wanted to try adding picot-edge elastic to all the edges. I eliminated the facings and had to amend the order of construction. I sewed my usual size (small) and was grateful for the cup sizing already included in the pattern. I used Robert Kaufman's Laguna stretch jersey, which is a lightweight cotton knit with 5% Lycra, in the Heather Pepper color. It was only four small pattern pieces, a fast sew, and I skipped using my serger so that I could have soft seams. I already have fabric cut out to make another woven fabric Marais!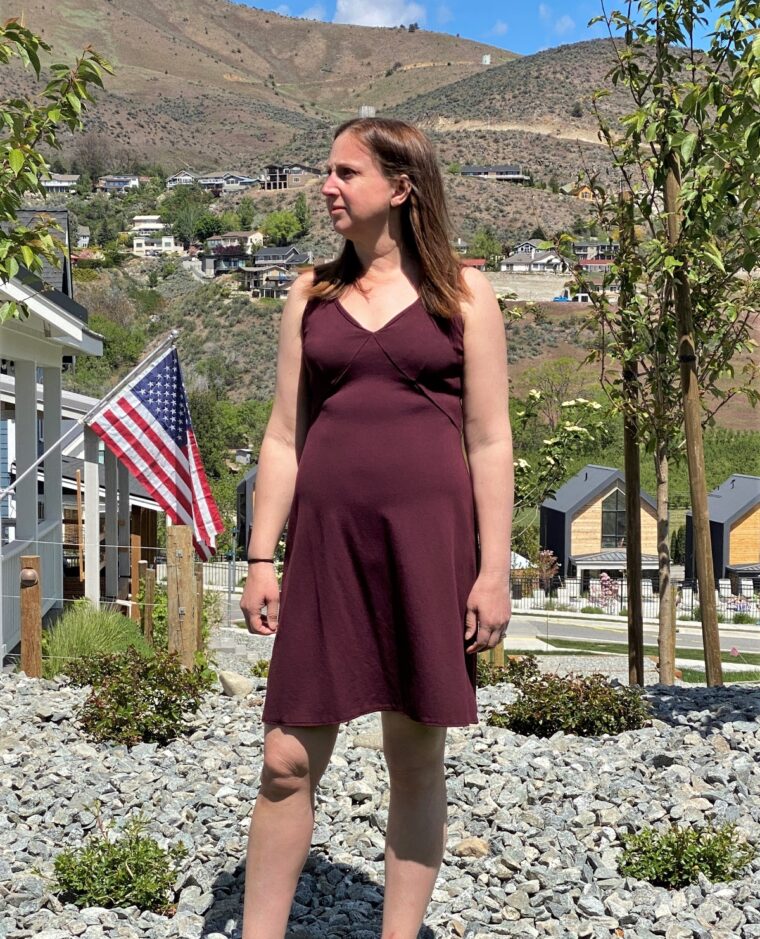 Jennifer:
The Marais dress was such a fun, quick dress to sew. The seams add just the right amount of detail. I made this one from a wine-colored ponte knit which is extremely comfortable. I can dance or lounge in this dress all day long.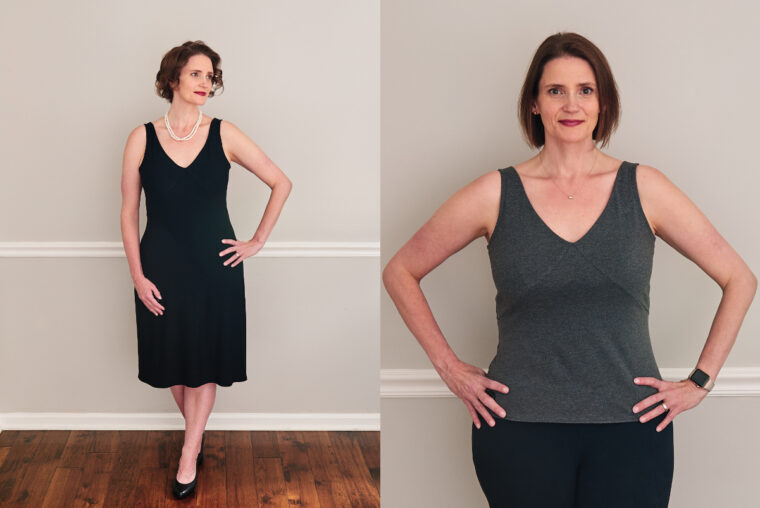 When I saw the Marais pattern I knew I wanted to make two versions: a sporty top and a dress for a night out! For the sporty top I had envisioned something I could wear for exercise with
leggings or a yoga pants. For the dress, I wanted something special that I could wear out of the house as we begin to emerge from pandemic. I love that this pattern could meet both of those needs!
For the sporty top, I used Robert Kaufman Laguna cotton/lycra jersey, my go-to knit for knit
muslins. Since I often sew with this fabric, it gives me a good idea of how the pattern will fit. If I sew another version in a fabric with more or less stretch, I will already have an idea of how to make adjustments.
For this version, I sewed a medium D cup. I added 2" length to the bodice (my personal preference is a slightly longer top) and graded to a large in the hips.
For my dress, I switched to a very slinky, lightweight, synthetic fabric of unknown content. I used the medium D cup size again. To determine whether I needed to add length for the dress version, I measured the distance from the View A cut line to the View B cut line. Then I clipped a measuring tape to the bottom of my already-sewn sporty top and placed another clip at the length I had measured between the cut lines. I like my dresses to hit just below my knee, which is where the bottom clip fell, so I decided I didn't need to add any length. I still graded to a large in the hips.
Even though I sewed the top with exercise in mind, it will look great paired with much of my wardrobe. In these pictures, I've styled the dress with heels and pearls, but it will also look great with sandals and a denim jacket. I love both versions of this pattern, and I think both pieces will be very versatile.