Liz from the Advisors Circle loves making clothes for her daughters, but hadn't tried sewing for herself. The Noord Sweatshirt turned out to be the perfect stepping stone into making her own clothes, and she's here today to talk about it.
I'm "a bit rubbish" about clothes for me.
Sewing for my two little girls is absolutely one of my favorite things to do, but despite countless outfits made for them, I've never managed to get excited about the idea of sewing something for me to wear. I'm one of those people that gets no joy from general clothes shopping. It's not that I live in sweat pants (or jogging bottoms as we British call them). If I find something that I don't hate, I'll buy it in multiple colors and wear those until they wear out.
So sewing for myself has never been on my agenda. I've admired the wonderful garments coming out of this group, sometimes even purchasing a pattern and disappearing down a rabbit hole of fabric choices, but never actually deciding to measure myself, order up the fabric and start on something for me.
The success of my first foray into knit fabrics (as detailed in my last blog post) and the awesome-looking Noord Sweatshirts that kept appearing in my newsfeed got me started. I wanted a Noord, and I wanted it in my palette of muted/dark colors as something that I could wear and wear and wear. I also wanted something that would be an easy sew as my first project for me: no fitting, no closures, just a not-too-intimidating project to start out with.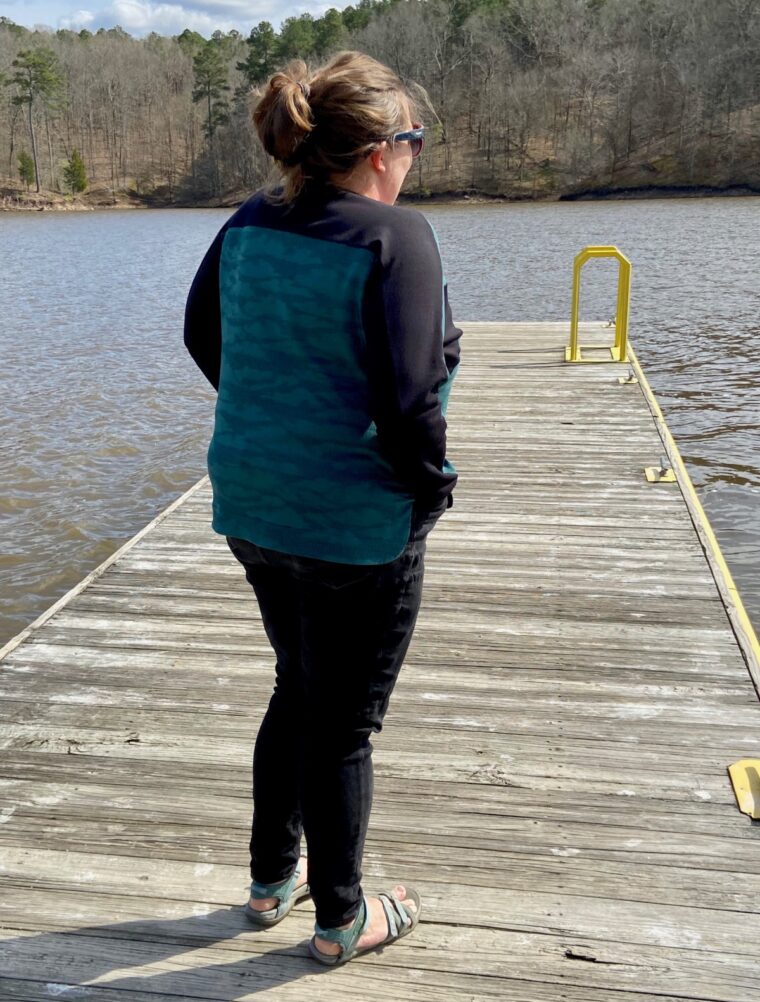 Having used French terry for the Playtime Dresses for my girls, I knew I really liked working with this knit fabric, and wasn't ready to try something thinner and potentially trickier to handle. The awesome Belgian See You At Six fabrics had appeared in my news feed, and I went for their dark green cloud pattern with black as a contrast color. Muted colors: So far, so good.
It turns out, planning colorblocking is fun! The Noord Sweatshirt has so many potential layouts. I had a list of the pattern pieces, and kept moving pieces from the green to the black columns. Did I want a black shoulder and green underarm, or did I want contrast side panels on the front? So many options!
I went for the XL size to get something slouchy and roomy, with a D cup. I've previously read about full bust adjustments, and have been worried they would be fiddly. But the cup sizes in Liesl + Co. patterns make it super-simple by providing a different interchangeable pattern piece for each bust size.
My fabric choice was a joy to work with. I mainly sewed it on my overlocker and everything came together super-quick. The fabric was cut out and constructed all in one (slightly late) evening. No setting in sleeves, no fastenings, the most fiddly bit of work being the mammoth amount of pins used in setting the neckline.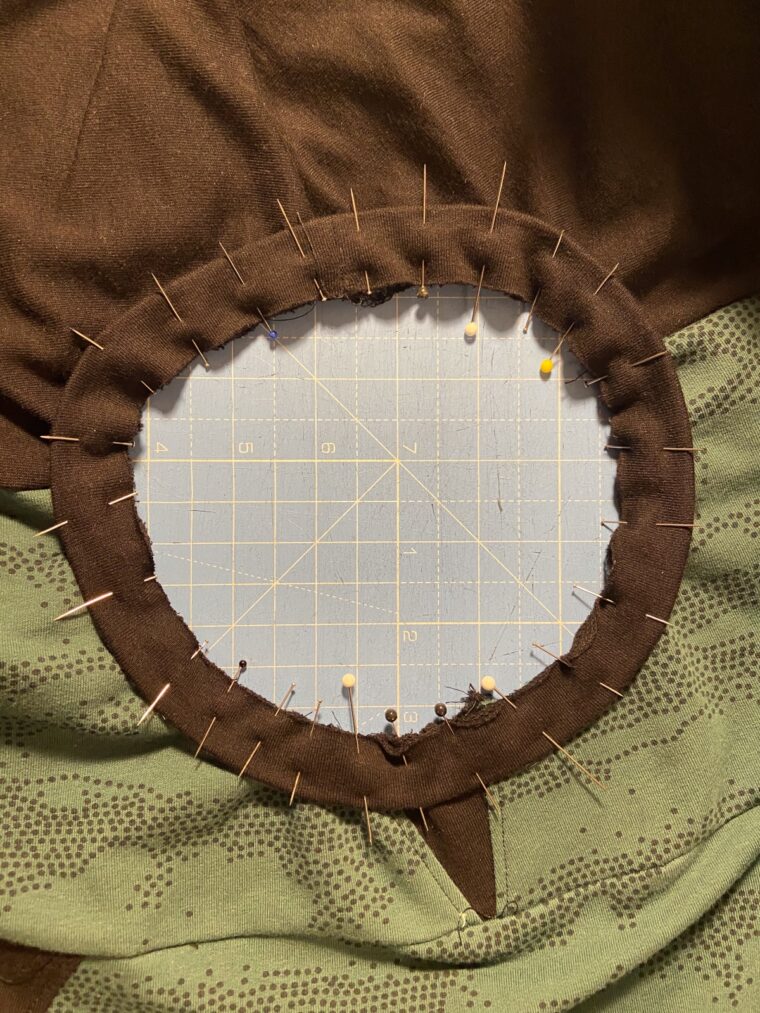 Working in knit, this was the first time I'd fitted a neckline that didn't involved gathers/rows of basting stitches, and I LOVE how it turned out: no puckering, perfectly flat, and not too deep a neckline. Basically, something I really like to wear.
The Noord pattern has some super details, like the curved hem facings, which I did in a contrast color. I love the length of the back, and the sleeve lengths fit perfectly.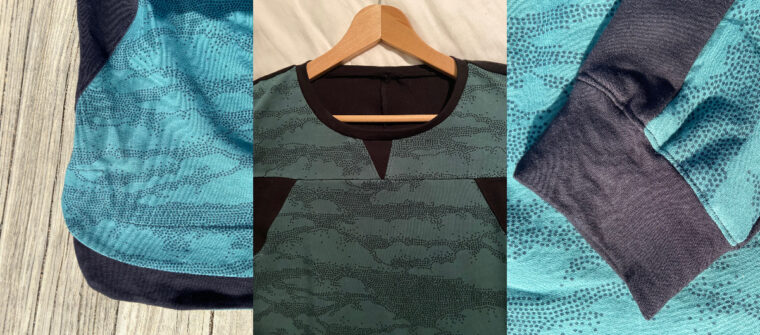 Bouyed by this success (and having worn it once or twice before realizing that, as the North Carolina weather is about to turn ridiculously warm, I likely won't be wearing my beautiful sweatshirt until autumn), I decided to try another pattern: the Yanaka jacket. That one turned out well too.
With my first two pieces both being a success, and the Noord in particular being something that I feel I'm going to wear and wear, I think I'm hooked. I see these beautiful, handmade capsule wardrobes with everything co-ordinating, and all beautifully tailored. That's not me yet, but maybe next time I'll do some pattern adjustments and get something even more special!
For now I'm ordering some thin jersey to make myself a second Noord for spring. I can see this pattern featuring in lots of different colors in my wardrobe!