Have you seen the new Noord T-Shirt and Sweatshirt sewing pattern? It's a sporty knit top with interesting lines that offer plenty of opportunity for customizing, color-blocking and scrap-busting. In this pot, two members of the Advisors Circle share their cozy Noords.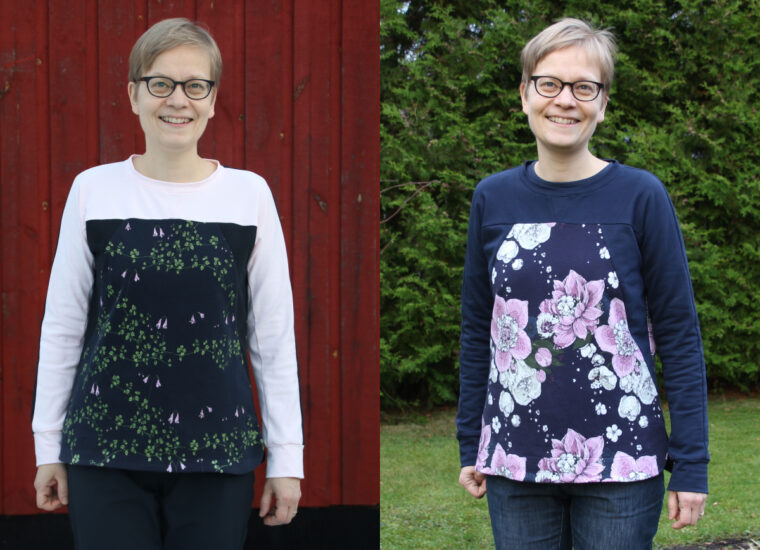 Mire says:
I made two Noord sweatshirts using fabric scraps from my stash. The navy one with big pink flowers is for me and the other one is for my niece. I didn´t make any alterations. My t-shirt is size XS with a C cup and my niece's t-shirt is size XS with an A/B cup.
This is a great stash busting project. I used six different fabrics to make the t-shirts and I could finally use those odd-shaped sweatshirt fabric scraps from my stash. I didn't need to buy any fabric.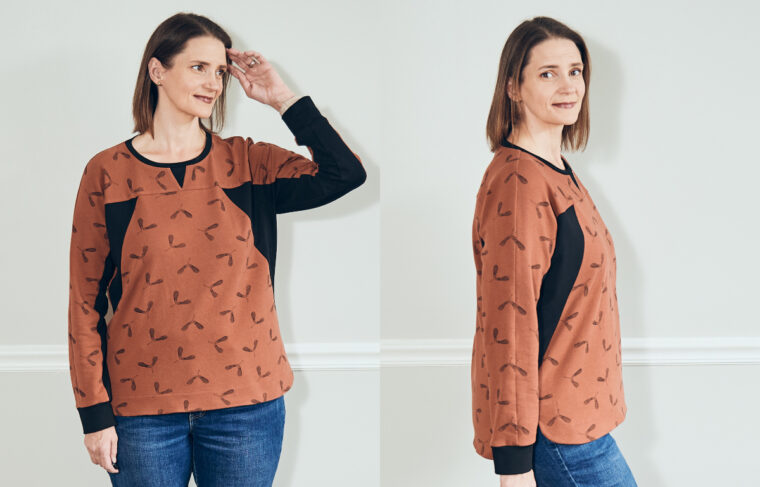 Lyndsey says:
For my Noord, I wanted a cozy sweatshirt for the coming cold months.  I used a printed cotton/Lycra French terry. I've had my eye on this fabric for a long time and knew the Noord pattern would be the perfect pairing. I looked for a black French terry contrast fabric with a similar weight and amount of lycra.
This pattern is fun because you have so many choices on how to color-block the pieces. It's great for scrap busting!  I only used two fabrics for my version. I used black contrast for the neckband, the front V, the under sleeves, the shirt side and the cuffs. I also used black contrast for the hem facing on the inside, and I really liked this hem finish. I measured a Medium D cup in the bust and Large in the waist and hips, but I ended up just sewing the Large A/B cup without any adjustments. I love the sporty look to this pattern. It's perfect for weekends and running errands!