Crystal's daughter made a great pair of shorts for her little brother using our Sunny Day Shorts pattern. She's here today to talk about the process, and how remote learning offers an opportunity to teach sewing this year.
My daughter Violet has grown up watching me sew. When she was younger, she would sit on my lap while I was sewing. I was excited for her to begin sewing on her own and got her a sewing machine, but she was still a bit too young for it, so it sat unused for a few years.
It wasn't until I started sewing clothing for her baby brother that she expressed any interest in sewing again. But baby clothing is typically made from knit fabrics, and I didn't have a pattern that would be suitable for woven fabric.
Enter the Sunny Day Shorts pattern.
It's the perfect beginner pattern, as it's relatively simple. There are only 3 pattern pieces for the shorts. (Tip: If you're using fabric with a print, make sure that the front and back pieces are mirrored when you, or your child cuts them out.)
Depending on your child's attention span, skill-level, and patience, you can involve them in as much, or as little of the preparation for the project as it suits them. For Violet, I prepped the pattern and cut out the fabric so that she was only responsible for the actual sewing.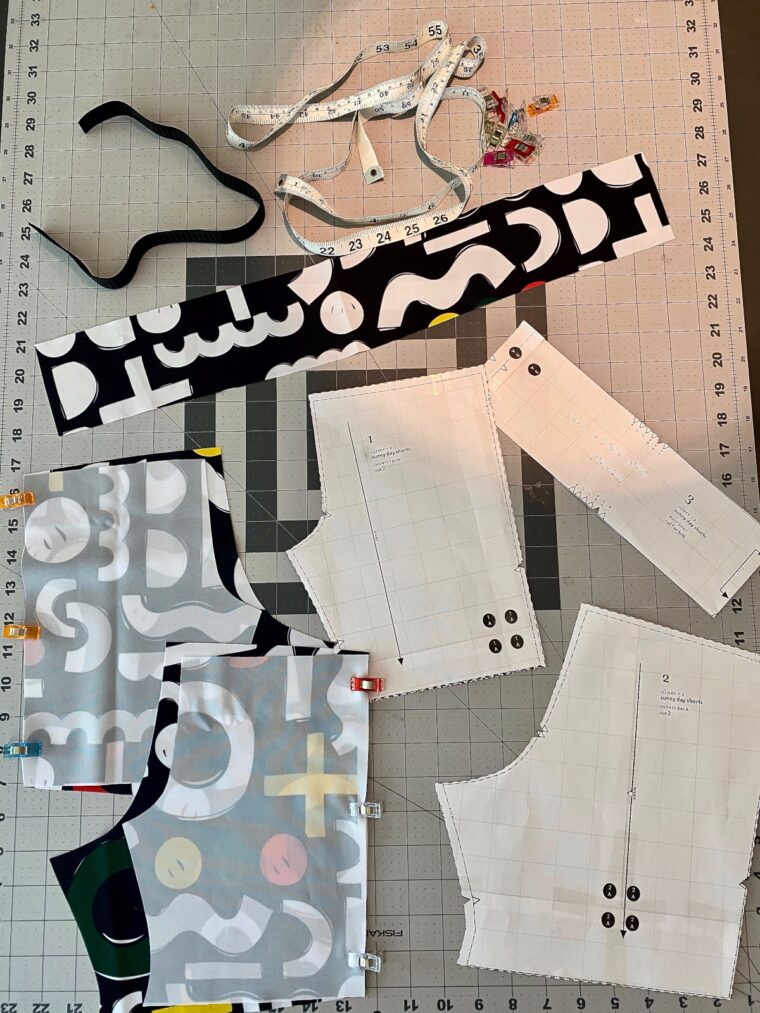 In 2020 with remote learning, many of us have to be our children's teachers for the first time. Sewing is a practical skill that can be incorporated into learning. Teaching your child to sew is educational!
If you need to alter any measurements, it's a good way to show how math can be applied. For example, in this project, a material that we did not have on-hand was 3/4" waistband elastic. We only had 1" non-roll elastic, so after accounting for the folding of the waistband pattern piece, we had to add 1/2" to its height.
After all of the pieces were cut out, I had Violet clip together the side edges and center seams on the two sets of front and back pieces. Your child might be fine working with pins, but I prefer clips. The pieces weren't perfectly aligned after she clipped them, but I fixed them before she began sewing.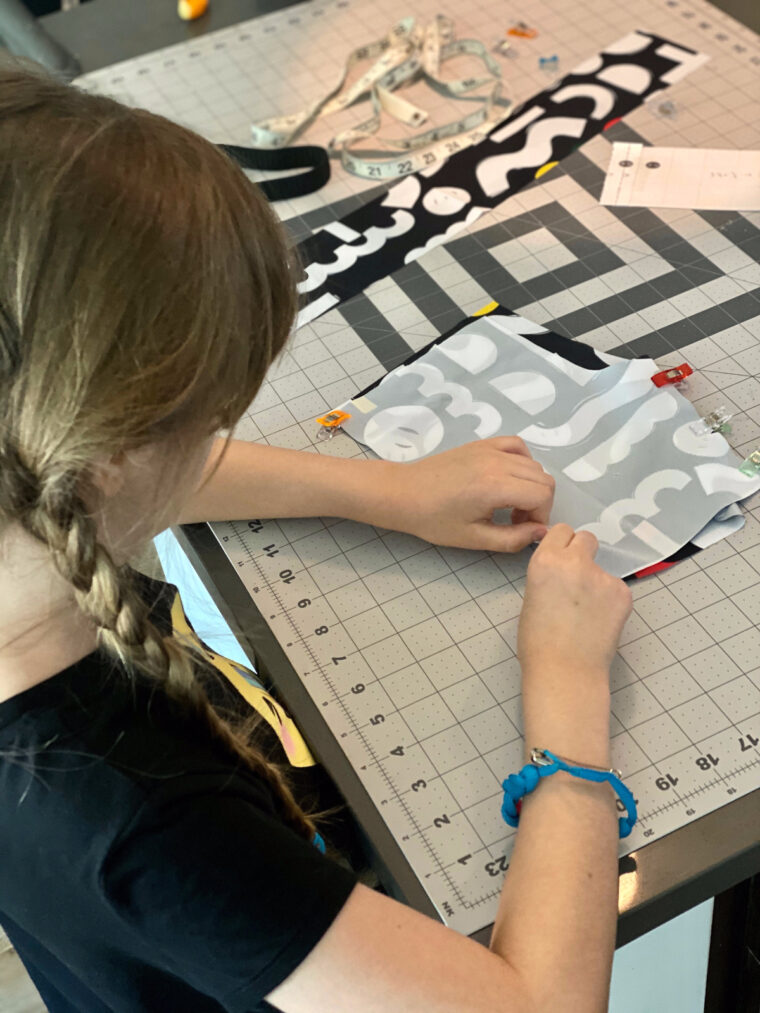 Once we had all of our pieces prepped, I put a strip of painter's tape at the 1/2" mark on her sewing machine so that it was easier for her to keep her pieces straight. She practiced stitching on a long strip of scrap fabric to get the speed right.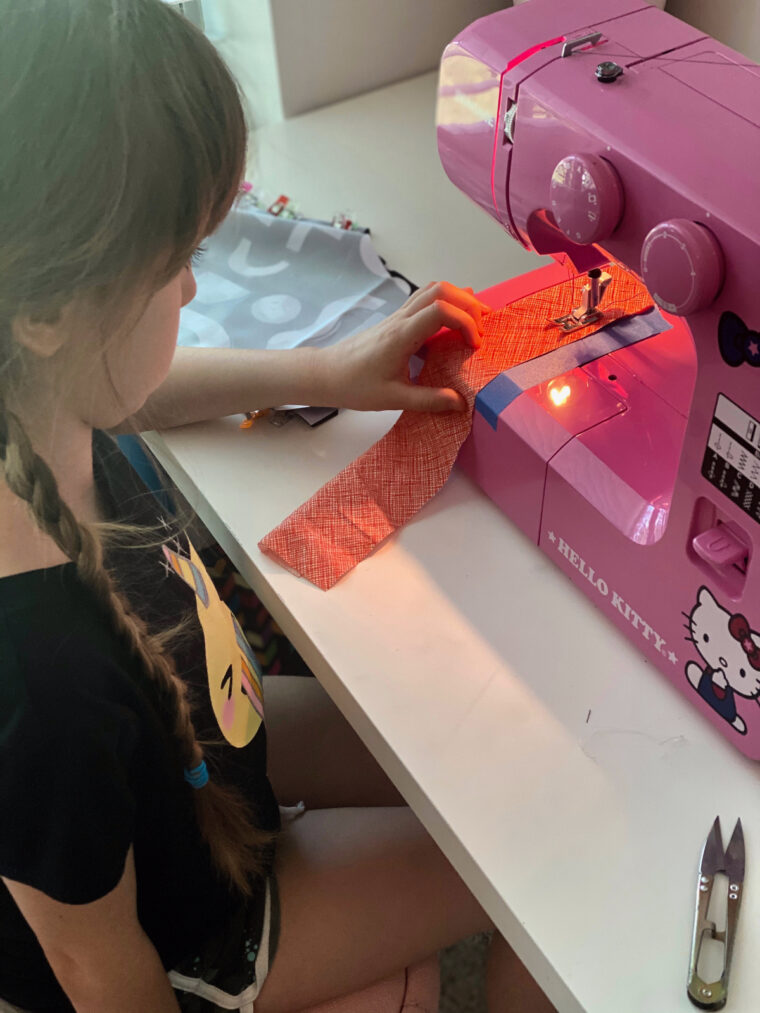 There were some parts that I helped her on more than others, including the elastic hem and the shorts hem. I made sure to let her know is that it's okay to make mistakes, and that sewing is like drawing with a pencil. You can always erase your mistakes with a seam ripper. 
She was very excited when the shorts were finished and asked if we could wake up her baby brother to try them on. My answer: Absolutely not!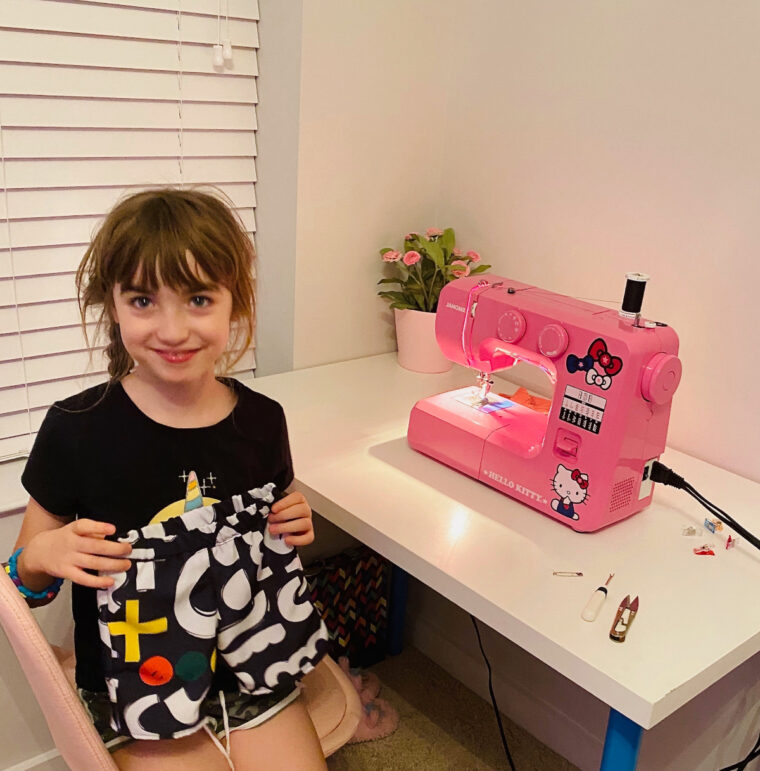 Having a project that your child is excited about will make the experience much more fun than doing a simpler project that they might not be interested in making. Even if a project is above their skill-level, working with them will give them confidence and help them gain an appreciation for sewing.