I'm a pretty casual, simple girl when it comes to my style. I'm not a high-fashion enthusiast, but I still enjoy flipping through fashion show photos. While perusing the fall 2020 ready-to-wear runway looks from famous designers, I came across a few looks that could be recreated using Liesl + Co. patterns. Take a look, maybe you'll be inspired!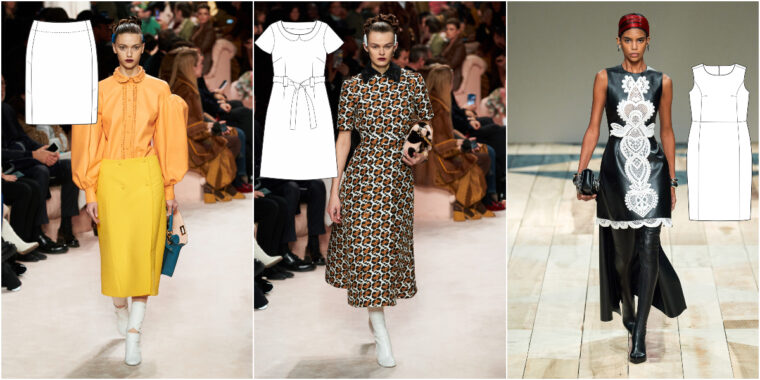 From left to right:
Add some self-fabric covered buttons to the front of the Extra-Sharp Pencil Skirt to make your own version of this Fendi skirt.
Swap out the Peter Pan collar from the Bistro Dress for a pointed collar, and you can recreate this Fendi dress.
This leather sheath dress with laser-cut lace detail from Alexander McQueen would be a fun project to try making using the Rush Hour Dress + Blouse pattern.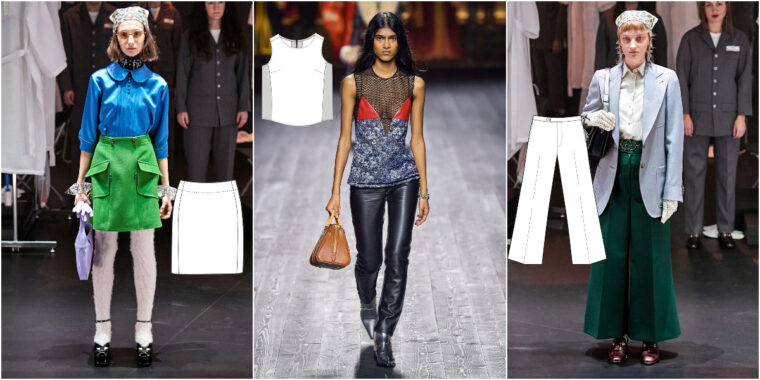 Add slanted patch pockets with flaps to a shortened Extra-Sharp Pencil Skirt to achieve this Gucci look.
This intricate fishnet tank from Louis Vuitton could be hacked from the Breezy Blouse.
I love the vibrant emerald green of these cropped Gucci trousers. Use the Hollywood Trousers pattern to make your own!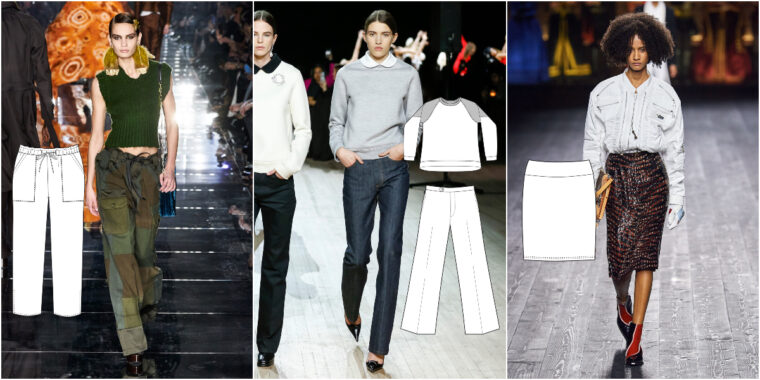 Copy these camo-inspired Tom Ford trousers using the Montauk Trousers sewing pattern.
This simple ensemble by Gucci could easily be made using the Neighborhood Sweatshirt + Hoodie and Hollywood Trousers patterns. Make a dickey using the Peter Pan collar from the Bistro Dress, or draft your own.
Choose a blingy knit and recreate this standout skirt from Louis Vuitton using the Kensington Knit Skirt pattern.
My favorite pieces in these collages are the yellow Fendi skirt and the trousers/sweatshirt Gucci ensemble. That last one in particular has my gears turning for fall. Did anything catch your fancy?