We loved this twirly rainbow Popover Sundress when we saw it on Instagram – it's perfect for hot days and popsicles. Ragon is here to talk about how she sewed it. 
Name: Ragon Duffy
Country: USA
Where can we find you on the internet? Instagram
Project details
Sewing a Popover Sundress is practically a summer tradition by this point in our household. My daughter, Alice, is almost 8, and I've made her at least seven or eight summer wardrobe additions over the years based on the Popover Sundress. Making it into a twirly maxi dress is her favorite iteration of the pattern, although I've also made it as designed, in knit with a stretch lace yoke for a nightgown, and shortened into the perfect floaty summer tank. This time, I made the straps as fixed straps instead of as ties and added 4 tiers plus a bottom ruffle starting at about her natural waist.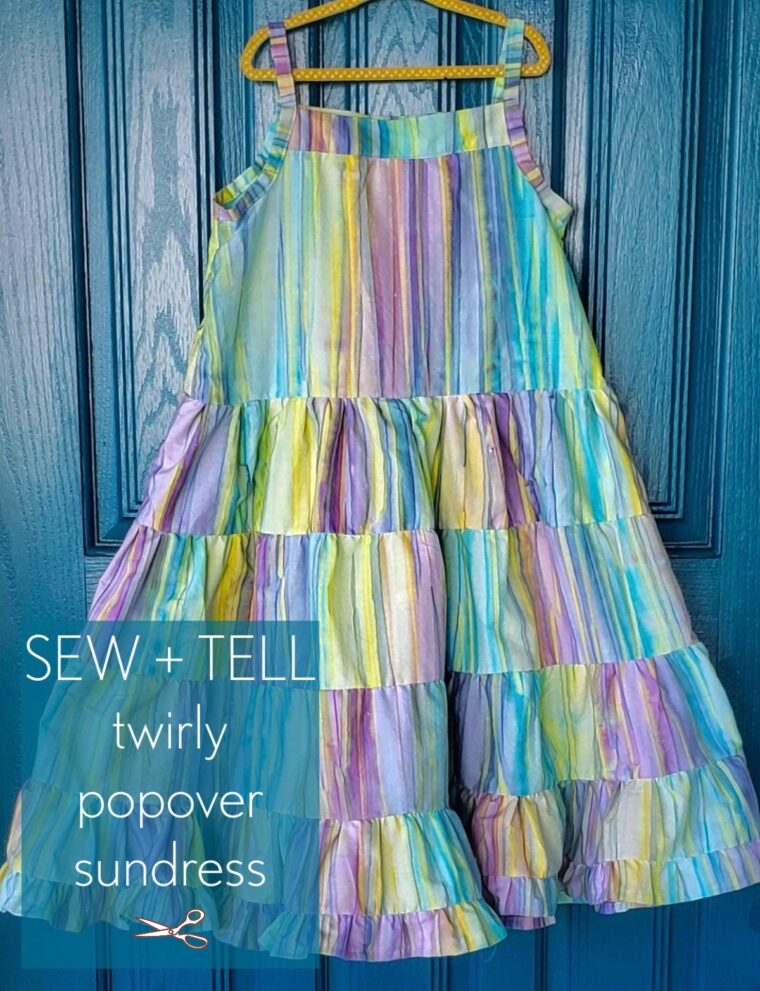 Pattern used: Popover Sundress in a size 8 with this blog post as the basis for the tiers.
Fabric used: Kaufman Artisan Batiks Patina Handpaints Stripe in Pastel from fabric.com.
Did the fabric work well?
Yes! I loved the way the batik stripes looked in the tiers and in the straps. It's lightweight, so perfect for a summer dress, but still crisp and sturdy enough to be easy to sew. I got so many comments from friends asking for adult versions of that dress!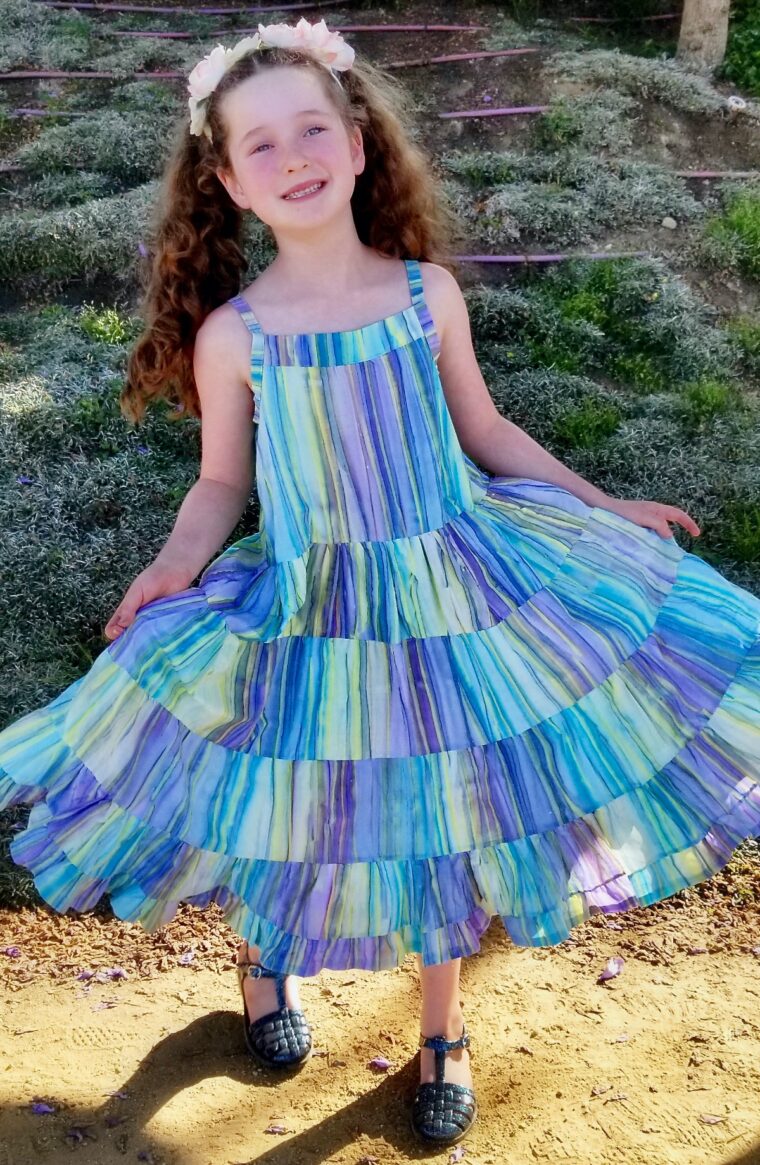 How did the sewing go?
I've sewed versions of this dress many times, so it was very easy to sew. To make the straps fixed, I measured each armscye and then added 5 inches for going over her shoulder. The ends of each strap meet at the seam in the armscye, I just overlapped the ends and folded over the one on top to cover the raw edge. For the body of the dress, I shortened the pattern to about her natural waist and then started adding graduated lengths of fabric, sewing each into a tube, gathering it, and then serging it on (attaching it and finishing it in one step because I can be an impatient sewer).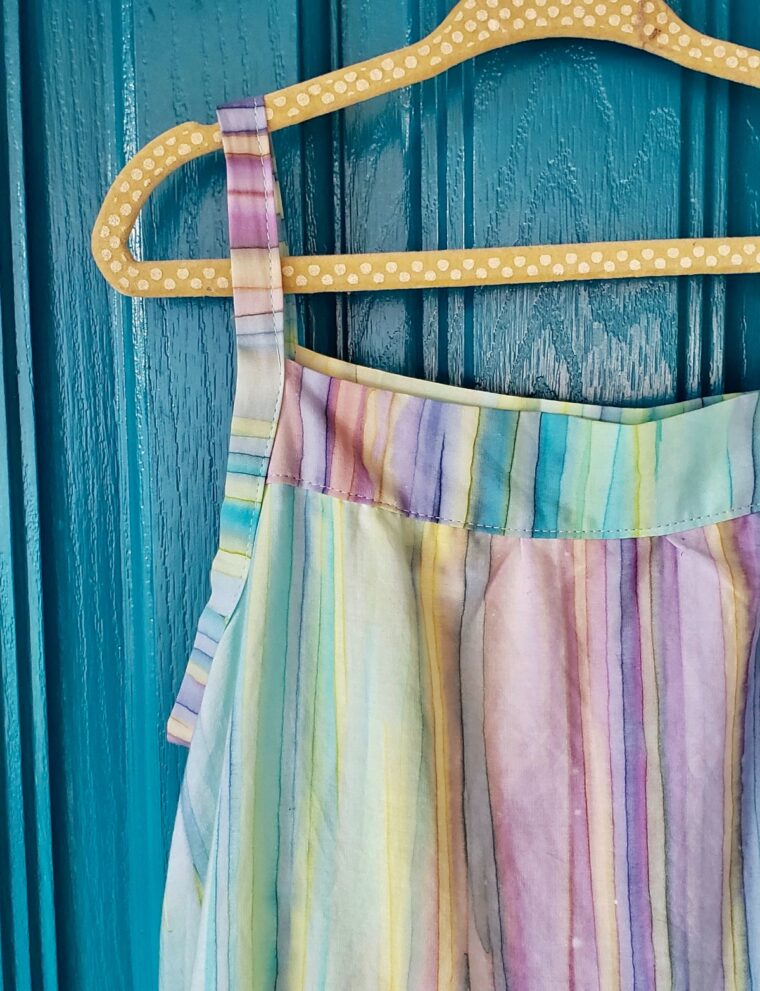 I just eyeballed the width of the tiers. I only had two yards of fabric and I forgot how much this girl has grown since last summer! I should have gotten 2 1/2 yards because it didn't end up quite as maxi length as I planned. I pieced the ruffle for the bottom out of the left over fabric to give it a little extra length, I used every single inch of the fabric. Even thought it was more midi length than maxi length, I thought it ended up looking just right.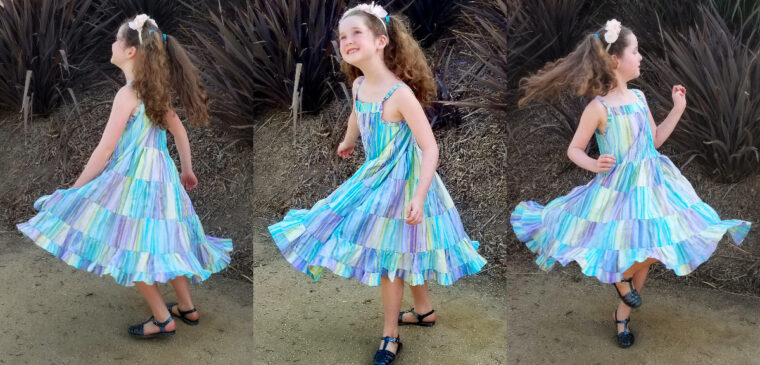 What was the best part of this project?
I love it when a project turns out just like I saw it in my head! When she put it on and gave it a twirl it was very satisfying!