Rebecca has been teaching her son to sew, starting with hand-sewing and continuing to small machine projects. When he was ready to sew his first garments, she turned to the Sunny Day Shorts pattern. We're so impressed with how it turned out!
Name: Rebecca Matthews
Where can we find you on the Internet? Instagram
Project details
Pattern used: Sunny Day Shorts
Fabric used: A remnant of pale blue Oxford shirting and some mustache-print quilting cotton, both from my stash. We made this project at the beginning of lockdown here in the UK, when the fabric shops and many online stores were closed, so we used what we already had.
I caught the sewing bug from my mother, and was taught to sew from a young age. I enjoy making my own clothes, and although I don't sew many everyday clothes for my kids, I've made them a lot of costumes for school events and for comic cons.
My elder son has shown no interest in sewing at all, but my younger son, Jacob (11), wanted to learn how to sew. He started by making his own hand-sewn soft toy characters, but he was soon asking to use the sewing machine. I have to confess that, although I was pleased to have a child who was enthusiastic about sewing, I was not too keen to share my own sewing machine with an excitable young learner!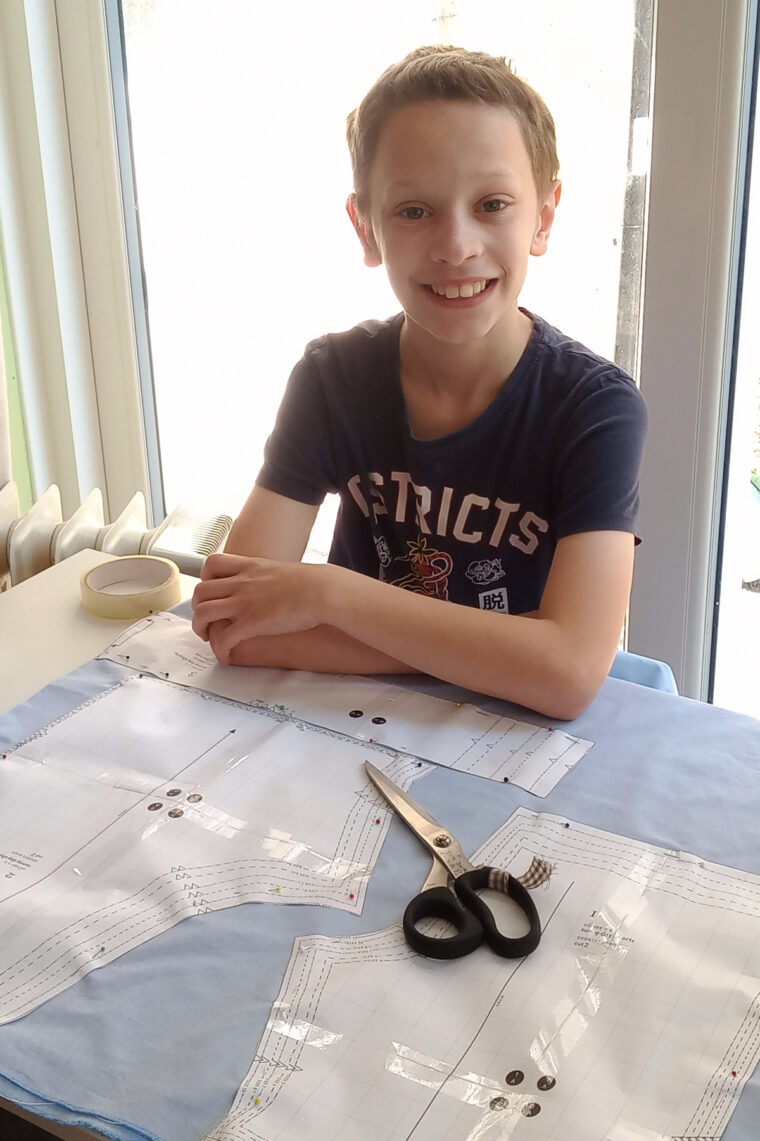 Luckily, my sister had an old machine going spare that she was happy to give to him. Before long, he was using it to stitch his own creations from old clothing and fabric scraps. Fast forward a year or so, and Jacob was desperate to start making his own garments.
I wanted Jacob's first experience of making clothes for himself to be a good one. I didn't want him to become disheartened by attempting a project which was too difficult but, equally, I was keen to avoid giving him something too boring! We looked for a pattern that would be relatively quick to complete, easy to follow, and that he would want to wear. The Sunny Day Shorts pattern fit the bill perfectly. Jacob lives in shorts from April to September!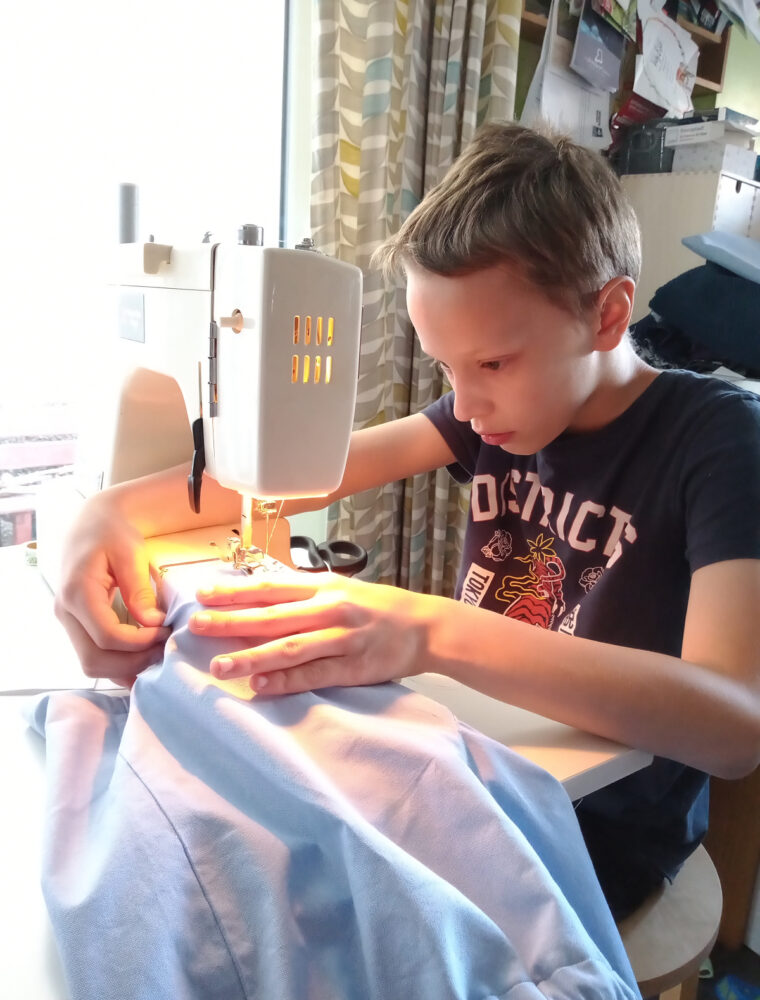 The first skill to master was assembling the pages of the PDF pattern. Jacob enjoyed this part a lot more than I usually do! He got the hang of sticking the pages together pretty quickly, and because there are only three pattern pieces, it wasn't long before the fabric was cut out and ready to sew.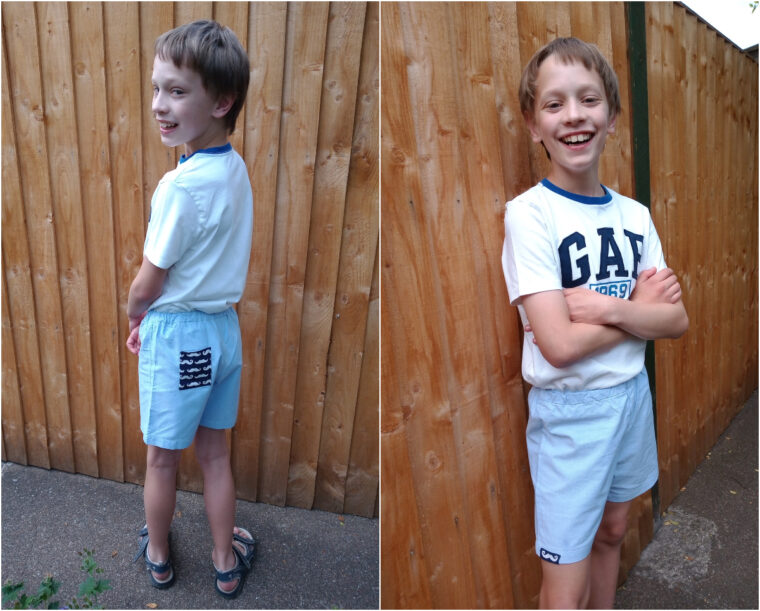 The Sunny Day Shorts pattern is a good choice for beginner sewists of all ages because it gives clear explanations at each step and has accompanying diagrams. There is no tricky fitting thanks to the casual shape and elasticated waist. Jacob managed to complete most of the sewing by himself. I did help him a little with the trickier parts, such as attaching the waistband. He then added his own unique touches: a mustache-print patch pocket and a tiny mustache tag for the edge of the leg opening. The project was completed in less than a day.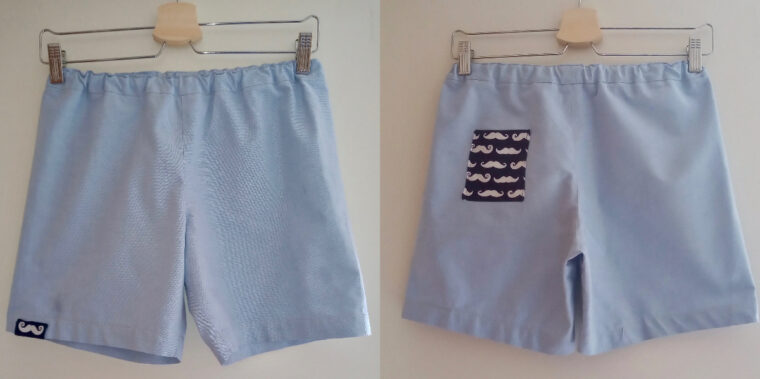 The Sunny Day Shorts have become a favorite item in Jacob's wardrobe, and he is proud to tell people that he made them himself. He is looking forward to being able to sew more clothing, and plans to sew a basic t-shirt next.
Simple clothing patterns make great projects for young sewists. With a few basic sewing techniques under their belt, they can create garments that reflect their own style, and which they will love to wear.
If you're looking to teach a child to sew (or any beginner), look no further! We have a number of easy-to-sew patterns in our one-scissor pattern section and on our free pattern page that are perfect for first sewing projects. And if you've taught a child to sew and would like to write about it, drop us a line at contributors@oliverands.com.