On our new Montauk Trousers pattern, we included a drawstring with two buttonholes at the waistband. It's a fun little addition to the elastic waistband that allows you to adjust the waistband when you're wearing the trousers. I thought it might be a nice detail to include a similar drawstring on the Everyday Skirt as well.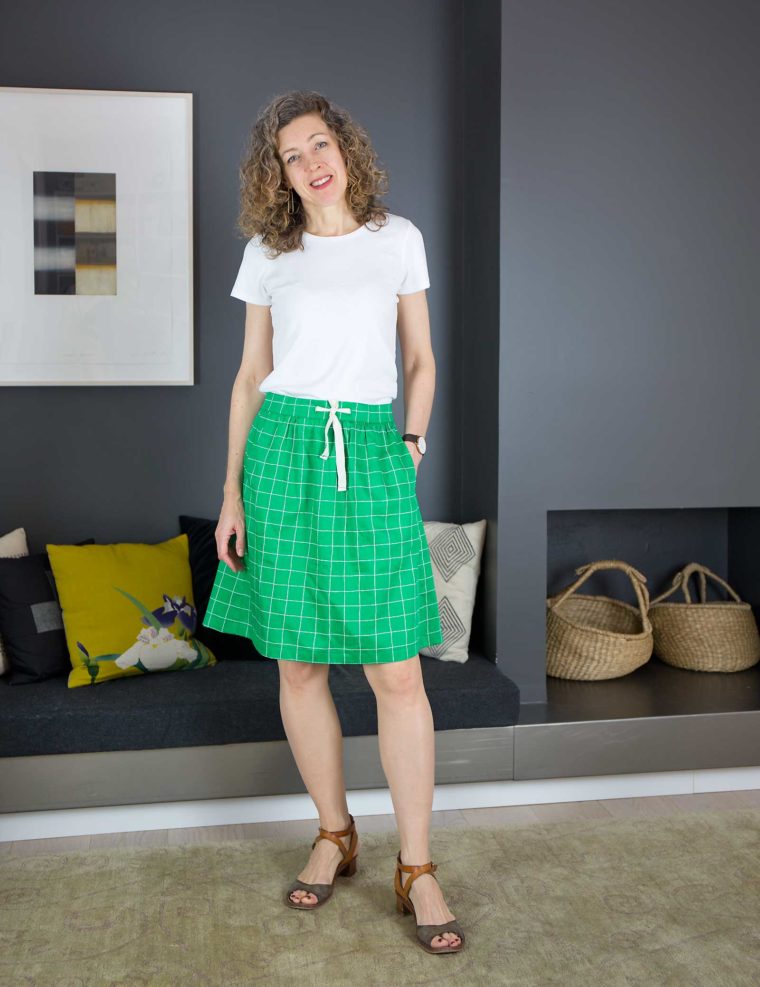 If you've sewn our Everyday Skirt, you know that the back waist has elastic, while the sides and front are a plain (flat) waistband. This makes it really easy to add a drawstring to the front waistband.
Here's how to do it:
After you interface the front waistband, fold and press the waistband in half lengthwise, then fold and press the long edge with one center front notch to the wrong side by 1/2" to establish the seam allowances on that edge (which will be the front) of the waistband. Unfold the waistband and mark a buttonhole on either side of the center-front notch, approximately 1″ from the center-front notch and just above the crease of the seam allowance. Stitch the buttonholes, then open them.

Sew the waistband to the skirt, following the directions. Be sure to sew the non-folded edge (without the buttonholes) to the skirt first so the buttonholes will finish on the right side (front of the skirt)!

Cut your drawstring in half, then feed one half of the drawstring into the waistband through each of the buttonholes. Baste each drawstring to the waistband at the side seam/waistband edge.

And voila! From there you can proceed with the rest of the Everyday Skirt. Super easy and you'll wear it all summer!