Cindy has made no fewer than seven shirts from the Recital Shirt and Classic Shirt patterns. She sewed four of them by combining the two patterns (they are designed to have interchangeable collars) and then made a few from the patterns as written as well. Read on to see her enviable wardrobe of button-up shirts!
I'm Cindy Cooksey, and I live in Irvine, CA, with my husband of almost 50 years, Dave. I am a lifelong artist and fabric enthusiast.
Some of my earliest memories include trips to the Empire Silk Store with my mother, who would flip through the pattern books while I walked around looking at the fabric. Mom made most of my clothes until I learned how to sew for myself. I sewed many of my clothes in high school (think Peter Pan collars) and on into my 20s. I also sewed clothing for my children when they were young, then set it all aside to become a pen-and-ink artist. After many years of making drawings and not sewing anything, I became enamored with quilting. I have made original contemporary art quilts from the early 90's up to the present. I have current work in a group exhibit called "A Better World" that is traveling around the country, but I have exhibited work nationally and internationally.
Almost 10 years ago, I became a grandmother, and I loved sewing for my two granddaughters. Now that my grandchildren are getting picky about what they wear, I am finding more satisfaction in sewing clothing for myself. It was through Oliver + S that I first heard about the Liesl + Co. patterns. The pattern directions are always so clear, step by step. I love them!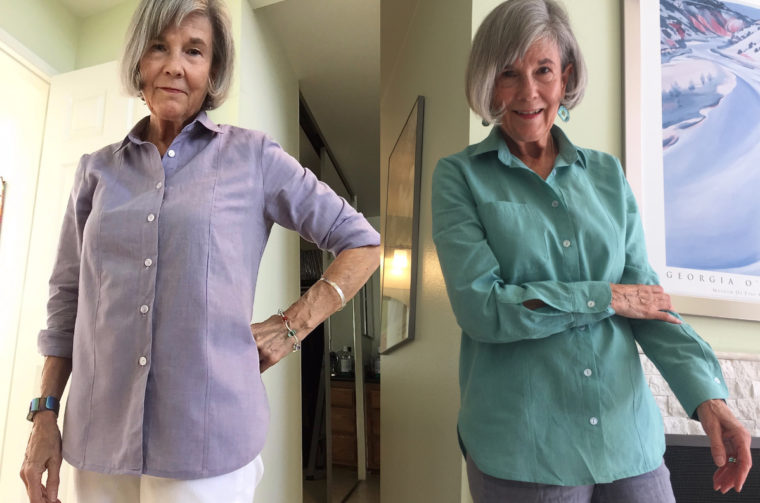 My favorite pattern is actually a combination of two patterns: the Recital Shirt and the Classic Shirt. I have made several blouses using them in tandem. I love the Recital Shirt for its wonderful fit, and I usually borrow the impeccable Classic Shirt collar and pocket. I love this versatility.
My first two blouses, made in 2018, were in lavender and pale green chambray, and I still wear them all the time.
Being only 5'1", it isn't easy finding ready-made clothing that fit me well, in the colors I like. And the shirt patterns from other companies were just not fitting me well. I always had to resign myself to shoulders that were too wide and rolled-up cuffs, because the sleeves were always too long. It is thrilling to finally discover great patterns that fit me.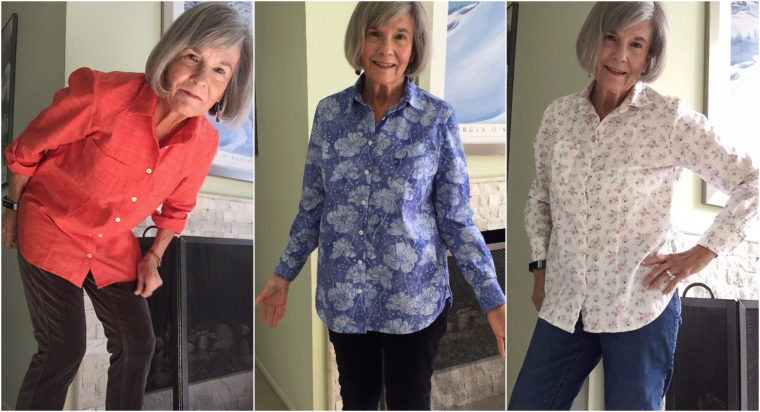 The third blouse is in a tomato red mixed cotton, and the fourth is in blue cotton batik, made fully from the Classic Shirt pattern. A few months ago, I used a tiny print on white cotton. These patterns work well with a variety of cotton fabrics!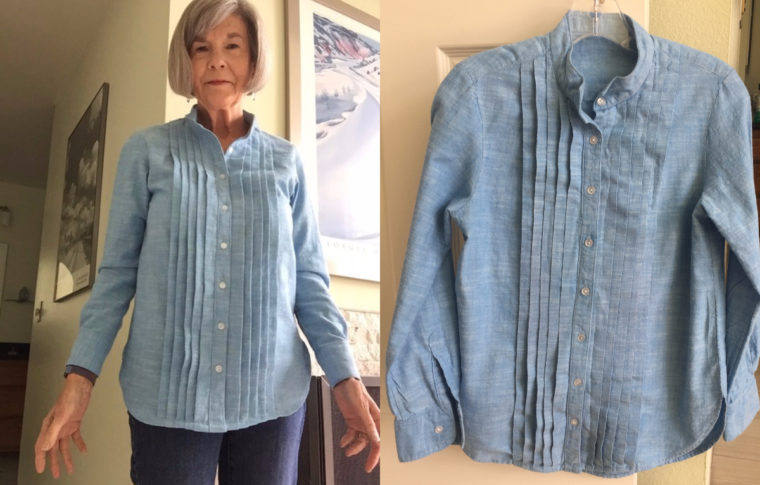 The Recital Shirt with the tucks and tuxedo collar in blue is a recent creation. This was the most challenging blouse, due to the tucks. I tried using the recommended Saral carbon paper to mark the lines for tucking, but the marks didn't stick to the fabric, which I think has a little linen in it. I also tried using a water erasable marking pen, but the blue ink was hard to see on the blue fabric. I finally carefully marked the tuck lines with lots of pins, and that worked fine. Then at the end when it was time to hem the blouse, the tucks made it hard to turn under the seam allowances neatly. I had to redo one side to make it more consistent with the other side. But now that it's all done, I love it! Maybe I'll try it again, with pure cotton fabric that isn't blue.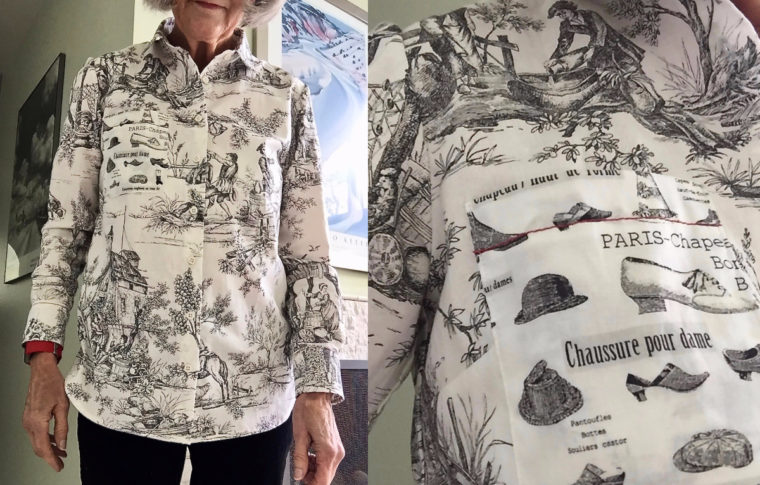 My most recently completed blouse is perhaps my favorite of all. I used only the Classic Shirt pattern this time, with some black and white toile-like cotton yardage that I bought at a recent quilt guild rummage sale. There was barely enough fabric for the blouse, with the aid of some other black and white print fabric that I had in my stash. I used contrasting fabric on the pocket, on the inside and underside of the collar, inside the cuffs and on the sleeve placket. The variety of fabrics played together well, I think. Also, there wasn't enough toile fabric to even think of matching scenes at seam lines or folds, so it makes for a playful, slightly quirky look, where the back end of a horse ends at the center fold, etc. I also made sparing use of 12-weight contrasting red thread (WonderFil Spagetti) in a few places: on the pocket, cuffs, and front and back yoke seams. The look is subtle, but I think a fun discovery to those who come close.
My next shirt is so far only in my head. My husband has some old dress shirts with worn edges on the collars and cuffs, but otherwise nice fabric, so I am itching to try recycling them into a cute blouse or two for myself. Will I use the Classic Shirt pattern or the Recital Shirt pattern, or a combo of both? I'll let you know.