Today we welcome Lisa from our Advisors Circle to show us the elevated not-so-basic black skirt she made from the new Kensington Knit Skirt pattern.
I have had on my "to sew" list a basic black skirt for a few years now. After all, a basic black skirt is a wardrobe staple and my wardrobe has been calling for one. It would be such a practical piece and complete so many outfits.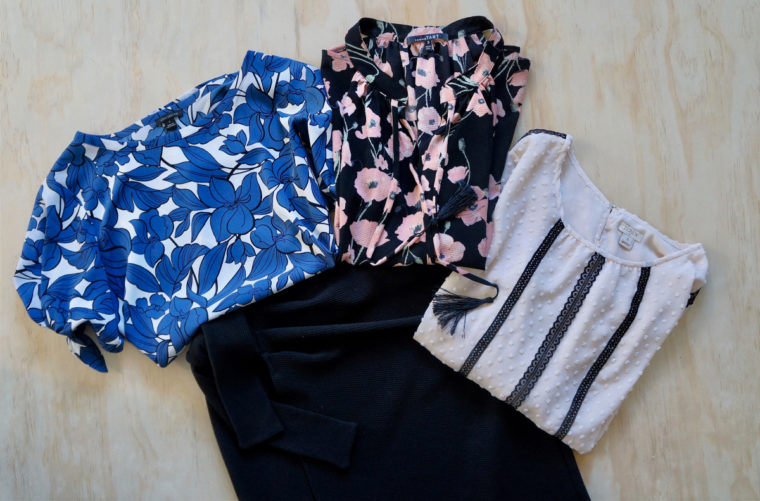 But I just wasn't getting around to it, because sewing a basic black skirt just didn't seem exciting. That is, it didn't seem exciting until I saw the Kensington Knit Skirt pattern. The pleats and the tie are details give it a sense of style! Add to that the fact that the Kensington is made in a comfortable knit and you have a match made in heaven! Did I also mention that it is quick to sew?
I agonized over my fabric choice. I wanted something with some drape, something that wasn't too clingy. In the end, I chose a pique double knit from Telio because I liked the idea of some texture. I thought the texture might give more interest rather than a plain solid black, and also thought it might hide a few lumps and bumps.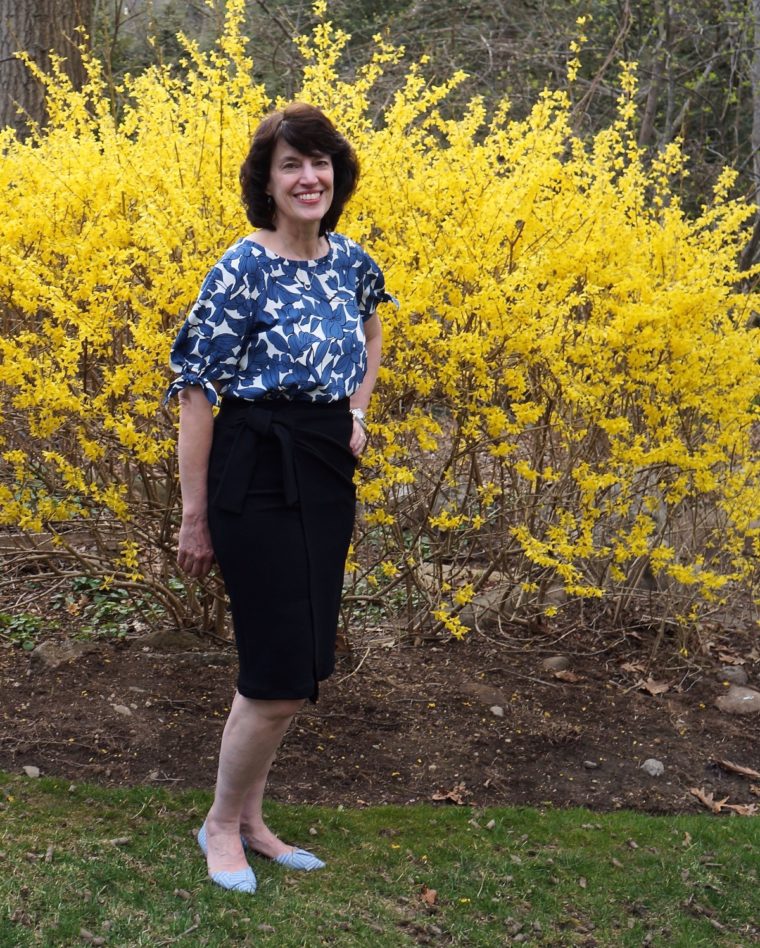 When the fabric arrived, I wasn't too sure. It was very soft, but I was concerned it had too much drape and too much stretch. I decided I would give it a try, but I wasn't going to trust this fabric. I was going to take some extra precautions.
First, I chose to interface the front and back yokes of the skirt with a knit interfacing. This gave the yoke a little extra body that I think this knit needed.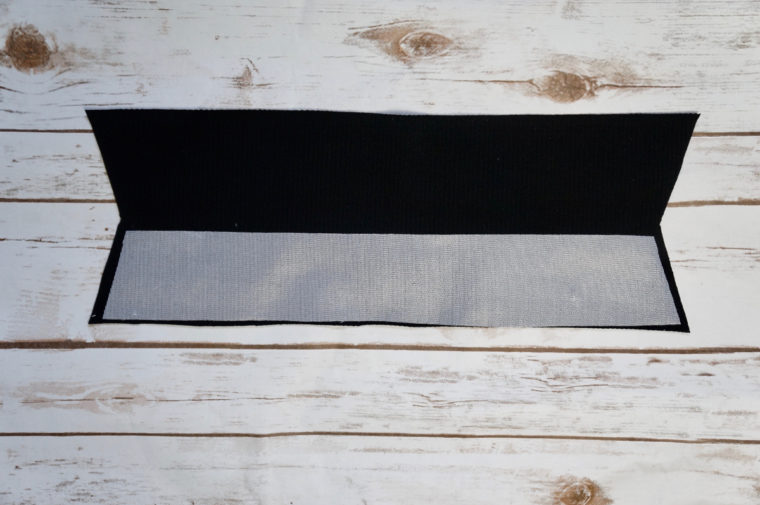 Next, when finishing the edges of the overlay, I took the time to glue baste the edges and clamp them in place with binding clips before sewing them on my machine.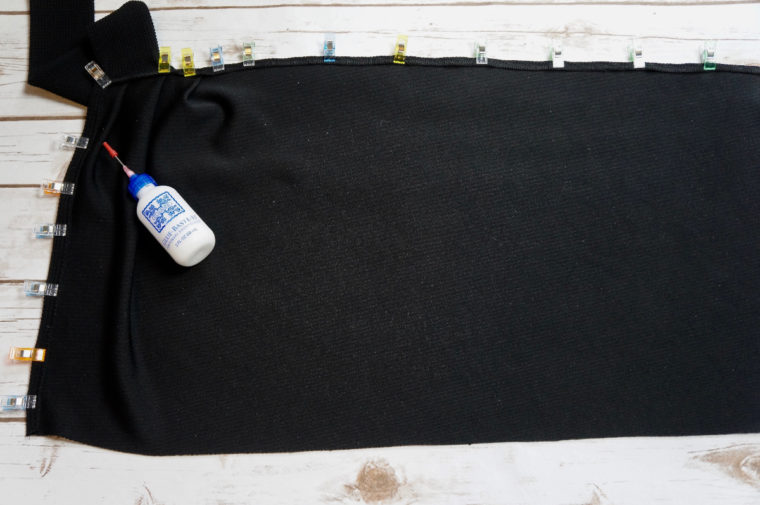 Hand basting the edges in place before sewing them would also work if you don't have Glue Baste It. This ensured the edges didn't slip and slide as they were sewn and gave me a wonderful finish the first time. Something we all know is important, since knits don't like being ripped out.
I don't have a coverstitch machine, so before hemming the skirt, I fused the hem in place with Steam-A-Seam Lite.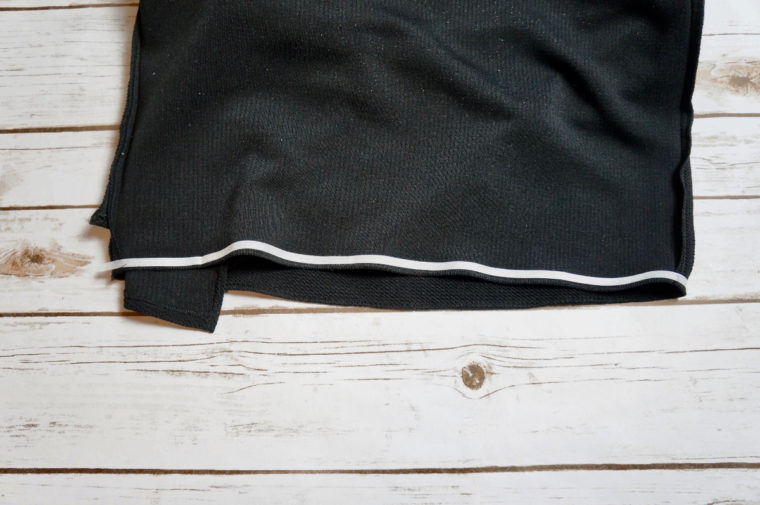 This kept the hem from shifting, but also provided stability and prevented the fabric from stretching, as it was stitched on the crosswise grain.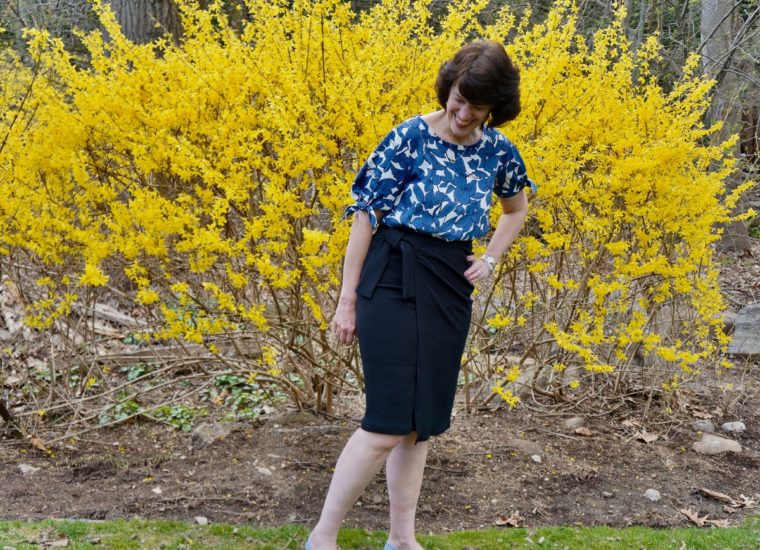 I love my black Kensington Knit Skirt! Sometimes you just need the right pattern to come along to kickstart your sewing inspiration and elevate that wardrobe basic!
Are you ready to sew your own Kensington Knit Skirt? Get the pattern here in digital format and sew your own summer staples! Don't forget to tag your photos on Instagram with #kensingtonknitskirt and #lieslandco so we can see what you're making!