Today we have another installment of our Sew + Tell series from Sarah, who sewed this beautiful red coat for her son.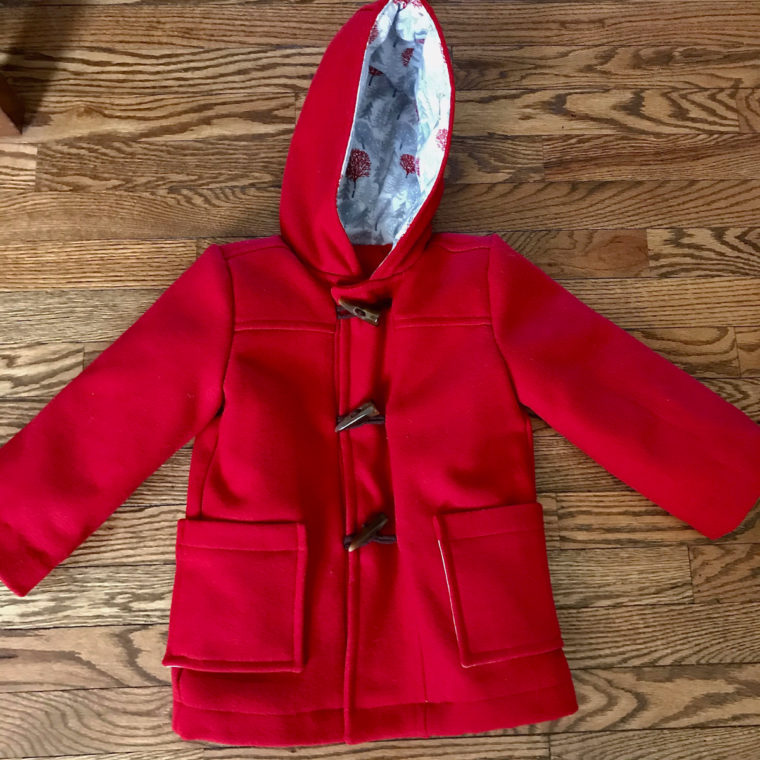 Name: Sarah Milloy
Where can we find you on the Internet? Instagram
Project Details
Link to your project: https://www.instagram.com/p/B3e2UxTnimH/
Pattern used: Oliver + S School Days Jacket + Coat, size 4.
Fabrics used: Main fabric: Wool/nylon/cashmere coating. Lining: Quilting cotton and red twill. I didn't have enough of either for the whole lining, so I improvised, but I like the way it turned out! I used a slippery polyester satin for  the sleeve lining to make it easier for my three year old to get on and off. I also used Thinsulate, toggles, and cording from Amazon and Dritz magnetic snaps.
Did the fabric and notions work well?
I loved sewing with this wool! I'm not used to working with thicker fabrics, but I used my walking foot and it was smooth and easy. The Thinsulate was a little puffy, but again the walking foot helped. Cutting and sewing the slippery satin sleeve fabric was a little tricky, and honestly I think he could get it on and off just fine without it, so I'd probably skip that next time and just go with regular quilting cotton. I really liked using the Dritz purse snaps for the inner closures because they are easy for my three year old to manipulate, and I think they will hold up much better than Velcro. They also look very professional in my opinion!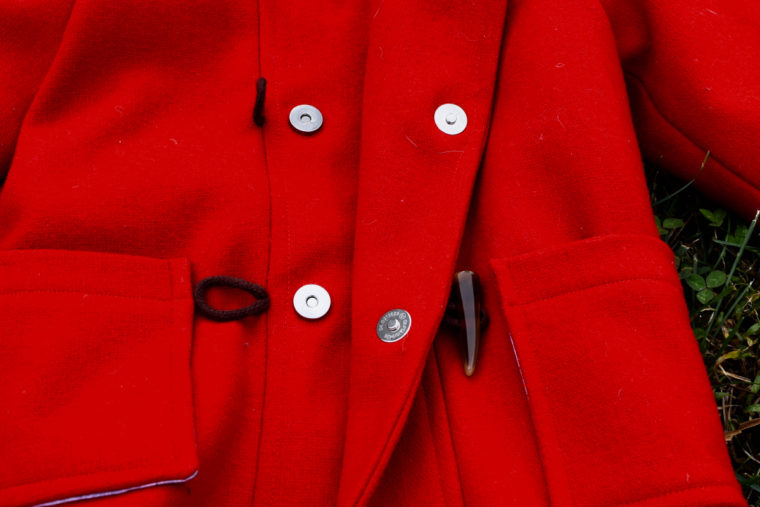 How did the sewing go? 
When my three year old told me he wanted a red coat, I knew this was the pattern I wanted to use. I've owned it since he was a baby but wanted to wait until he was a little older before I put so much effort into a piece for him. It turns out I waited so long, that he had outgrown the smaller size range and I had to grab the PDF version of the bigger sizes!
I was nervous to tackle this pattern, as I have never made outerwear, and I was a bit intimidated by all of the pattern pieces and instructions. But the instructions were so clear that it turned out to be much easier than I thought. There are many steps, but none are difficult. I think anyone who has successfully made a top with set-in sleeves could make this coat. I also looked over both the Oliver + S and the Whimsical Fabric sew alongs before I got started so I could have a clear idea of all of the steps.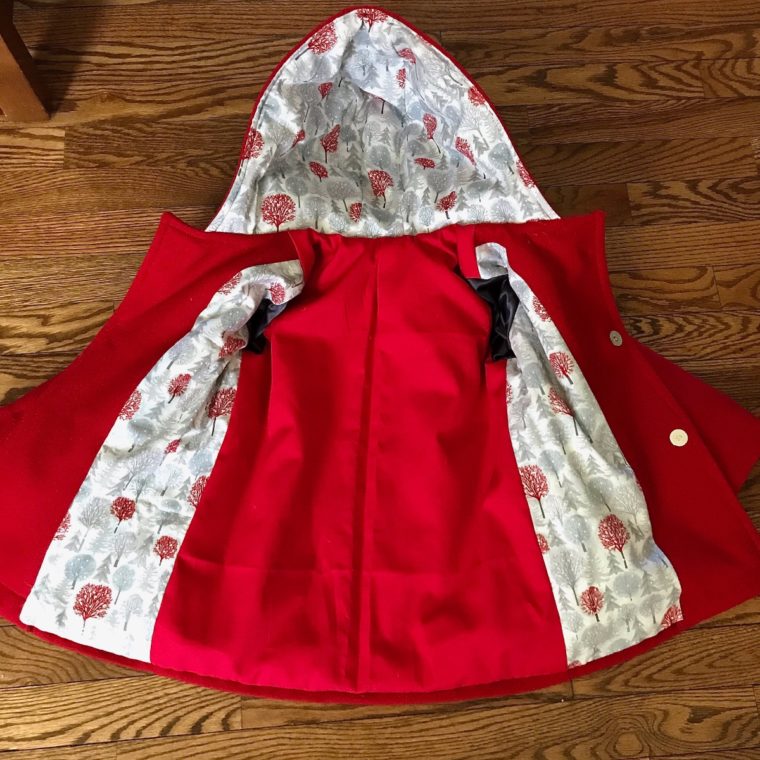 I decided to add a layer of Thinsulate for extra warmth. I actually found an old blog post of Liesl's where she did just that and followed her suggestions. Instead of underlining it, I just cut all of the lining pieces out of Thinsulate as well and basically made a second lining. Then I sandwiched the Thinsulate between the lining and the outer parts before handstitching the lining at the sleeves and hem. This does add a little bulk to the coat, but not a significant amount.
What was the best part?
For me, the best part of this project was realizing that I really do have the skills to make an heirloom quality piece of clothing. It made me want to try sewing a coat for myself next! I wish Oliver + S had an adult version of the School Days pattern! I also enjoyed using materials that I'm not used to working with (wool and satin). I'm already planning more School Days jackets for my other kids, and I'd like to try the optional vest that comes with this pattern as well.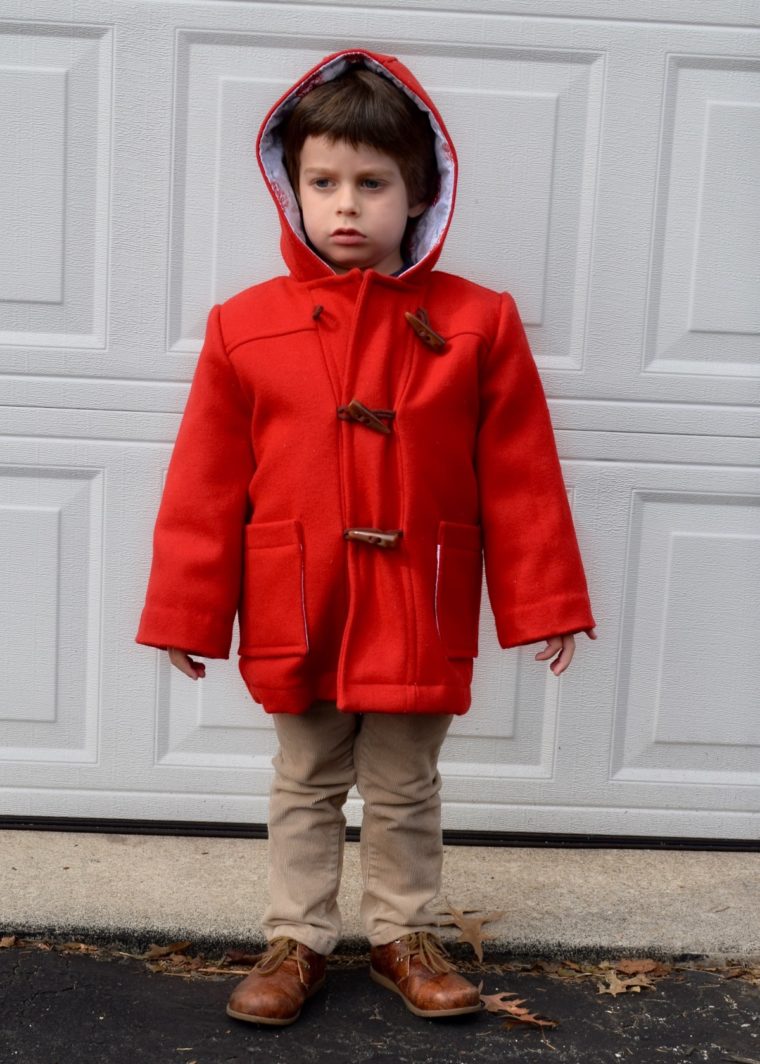 What about you? Have you tried this pattern? Do you have any outerwear sewing plans this fall and winter?