I mentioned the other day how much I've worn my gray flannel Rush Hour Dress for the past six months or so and how versatile it is. The great thing about a sheath dress is that you can layer over and under it, so have fun with this wardrobe basic and see how many ways you can wear it!
Here are a few ideas to get you started. (This was my first attempt at photos using a tripod in in my tiny bedroom. I had to remove my bed, so I won't be doing that on a regular basis! I don't love the result, but at least you can get a basic idea from the photos.)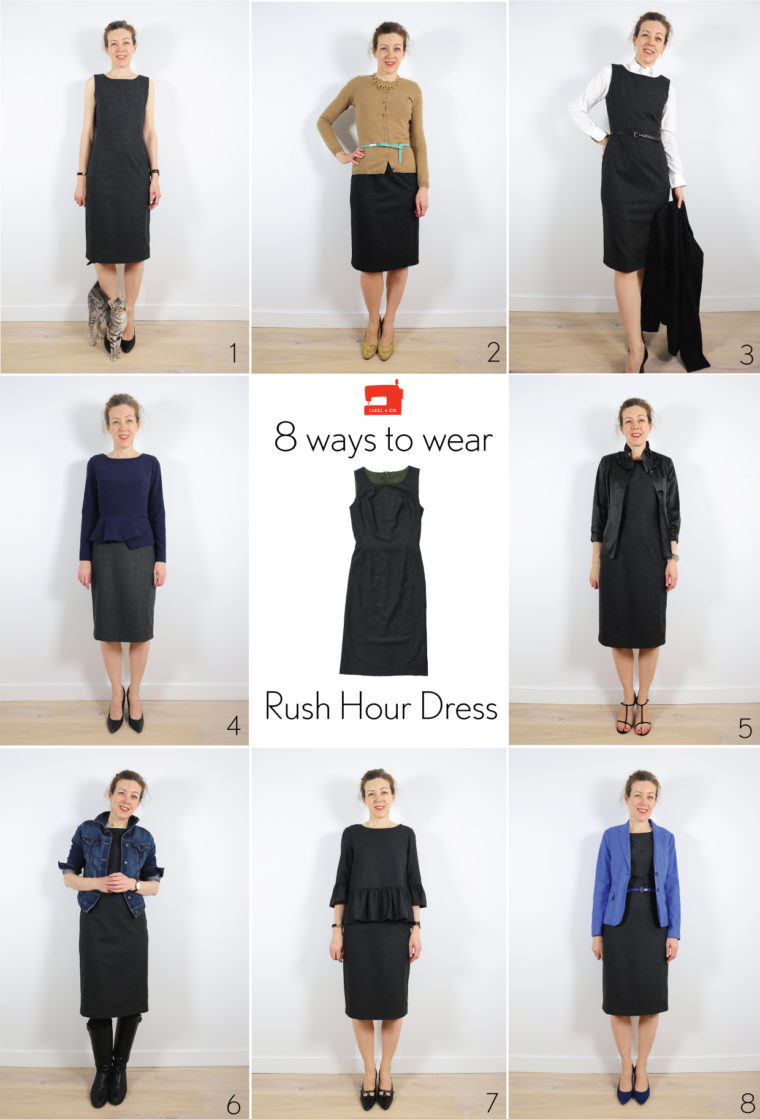 1. The basic Rush Hour Dress, worn with simple pumps, our starting point. (Plus one hungry kitty.)
2. Layer over: Add a cardigan, belt, necklace, and maybe some interesting or matching  shoes to tie it together. Did you think camel and gray don't go together? I'm here to prove you wrong.
3. Layer under: Add a classic button-down shirt underneath. In this case my white shirt gives it a very corporate look (the pinstriped blazer from my days working in finance helps). I also added a belt and some very corporate spectator pumps here. But what if you wore a distressed denim shirt under it instead? It would have a more casual, weekend feeling more like a jumper, especially if you changed from heels to boots or loafers.
4. This time I layered a Rush Hour Blouse over the dress for the peplum effect. Here the dress functions more like a pencil skirt, still classic but getting more mileage out of the dress.
5. An evening look: a satin jacket and strappy heels. I should have added a fancy necklace, but the cat was really hungry….
6. Weekend: denim jacket, opaque tights and boots for cold weather and a pulled-together, more relaxed and casual look.
7. How about a Gelato Blouse layered over it? This is the blouse we featured yesterday, sewn in a checked wool suiting that's incredibly versatile! The relaxed silhouette gives this look a slightly more casual feeling, but it's still work appropriate, for sure.
8. Colorful jacket and matching belt. Again, very work appropriate, letting the dress serve as the background for the bright blue.
I could have kept going, but a girl gets tired of changing clothes so many times!
How will you wear your Rush Hour Dress? The pattern is available right here if you want to give it a try.