Wow, ten years already! Today we're kicking off our big ten year anniversary celebration for Oliver + S. Have you seen the special anniversary homepage for the website yet?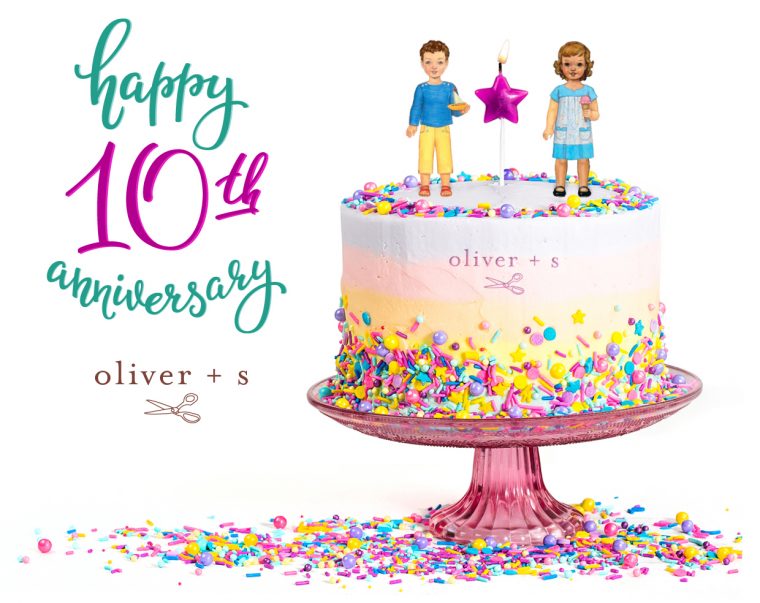 Many of you have sewn with us for most, or all, of our ten years. But many others have only joined this sewing community recently. Today, to kick off our anniversary celebration, I thought it would be fun to talk a walk down memory lane and remind (or introduce) you to some of the milestones in our growth and development as a brand and a company.
Thirteen years ago, when S born, I was working as a clothing designer in New York. After graduating from design school at FIT, I started working at Ralph Lauren, then worked a bunch of free-lance jobs (including a exciting stint with Esprit in San Francisco), and then landed at Tommy Hilfiger when I was done sowing my wild oats. I loved my work and my colleagues, but I was also eager to spend time with our new baby.
I've told the whole story of my creative journey as a new mom over at The Longest Shortest Time podcast if you ever want to listen to it. But long story short, soon after I left my job the lovely people at Purl SoHo asked if I would teach sewing classes at their new fabric store. It was through teaching those classes that I realized that there was a need for well-designed, professionally-drafted sewing patterns for kids with clear and detailed instructions. And that's how Oliver + S was born. (My second baby….)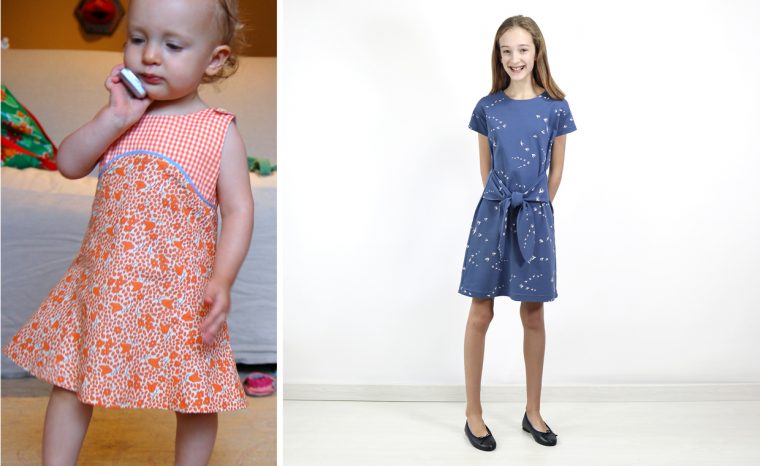 While at first I thought this little project was something I could do during my free time during naps and evenings (Todd was traveling four or five days a week, so I had a lot of time alone back then), I quickly realized that this would be a more-than-full-time job.
A year later, Todd left the demanding job that kept him away from home so much, and we made a lifestyle decision that he would join me in growing this company. This decision has given me the freedom to spend the majority of my time developing patterns, writing tutorials and blog posts, and taking on other projects I wouldn't have had time to do because Todd has taken on the responsibility of running the company and doing all the analysis it takes to keep us going. (We don't make a lot of money in this business, so our margin for error in decision making is small. We need to be really careful with all our business decisions. We talked about this at length in Creativebug's Building a Creative Brand class if you're interested in learning more.)
As a couple, working together has allowed us to take advantage of opportunities I couldn't have pursued otherwise. I've been able to write two books, travel to teach classes and workshops, record on-line and video classes, and design fabric collections. It's also allowed us to travel and to live abroad!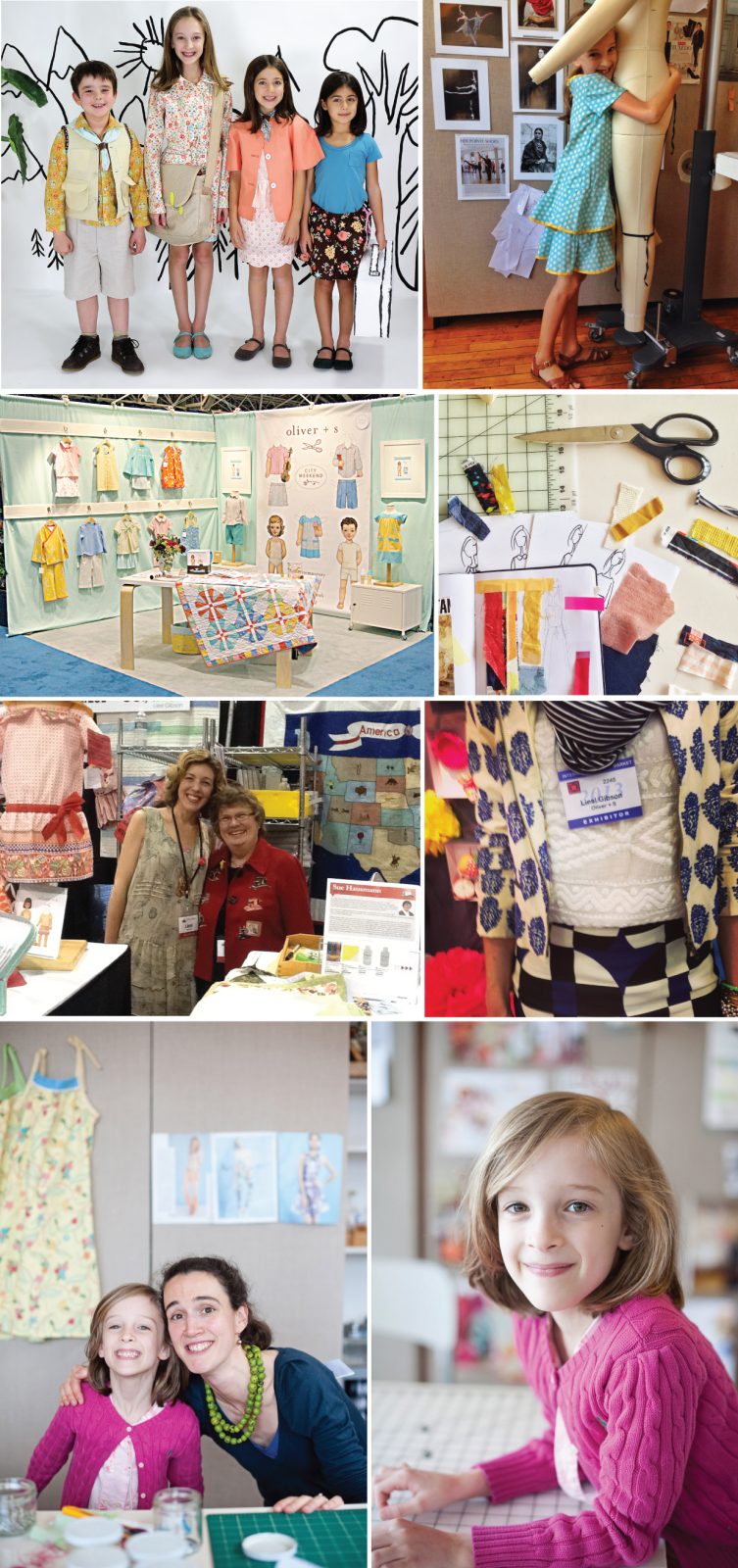 During these past ten years our business has also been located in four different locations. At first, like so many businesses, it started on our dining room table. When that quickly became unfeasible, I moved to a rented studio space a few blocks from our New York apartment. A year later we moved to a larger space in Brooklyn, and now we we have a two-floor combined live-work space here in the center of Madrid. I'll admit I preferred working from our studio in Brooklyn, but I'm learning to adjust to working from home. It's convenient, at least.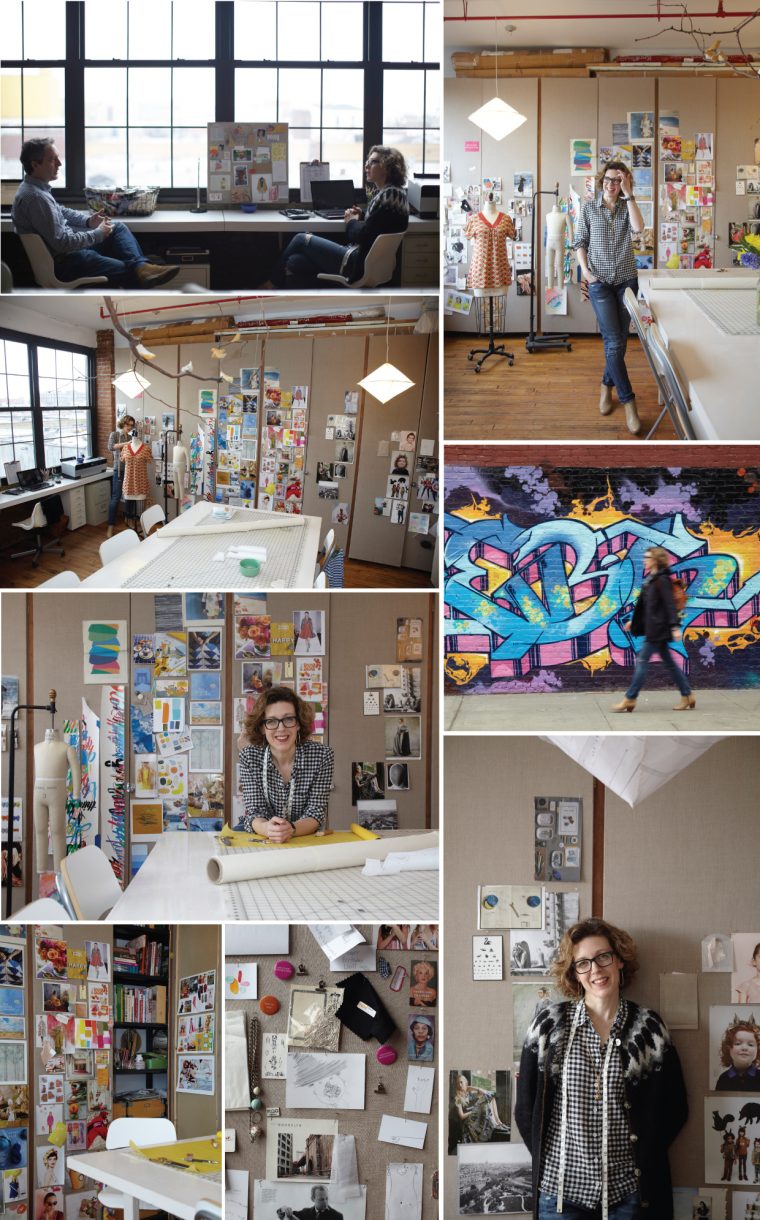 And in the past 10 years we've accomplished quite a bit! Here are a few statistics:
Number of Oliver + S patterns we've released: 50 (and we've turned pieces from several of these into additional Oliver + S Singles patterns)
Number of Liesl + Co patterns we've released: 20
Number of Lisette patterns we've released: 22 with Butterick and 15 with Simplicity in our early days
Number of Straight Stitch Society patterns we've released: nine
Number of fabric collections I've designed: four with Moda, one with Robert Kaufman, and more than I care to count under the Lisette brand
Number of books we've written: two (one of which we published ourselves for a little extra challenge!)
In addition, we've filmed many on-line and video classes: This includes two sewing how-to videos with Interweave, approximately 24 Creativebug classes, and a handful of one-minute tips and tricks videos just for the fun of it.
Plus many magazine features, podcast interviews, classes, and workshops. Not to mention all the blog posts, tutorials, sew-alongs, etc. It's been a busy decade!
At last, but certainly not least: number of new friends we've made through our business: countless! Not to mention that you live all around the world!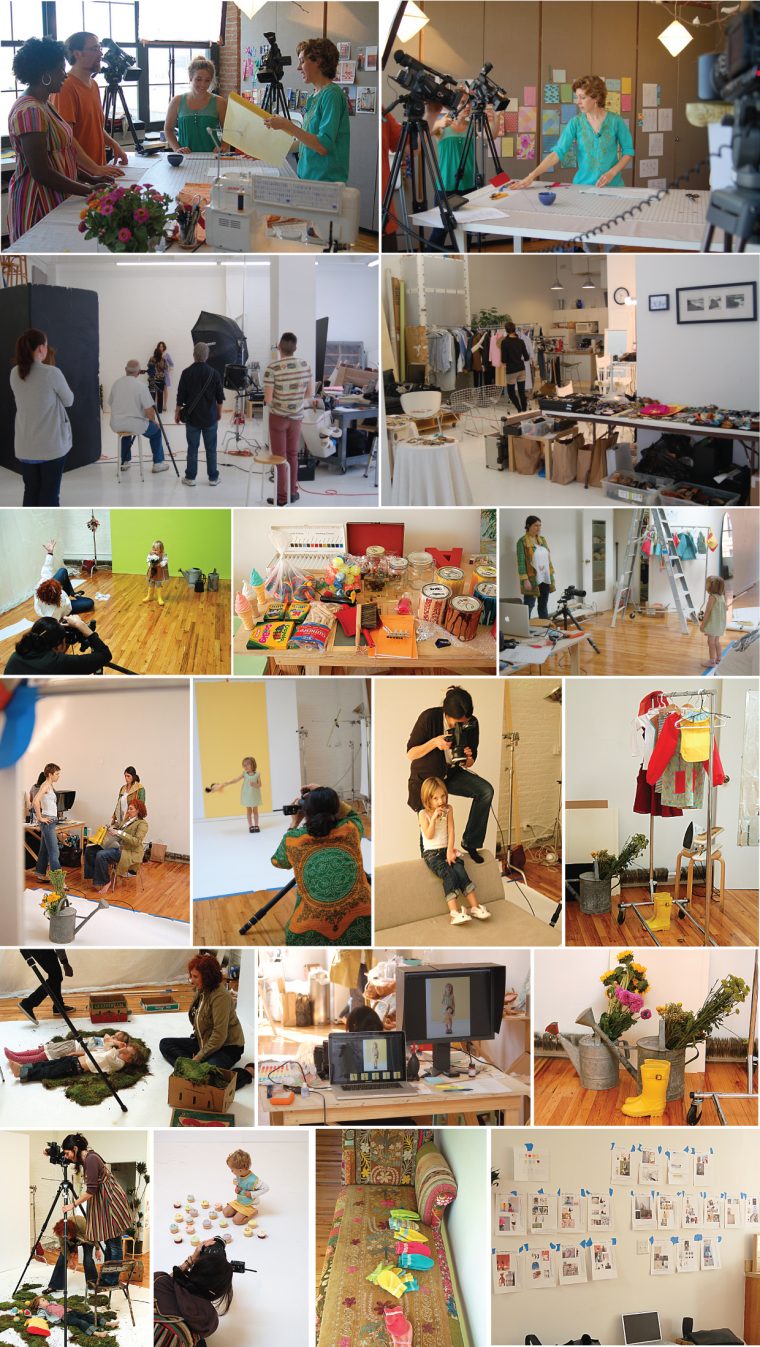 It's been fun to look through old photos to see how much S has grown up and to remember some really fun times we've had. If you've been reading this blog for a while you might recognize some of these photos.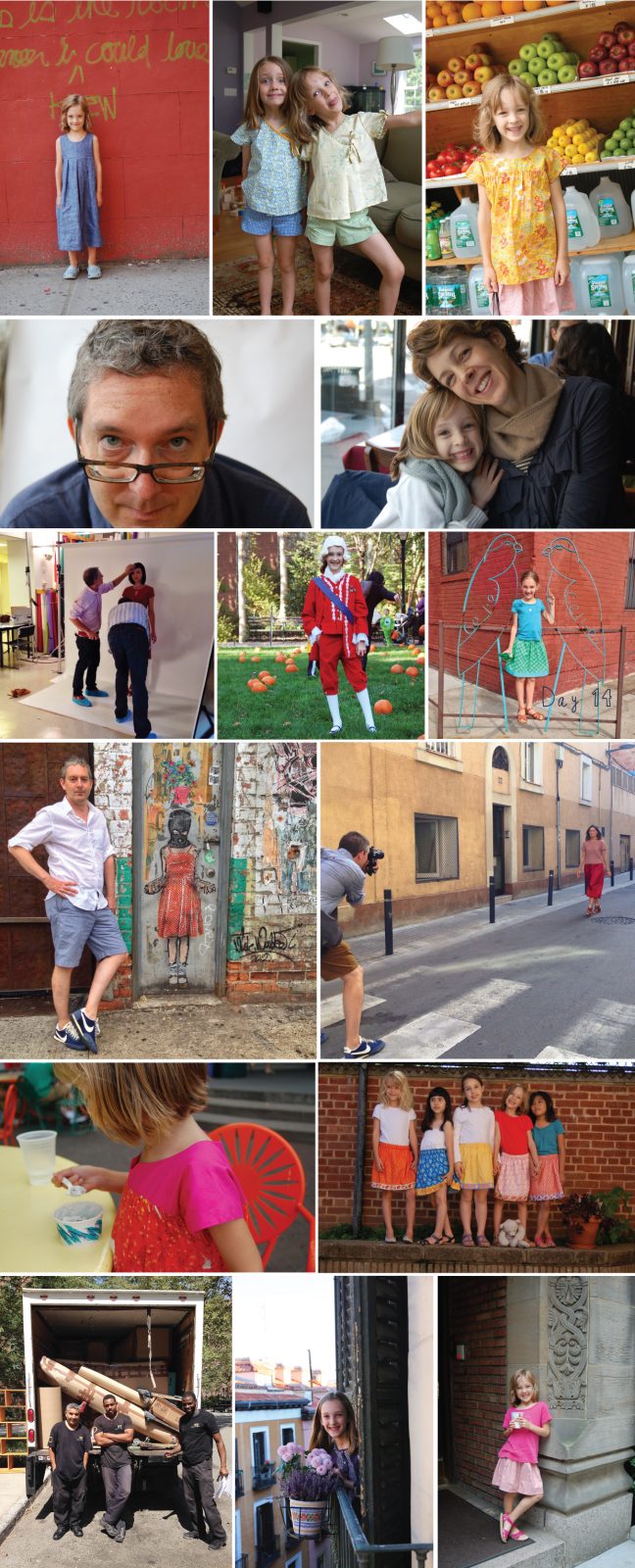 So many memories.
You know I'm always very honest with you, so I won't stop now. Financially our best year was 2014, and our business has trended downwards every year since then. Last year was not profitable for us (even though we managed to cut our expenses considerably by leaving New York), and this year is also looking like it will be a real challenge. We've spent a lot of time trying to figure out why that is, and we see it as being due to a combination of factors. The major one of which is that the overall market for sewing is contracting. Everyone in the business–from manufacturers to distributors to retailers–is feeling the pinch. It's a constant struggle to keep this business going, and we do it because we love it and because we enjoy running a small business. So we hope we can continue, and we appreciate your support.
What can you do to help? Honestly, word of mouth is most important for helping us to grow. And, of course, continuing to buy patterns. Happy customers who tell their friends, teach someone else to sew, and spread the word about the quality of our patterns and their inherent value are better than any advertising we can do. Of course we'd love to be here for another 10 years (or more!), and we'll need your help if we're going to accomplish that goal.
I'll be back on Wednesday to talk more about you and what you've accomplished these past ten years while you've been sewing with us. It's been amazing, and I've had so much fun looking through your photos as well as reading what you've had to say.
So here's to the past ten years, and hopefully to more. Thanks for coming along on this journey, and let's see where it leads us next!
Make sure to visit the blog tomorrow. We've got a special anniversary treat for you.