It's our 10th anniversary, and we just released our 50th Oliver + S pattern. So we decided to have a sale to celebrate both these milestones!
For the remainder of our two-week anniversary celebration, through March 24, you can get 10 Oliver + S paper patterns for only $50. It's an excuse to fill in your collection with those styles you don't yet have or to increase your collection for sewing future projects.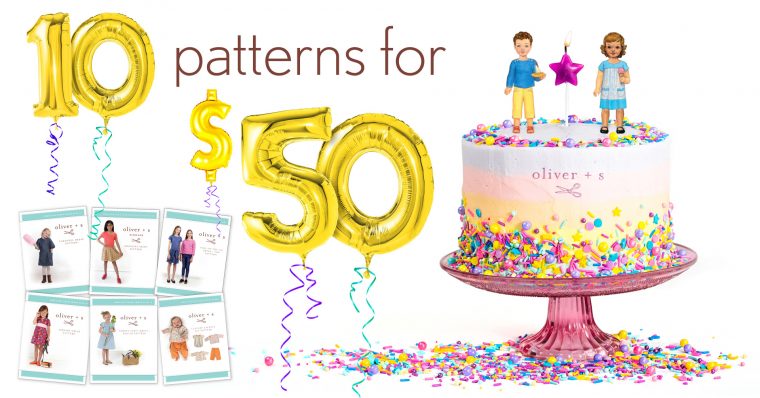 Here's how the sale works. Head over to the Oliver + S paper patterns section of the shop and start adding items to your shopping bag. They will appear in your bag at their regular price. But as soon as the number of Oliver + S paper patterns in your bag hits 10, the pricing will automatically update and you'll have the 10 patterns for $50. And if you want to purchase more than 10? Feel free. The special pricing will extend to any patterns beyond the initial 10 required for the discount to kick in.
There are a few notes. The special pricing is only valid on Oliver + S patterns (we're celebrating the Oliver + S anniversary here!) and it's only good on paper patterns–not digital. Why is this? Two reasons. First, when I started Oliver + S 10 years ago, no one was making digital patterns; everything was printed on paper and we want to help some of you regular digital pattern buyers remember the luxury of working with a physical, printed pattern. (Not to mention the lovely quality of our paper and packaging!) And, to be perfectly honest, these days 75% of our website orders are for digital patterns. As a result, we find ourselves sitting on a large volume of older paper patterns, which costs us a lot of money to store. We're hoping that you'll take this opportunity to save while helping us to reduce our stock.
So go shopping, and pick up those Oliver + S paper patterns you've wanted to add to your collection but haven't yet. This is our special anniversary treat to you!