Here's a funny story. (Or at least it's funny to me.) This season's Oliver + S Girl on the Go Dress, Cartwheel Wrap Dress, and the new Liesl + Co. Terrace Dress all started out with a goal to design the same pattern for children, tweens and teens, and women.
In the end, the only one that stayed true to the original design was the Cartwheel Wrap Dress. The Girl on the Go developed in one direction, and the Terrace Dress, which I'm about to introduce to you, developed in a different direction. But in each case I felt that the final design worked better than the original concept. That's how the design process works sometimes.
So let me tell you about our new Liesl + Co. Terrace Dress.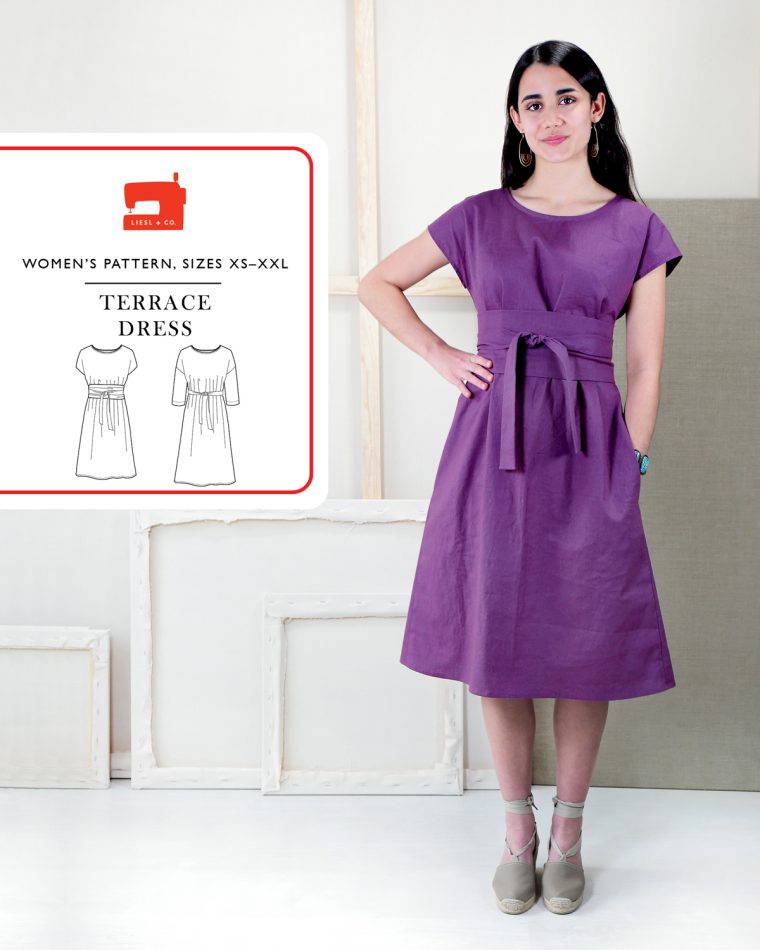 Initially I wanted this to be a popover-style wrap dress like the Cartwheel Wrap Dress, but once I had developed a couple of muslins it just felt too fussy as a women's pattern. Since I wanted a particular silhouette, I took a different approach, and I'm much happier with these results, which give the right look with more simplicity.
The Terrace Dress is a relaxed-fitting, extremely easy-to-sew dress with no closures at all. No buttons and buttonholes, no zipper, no anything at all that would make it more challenging. This simple dress slips on over your head and fits nicely through the upper body because of the bust darts and the dropped shoulder, which creates a sort of short sleeve. Because it's extremely easy to fit, and once you add the sash or tie belt, the dress looks really elegant and more fitted. So the pattern is very forgiving, but the finished result is quite sophisticated.
The pattern includes an easy bias-neck facing and optional side-seam pockets. (Because pockets are almost always a really good idea, right?) It also includes instructions for a full bust adjustment (FBA) if you are fuller than a B-cup and need a little extra for a better fit. View A finishes just below the knee, and View B is midi-length for those of you who (like me) prefer a longer dress. The pattern also has a lengthen and shorten line if you prefer to go shorter.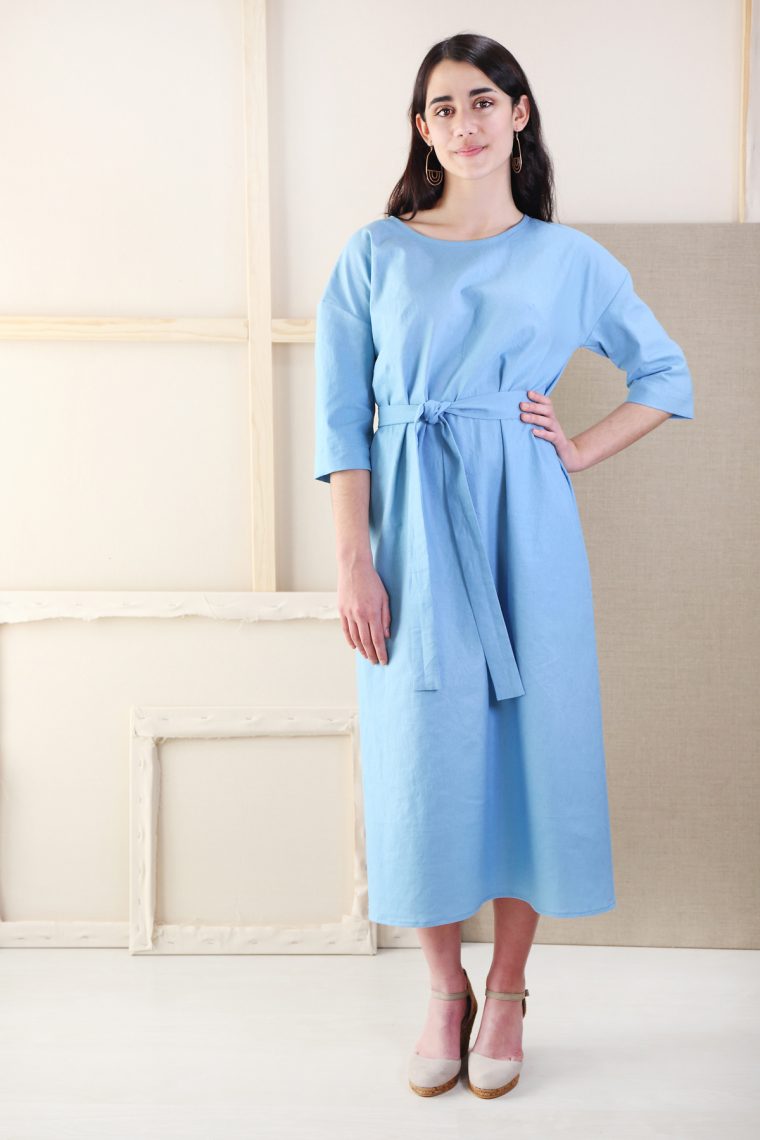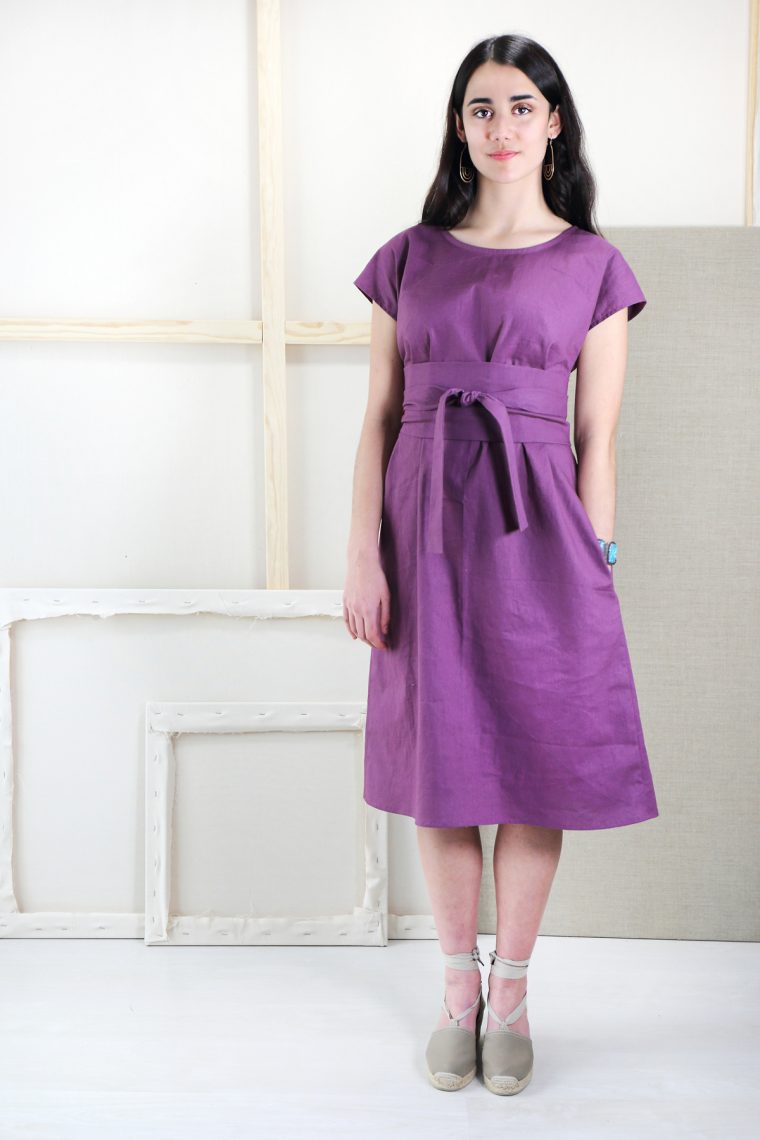 In addition, I included a center-back seam in case you want to squeeze the pattern pieces onto a smaller piece of fabric (no need to cut on fold, which conserves fabric, especially if you have a non-directional fabric) and to help you get a better fit because it allows for some gentle shaping through the back which results in less fabric at the back waist when the dress is belted.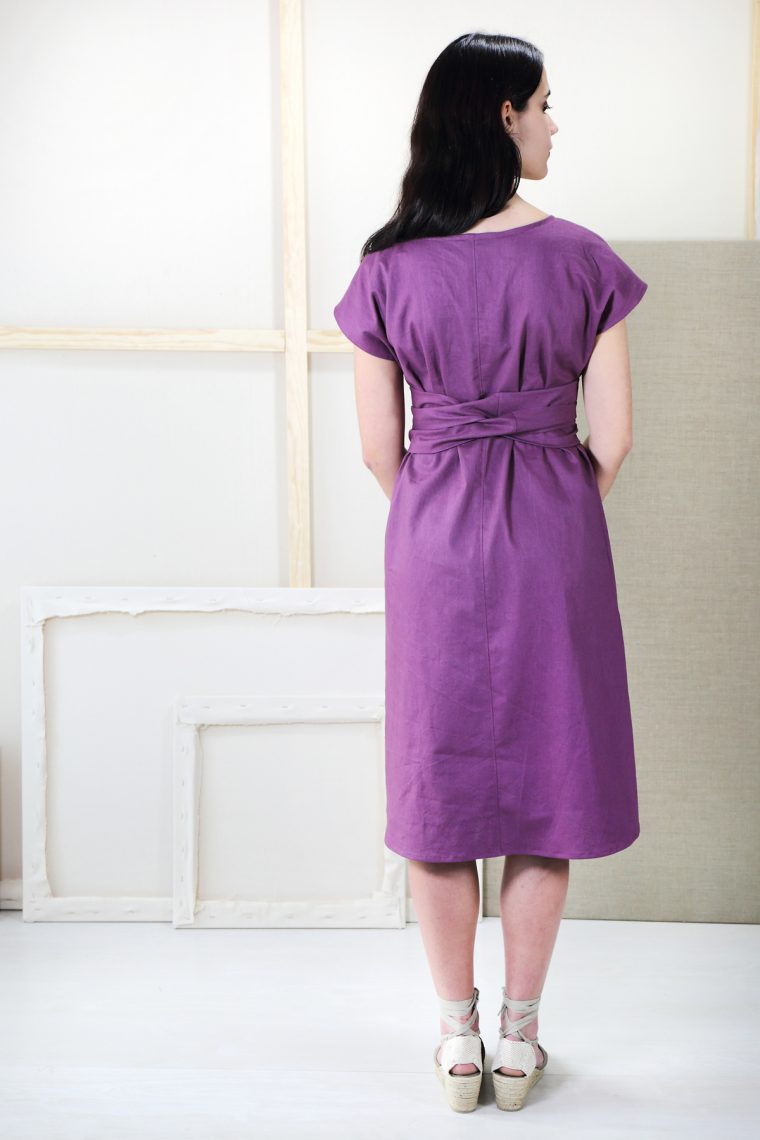 I think of this design as being sort of the equivalent of our Oliver + S Ice Cream Dress or Roller Skate Dress, but designed specifically for women rather than just sizing up a children's pattern. It's an easy-to-sew, easy-to-wear style that's relaxed and pretty without being fussy at all.
In terms of which fabrics work best for this style, I really like it in linen and linen blends, but it's also very pretty in rayon, double gauze, or anything else that's a little drapey. I think it would also work in poplin if you're looking for a less drapey appearance.
As usual, I've collected a bunch of inspirational images for you. Aren't these colors pretty? I especially like that flax yellow shade, but the blues and melons are awfully pretty, too. You can wear this dress with sandals, espadrilles, and slides. I think of it as being as summer-y and transitional dress, because it could be worn well into fall, especially in a richer shade like a rust or the plum we used for the pattern cover.
Here are a few more ideas for different ways you could wear and style it. What about trying a lightweight knit? Or shortening it to make a loose top? I also love the v-neck idea for those of you who prefer a lower neckline.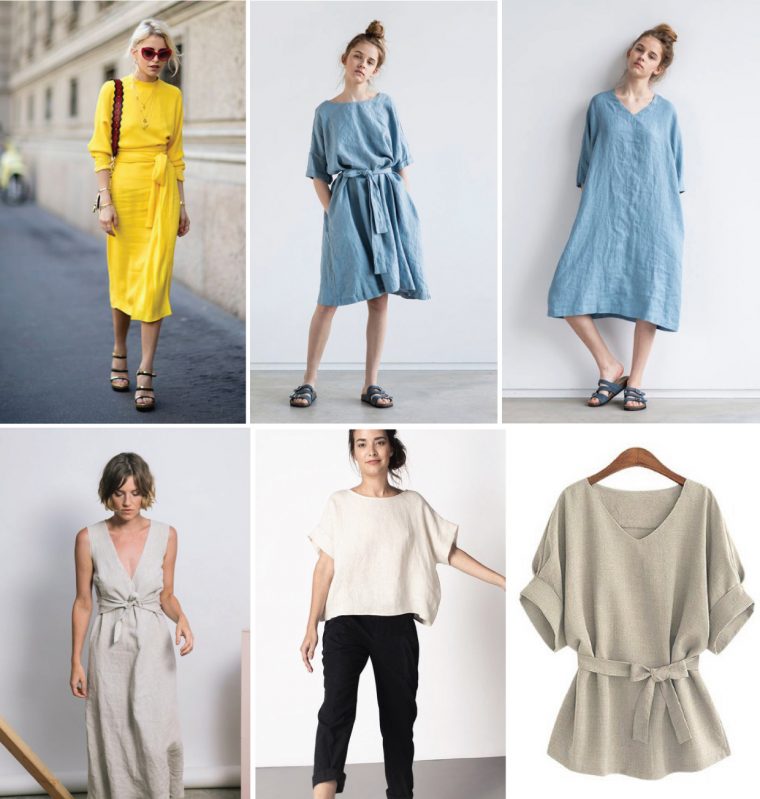 I've collected all these images and more in our Liesl + Co. Terrace Dress Pinterest board so you can find lots of sewing inspiration in one place.
You can purchase the Terrace Dress sewing pattern now in either paper or digital format.
Have fun with this pattern and be sure to show us what you make! Post your photos in the Liesl + Co. Facebook Friends group as well as on social media with the tags #lieslandco and #lcterracedress.