Yesterday we announced that our new spring patterns have arrived, and I'm thrilled to be able to start introducing them to you in more detail! Today I'll tell you all about our newest Oliver + S pattern, the Cartwheel Wrap Dress, and tomorrow and the next day I'll give you the details on our two new Liesl + Co. patterns. I hope you'll love them. So here we go!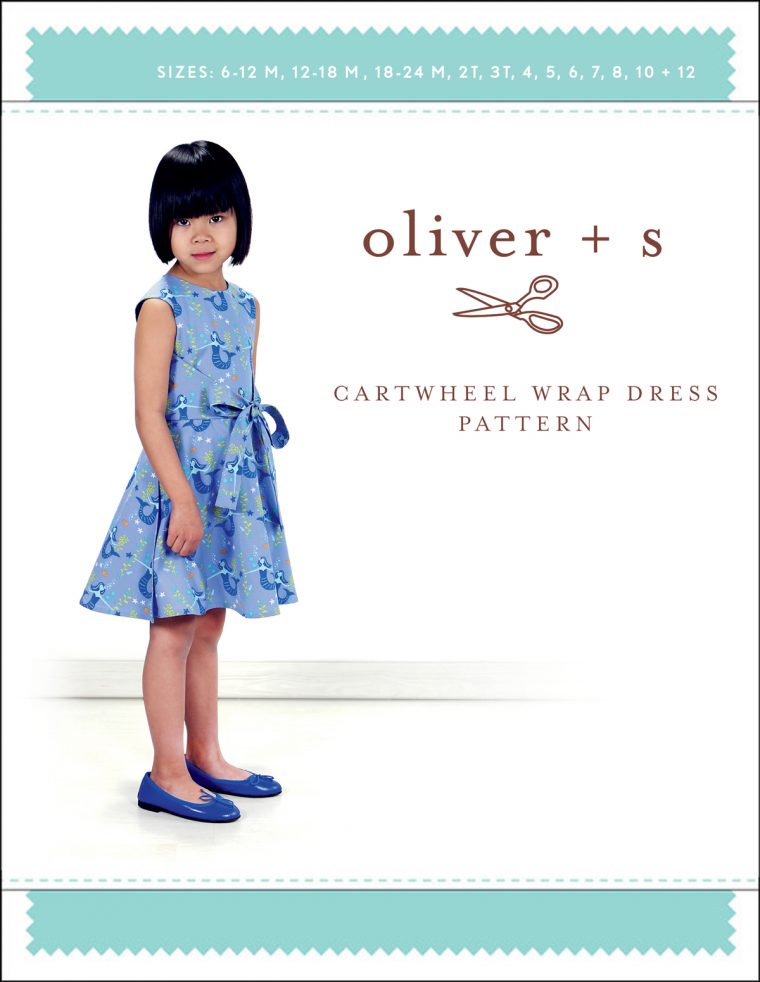 The Cartwheel Dress is a wrap dress, but not a typical front-wrap dress like a Diane von Furstenberg or a more adult-style pattern. This is a dress that goes on over the head, then wraps around the body at the front and the back so the two layers overlap each other. This way it offers a lot of coverage without risk of any surprises. Because the last thing a little girl wants to worry about is whether her dress is revealing! I think of it as more of a super-easy-to-put-on popover wrap style. The wrap also makes it more adjustable, since with the hidden Velcro you can tighten or loosen it as needed. (You can also use snaps, but Velcro is really the way to go, in my opinion.)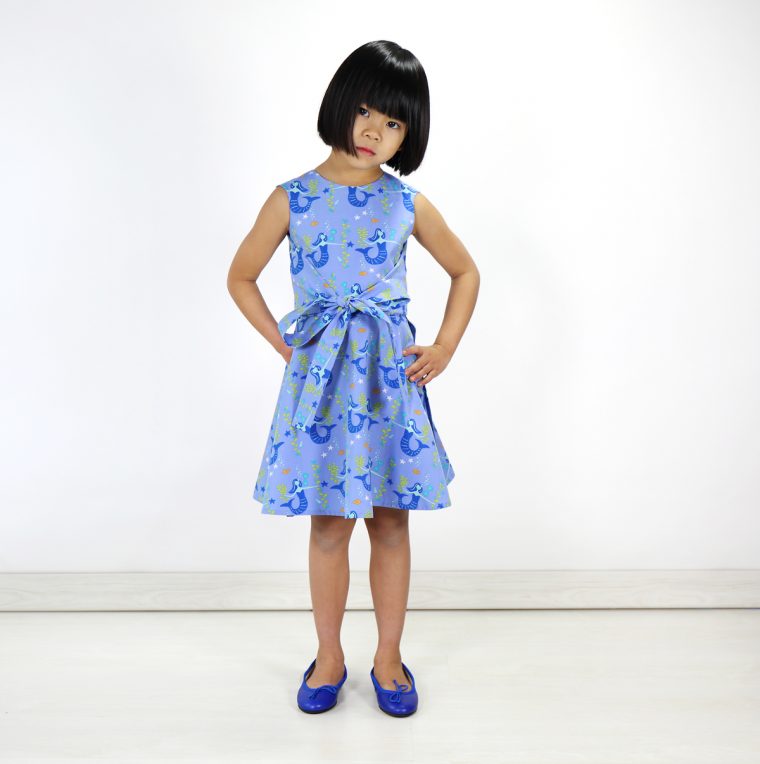 This pattern offers two different views. View A has a cute bow in the front. View B has the bow in the back. Otherwise the they are identical. Both have a wrap bodice that secures in both the front and the back, and both have a little hint of a cap sleeve on the smallest sizes that gradually disappears as the sizes get larger. (This was an challenging little grading trick that took ages to perfect. I had to grade each size by hand to get the right results, but I'm very happy with how it turned out. I did it this way because I felt like the cap sleeve looked best on the smaller sizes but wasn't quite right on the larger sizes, so it look a little playing to develop something that was just right for each size.) It also has a flared A-line skirt for plenty of twirl.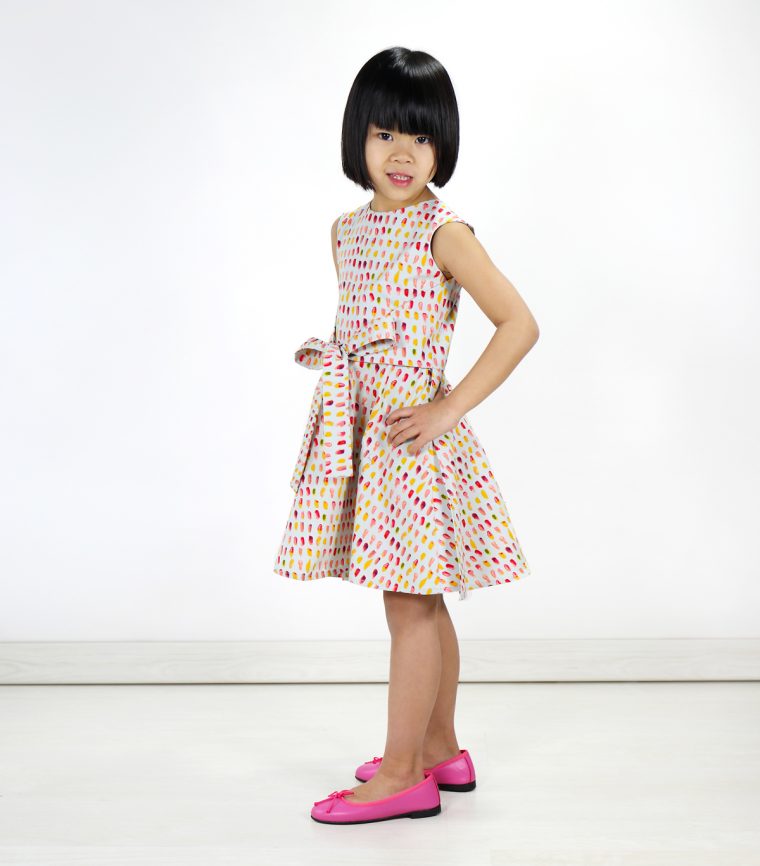 Also, big news! We included the full range of Oliver + S sizes in one pattern! So that means you get everything from 6 months all the way up to size 12 in a single envelope (or PDF file if you go the digital route).
There aren't many pieces to this pattern, which might surprise you. It also doesn't have any buttonholes or zippers, so those of you who prefer an easy and relatively quick sew will be pleased. On the other hand, it's a really fun construction that might surprise you. It's not tricky at all, but it is somewhat unexpected, I would say. The result is that is goes together faster than you would expect.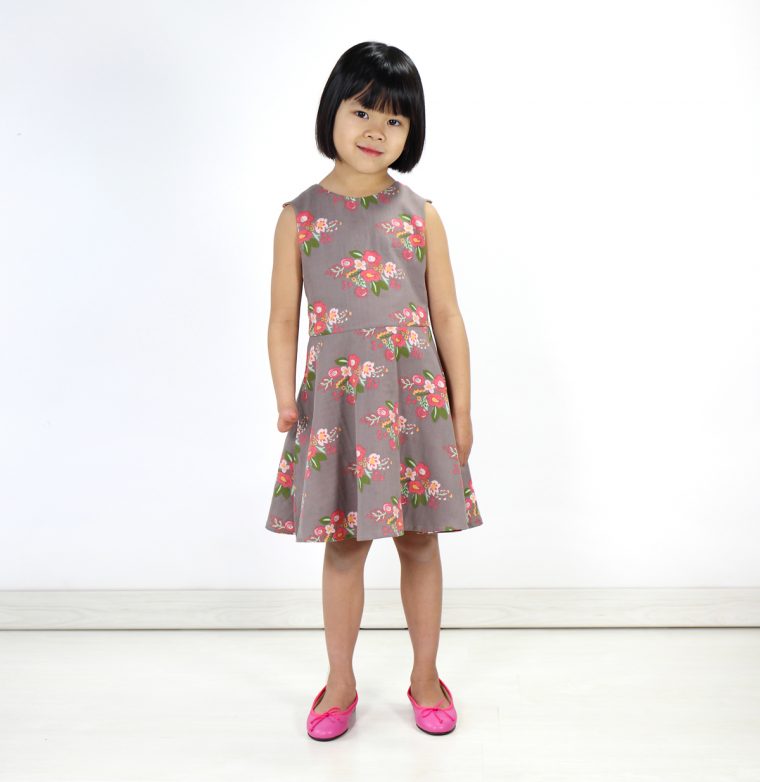 You can use quite a variety of fabrics for this style. I used poplin from Monaluna for the blue mermaid dress and the dress with the paint brushstrokes. For this floral dress, below, I chose one of Monaluna's double gauze fabrics. It's just dreamy and soft and our model fell in love with this one especially.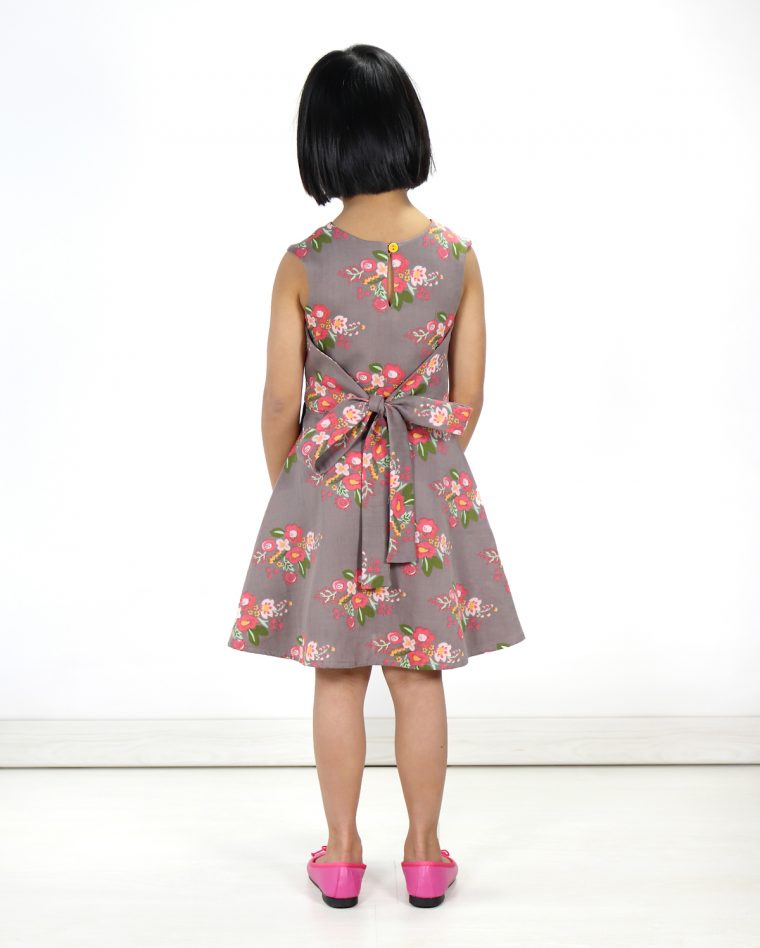 I think this will make a wonderful summer dress for many girls. It would also be a convenient and very elegant swimsuit coverup because it goes on so quickly and easily.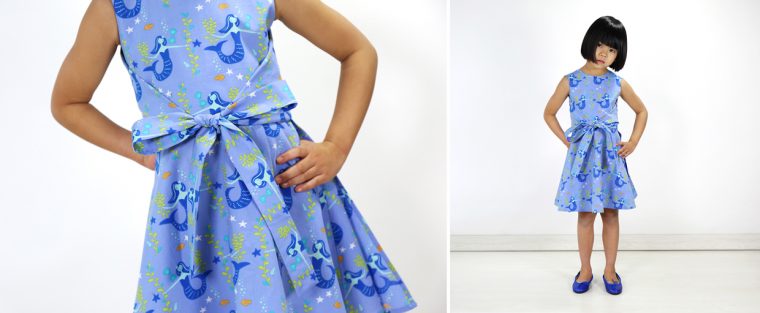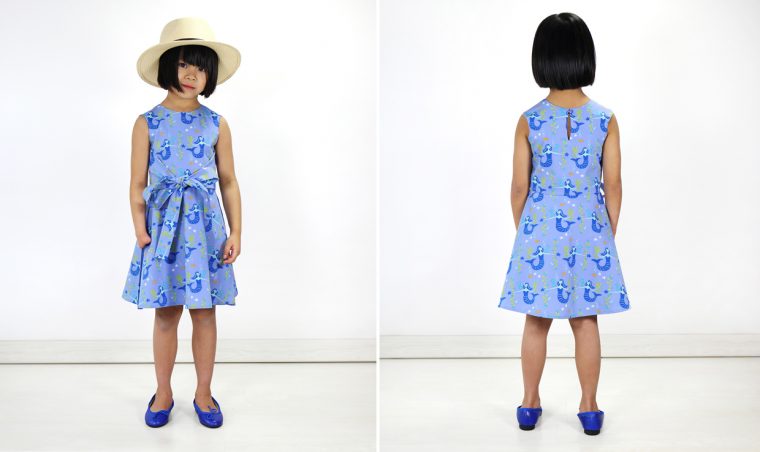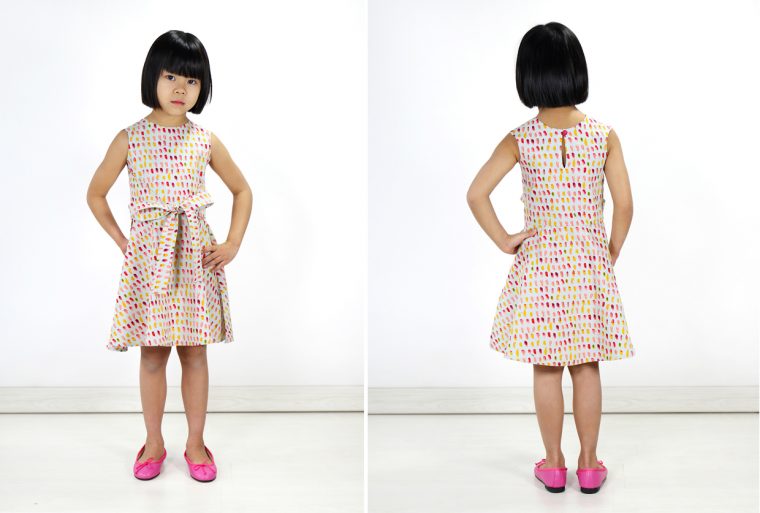 And just for fun, I asked our model to wear the dress that inspired this style. My mom can't remember where this sewing pattern came from, and I've searched for it to no avail, but I loved the wrap style and thought it was so clever that I used the same idea for the Cartwheel Dress. Obviously our pattern is completely re-designed, with a flared skirt instead of the gathered skirt and a higher armhole for a little more coverage at the sides. I think I wore this dress when I was seven or eight, and our model is a very tiny age five, so the dress doesn't fit her very well. My sisters all wore this dress as well, and when it was passed along to S we both fell in love with it.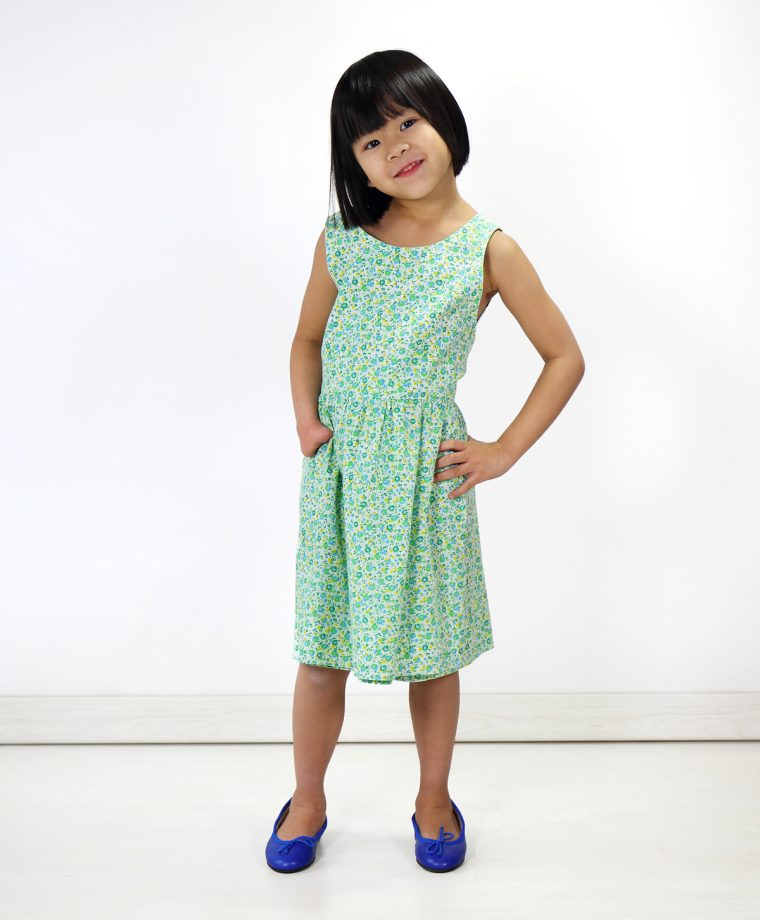 You can purchase the new Cartwheel Wrap Dress sewing pattern in either paper or digital format right now.
I can't wait to see what you do with this pattern! After all, that's half the fun of developing these patterns–seeing where you take them and what clever fabrics you choose. I hope you'll share your makes on our Oliver + S Facebook Friends group as well as on social media with #oliverands as well as #oscartwheeldress.