If you're relatively new to sewing, it can sometimes seem complicated and difficult.  But there are lots of easy ways to improve your sewing and make it look more professional and polished.
Here are 15 tips to start you on your way.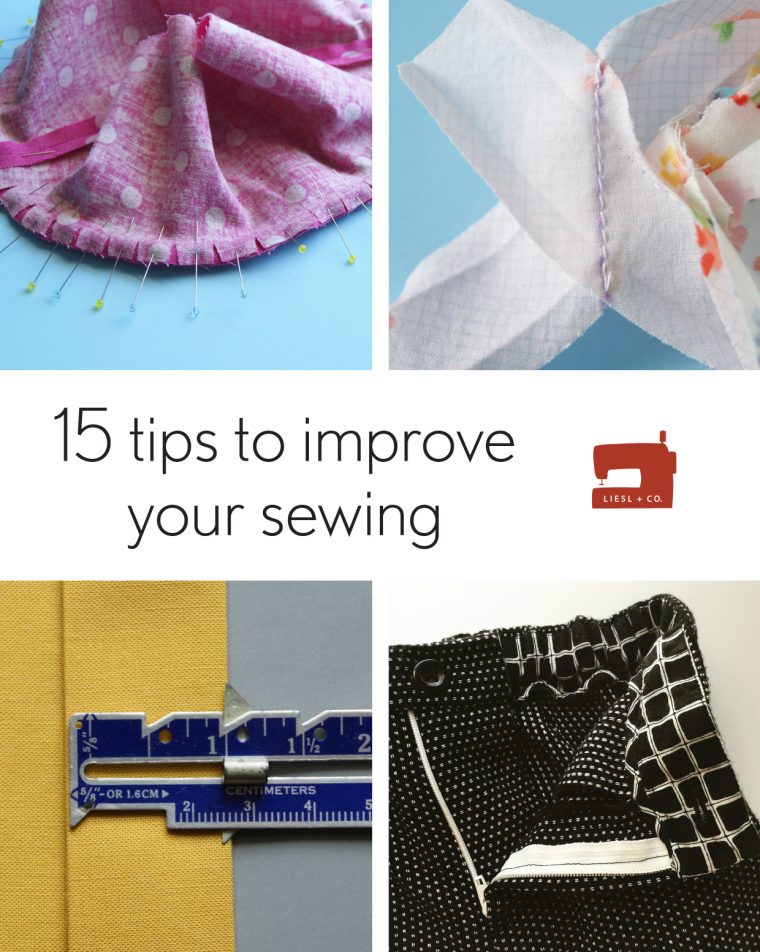 Press as you sew. Good pressing will make your sewing look so much better!
Make sure that you cut accurately and that you transfer your markings to the cut fabric accurately.
Sew as precisely as you can. Use the markings on your sewing machine to help you sew with an accurate seam allowance, or put a piece of tape on your machine to use as a guide. Practice makes perfect!
Use coordinating thread. Here's a video with a hint for how to choose your thread color.
Use good quality materials. Poor quality fabric never looks as good as good quality fabric.
Finish your seam allowances, and pick appropriate seam finishing techniques.
Include details like topstitching and special trims to make your sewing look special.
Slow down and enjoy the process. Sewing is just as much about the making process as it is about the finished result. It's not a race!
Hand baste when necessary. It will save you time and frustration and will save you from ripping stitches to re-sew.
Don't be afraid to use the seam ripper if something doesn't work out exactly as you wanted. Even really skilled sewists rely on their seam ripper!
Keep an eye on your stitch tension. Make sure the stitches are even and the thread doesn't pucker.
Make sure the fabric you've chosen is suitable for the pattern or style you're making. Fabric suggestions on the back of the envelope can be helpful, and pay attention to similar styles and fabrics. This is a skill that you'll learn with practice, too.
Don't feel like you need to make everything. Sew things that are at your skill level and that you feel comfortable making. And then wear them with things you've purchased so your wardrobe will look less homemade (in the bad sense).
Study clothing in stores, in your closet, in vintage shops, and in museums to learn how it was constructed and to get ideas to improve your own sewing.
Pay attention to current fashion so you stay up-to-date. Fashion changes over time, and your eye will change as well. Even classics need to be tweaked to look current.
What tips do you have to add to this list?