Sometimes the easiest way to get dressed in the morning is just to pull on jeans and a t-shirt, isn't it? I do it frequently enough myself. Of course, this also means that often the easiest way to dress up a little is to go a bit fancier with the top, right? Nothing crazy, just a little bit of an upgrade.
If this describes you how dress some mornings too, I think you'll be interested in this new pattern.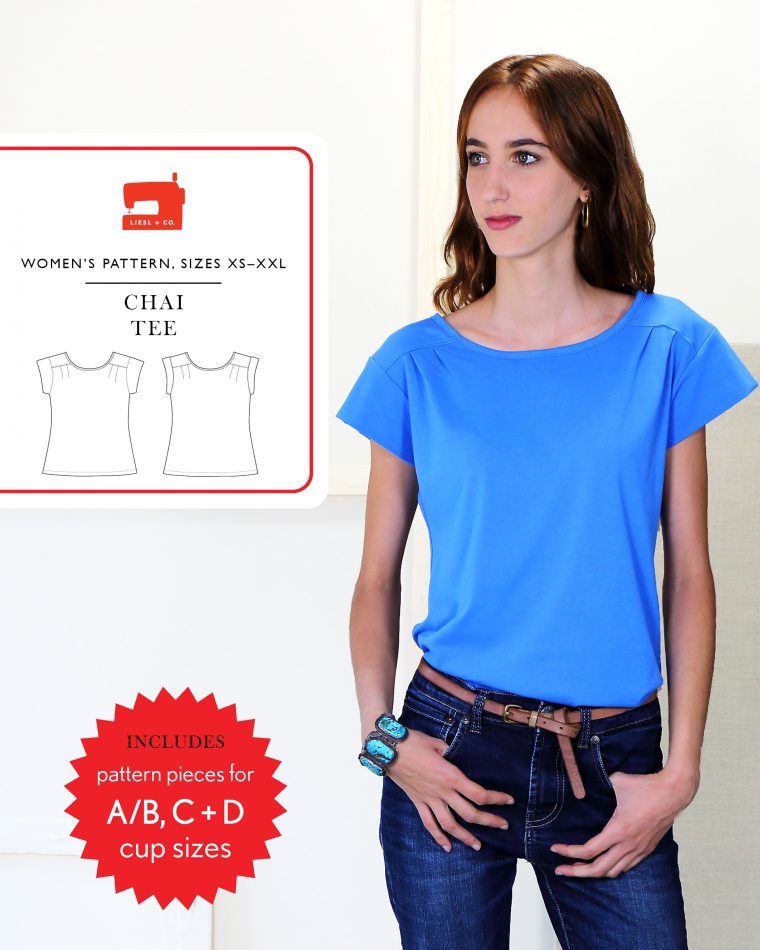 That idea–an upgraded t-shirt–is how the Chai Tee sewing pattern came to be. I wanted to give you options for staying just as comfortable as when you wear your favorite t-shirt, but with a little more everyday elegance.
The Chai Tee is a riff on the basic tee, dressed up a little bit. It has a relaxed fit, not snug at all, but also with a feminine shape. The details include a shoulder yoke and pleats to allow room for the bust. The neckline is a bit more open and is finished with binding instead of the basic T-shirt neckband. The cute little sleeves can be cuffed or un-cuffed and, since I know you love this option, the pattern includes pieces for A/B, C, and D cup sizes to help you get a flattering fit–even though it's a t-shirt.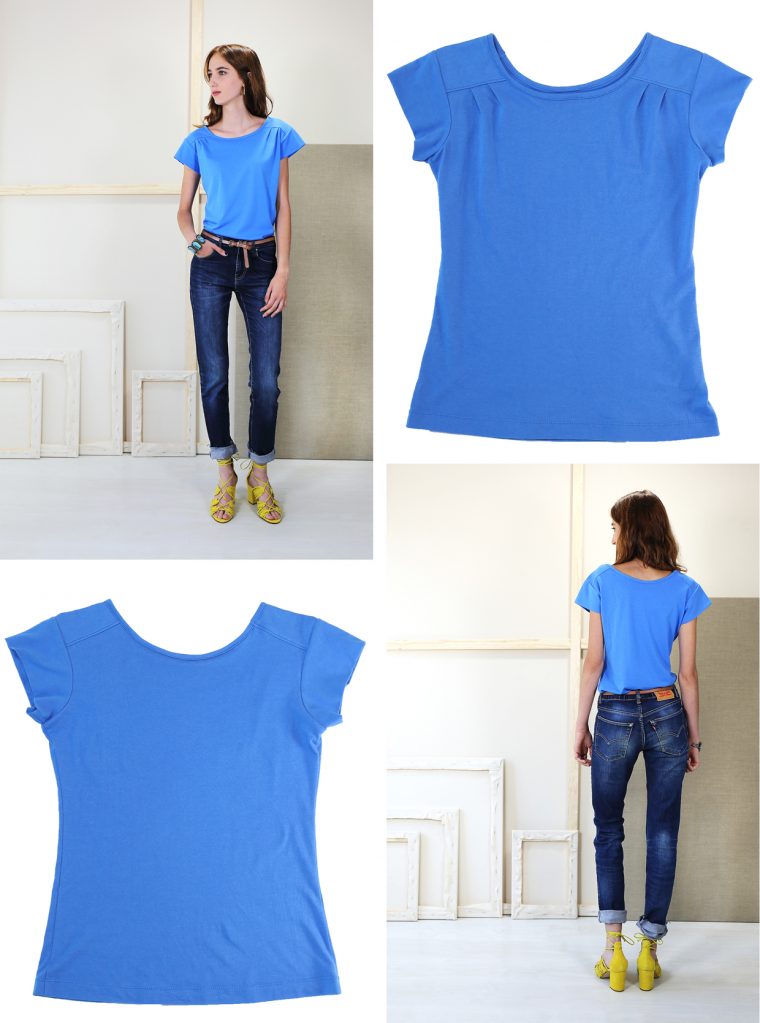 This is the t-shirt you can wear to work and still look totally professional. It's a great wardrobe basic. Layer it under a blazer or cardigan in cooler weather, or wear it alone in the warmer months. It accessorizes well (because of that open neckline), and it looks great with skirts and trousers as well. I sewed this pattern with just the sewing machine, so you absolutely don't need a serger to make it.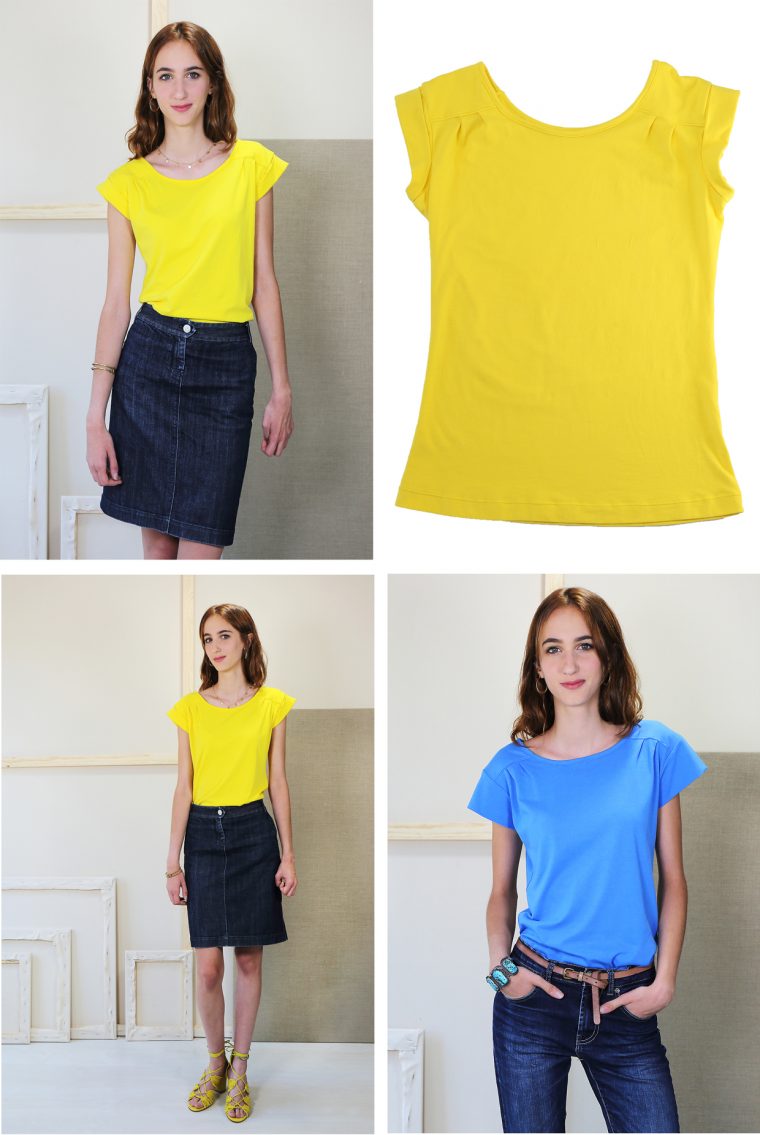 Let's talk about fabric, shall we? For best results that look the most like the photos on the pattern cover, I recommend a lightweight cotton jersey. I used Robert Kaufman's classic Laguna cotton jersey as well as the newer Dana cotton/modal knit and loved the results with both fabrics. Some of our testers used slightly more dense cotton jersey and had equally great results.
You can also use drapier fabrics like rayon and linen jersey, but I would recommend that you drop down a size for a slimmer fit. But here's the interesting thing, and it's the reason I left 1/2″ seam allowances for this style: you can also use a drapey woven fabric for this pattern. If you choose to use a woven fabric, you'll probably want to go up a size (or even two) since you won't have the stretch of the knit. As soon as I have time, I'm going to sew one in a double gauze I've been saving. I suspect it will quickly become one of my favorite tops.
The Chai Tee will be available later this week, and you can get it in both paper and digital formats. Visit the product pages now to check the countdown clock to see how long until it's ready to ship. If you like, you can leave your email address, and we'll notify you once it's available.
I hope you'll tag it #lieslandco and #chaitee on Instagram. (By the way, I can't account for the number of tagged posts that should be #chaitea instead of #chaitee over on Instagram, but I just have to let that go….)  I hope you'll add your photos to the Liesl + Co. Flickr group as well. And don't forget our Liesl + Co. Friends Facebook group where you can share your makes, ask questions, and see what everyone else is making with the pattern.