You're already familiar with Creativebug, right? Last week we talked about Liesl's project-based workshops on Creativebug, today we're going to focus on the technique-based ones.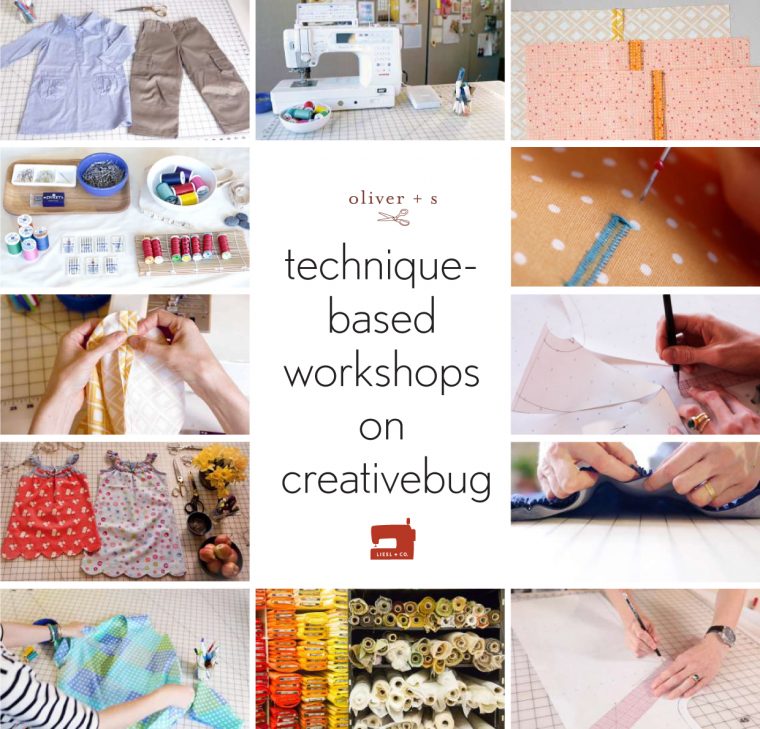 Liesl has twelve technique-based workshops available on the Creativebug site, including all of these.
1) Topstitching and Edgestitching
Edge stitching and topstitching can be functional or decorative, and they are closely related. In this quick class, Liesl demonstrates how to do both–along a seam and along a finished edge.
2) Sewing Machine Basics
Want some help when it comes to learning your way around a sewing machine? Liesl points out the main components of a sewing machine as well as how to thread the machine and wind a bobbin so you will be ready to dive into the sewing process with confidence.
3) Pressing and Finishing Seams
Finishing your seams gives your garments a more professional look, and also keeps your fabrics from fraying. Liesl goes over the proper way to press seams, and then three of the most common ways to finish seams.
4) Needle and Thread Basics
Before you start a sewing machine project, it's important to make sure you're using the right needle and thread. Liesl briefly explains the range of thread options available for different purposes, and talks through your needle and pin choices, too.
5) Sewing Buttons and Buttonholes
Sewing buttons is easy once you get the hang of it, but it can be intimidating the first couple times. Liesl shows how to create a buttonhole as well as how to sew a button. Test out your skills on scrap fabric before creating buttonholes on your garments.
6) Basic Sewing: Seams
Once you understand the basics of the sewing machine, it's time to sew. From pinning to sewing evenly, Liesl covers straight and curved seams. Joining two pieces of fabric together is the foundation of all sewing, and Liesl sets you up for success with these basics.
7) Bust Adjustment
When adjusting the fit of clothes you sew for yourself, the most important measurements are across your shoulders and bust. Most commercial patterns are made to B cup, leaving a lot of us with ill-fitting tops. In this workshop, Liesl will walk you through the steps of measuring and making adjustments to your pattern for a larger bust.
8) Lengthen or Shorten Patterns
Got a long, tall kid or a more petite one you sew for? If the little ones in your life don't measure exactly to pre-determined specifications on a pattern, it can be hard to figure out how to add or remove length while maintaining a garment's proportions. Liesl will explain how to lengthen or shorten patterns for different types of garments.
9) Gathering and Ease Stitching
Gathering and ease stitching are used to fit a longer edge of fabric to a shorter edge, such as creating a ruffle and a sleeve. Liesl shows you how to accomplish this with aplomb.
10) Inserting Sleeves
Sleeves can be daunting the first few times you sew and insert them into a garment. Liesl shows you how to patiently and properly insert a sleeve so you can tackle shirts, tunics and dresses with confidence.
11) Fabric 101
Liesl takes you to her favorite fabric store in New York City and shares helpful tips on how to navigate fabric shops. There is a lot to consider when selecting fabric, from understanding the difference between woven and knit fabrics to grasping the fundamentals of drape. She demystifies the basics, and then goes on to discuss the unique qualities of the most popular fibers available: silk, cotton, and wool. You'll walk away from this class with a better understanding of what kind of fabric will work best for the project you're making, and the confidence to experiment with new fibers.
12) Dart Manipulation
Darts are practical elements of patternmaking that ensure a good fit. In this workshop, Liesl moves beyond the utilitarian and into the creative–showing you how to manipulate the placement of darts to customize your sewing. You'll learn how to shift a typical bust dart to the neckline or waist, all without sacrificing fit. Along the way, she provides tips for accurate marking and precise sewing. Once you learn the basics of dart manipulation, you'll be able to sew more custom and creative garments.