I love our neighborhood here in Madrid, which is kind of funny because it looks pretty sketchy at first glance. In fact, we almost skipped our appointment to view the apartment when we were saw where it was located. Across the street from our building is a vacant building that once housed a disco, and we're right in between two very touristy areas. But it's a quiet street, close to everything in the center of the city, and our corner location gives us lots of great light and space. Plus, the views from the roof deck.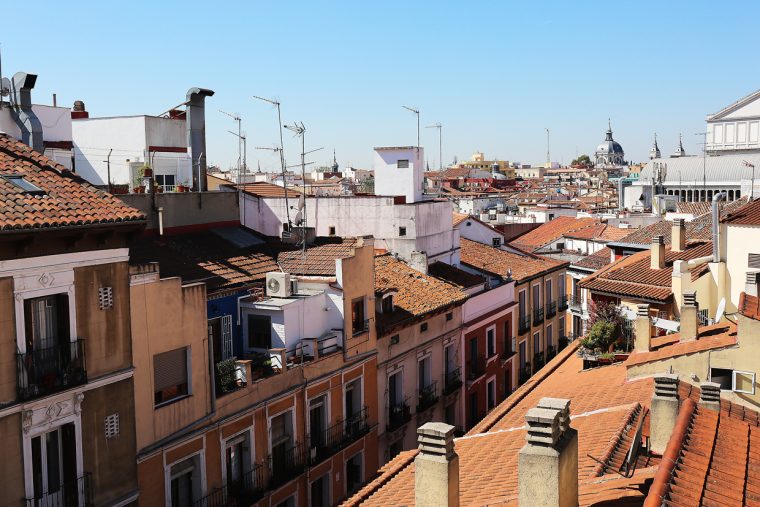 In New York that would be unthinkable in our price range. Mostly, though, I just like that the neighborhood has lots of character and is still so authentically Spanish. Including the crazy Fruteria/Kwik-E-Mart around the corner, with its bright mosaic tile sign.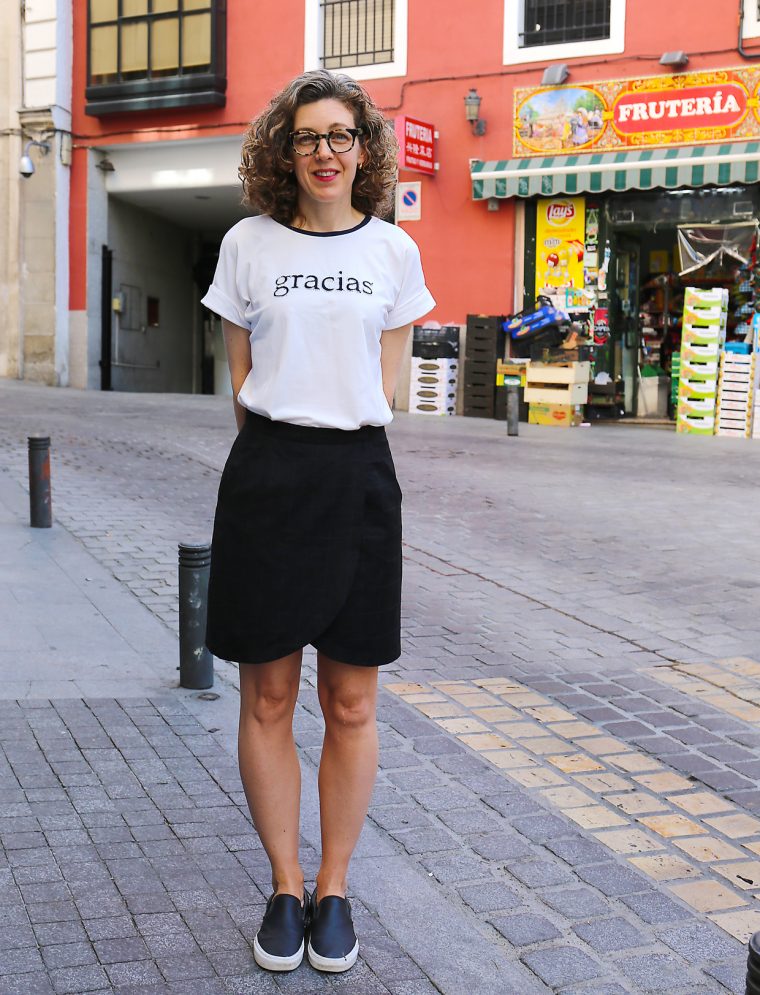 Pattern: This is a Liesl + Co Bento Tee with ringer neck and reverse applique, Alabama Chanin style.
Fabric: Laguna cotton jersey from Robert Kaufman, 95% cotton 5% spandex. I love the hand on this fabric because it's substantial and feels like 100% cotton. But the spandex helps it to keep its shape, so you get the best of both worlds.
Construction: The neckband is cut from navy Laguna jersey to make a vintage-style ringer neck tee with a boxy shape. I also used the reverse applique technique from Natalie Chanin's books to add the "gracias" letters. The letters themselves I printed from my computer and transferred using a basic lightbox tracing technique with the window as my lightbox and using a water-soluble fabric-marking pen to trace the letters. (I can't remember which typeface I chose, but I just kept making the word bigger until it felt like the right size.)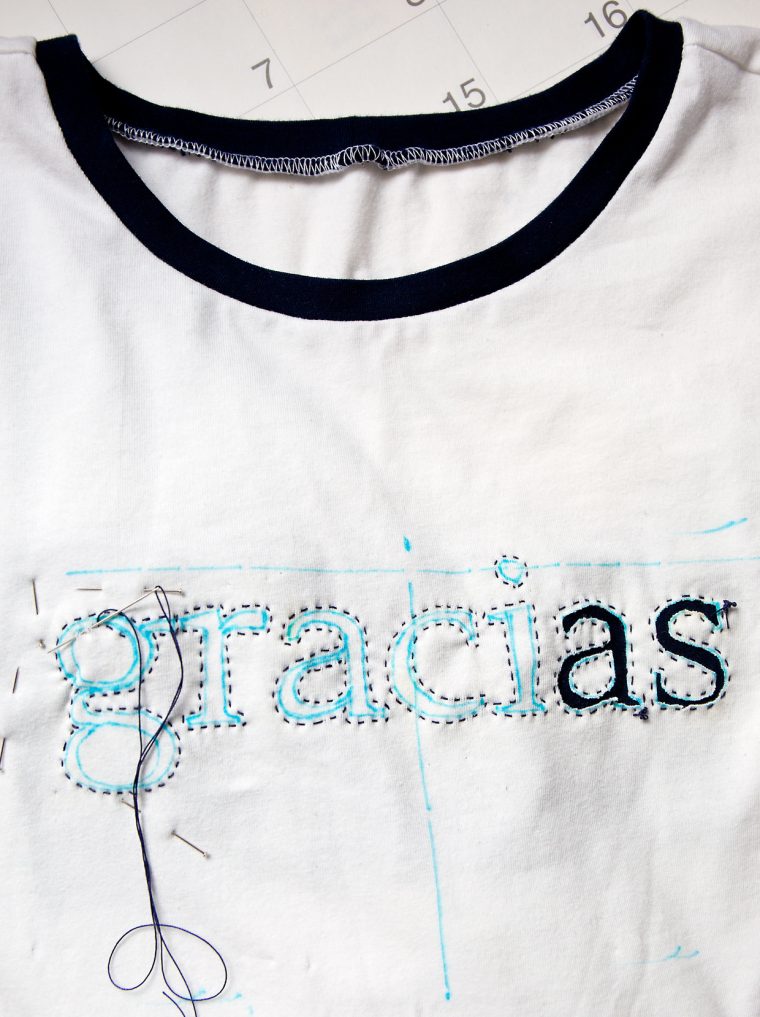 I love a good project you can take along with you, and this one was quick and fun. It's so cool to trim away the letters after they're stitched! I didn't really make any other changes to the pattern, just had fun with the applique technique and the contrast neck. It's fun to wear with a pencil skirt or my favorite City Stroll Wrap Skirt. Of course you could easily add these same details an Oliver + S Lunch Box Tee to do a similar style for girls. I think S wants one, too.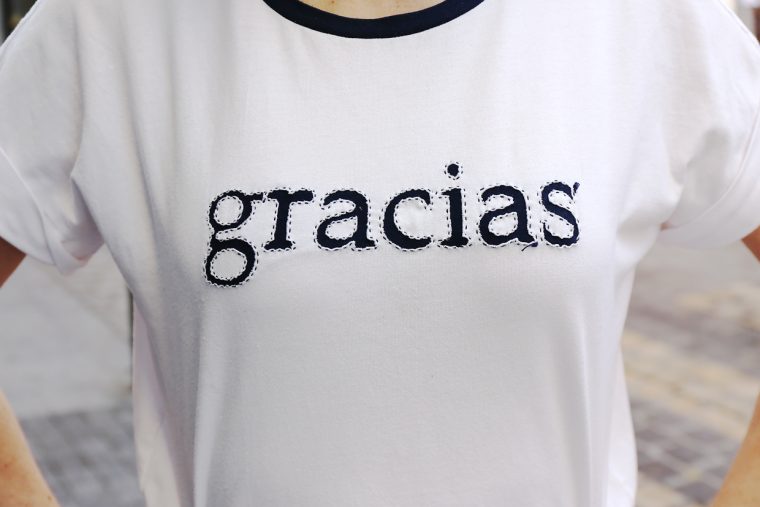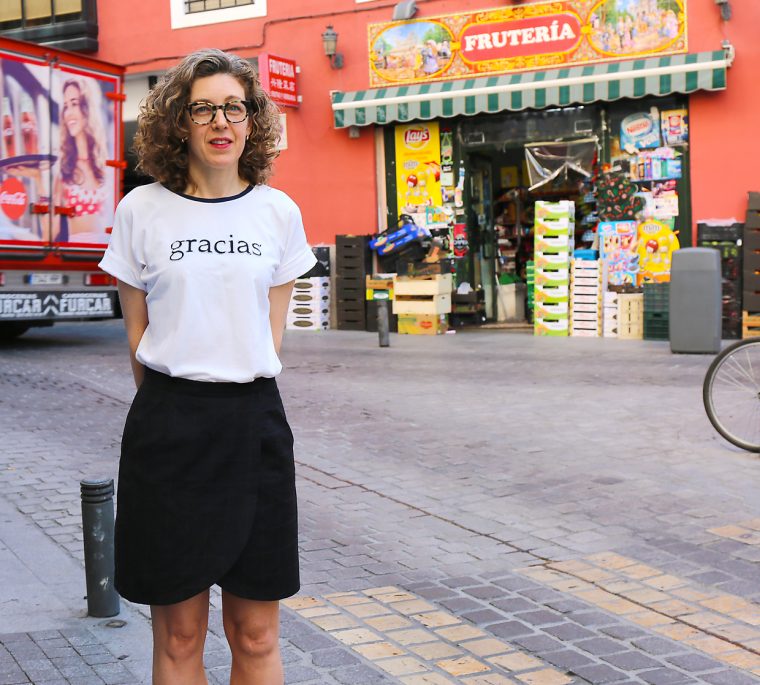 Rachel has lots of other Bento Tee ideas for you later this week, so stay tuned for more inspiration and ways to use this pattern.