Callie is ready for spring with a new Gallery Tunic that she sewed for herself using bright colored fabric. Be sure to click through to her blog post because she offers several tips and tricks for successful results. Here's Callie!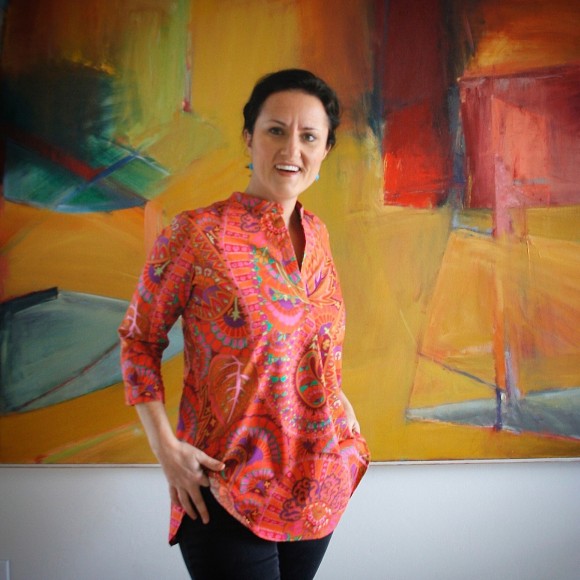 Name: Callie Works-Leary
Where can we find you on the internet? Blog, Instagram, Pinterest, Flickr
Project details
Pattern: Liesl + Co. Gallery Tunic
Link to your project on your blog: Gallery Tunic Pattern by Liesl + Co: Review and Tips
Fabric: Kaffe Fassett Belle Epoch Red (other versions: Nani Iro Pocho Dot double gauze, Nani Iro Paint Check double gauze)
Did the fabric work well?
The Kaffe Fassett quilt-weight cotton worked perfectly, but the double-gauze was heavenly perfection, like wearing a cloud!
How did the sewing go?
From start to finish, the tunic construction is very straightforward. Just like all Oliver + S and Liesl + Co. patterns, the tunic pattern is exceptionally well-written and full of tips and tricks for better garment construction, many of which I hadn't even considered before. It's obvious that Liesl cares about the people who sew her patterns, and she really wants everyone to be as successful as possible. The only part that requires concentration is sewing the placket; at first the diagram is a little confusing, but once you read it a few times–just like any pattern!–it becomes obvious and the placket comes together smoothly. I'm always impressed by the clever placket construction!
What was the best part?
I'd have to reiterate how much I love Liesl's helpful hints. Every time I come across a clever way to make a step easier, I always say, "I never thought about that before!" Her patterns educate even the most seasoned garment sewer.