Hello friends!
One of the many steps in developing a new sewing pattern is naming that pattern. Sometimes the name comes to me early in the design process and other times it takes a while to find the right match. Occasionally I even turn to you for suggestions! Members of our discussion forums have suggested several of our pattern names in the past.
Lately, just for fun, we've been throwing around a lot of silly ideas for sewing pattern names inspired by Spain. So far my favorites are two Cervantes-inspired outwear pieces: the "Don Key-COAT-ee" and the "Sancho Poncho" (get it?).  So this week I asked S to help me draw appropriate styles to suit those names, and here's what we came up with.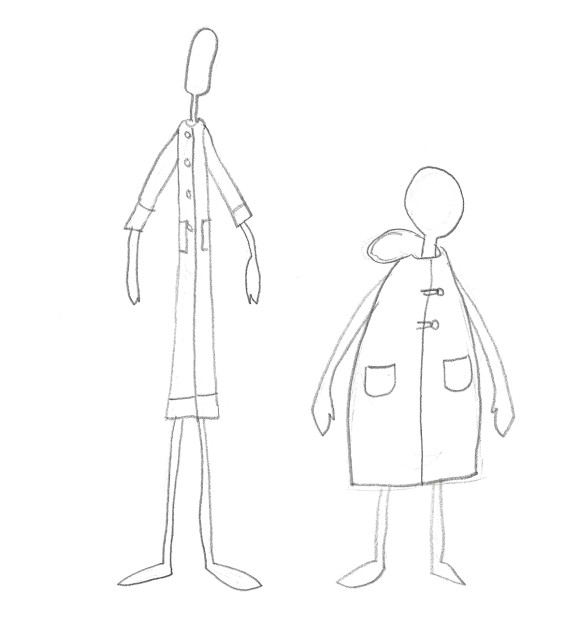 Anyone care to add a few ideas to the mix? We could develop a whole (fictional) pattern collection! After all, once I get this book sent off to the printer I'm going to turn my attention back to developing some new patterns. And aside from all the naming jokes, I really do have some ideas I can't wait to get started on.
What are you sewing these days? I've just finished all the samples for the book, and now I'm turning my attention to much-needed PJs for S (She chose the Sleepover PJs using fabrics from my Woodland Clearing collection) and a wool jumper to replace one she loves but has outgrown. Honestly, we're so busy right now that I'm a little worried I won't finish the jumper until spring when it will be too warm to wear. But I'll give it a shot.
By the way, have you signed up to receive our blog updates by email? Next week we have lots of fun items planned for you: a very simple tutorial for cute peplum tops, a give-away from my Woodland Clearing fabric collection, and we'll be announcing our next sew-along! (Hint: It's the Gallery Tunic + Dress. OK, that's more than a hint, but we'll have all the details for you next week.)
So go have a fun weekend and hurry back, will you?
Pinterest Picks
Here's what's inspiring me these days.
For a while now I've been threatening to collect vintage toy sewing machines. I think they'd be so cute displayed on little shelves along the wall of my studio. But first I need a wall! My studio here in Spain is under the eves of our rooftop, so it's all sloping beams (be careful not to hit your head!). Maybe when we get back to New York I'll get started, but in the meantime these darling models are very inspiring.
This beautiful welt pocket detail.
An adorable outfit featuring a Swingset Skirt. I love the cardigan, striped shirt, and floral skirt together. It can be so fun to mix patterns, and it's relatively easy to do if you keep a tight color palette like this.
The illustration work of Beatrice Cerocchi, which are just so sweet and slightly naive. This one reminds me of our favorite pasty shop here in Madrid, La Mallorquina.
This ethereal sleeve from Valentino's spring 2009 couture collection.
Weekend Reading (and Watching)
OK, have a great weekend!