Earlier this month Shea from Empty Bobbin Sewing Studio shared her Oliver + S Christmas pajama tradition with us. Well, she has another Christmas sewing tradition: dresses! And she is here today to share the ones she has made these past several years. By the way, Shea is also the author of School of Sewing, a fantastic sewing book which we will be talking more about tomorrow. Be sure to come back again tomorrow for a chance to win her book! Thanks so much for being here Shea!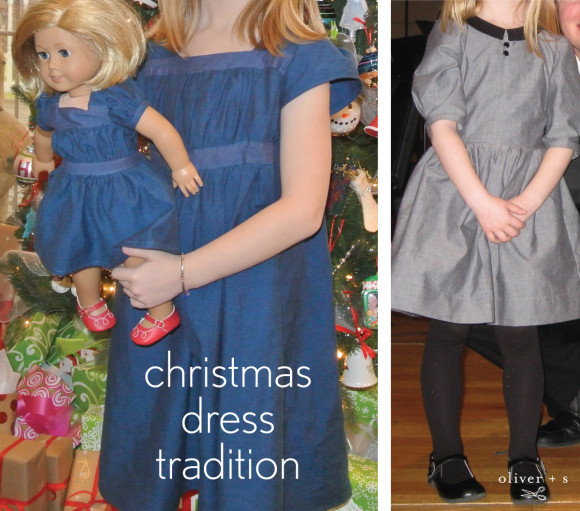 Each year for the last four years, I have sewn an Oliver +S pattern as a Christmas dress for my daughter. I try to not get too wrapped up in holiday sewing projects that I don't get to truly enjoy the "making" part of handmade. Focusing on just a few meaningful projects, I've found, is what works best for me. And these Christmas dresses are always at the top of my list.
I am an easy sell when it comes to cross wovens— fabrics with different thread colors in the warp and weft. They really let the updated but classic lines in Oliver + S patterns stand out, I think. My tendency to use these types of fabrics really comes shining through when I look at these pictures… not a print in sight! Oops!
The first Christmas dress I ever made her was a Fairy Tale Dress. Oh, man. Did I ever love this dress. In the back of my mind, I wanted it to look like a little girl's dress in the 1950's.

We live in the Midwest, where it can be very cold and snowy at Christmas. I wanted the sleeves to be a little longer, so I swapped out the sleeves and used the 3/4 length ones found on the Playdate Dress, another Oliver + S pattern I had made. This dress was made from Robert Kaufman Interweave Chambray in Pepper. It's not visible in the photo, but the dress has a black sash/bow in the back. Add a black collar and a few tiny buttons, and I was happy with her little 1950s-ish dress.
When she was in kindergarten, I made her a Library Dress, a pattern name that thoroughly amused her as she lives for "library day." The fabrics were Robert Kaufman Interweave Chambray in Pepper (again!) and In the Beginning Fabrics Modern Solids in Slate. I took advantage of the invisible zipper modification for this dress.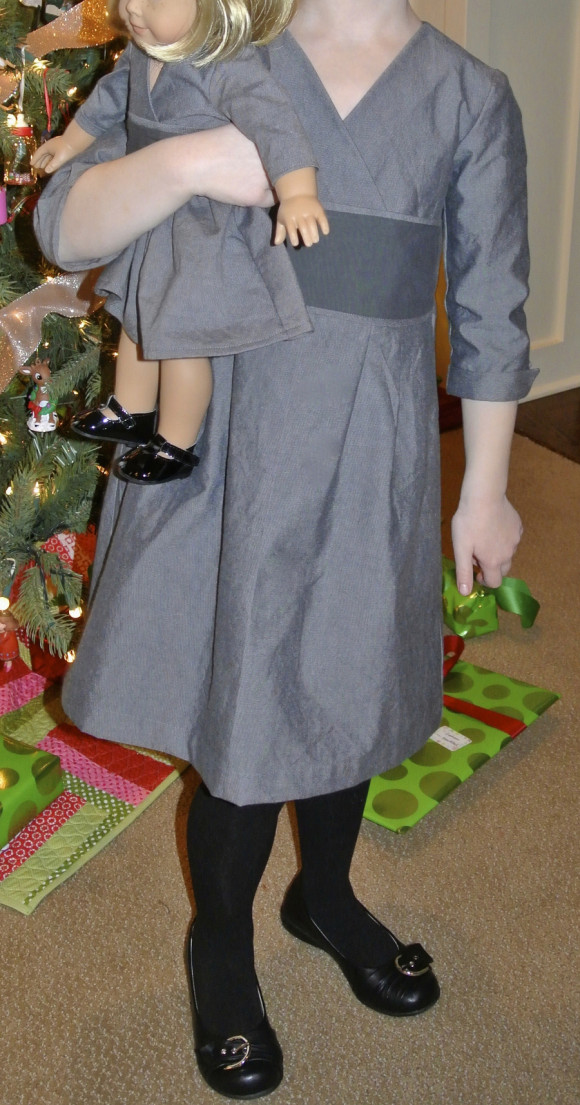 This was also the year that I fell down the rabbit hole and made a matching dress for her Kit (18-inch) doll. For doll clothes, I like to browse the options at Pixie Faire, looking for something that has at least a feature or two that is similar so that I can avoid reinventing the wheel entirely. The Kimono Dress fit the bill. A few tweaks to the construction and I had a pretty close match!
The blue Garden Party Dress of 2014 was probably my favorite color palette to use. I am a sucker for blues. These were Studio E Peppered Cottons; the main fabric in Ink. The doll version I made by making the 1930's Gathered Dress from Pixie Faire.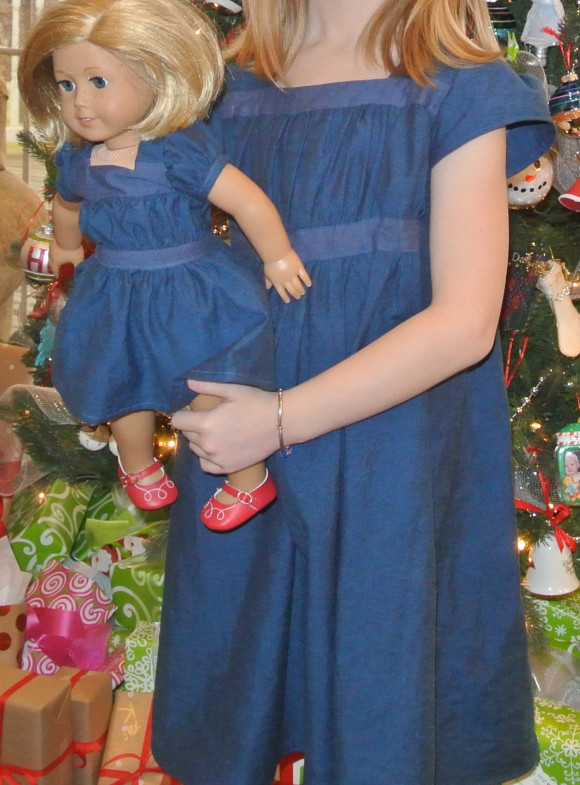 This year, she requested "a red dress. Because red is the most Christmas-y color, Mom." So! A red dress it is. Well … red-ish. I used a Peppered Cotton in Garnet and a Westminster shot cotton in Bordeaux to make another Library Dress, this time with short sleeves. I again used the invisible zipper modification for the back. There's not a matching doll dress yet, but I doubt I make it to Christmas without an official "pretty please, Mom?"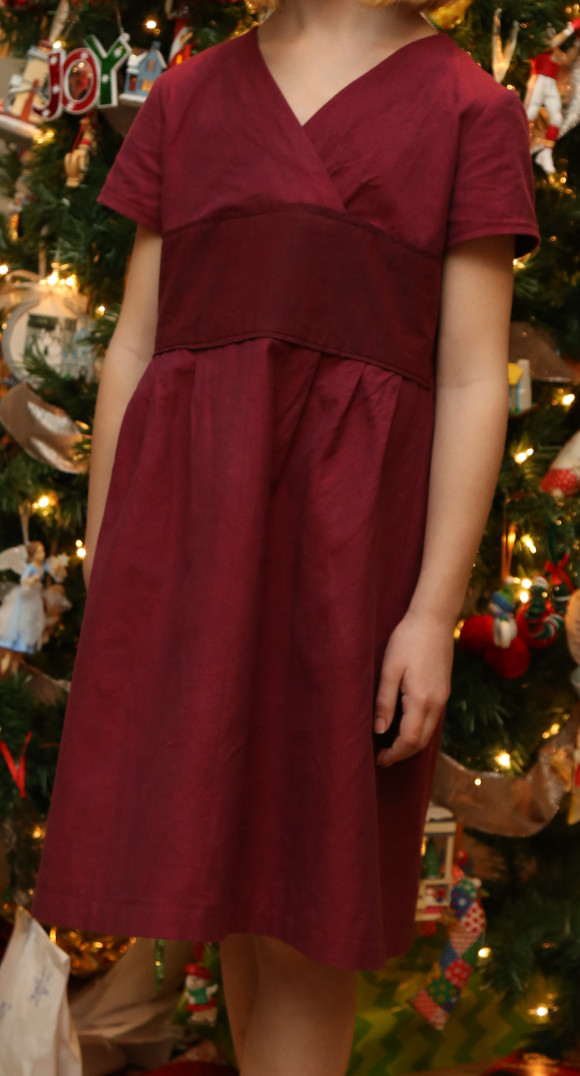 My daughter is learning her way around a sewing machine, so I really enjoy talking about the pattern and fabric options with her as she's gotten a little older. She now likes to specify design features she'd like (this year it was "a band or sash in the middle") and I love seeing her get excited as we pick and cut out the fabric.
As long as she will let me, I will sew Christmas (and birthday and back-to-school) dresses for her. And then, one day… I hope she will sew a dress for herself.