Today is the day! It's time to feature the finished skirts from our Swingset Skirt sew-along panelists. Do you remember what our panelists had planned? Have a look from: Brienne, Katy, Meredith, Rachel, Sally, and Tara. Well, they have been busy sewing and their skirts are now completed. Wait until you see how wonderful they all turned out! Today you'll get to see what your sewing gal-pals have done with the pattern and you can see how it fits. As these photos are only a sneak peak, so be sure to click through to see more of each skirt (especially because one is reversible) and learn more about all of the details. One of their blog posts even included a fun announcement, so be sure to visit them all, will you?
Many thanks to everyone who has participated in the sew-along so far and it's by no means too late! You can still enter your Swingset Skirt into the contest. You have until Friday November 20th 11:59 PM ET.
OK, on with the show….
From Brienne: "This skirt was truly a win for us. After making a muslin, it was clear to me that the size 5 without alterations was right on for my almost five year old. For this final version, I decided to skip the drawstring and to make just two channels for elastic. I added a simple loop to the side seam so that I would have a place for her to hang charms, beads or pom-poms. And she can change them as she sees fit. I used the hem from the existing garment and boom, done! I think that the whole skirt took less than an hour. To be sure, we will be making many more of these. I am already plotting some quick gifts for her friends using the pattern. And with the little embellishment loop, my daughter can really help to make them unique."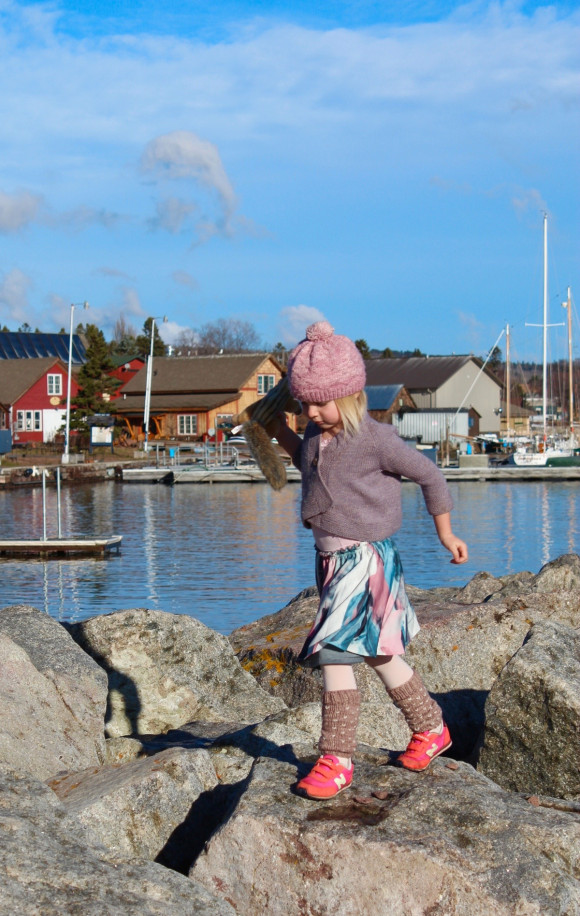 From Katy: "No matter how I sew up the Swingset Skirt, I love how easily it comes together. Not only is it simple, but it is satisfyingly sharp looking. The triple casing with the added tie always look good. I added a self-drafted pocket and included the items from "Orange Peel's Pocket" storyline and Clover was pleased as citrus punch (can you tell?). I forgot to prewash the outer-skirt fabric, so the lining is peeking out a bit, but then I thought it might be fun to do that on purpose with a contrasting fabric, or even add a ruffle to the lining. There are a million ways to embellish and alter this skirt. Hooray for the Swingset Skirt!"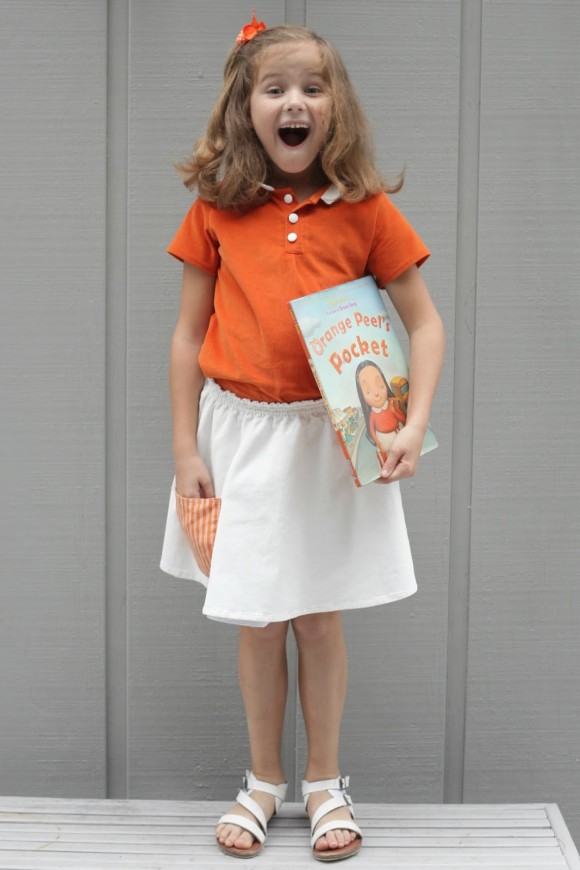 From Meredith: "My triple layer skirt worked out as well as I had hoped. I ended up using a pink cotton instead of the georgette for the middle, longer layer. I also used a third elastic band rather than a drawstring. The skirt is full and bouncy and girly, and just what I had envisioned. I have a more detailed description of the steps I took on my original blog post in case you would like to try out a skirt in this style! Its very easy and yields a beautiful and versatile garment!"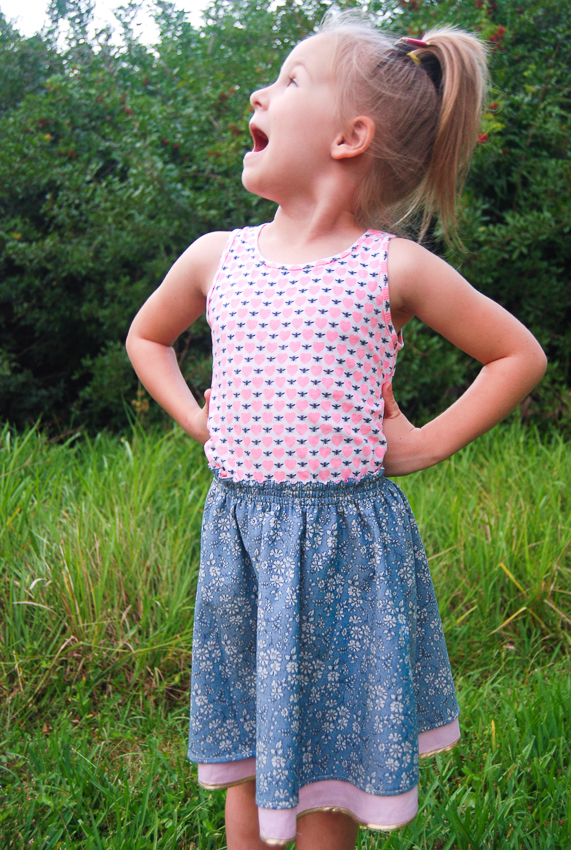 From Rachel: "I really enjoyed sewing the Swingset skirt. It was a fast sew with such great results. And Oliver + S pattern instructions are always superb. We all know that! The Liberty of London Tana Lawn I used worked perfectly for this project. It draped beautifully. I paired the skirt with two Ottobre patterns: a sleeveless top and a knit cardigan. The outfit came together exactly as I had envisioned. You can read more details about this ensemble and see more photos on my blog. Thanks so much for having me, Oliver + S! This is definitely a skirt pattern that I will sew again!"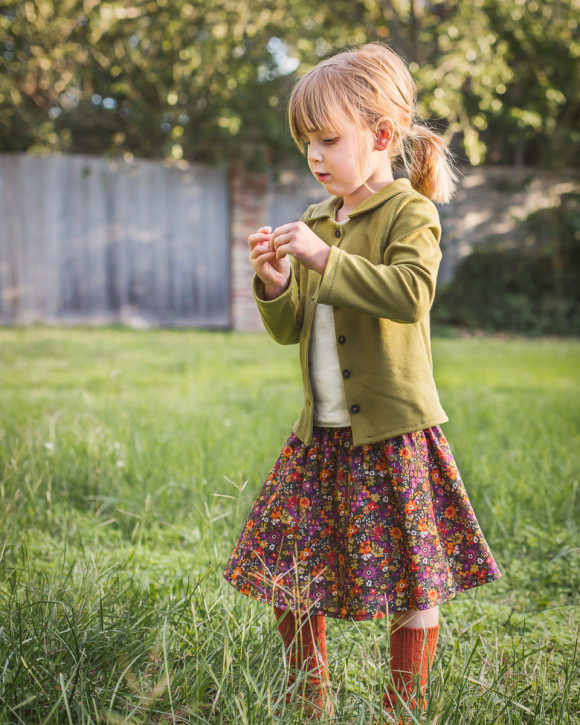 From Sally: "The Swingset Skirt is an amazing versatile pattern, for something that is so simple to make! I had fun playing around with the fancy fabric, which went well with the simple design of the skirt. It was easy to put together and sew and would be something that would be perfect for a last minute skirt of any kind. I did stumble a little since I had chosen some more shear fabrics for my over skirts…that just meant I needed to create a pseudo waistband by taking the top couple inches of the pattern and cutting it out of the solid material and sewing it on to the top of the over skirt, so that the elastic wouldn't show through the casings. I am so happy with how the skirts turned out, my girls love them and I have my holiday outfits half way done…I say it's a winner!"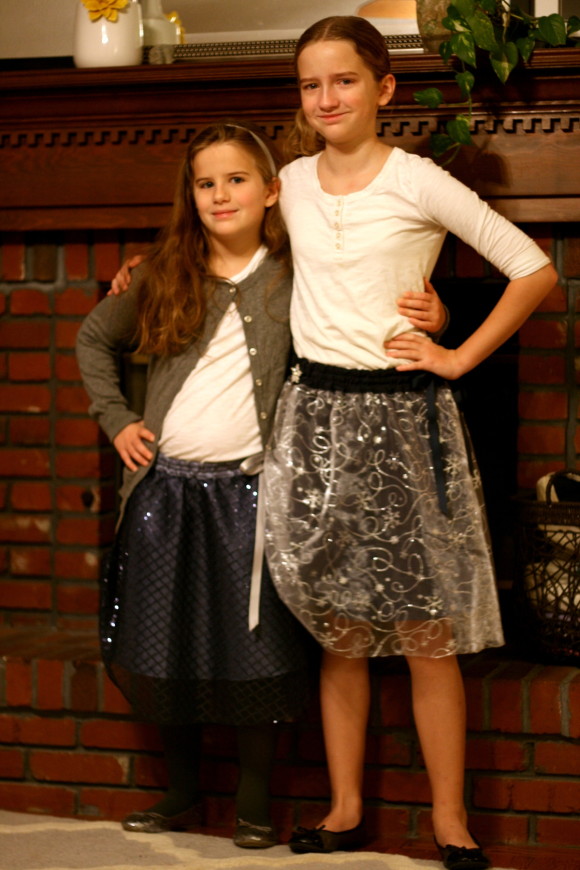 From Tara: "As usual, the process of sewing up an Oliver + S pattern was like butter. Aside from the part where I was having some sort of discussion with my husband while cutting pattern pieces, and accidentally cut a lining piece from my main fabric. Not only that, but I cut it with the wrong edge on the fold of the fabric. Lol. Since I'm using precious Nani Iro double gauze, I couldn't just chalk it up to a loss and start over so I just went with it and used the wrong shaped piece for the outer skirt. It's in the back and you really can't tell. This skirt is so sweet and pillowy. I want to snuggle with it. And does it ever twirl! My tomboy younger daughter is even jealous of it."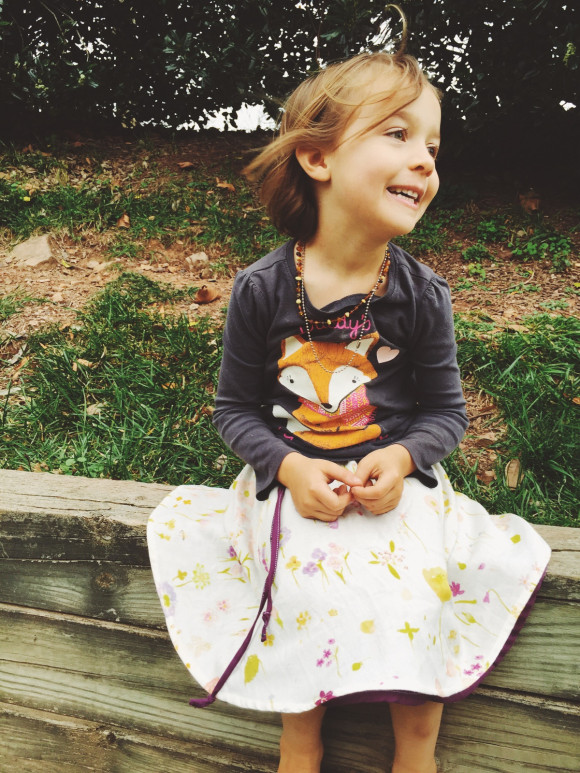 Weren't they all fantastic? Thank you panelists for sharing your talent with us, we appreciate you taking time out of your busy schedules to inspire us with your amazing sewing skills! Over the weekend the panelists will pick their favorite from the sew-along linky party. Come back here on Monday to see who they chose as the winner of the contest. See you then.