Happy Monday! As promised last week, today is the day the winner of the Swingset Skirt sew-along is announced.
Twenty-eight of you posted photos of your finished Swingset Skirts on Flickr, Instagram, Twitter, and your blogs and then added them to our linky party. Over the weekend the panelists had a look at all of them to determine who would be the winner of the contest. To me, the prize is your skirt! And there have been so many winners in that regard. But there can only be one person taking the grand prize.
Congratulations to Amy, you are the winner of the $100 Oliver + S shopping spree! Happy shopping and happy sewing! She created a tweed skirt with pockets, an oversized bow and embellished near the hemline with some vintage lace.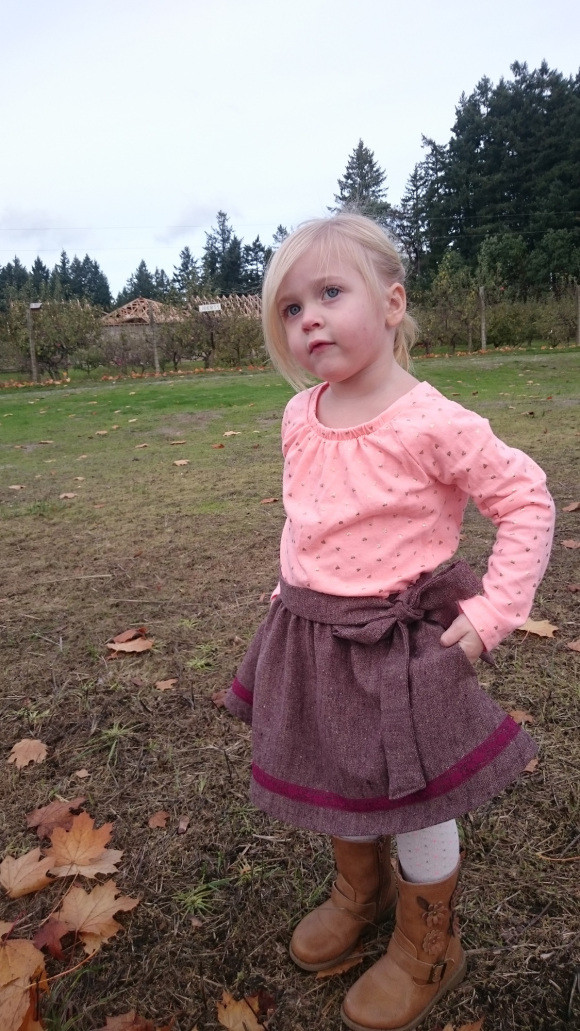 From our panelists:"I love the contrast lining and the addition of the trim and large bow. It makes it more dressy."
"The added details of the tie and lace make this one a very cute, but versatile skirt."
Our panelists also loved several other skirts and we wanted to highlight some of those as well.
Have a look at what Darcy did, a pretty hand crocheted hem!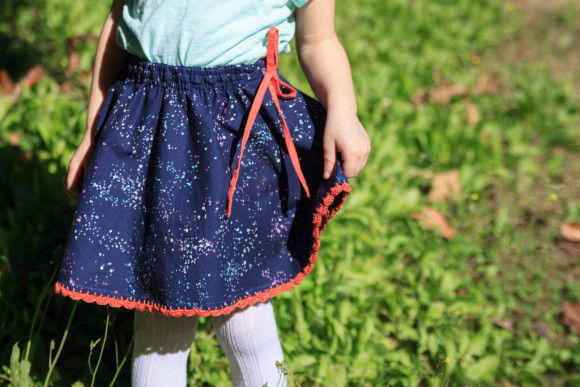 Sara sewed up lovely coordinating sister skirts.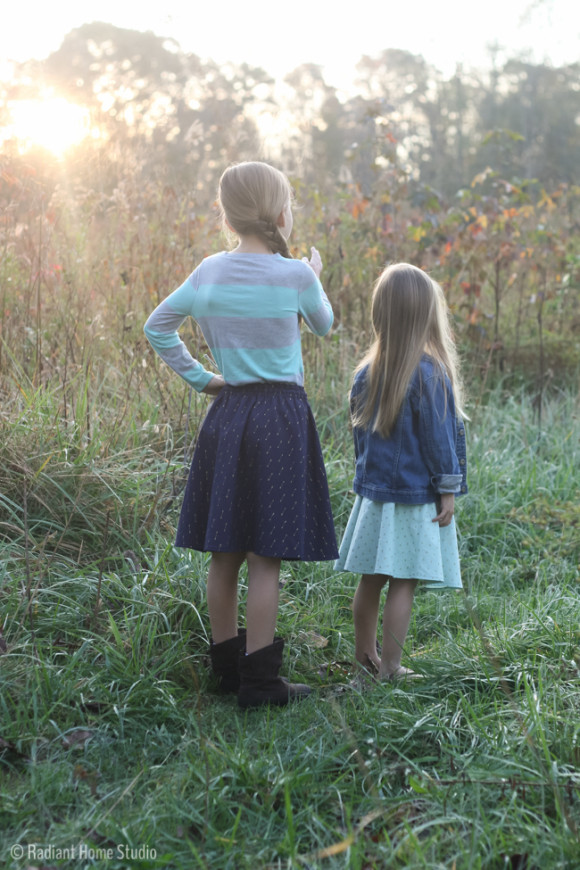 One of our panelists said: "I'm a sucker for neutrals and I love the metallic accents on the skirt fabric. Plus, Sara's blog post about the skirts would be really helpful to anyone thinking of sewing the skirts. She did a fine job of sharing thinking through all the details."
Laurel created this cute one with Nani Iro in blue polka dots.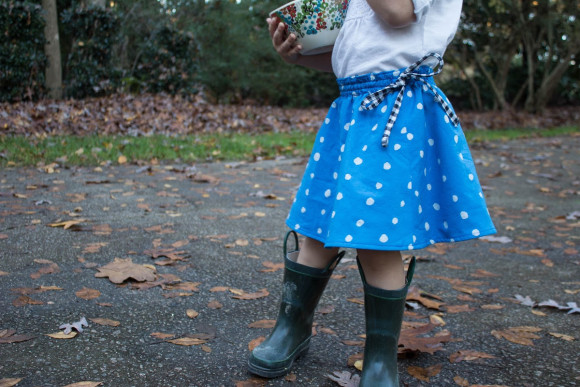 Another one from Amy (the winner of the prize), but this time she made one using a vintage tablecloth.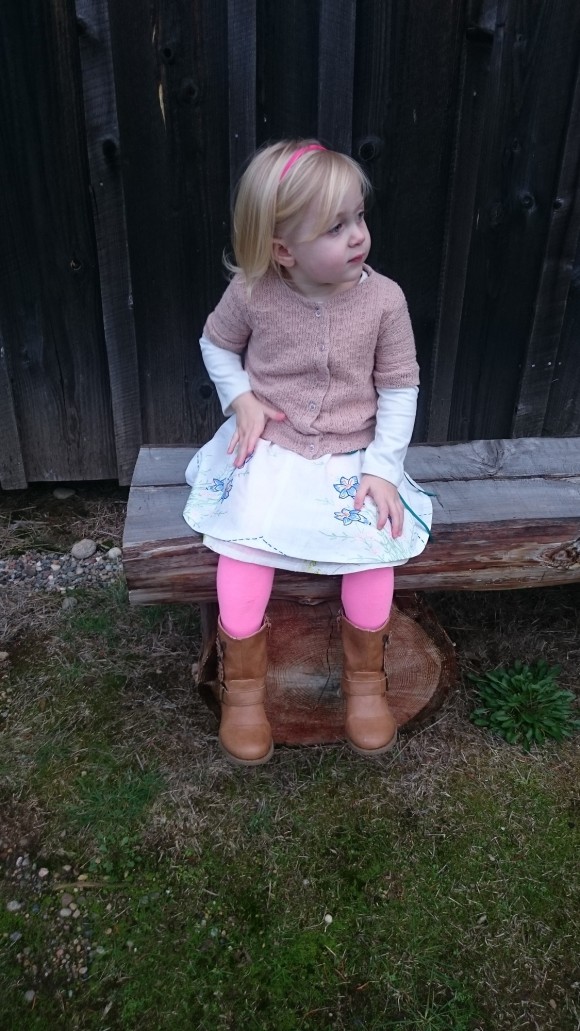 One of our panelists noted: "I have great respect for anyone who makes something old new. I love to upcycle things myself and Amy handled the vintage tablecloth with great care! First she had to carefully clean it and then had to piece it together to make it work for the pattern. She also layered the lining piece on top, which I think was a stroke of genius."
This fun green outfit was created by a sewist known as bkroll on Flickr.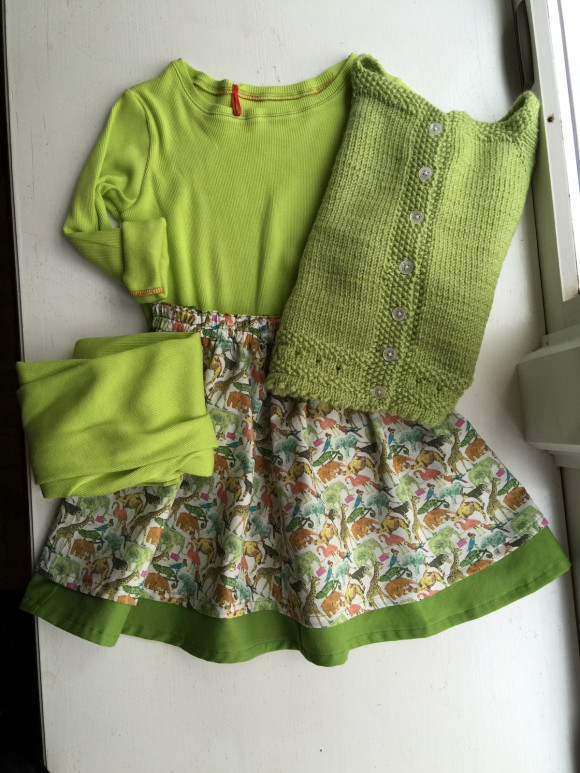 One of our panelists added: "The combination of fabrics and longer underskirt make this one a stand out and completely adorable looking…can't wait to see a modeled pic!"
Many thanks to all the participants, we enjoyed seeing all of your skirts. And what did everyone think of this new format for the sew-alongs? Did you like the addition of the sew-along panel and the linky party? Should we use this new method for future sew-alongs? We'd love to hear what you think.
And, to wrap things up, here's the final collection of Swingset Skirts that were submitted.