Currently there's a black and white challenge going on over in the discussion forums. Maybe you'd like to join in on the fun. Shelley is here to tell us all about it. Now I'll hand it over to Shelley.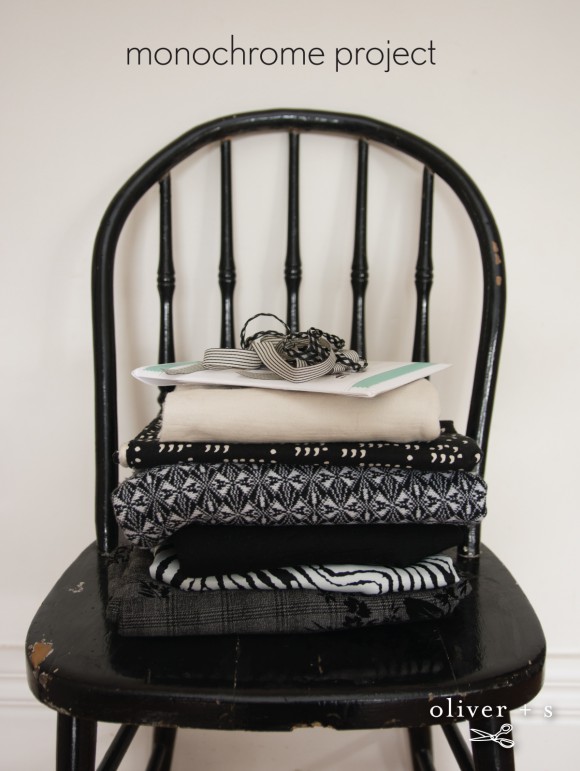 Most of the time I have many more ideas for sewing than I have time to sew. I'm sure that's true for a lot of you. But perhaps sometimes you struggle for inspiration and feel you could make something, if only you knew what to make.
Then there are times when you sort of know what you want to make, but you throw an idea up on the Oliver + S forum because it's always fun to hear everyone else's ideas. Well that's exactly what mcholley1 (@mcholley1) did when she needed inspiration for a recital dress for her daughter. Of course the idea took off, we all got carried away with the idea of sewing in black and white, and The Monochrome Project was born.
Have you sewn for your kids using only black and white? I was just about to start making my first ever monochrome dress for my daughter (a zebra ballerina dress by request) when the forum discussion began. It seemed the perfect time to have a sew-along and create some excitement about forgoing colour!
If you want to join in then sew your monochrome outfit and post a photo to the Oliver + S Flickr group or Instagram. Use the tag #oliverandsmonochrome so we can all find each other's work and maybe have a round up at the end. Which is when? How about the end of the first week of October, let's say, the 5th.
The classic recital dress follows the "rule" of solids, no patterned fabric, with a white top and black skirt. I knew Sarvi (@sarvi) had made some beautiful versions for her little violinist, so let's start with the original idea, a recital dress: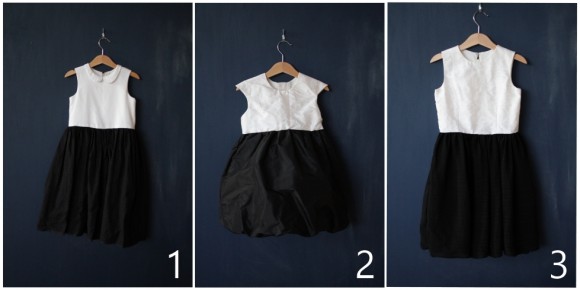 Then I waded deep into the Flickr pool in search of monochrome treasure and boy did I find some wonderful outfits. Amazingly, I also found a huge variety of Oliver + S patterns sewn up in black and white. There are some patterns, the Roller Skate, Fairy Tale and Croquet Dresses in particular that seem to lend themselves well to monochromatic fabrics, but so many more have turned out beautifully when sewn up in only black and white.
I couldn't possibly include every image that I found and loved, and I confess to only managing to view about half of the 300+ pages in Flickr, but I've rounded up some of my personal favourites. I hope you'll find them inspiring. Let's start with the solids: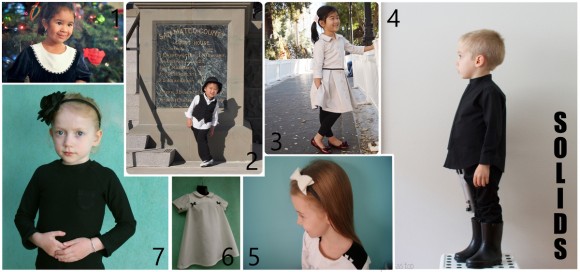 With solid black and white you end up with a more "grown up" outfit. I would very happily wear that Kate Middleton-esque shirt dress myself. However, for kids you can use little bows, cat buttons and trims to add the perfect detail and break up large blocks of dark or light. Or you can accessorize with a cool hat or a light saber, take your pick.
For this dress, Nicole (@motherof5) added some playful large scale ruffles to the Playdate dress and perfectly recreated a look her daughter had requested.
For her daughter's first day of school dress, Janice (@juliamom2009) transformed a simple white Roller Skate dress with some beautiful embroidery. I could have flooded this whole blog post with black and white dresses sewn by Janice. Go check out her Flickr feed for more inspiration.
Patterned monochrome fabric gives a completely different look. One type of pattern pops up a lot, and that's spots! Here's some monochrome spotty inspiration: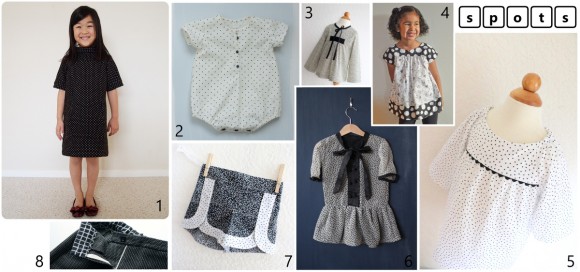 White spots on black, and black spots on white. Tiny spots and big pebbles of spots. Here's a fabulous spotted Croquet dress with perfectly medium sized spots! Depending on the size of the spots, spotted fabrics can range from subtle and almost gray through to quite whimsical and bold.
Then we get even bolder with all sorts of fun patterns and stripes in black and white. If you like to sew loud, bright coloured fabrics then I hope you'll see that black and white can be every bit as eye catching: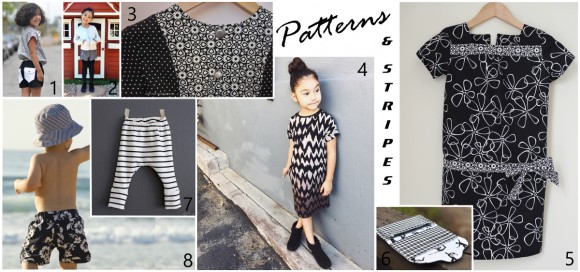 I make no apologies for letting the ombre shaded Lunch Box Tee dress join the monochrome set in that image. It is just too good!
How incredible is this striped Art Museum Vest, or this matching Art Museum outfit in a car print! Here, a Roller Skate dress makes great use of the patterned fabric. Gingham is always a good idea, especially in black and white and I adore this little Class Picnic top covered in birds – undoubtedly seagulls who've come for the picnic crumbs!
Finally, a simple black and white colour scheme can be made stunning by making use of texture in fabric. From soft merino knits, through wool boucle, to shiny silks and embroidered chiffons, by highlighting the fabric's texture you can create something exceptional: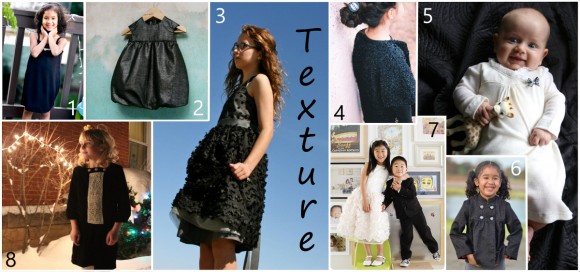 How luscious do these black corduroy Puppet Show shorts look.
After seeing all the wonderful monochrome Oliver + S garments that already existed I was excited to dig through my stash and rediscover some lovely wools, textured fabrics, patterned cottons and plain knits. I can see quite a few ideas sitting in the pile of fabric at the top of the post and I've started a Black and White Pinterest board to try and keep my momentum going. But what of my daughter's request for a zebra ballerina dress?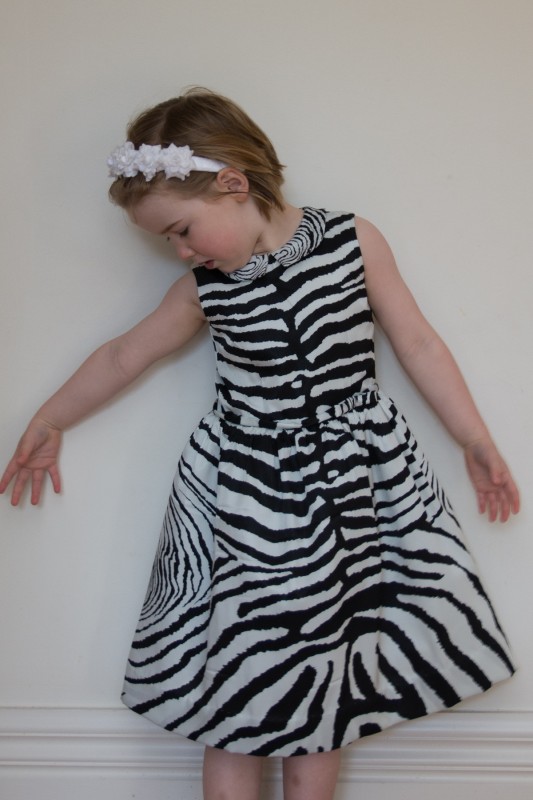 With no colour at all, that's probably still one of the brightest and boldest Oliver + S garments I've ever sewn!
What do you think? Can you restrict yourself to black and white and sew up a monochrome outfit? There are no hard and fast rules. If there has to be pink pocket lining in order for the garment to be worn, then so be it. But sometimes, by putting some restrictions on ourselves we become more creative. I'm certainly feeling inspired and I hope you are too.
Shelley.