Hello, friends!
Thanks for all your support and interest in the newest Lisette patterns when I introduced them last week! It's clear that you're fans of the  B6244 coat, so today I'll talk you through some fabric ideas and give you the schedule for our upcoming sew-along so you can start planning and selecting your materials.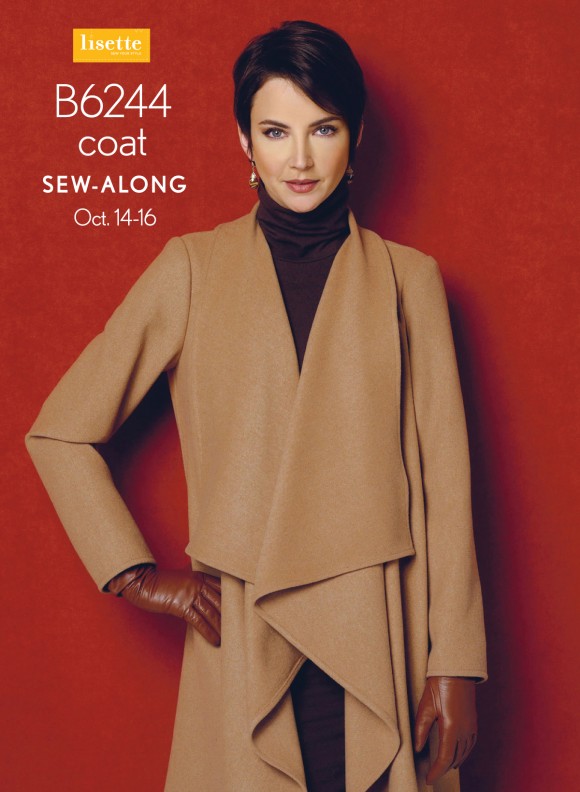 We'll start the sew-along itself on October 14. This is a short, quick project, so we'll finish everything in three days. You'll be surprised at how fast this pattern sews up!
Of course, if you can't join us on October 14, the sew-along will still be there for you when you're ready. Join whenever you're able.
Fabric Suggestions
Because you asked, I've been collecting some fabric suggestions for you. I must warn you, however, that I haven't seen these fabrics in person, so I would recommend that you request a swatch before ordering yardage. In my virtual shopping, I looked mostly for wool coatings in a variety of weights. A few of the fabrics I chose are double-faced, but most of them are straightforward wool coating. So if you want to go shopping on your own you can easily look for more options in stores as well. Mostly, you'll want to look for coating fabrics that have a little weight/body to them and will drape nicely so you can still get that pretty cascade down the front of the coat. Nothing too stiff, but do look for fabric that's got some weight to it. Ask at the fabric store if you're unsure, but most apparel fabric stores that have a wool coating section will have plenty of options for you. See my Lisette B6244 Coat Fabric Ideas Pinterest board for many more suggestions.
Other Supplies
In addition to coordinating thread for your coat, you may find that you want a bit of stabilizing tape for the shoulders and, possibly, the neckline of your coat. The wool I chose for my coat had quite a bit of stretch in the cross-grain (from selvedge to selvedge, which is quite common), so I used 1/4″ cotton twill tape to help prevent the neckline and shoulders from stretching when I wear the coat. I'll talk more about this during the sew-along, but if you find that your selected fabric has some stretch, you may also want to consider using a stabilizing tape. But that's all you'll need. No zippers, no interfacing, no buttons. Hooray!
Join Us
Are you excited to make your coat? I hope so! You can join the sew-along group in the discussion forums to participate once the sew-along kicks off. Once you've joined, you can post any questions and suggestions you might have before starting the sew-along here. We'll try to address them in the course of the sew-along.
If you have a blog, please feel free to grab the sew-along badge you can add to your posts or to your sidebar, to let people know you're participating.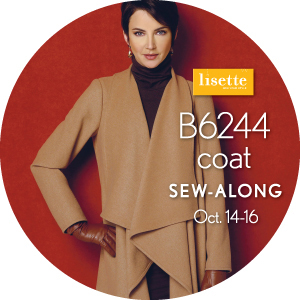 You can also use hashtags on Instagram and Facebook: #sewlisette will connect to all Lisette pattern images, and you can get more specific to this pattern with #B6244.
If you don't have a copy of the pattern yet, you can get a copy right here or anywhere Butterick patterns are sold. I hope you'll join us on October 14 for a fun and easy coat that will keep you feeling cozy all winter long.