Are you ready to sew an adorable pleated skirt? We hope you'll join us this week for the Butterfly Skirt sew-along.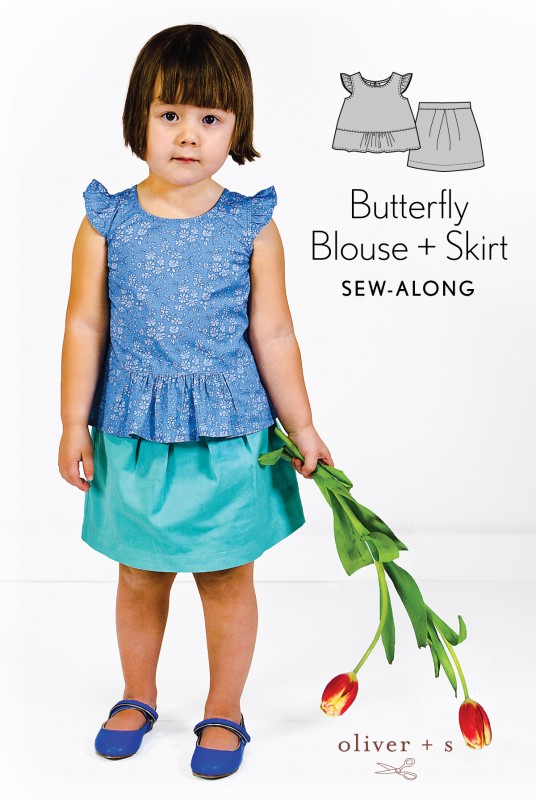 I have heard several Oliver + S fans raving about this skirt and I couldn't agree more as it's become my favorite Oliver + S skirt! You really need to sew this one up to see for yourself. It's got so many things going for it; such little fabric is required, it has only three pattern pieces, it's super quick to make, and it's simple to put together. It makes the perfect project for the new sewist and for the more experienced sewist, it makes a great instant gratification project.
If you'd like any inspiration for fabrics for this project, have a peek over at the Butterfly Blouse + Skirt Round-up where you'll see many versions of the skirt sewn up.
Also be sure to check out Liesl's how to add pockets tutorial if you'd like to add pockets to your skirt.
Enter to win a prize of two Oliver + S PDF patterns! When you have completed your Butterfly Skirt, post a photo in the comments of the discussion forums under the Butterfly Skirt sew-along. All Butterfly Skirts made can be entered. One will be chosen at random. All entries must be submitted by Friday June 26th at 9:00 AM ET.
Here is the daily plan for this week's Butterfly Skirt sew-along:
Day 1 (today): make the pleats
Day 2: attach the waistband
Day 3: attach the skirt back
Day 4: make the back waistband casing
Day 5: finish the skirt
I'll have a post later today about adding an adjustable elastic waist to skirts/pants which can be easily applied to the Butterfly Skirt.