Not too long ago, I had the pleasure of sewing up a Butterfly Blouse + Skirt using new fabrics from Windham. For the past two decades Windham Fabrics has been concentrating on quilting cottons, but now they have branched out into apparel weight substrates including linen, lawn, jersey, and corduroy. I was fortunate to be able to try out a couple of cute new fabrics in cotton lawn and corduroy both of which will be available in stores starting August 2015.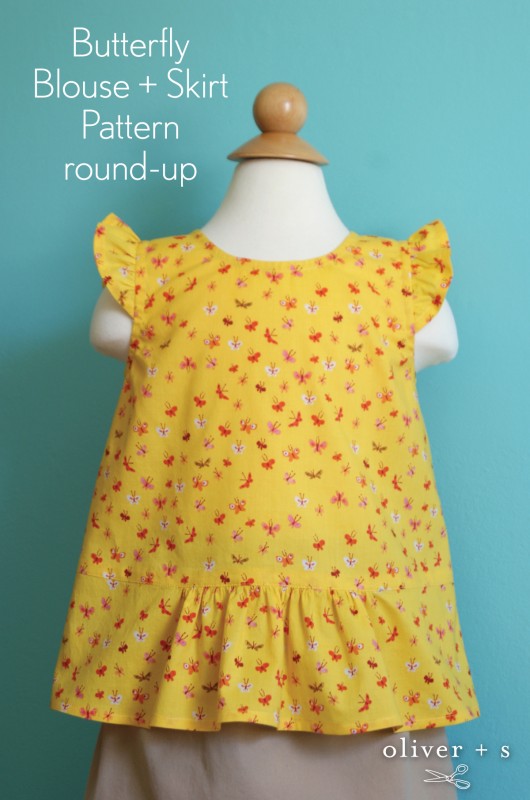 I got to work with fabrics from two different collections. This first one is Tiger Lily which is designed by Heather Ross. She is known for her printed fabrics focusing on themes of childhood with a sweet illustrative style. Tiger Lily is much the same with frolics in the woods, flowers, cats, ballerinas, and butterflies. If you liked her previous fabric collections, Far Far Away and Briar Rose, then I'm sure you'll enjoy Tiger Lily, too. Be sure to check out Tiger Lily which includes 23 fabrics available in cotton and five available in cotton lawn.
I sewed up a Butterfly blouse in a yellow cotton lawn with multi-colored butterflies. It works perfectly for the blouse both in pattern scale and the way it drapes so nicely. The Butterfly blouse will also mix well with other Oliver + S patterns. Here you'll see I've paired it with a khaki Badminton Skort and I think they go really well together.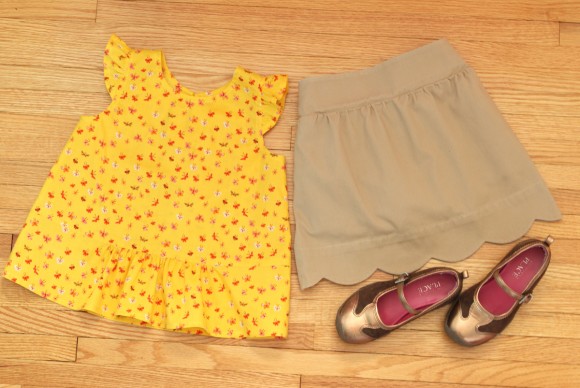 There was only one tiny modification that I made to the blouse and that was instead of the thread chain button loop I used thin elastic cord. This close up photo also gives you a better look at all of the cute little butterflies in the print.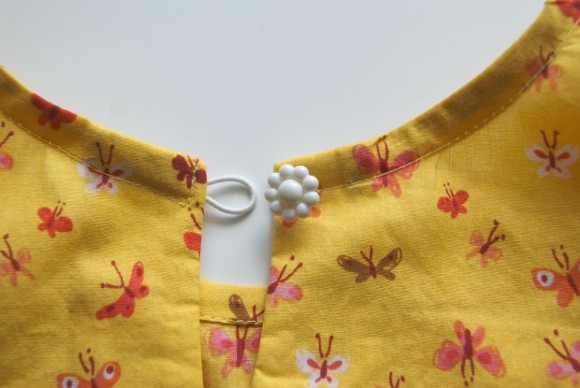 The second collection I got to work with is Stella which is designed by Lotta Jansdotter. We all know and love Lotta Jansdotter for her Scandinavian aesthetic. Her Stella prints include stars, elephants, and butterflies in pastel shades of pink, purple, grey, celadon, and blue. Everything is simple, clean, and modern. The Stella collection includes 13 fabrics available in quilting cotton and four available in corduroy.
I sewed up a Butterfly skirt in a fine wale corduroy that comes in pewter with white stars. I think most of the Oliver + S skirts, pants, and jacket patterns would turn out well using this fine wale corduroy.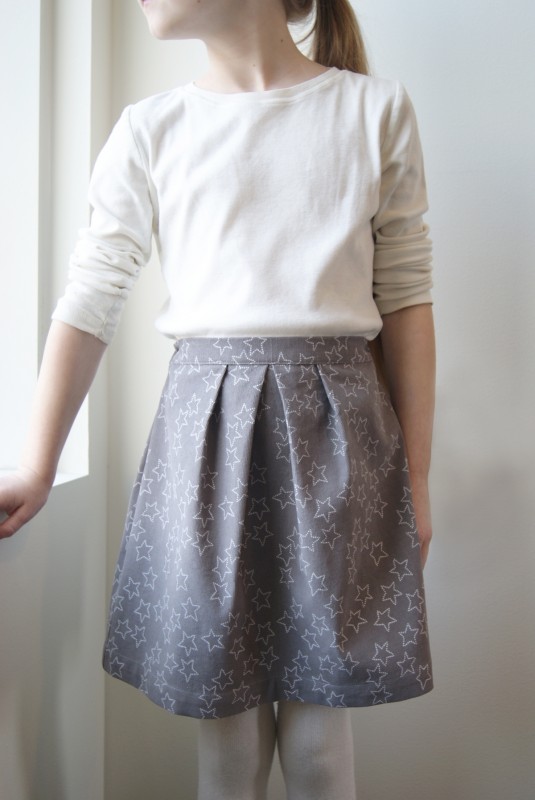 I like how with this fine wale corduroy the pleats stay so well defined without even having to iron them. Here the skirt is with a long sleeve white t-shirt. This one is ready-to-wear, but you could achieve a very similar look with the School Bus T-shirt.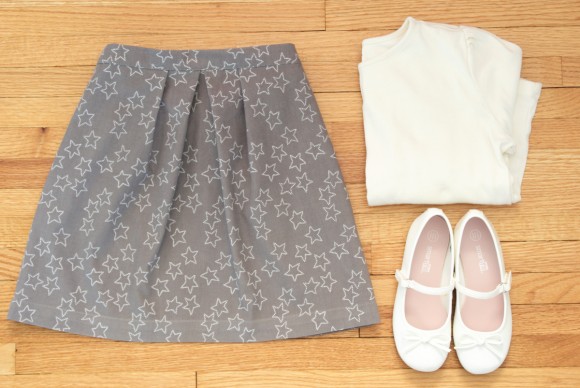 There were several pattern testers who made items from the Butterfly pattern. From their creations you'll discover that this pattern looks fantastic sewn up in many different sizes, from toddler through tween. Let's go in order from smallest to largest, shall we?
Ashley and Emily from Frances Suzanne have been very busy sewing up a few Butterfly outfits. Here is their "toothbrush outfit" (named so since the blouse fabric looks like toothbrushes) featuring a 12-18M peach skirt paired with a 2T blouse where they lined the sleeves and added piping.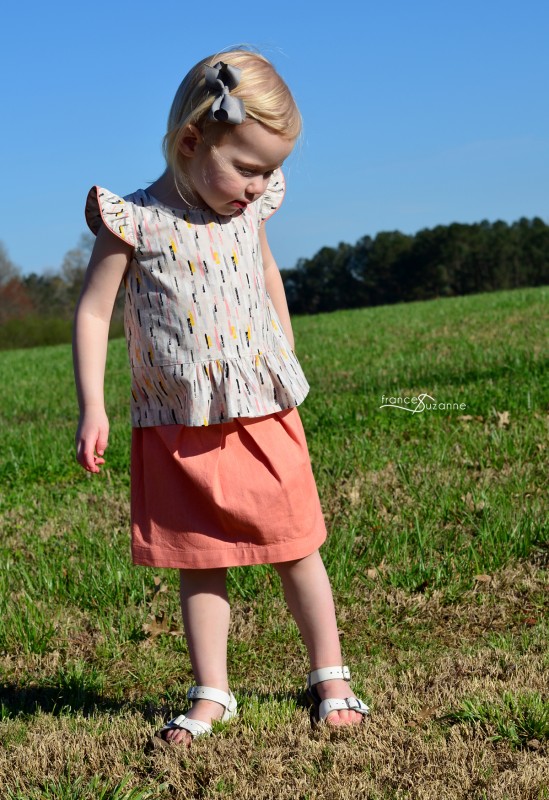 Next up is their St Patrick's day outfit; a home decor floral fabric was used for the 2T skirt to go with the 4T green blouse.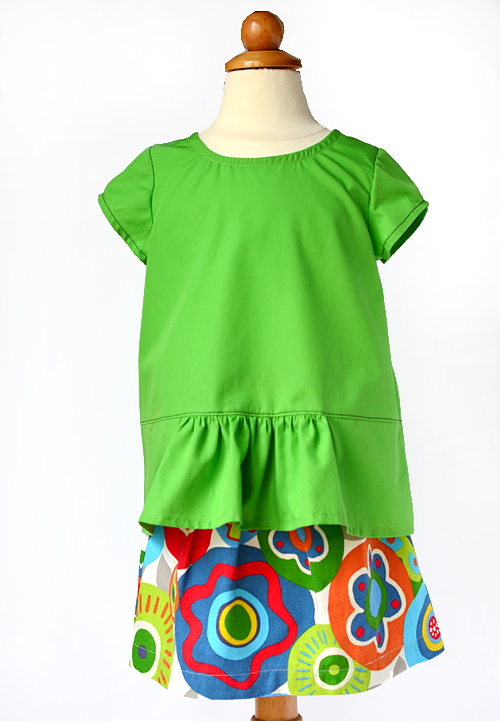 And lastly, another one in pretty pastels.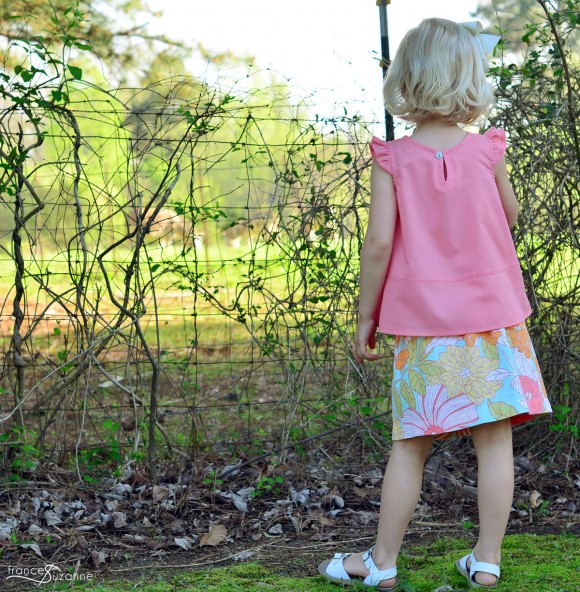 Sarvi sewed these next three garments in size 5. She made the blouse from an embroidered silk scarf her aunt brought from India.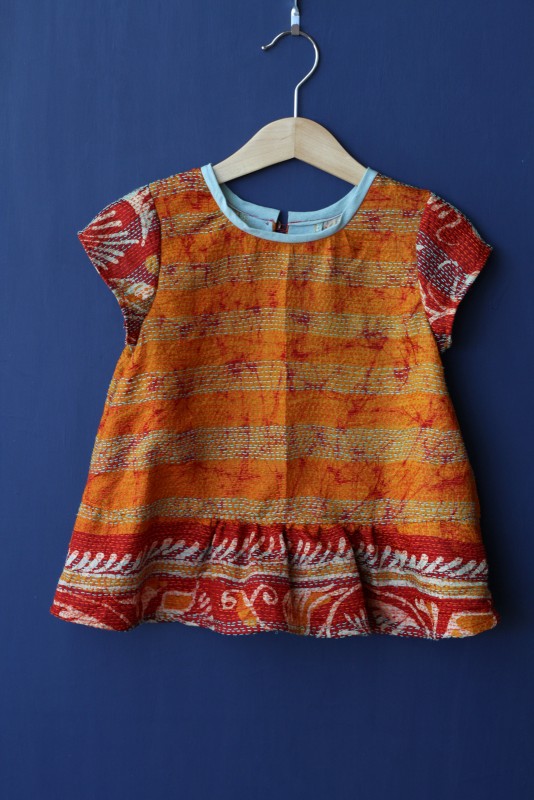 Her first Butterfly skirt was made in Kaufman chambray.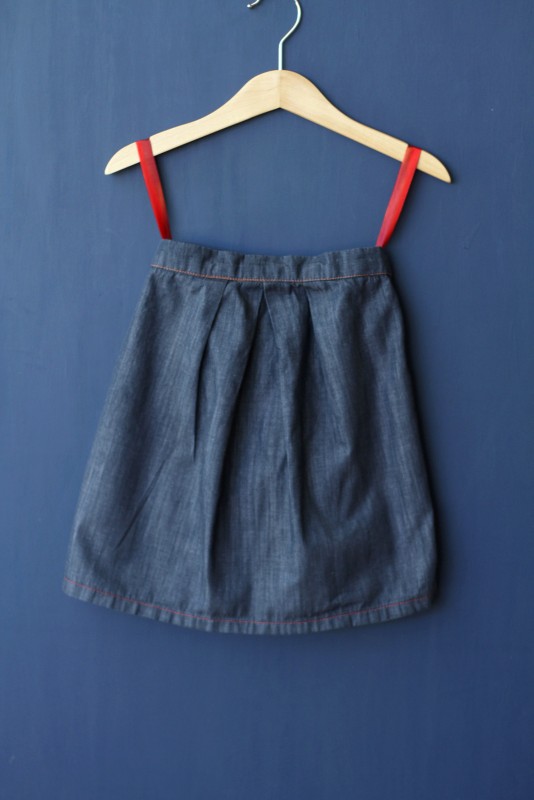 Her second Butterfly skirt was made in a different Kaufman chambray and is a more of a 'miniskirt' since it hits a few inches above the knee. Also, she added lace to the hem.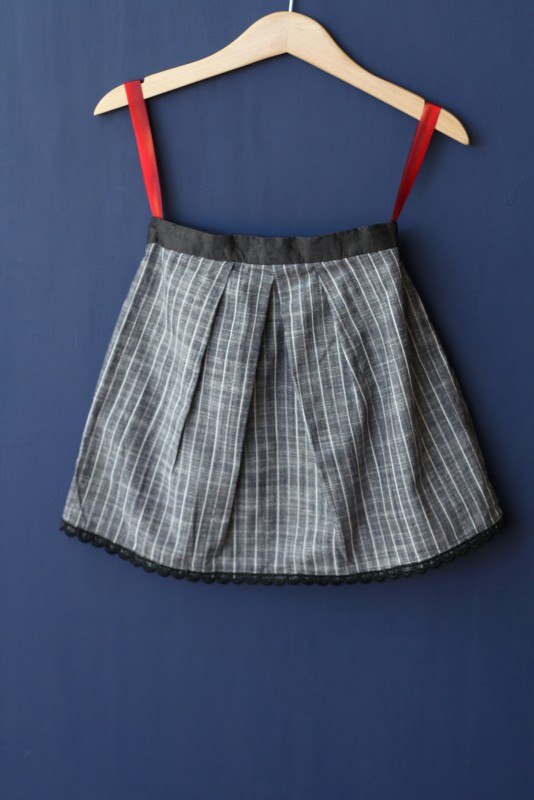 Johanna's daughter is sporting a size 8 ensemble. The blouse is an Anna Maria Horner voile and the skirt is a chambray-like cross-weave linen.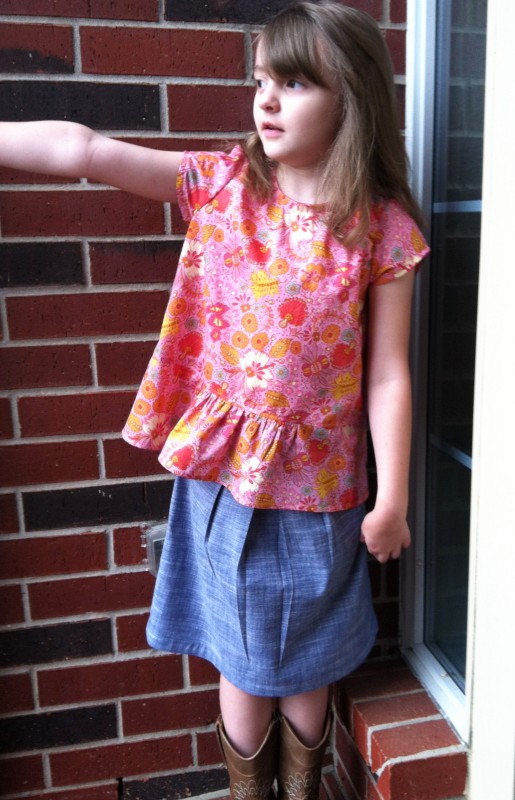 Jeanne sewed a tween version with the blouse in Nani Iro double gauze and the skirt in sateen cotton from the Filagree collection by Art Gallery Fabrics.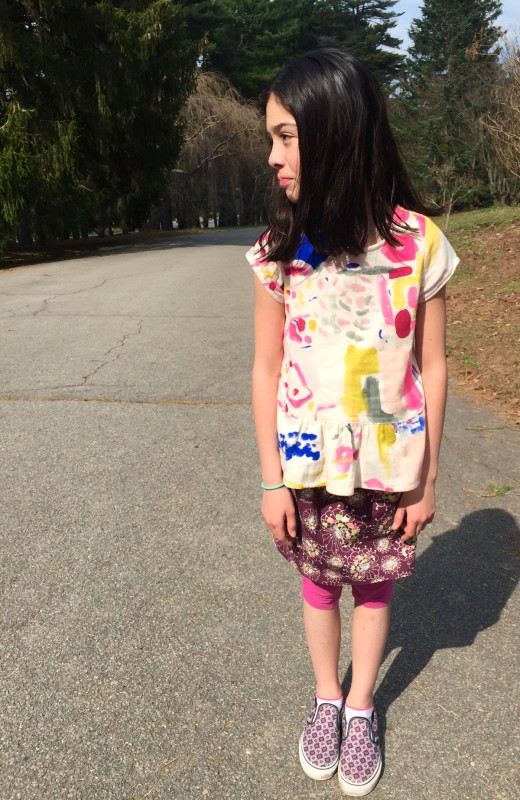 Here are some more beautiful Butterfly examples that were sewn up during Kids Clothes Week last week.
From the knitting anxiety, she has been very busy sewing up four floral Butterfly Blouses in size 5 this past week! These are her blouses in teal and red.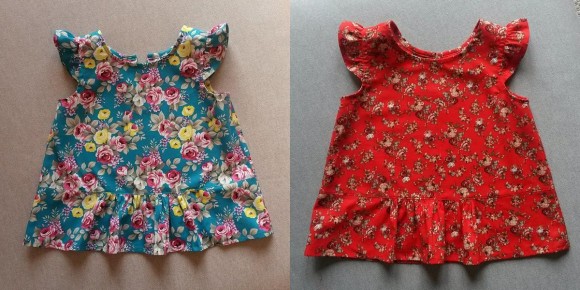 Her floral blouses in blue and brown look adorable with matching bow hair ties.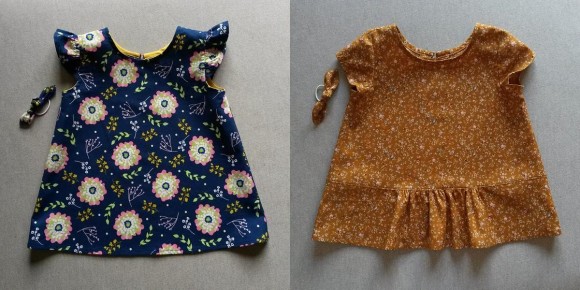 Ana Sofia sewed this beautiful blouse in Liberty D'Anjo, tana lawn, in Size 7.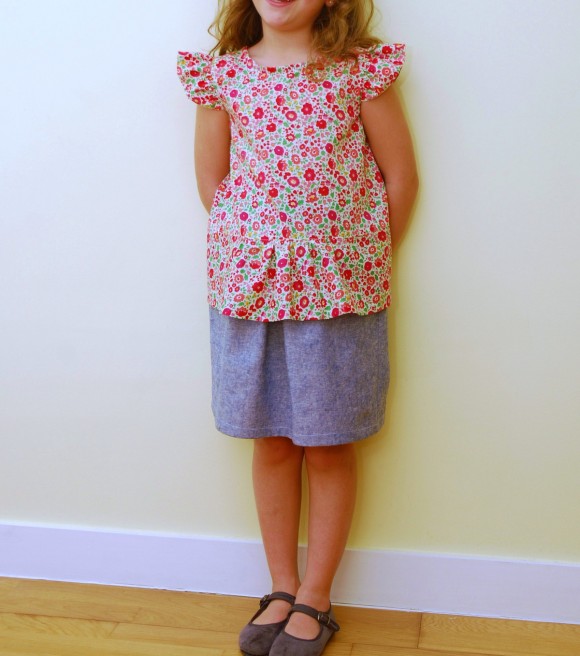 She also make a skirt in Robert Kaufman Chambray in Indigo, in Size 6. You can read more about this ensemble on her blog.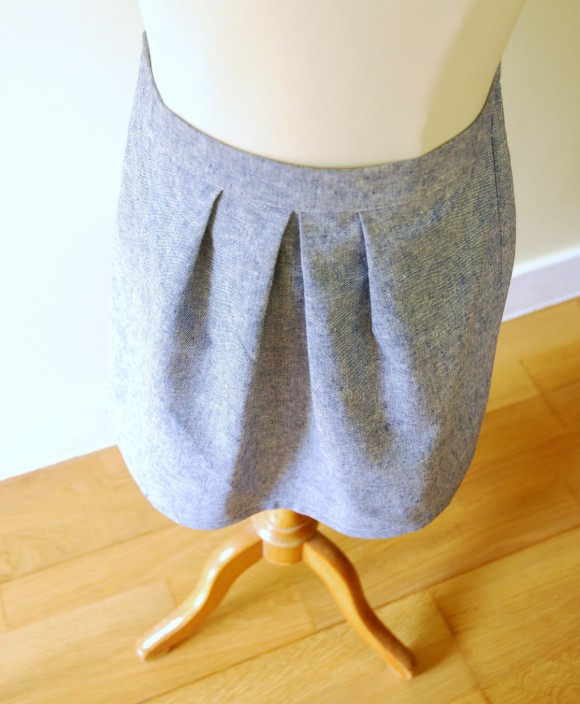 Isn't it fascinating how the same pattern can look so different? Keep your eyes on the Flickr group where you're sure to see many more darling outfits pop up in the weeks to come.