Children sure do love animals, and when it comes to sewing, we seem to enjoy accommodating their love for them, don't we? Brittney came up with the clever idea of turning the Playtime bodice into a fox face, and she joins us today to show you how you can do it as well. Talk about adding some fun and flavor to a pattern! I wonder what other animal faces would work well on the Playtime Dress? Thank you so much Brittney for this fabulous tutorial!
I am not usually one to follow trends, but I just can't help but love all the foxes I see popping up. I was brainstorming one night how I could make my girls a fox dress when it struck me that the Playtime Dress would be the perfect canvas. My three year old twins absolutely love it and fight over who gets to wear it, though they are getting better at taking turns.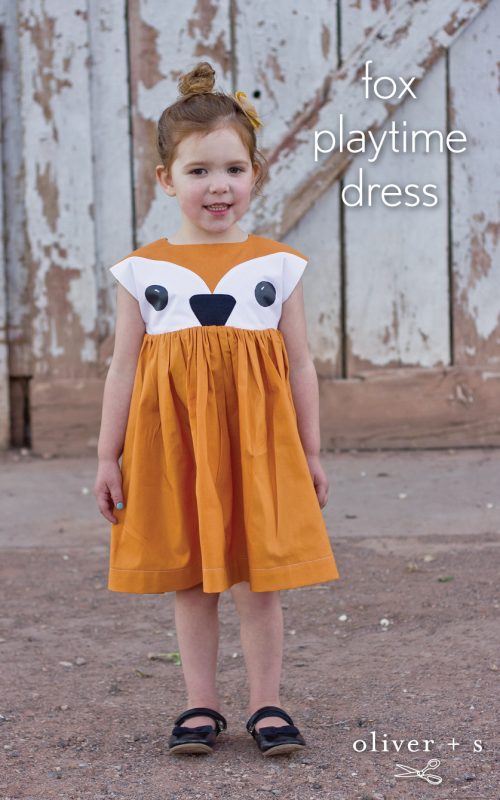 I am using the freezer paper method for my pattern. If you are unfamiliar with it, or want to read up a bit more on it, Sarvi did a great post on how to use it to preserve your pattern pieces.
I will also explain how to fully line the (sleeveless) bodice, so you will need to cut two front bodice pieces and four back bodice pieces.
Let's get started!
First, start by tracing your full bodice, also tracing your seam allowances (1/2″) at the shoulders and the bottom of the bodice, fold and crease your pattern piece so you know where the middle is.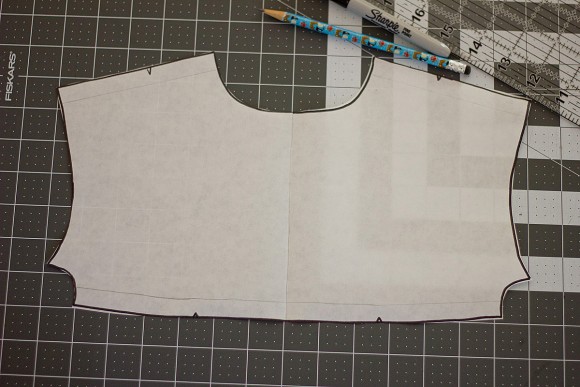 Then, using a pencil sketch out your general outlines, erasing as needed to get your desired shape. You want the eye patches to extend slightly past the center as you will loose a little length later on while sewing them together. I like to fold my pattern piece in half and hold it up to the window to trace the mirror image so that the face will end up symmetrical. I also like to trace over my pencil marks in marker to make it stand out more and make sure I am happy with the look.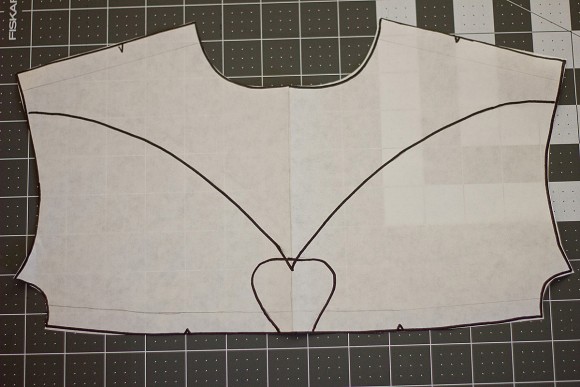 Trace your eye patch and nose on a separate piece of paper to use as a pattern for the applique pieces. Cut four eye patches in white and two noses in black.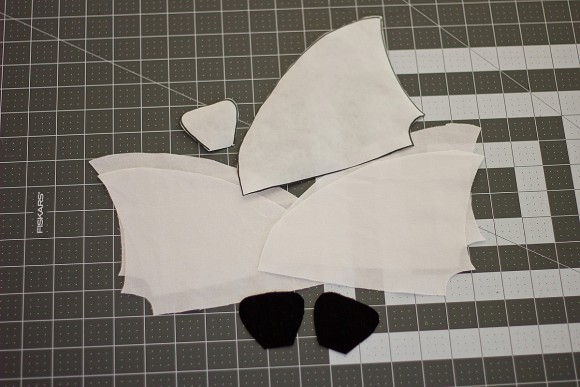 Sew your two eye patches and nose pieces with right sides together, I used a 1/4″ seam allowance. For the white piece, you want to sew just along the top curve, I added poorly drawn dashed black lines to help you see a little better. For the nose, leave the bottom edge unsewn.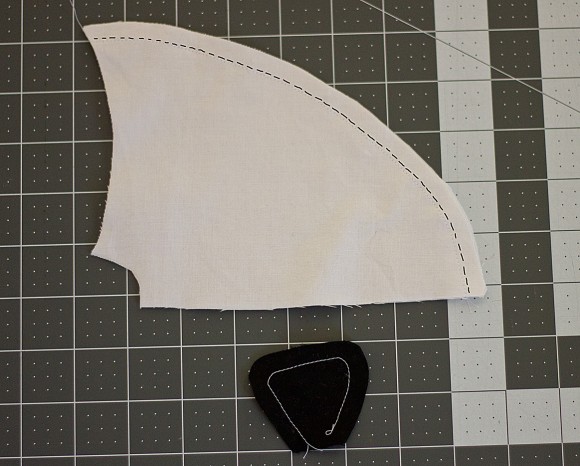 Turn your white and black pieces right sides out and press. Then, sew each piece to your front bodice. I moved the nose up a little to where it looked best to me, as long as you keep it less than 1/2″ from the bottom raw edge, the open edge will be sewn in to your skirt.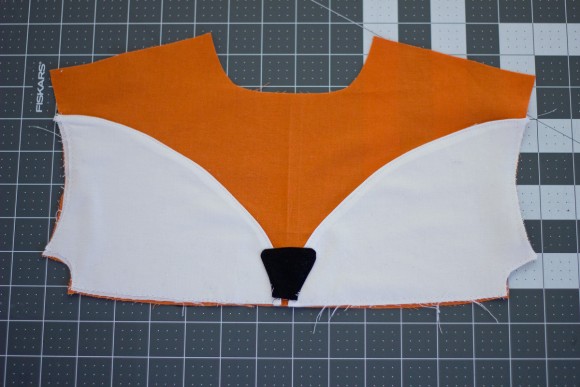 I chose to do a freezer paper stencil for the eyes, you could also use black fabric or even trace a circle straight to your pattern piece and free hand paint it in if you're steady enough.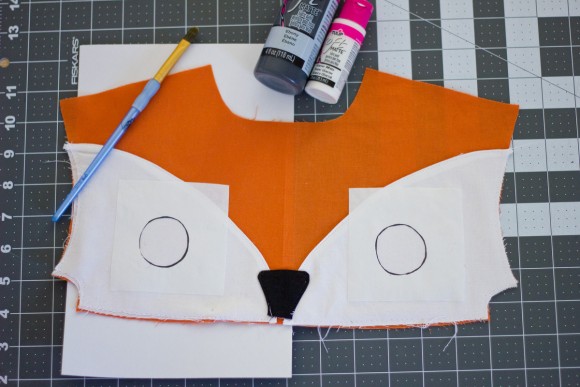 Cut two squares of freezer paper and trace a circle in the middle, cut the circle out. Iron your template on to your bodice, I like to use my ruler to place the second eye. Paint the circles black.
Once the paint has dried, peel off the freezer paper. I like to take a small brush and clean up the edges of the circle that might not be as smooth as I want. Using a white paint and a small brush, make a small white line in each eye and let dry.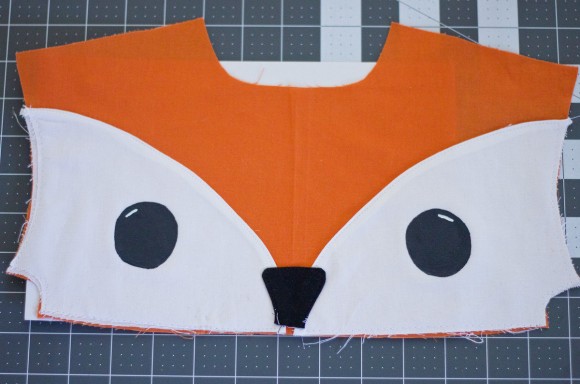 Sew the back bodice to the front bodice at the shoulder seams, repeat with your bodice lining.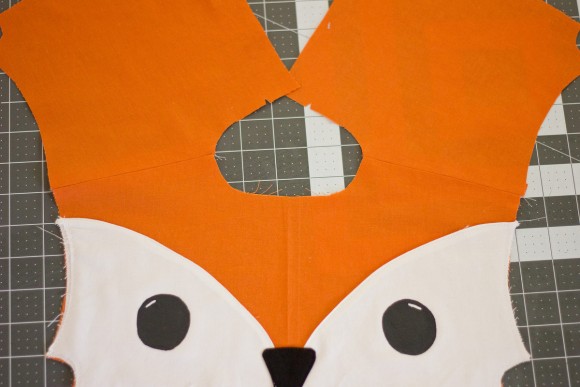 Place your bodice and bodice lining right sides together and sew the back edge, neck and arm holes with a 1/2″ seam allowance. Trim your seam allowance and clip the curves.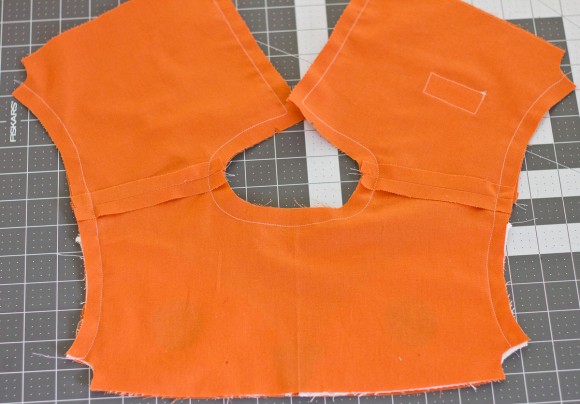 Turn your bodice right side out and press.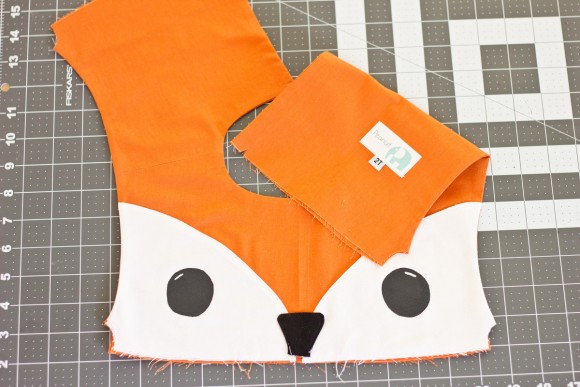 Open your bodice and bodice lining at the side seams and sew them right sides together.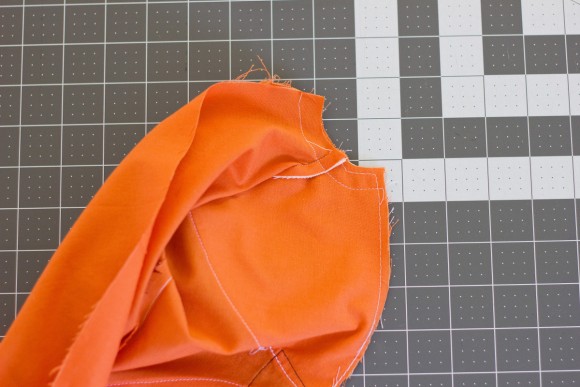 Press seam apart and fold your lining down.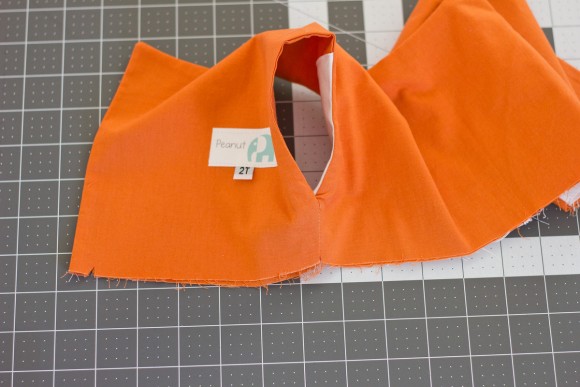 From here on out, follow the rest of your Playtime instructions!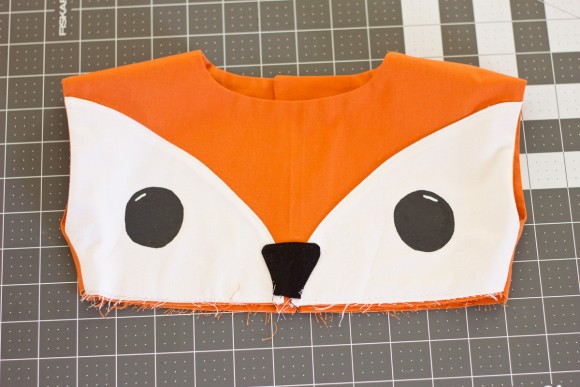 FYI, to make such a super full twirly skirt, Brittney used a total width of eighty-eight inches of fabric.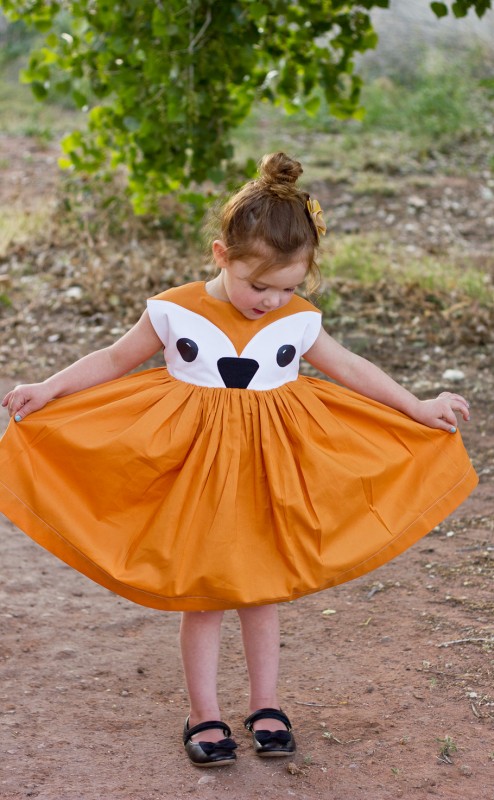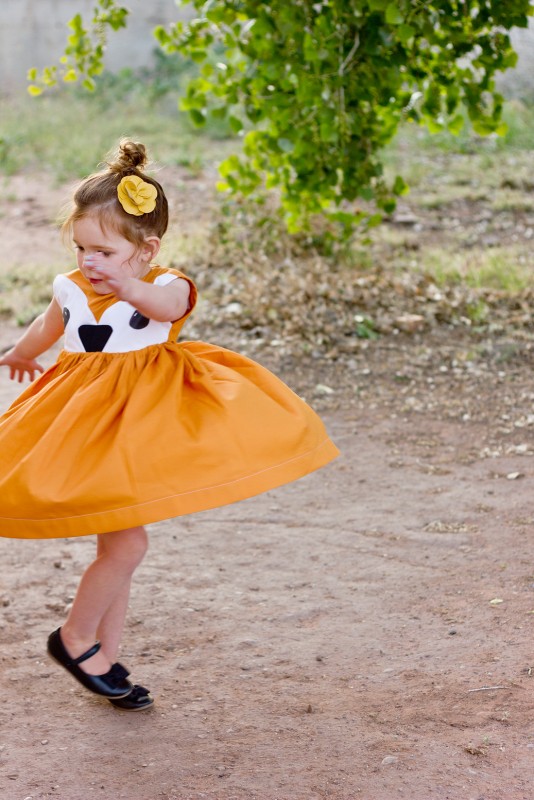 If you would like to see Brittney's other contributions to the Oliver + S blog, you can visit her Puppet Show shorts round-up, Puppet Show shorts sew-along, and favorite pattern posts.