I just spent a fantastic weekend at the International Quilt Market in Minneapolis surrounded by so many creative people. I heard that some people flew in from as far away as Australia, Japan, and Europe just to attend this event; all for the love of sewing and fabric. This social act of assembling for a common purpose has gotten me thinking about online sew-alongs and how this format has been described as the modern version of the sewing circle. It used to be that you had to live really close by and get together in person. But via the internet we can live anywhere in the world and still sew together and have a sense of community. Flying halfway across the world is not required. So it's super easy to join us, just grab your pattern, fabric, and sewing machine and you'll be good to go!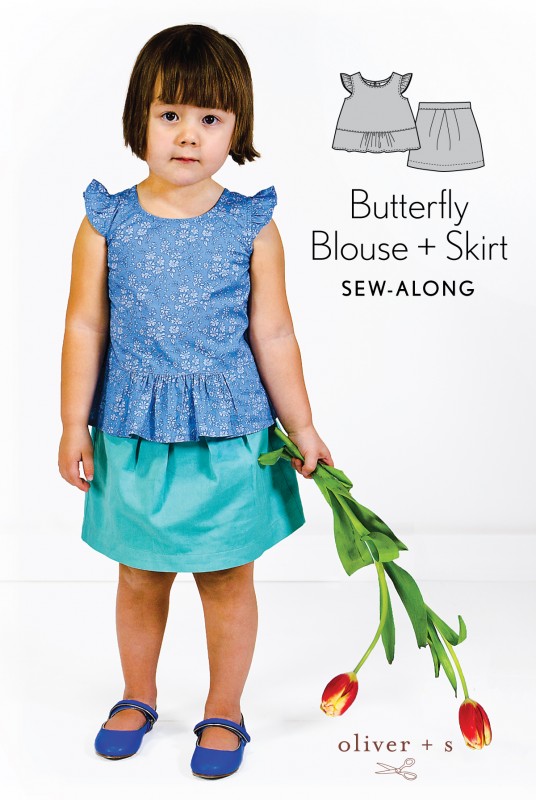 Who's sewing along with us this week? If you'd like any inspiration for fabrics for this project, have a peek over at the Butterfly Blouse + Skirt Round-up where you'll see many versions sewn up in both the ruffle and cap sleeves. Also be sure to check out Liesl's heirloom Butterfly Blouse tutorial that will be featured on the blog this afternoon to learn one way of how to customize it.
Here is the daily plan for this week's Butterfly Blouse sew-along:
Day 1 (today): get started, prepare the keyhole facing and the blouse back
Day 2: assemble the blouse
Day 3: finish the neckline
Day 4: prepare and attach the ruffle sleeve (view A), the cap sleeve (view B) and sew the side seams
Day 5: finish the armholes (view A) and the blouse
Join us over in the Discussion Forums Sew Alongs group for day 1.