School's back in session, and so is the school dress code. That means it's time to follow the rules and dress your kids in the right school attire in adorable styles. You can sew school uniforms that meet the grade. Here is a gathering of inspiration which includes tops, jumpers, skirts, skorts, and dresses that have great-looking style for every season of the school year.
First up, we have one of our intrepid forum moderators Nicole who sewed this music class duet for two of her girls using the Music Class Blouse and Skirt.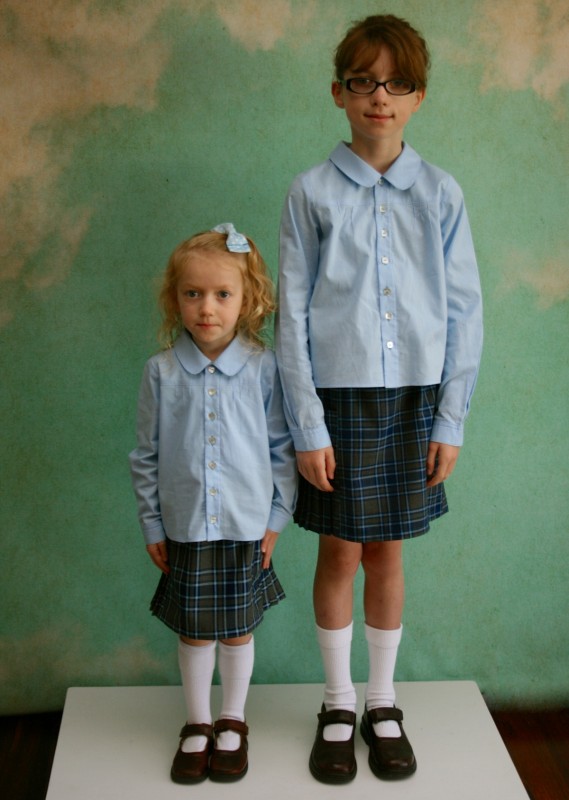 Nicole is also the seamstress who made this adorable Jump Rope Dress in the View B version for one of her daughters. You can see the clever details of this dress in her blog post here.
Next up, Jeanne has sewn many Oliver + S school uniforms over the years. Here is a Hula Hoop Skirt she made.
Also sewn by Jeanne were this Seashore Sundress and Birthday Party Dress both of which became jumpers.
Katy made a couple of Music Class Skirts as well as a Badminton Skort. Don't they look cute all three of them lined up in a row?
Lastly, one final school skirt, but this times it's a 2 Plus 2 Pleated Skirt also sewn by Katy (she talks about the details of this skirt here).
To be comfortable in the classroom as well as on the playground try turning the Playtime Leggings pattern into playground shorts to wear under skirts, dresses, and jumpers to make them playground friendly.
Don't forget to have fun when sewing school uniforms by adding sneaky trims, facings, linings, or interior pockets. Those hidden details make them unique and extra special.
Happy school year!