Have you ever heard of a little movie called "Frozen"? Elsa dresses are everywhere! Very creative people have been using several different Oliver + S patterns to create ice princess dresses for the special girls in their lives. Enjoy this collection of Elsa dresses.
First up from with love, heidi we have a Hopscotch Dress. She sewed the long sleeve version using white hologram dots knit fabric for the yoke and pale blue knit fabric for the bottom.
Nicole Bomeli turned the Field Trip Raglan T-shirt into a long sleeve dress. She used white and light blue cotton jersey for the top and the skirt overlay is iridescent tissue taffeta. A layer of dark blue cotton jersey is under the iridescent taffeta to keep it soft next to the body.
The Library Dress was used for the version Kim made. The fabric is blue shot cotton with a light blue overlay on the skirt. The trim is silver and white wave stitch piping.
KirstyLilian made a cap sleeve version of the Garden Party Dress using sequin knit fabric.
Another Garden Party Dress, this time sewn up by welcomebacktotter. She used a cotton/linen blend for the lining and covered that with a sheer silver/blue curtain that she found at Ikea. She cut all of the pattern pieces out in both fabrics and sewed them together before starting to assemble the dress. She hand stitched sequins onto the two bands in the front. The final touch is a sheer and sparkly cape that she sewed on the back, which is a little bit longer than the hemline.
A collection of fairy tale dresses would not be complete without a Fairy Tale Dress. Lizvancura used a pale blue raw silk for the main of the dress, overlain with organza for the sleeves and overskirt, and a very shiny and sparkly overlay for the bodice. A few snowflake buttons were used for attaching the removable train in the back. She used snowflake patterned organza for the train and a white lawn cotton to cut out a dozen different snowflakes, which were appliqued onto the under skirt.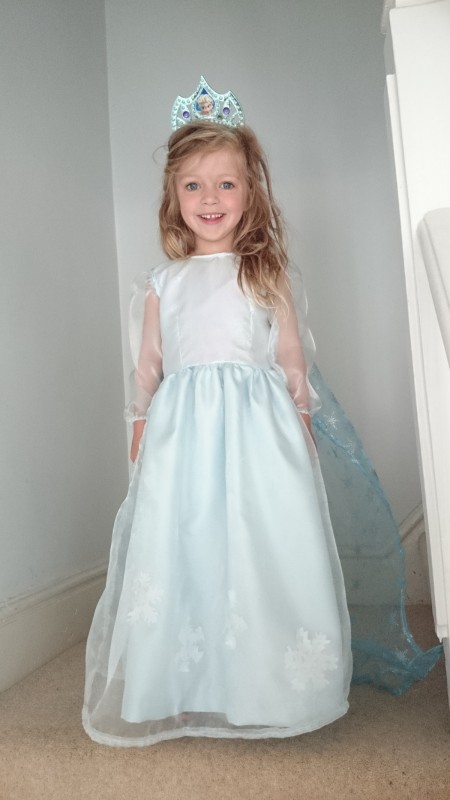 Finally, you must go visit jubilantloulou who created one using the Hide-and-Seek Dress with glitter satin fabric. On the back she did freezer paper stenciled snowflakes with glitter and glue.
Beautiful aren't they? I wonder what other Oliver + S patterns could be used to make Elsa dresses.
We'd love it if you'd add any photos of your Elsa dresses using Oliver + S patterns to the Flickr group. It's fun to see what you make.