Shelley, @lightningmcstitch, is here to tell us more about her Amarena dress and top.
When the tester call out for the Amarena dress hit my inbox it was winter in Australia and I knew I wanted to make the long-sleeved View B to wear over a skivvy. But I also adored the collar of the View A dress, so I had to make both!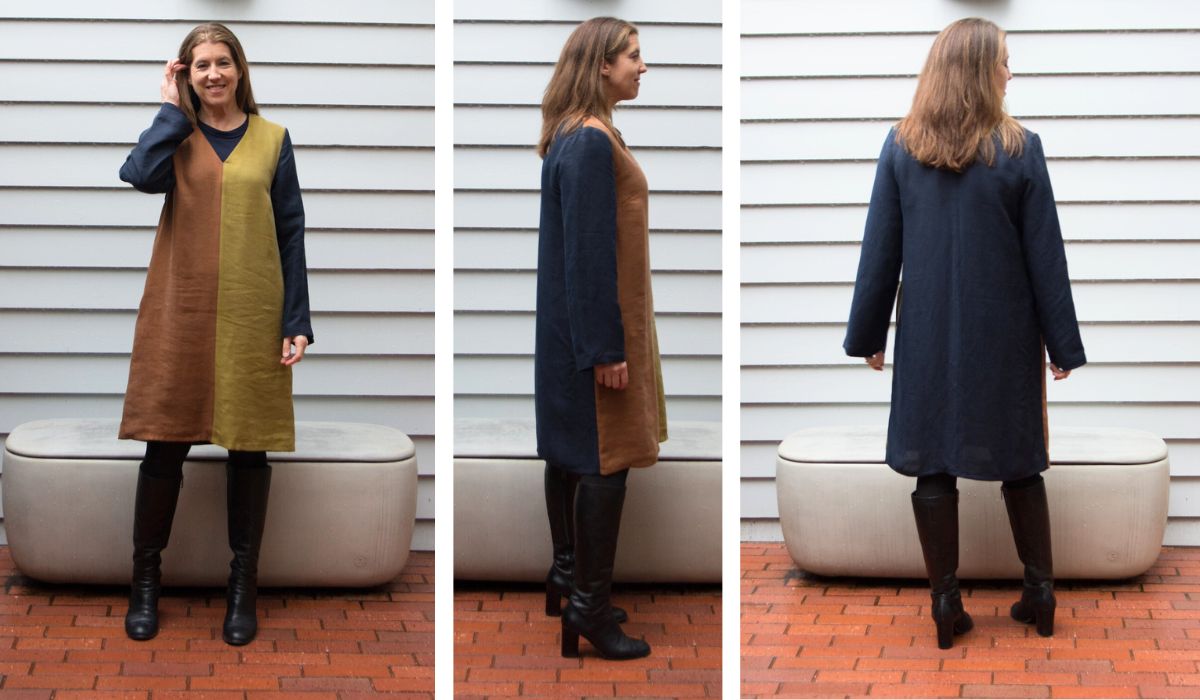 For my View B dress, I carefully chose the colours I wanted to use and economised on fabric by cutting all the pieces on the cross grain. The fabric, at 150cm wide, was wide enough to get the length of the dress across the fabric from selvedge to selvedge. I cut each front and its corresponding facing from two 50cm lengths of fabric and the back, sleeves, and back facing from a 1m cut. I fall between sizes 10 & 12 and made the dress in size 12 thinking I might want to wear it over something.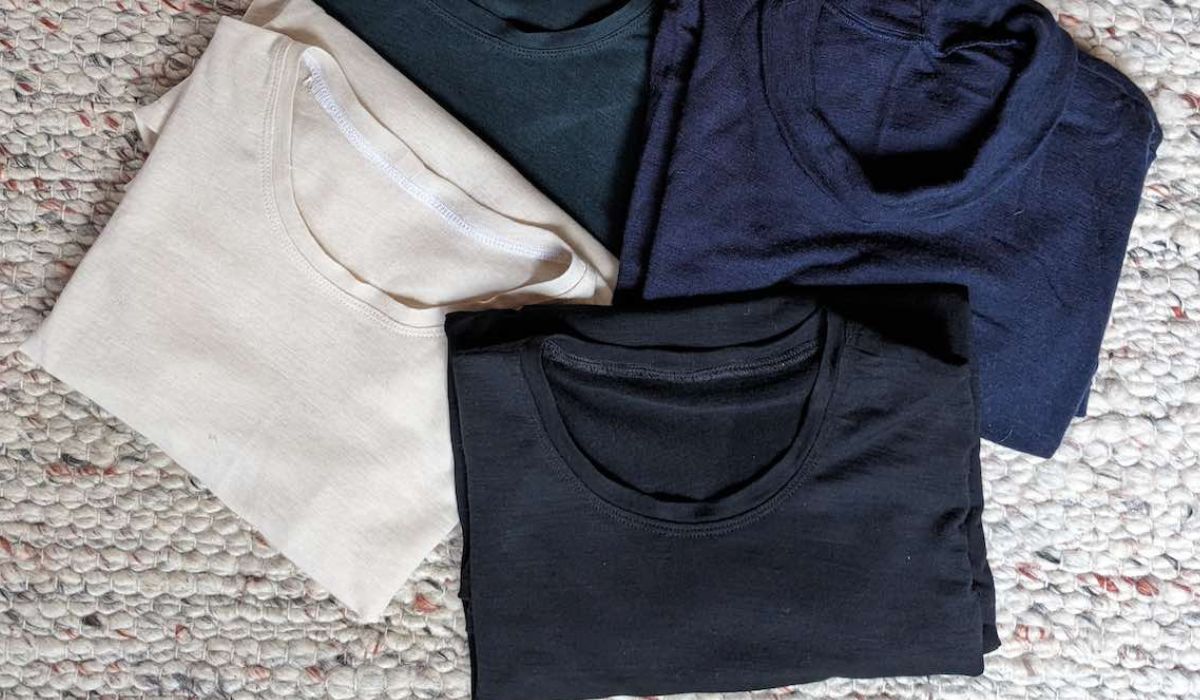 As soon as I put it on, I realised that yep, the pale olive colour looked really weird next to my skin and I needed something underneath. So, I raced back to the shop, bought some lovely, lightweight, navy merino knit, and made up a thermal Metro tee. Of course, I couldn't resist buying the cream, dark green, and black as well and made three more merino Metro tees before getting back to my pattern test!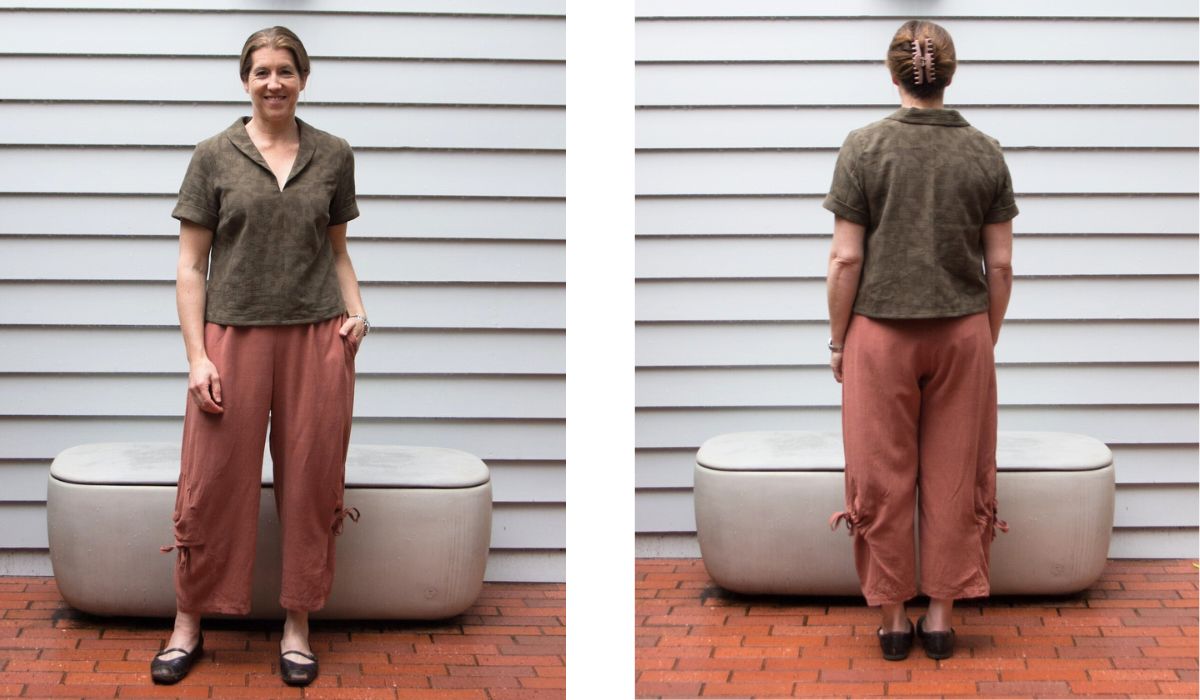 My view A cropped top is made from a remnant of a jacquard double cotton. If the fabric looks familiar that's because it's the leftovers after making my mum this Gallery/Capuccino dress combination that was featured on the blog.
The fabric remnant I used was an odd shape, so I can't give exact yardage, but laying the traced pattern pieces out I've worked out what I'd need to cut it from straight yardage. My top is the size 10 and the length was cut at the optional cutting line on the pattern tissue. On either 44" or 58" fabric I could comfortably cut it from 1&1/2 yards. I suspect that might not change even for the larger sizes, especially on 58" fabric, as the bodices are likely to fit side by side on the folded fabric once the wider skirt sections are cut off the pattern piece. My tip is to trace your pattern and lay it out, then measure what fabric you need before you buy. Or play pattern tetris with the fabric you've got.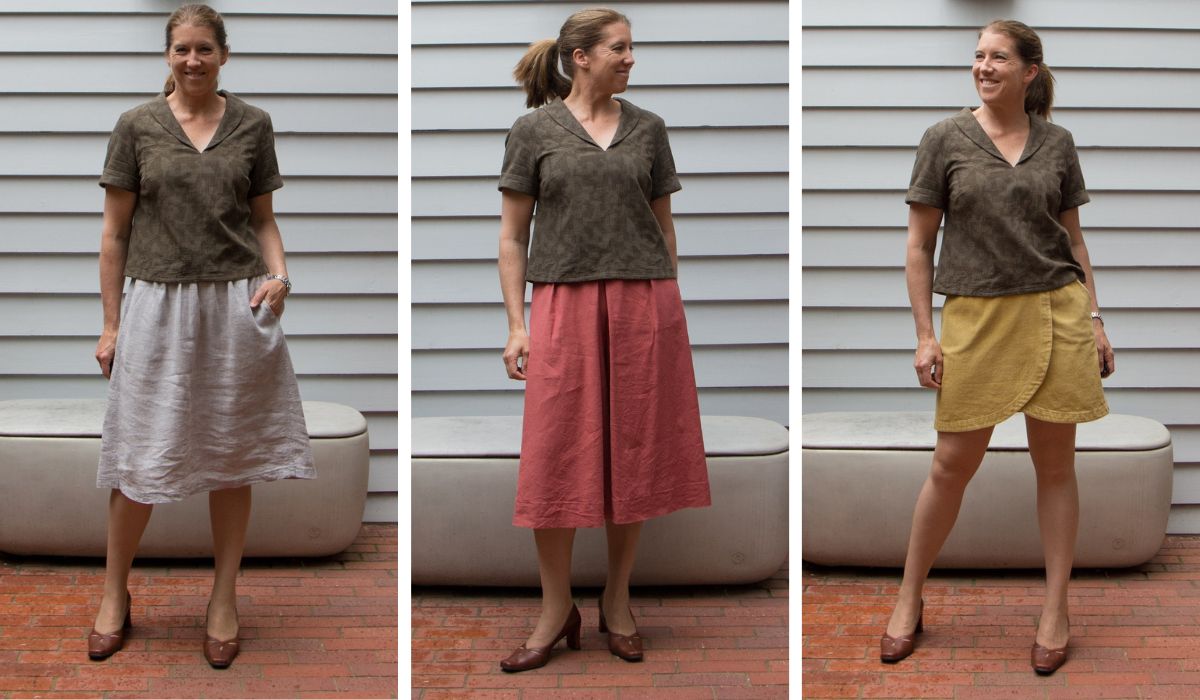 We're heading into warmer weather downunder and I know this little top will get a lot of wear. I rustled up a few Liesl + Co bottom halves to wear it with: An Everyday skirt in crinkle linen, a pair of linen Girl Friday culottes, and a denim City Stroll skirt. Arguably they're all "fall colours" so maybe I'm on season somehow after all.
You can read more about Shelley's adventures in sewing, knitting, and much more on her blog, Bartacks and Singletrack.