Hello again!
It's day three and time for me to introduce the last of our new pattern collection for Fall 2023. Allow me to present the Kyoto Dress! And it's also available in digital format so you can print it at home or have it printed for you.
This is a gentle fit-and-flare style that never goes out of style. It's both contemporary and classic. Details? A gently-curved waist seam, front and back darts for subtle shaping, an inverted box pleat at the center-front skirt, and both short- and long-sleeve options. And of course we included cup sizes to help you get a great fit. This style closes with an invisible zipper at the back. Invisible zippers are my favorite way to close a dress with clean lines like this one. Pull it on, zip it up, and go!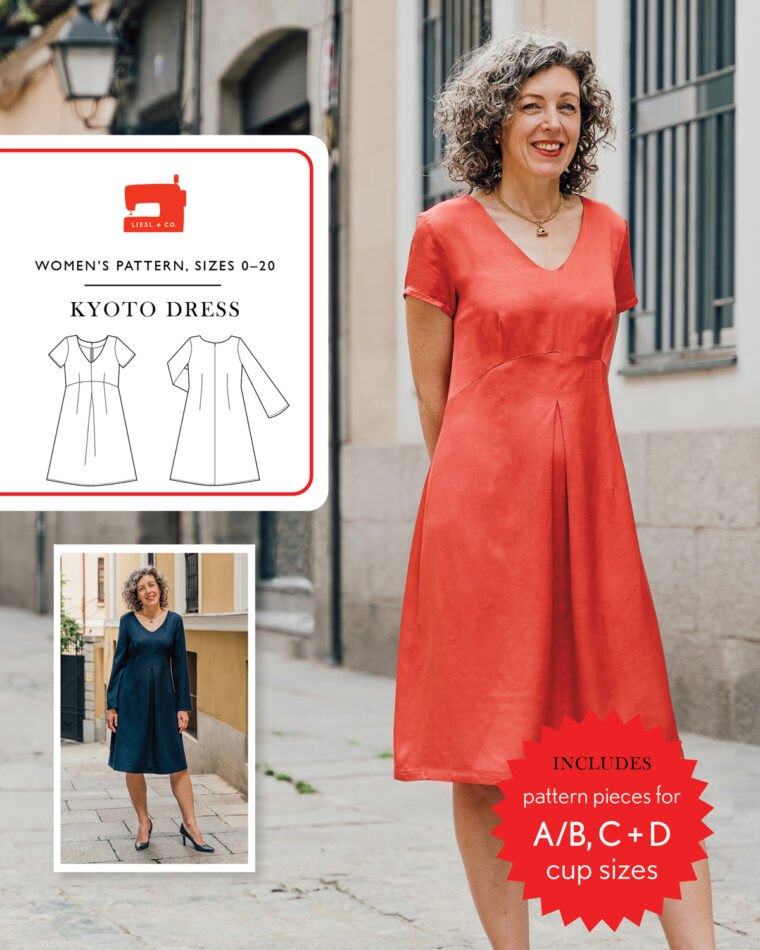 I love to design and wear this silhouette because I think it's flattering on so many bodies. It skims the body rather than defining, if that makes any sense. A few years ago I designed a dress with a similar silhouette for our Lisette collection and it was very popular. It's a very feminine shape, I think, particularly well-suited to those of us who are "pear-shaped" (uff, I detest that description) or who have differently-sized upper and lower bodies.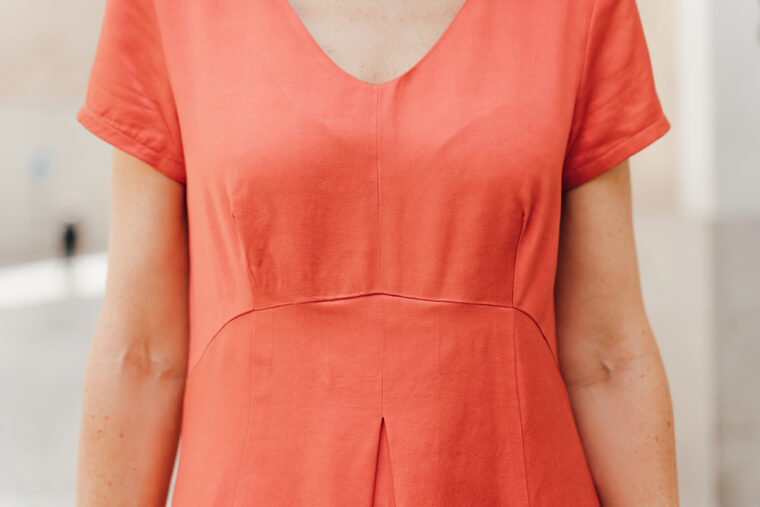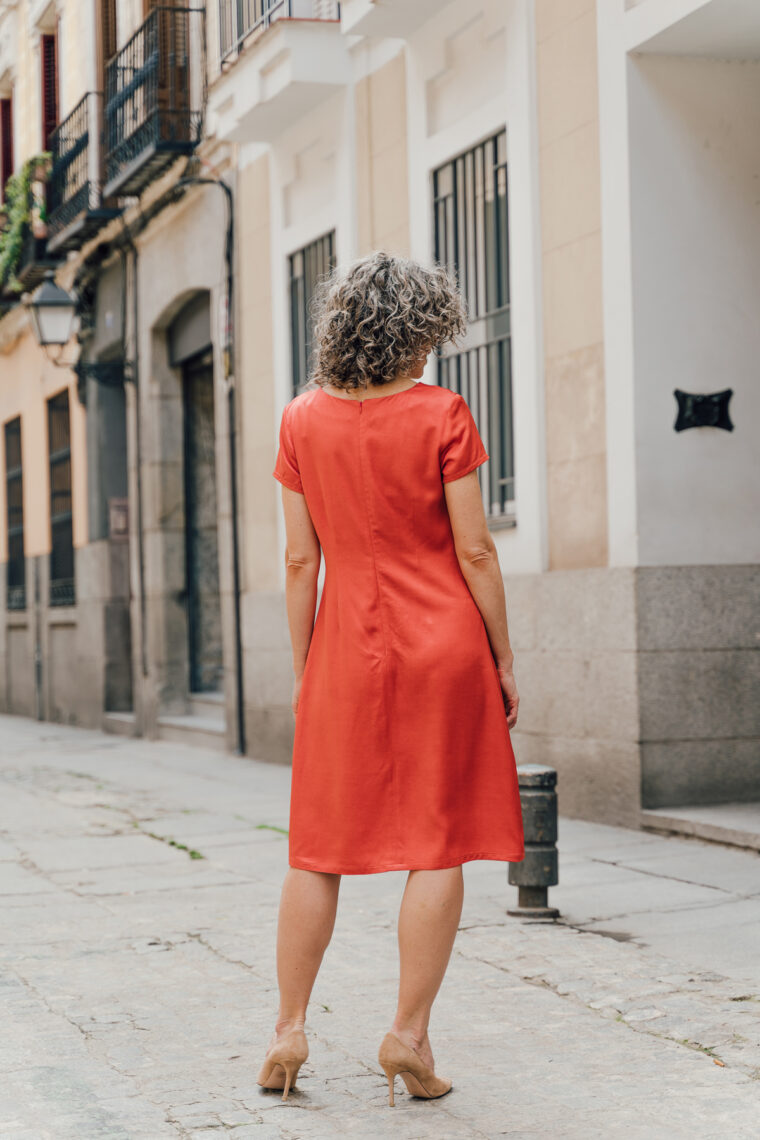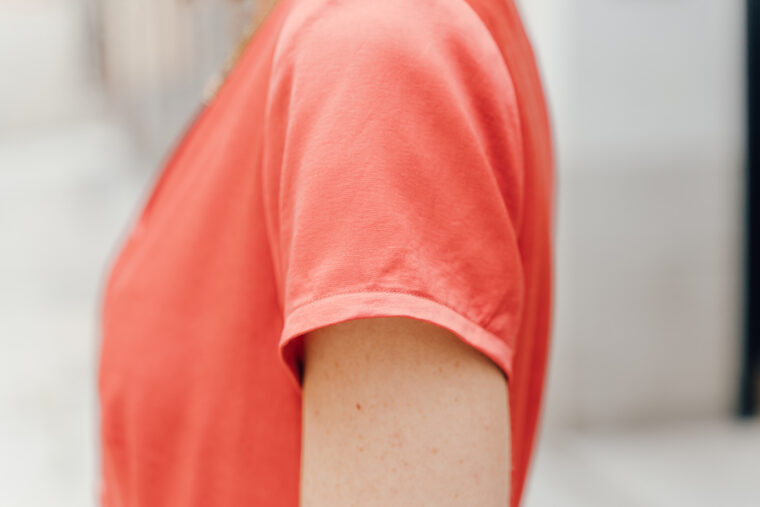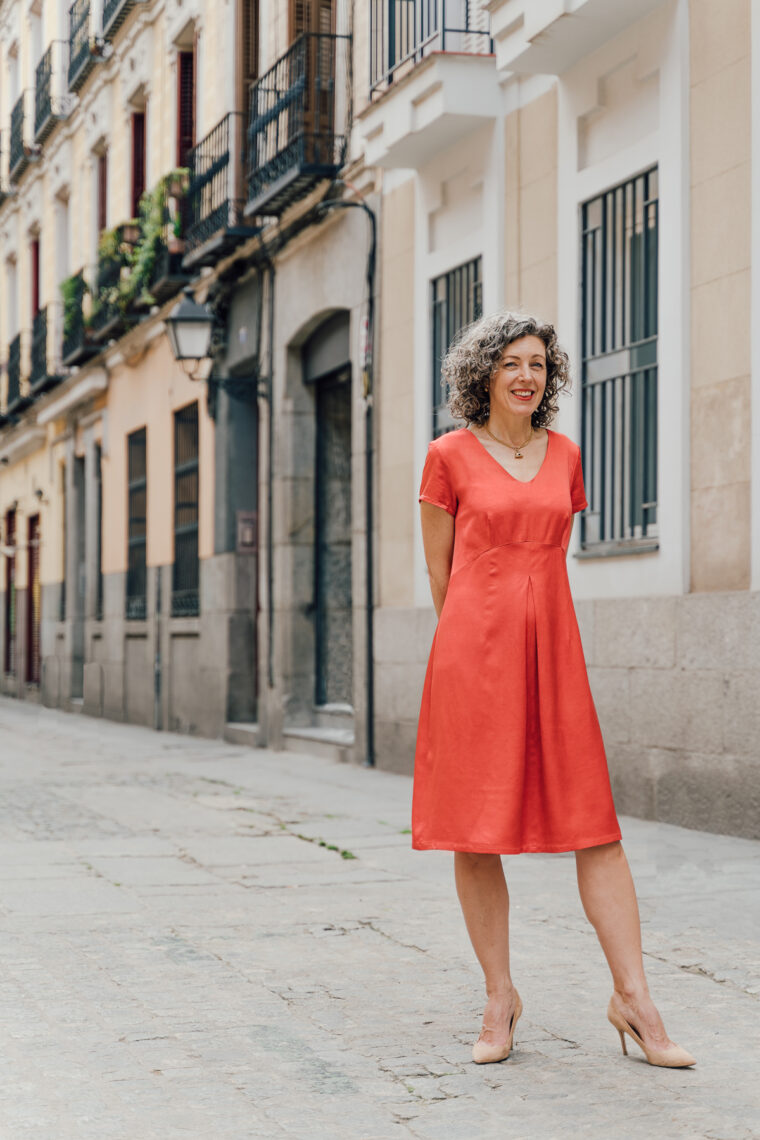 When I say the lines of this dress are "body skimming," I mean that they float over the body and give a gentle shape without being too defining or restricting. The curved waist seam is soft and defining without restricting, the front and back darts give shape, and the inverted box pleat at the center front adds a little flare to the skirt without a lot of volume. In short, it's a flattering shape that's easy to wear; very feminine but also comfortable.
I've included two views for this style. Both views have a gentle curved V neck and an invisible zipper at the center back. View A has cute little short sleeves and View B has full-length bell sleeves. No cuffs, no buttons, just the zipper at the back to make it easy to slip this dress on and go.
And of course we included cup sizes to help you get a great fit. A/B, C, and D cups are all included to make it easier for you to customize the dress to your own body.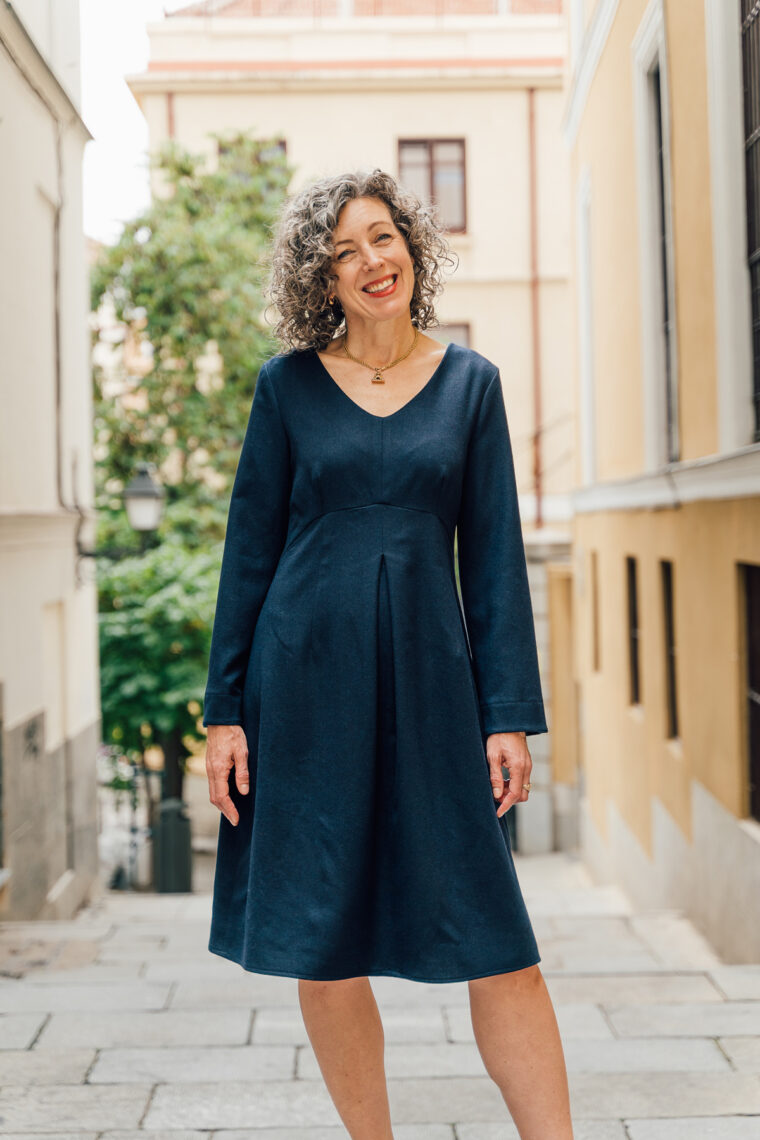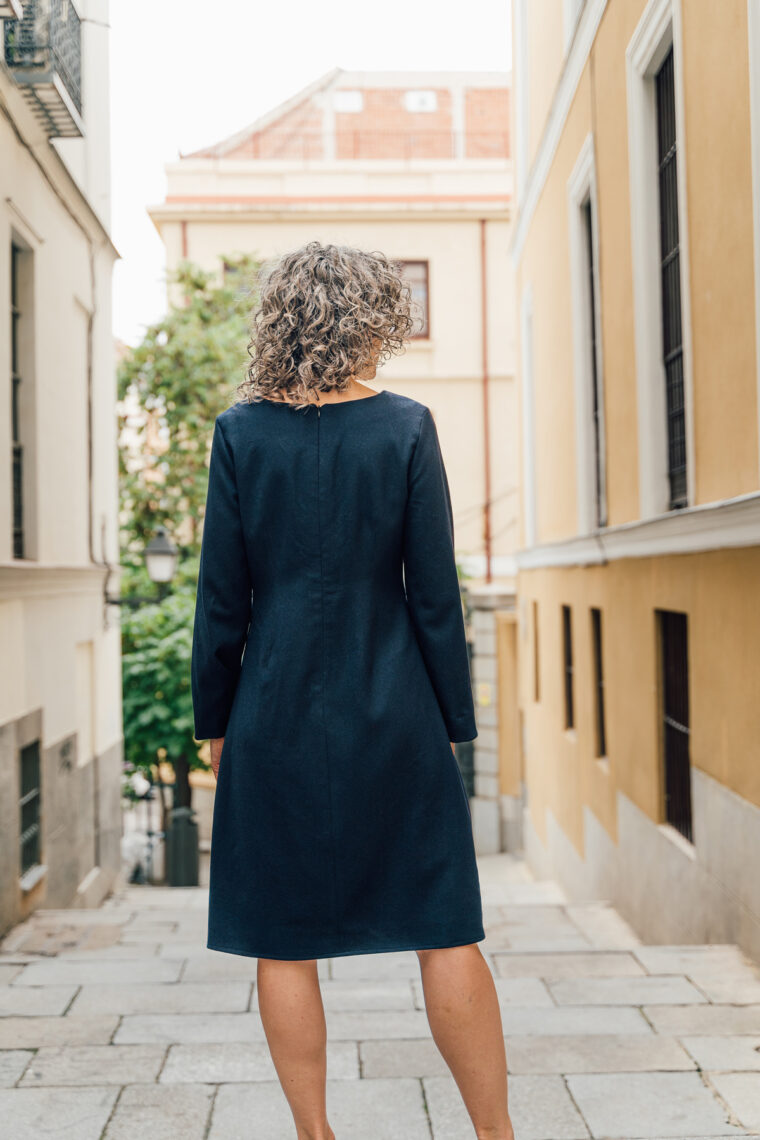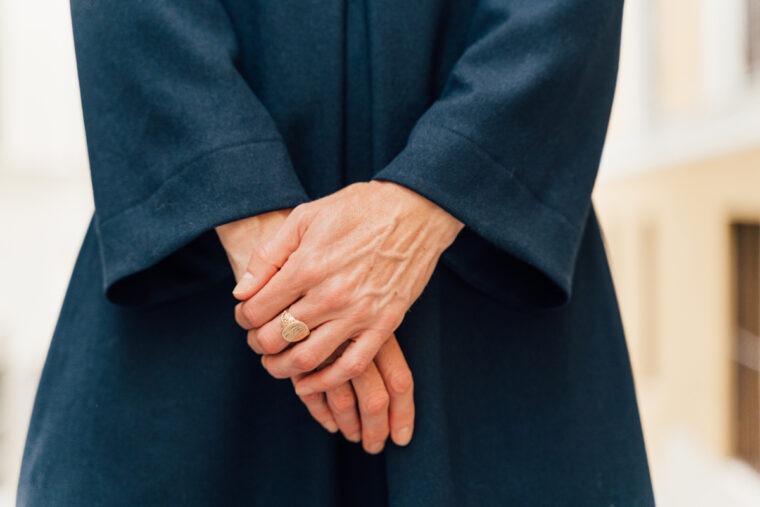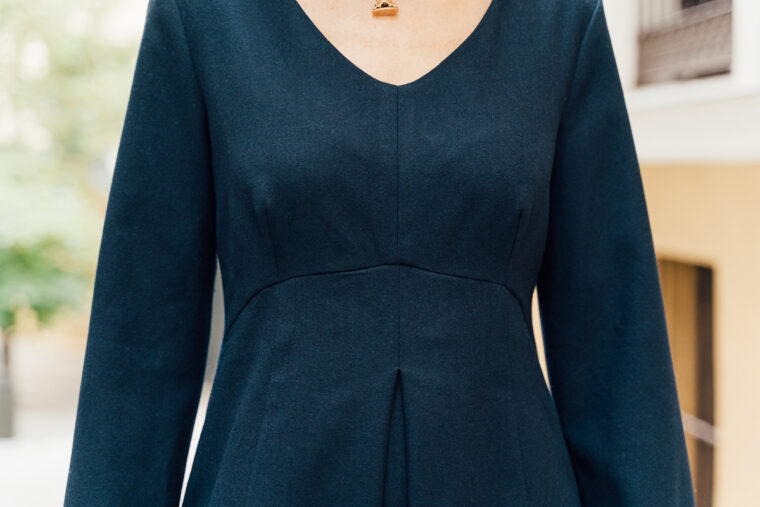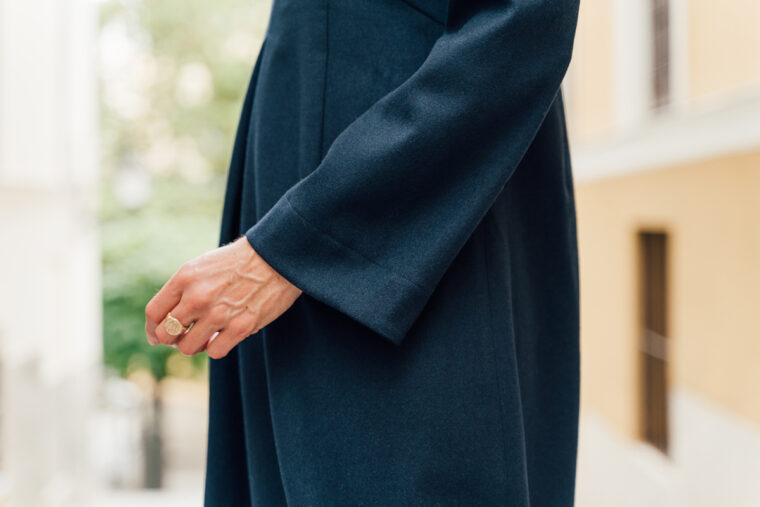 I think it's a modern but classic shape, so you can style and wear it however you want.
I used a very lightweight silk/cotton satin for the peach-colored View A dress. And just for the fun of it I used a very heavy wool flannel for View B to show you that this dress can be warm and cozy for winter, too! Imagine this view with opaque stockings and cute boots. (It was far too hot here to shoot it that way, believe me.) I'll talk more about fabric and styling ideas for this style in a separate post soon.
But meanwhile, you can pick up a copy of the Kyoto Dress in paper or in digital format. I hope you'll tag us with #lieslcokyotodress and #lieslandco so we can see what you make. As always, I can't wait to see what you do with this pattern!