I'm back with fabric suggestions and styling ideas for our new Antwerp Pullover which I introduced to you the other day right here, if you missed it.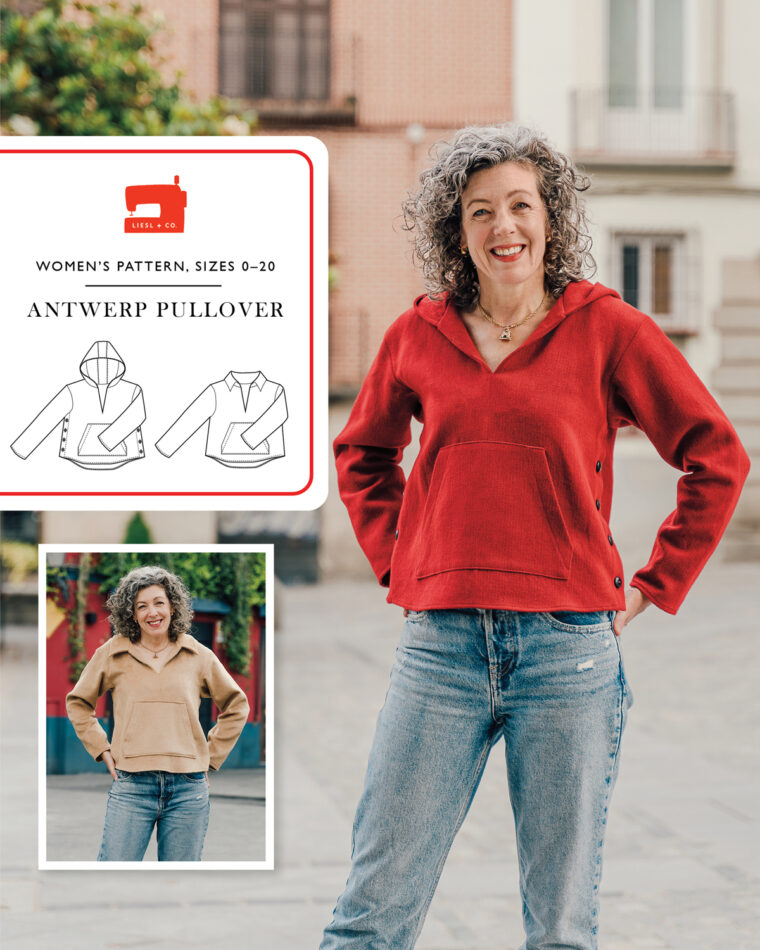 This pattern is designed for woven fabrics but it can also be used for stable knits, so it's quite versatile in terms of fabric. I'll talk more about that below.
How to wear this style? Well, it's a really easy pullover, and it looks good over almost anything! Jeans, trousers, skirts, sweatpants. You name it, it probably works–especially because of the boxy, slightly cropped shape. But of course you can also add length if you want to wear it over leggings or a swimsuit. I think it would be a really cute swim coverup in linen or in waffle weave if you want something a little cozy.
For regular wear I love it in camel or beige, which looks so luxurious.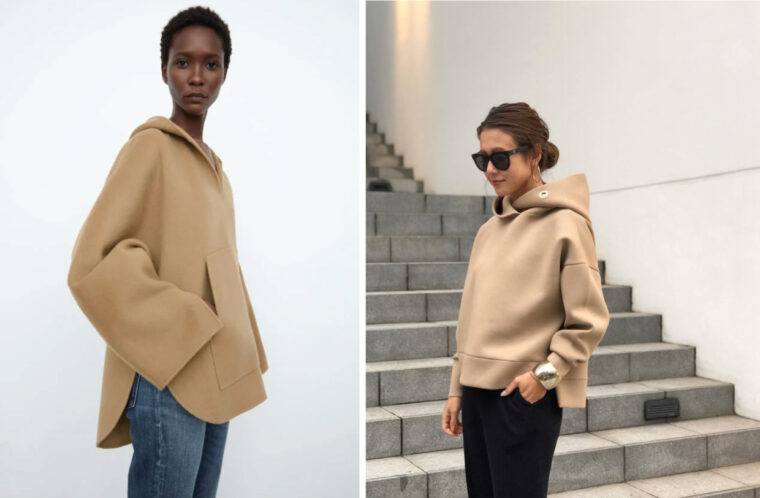 I think this one, below, must be made of waxed canvas, which would be brilliant as a windbreaker or raincoat. Love this attitude, too! And worn with a pleated skirt…. (Obviously the bike is a plus, too, but I don't care how fashion-y you are, wear a helmet, please!)
But back to that classic camel. So chic, so elegant. Layer it under a long coat or a blazer to look extra cool! I love the mix of sporty and dressy.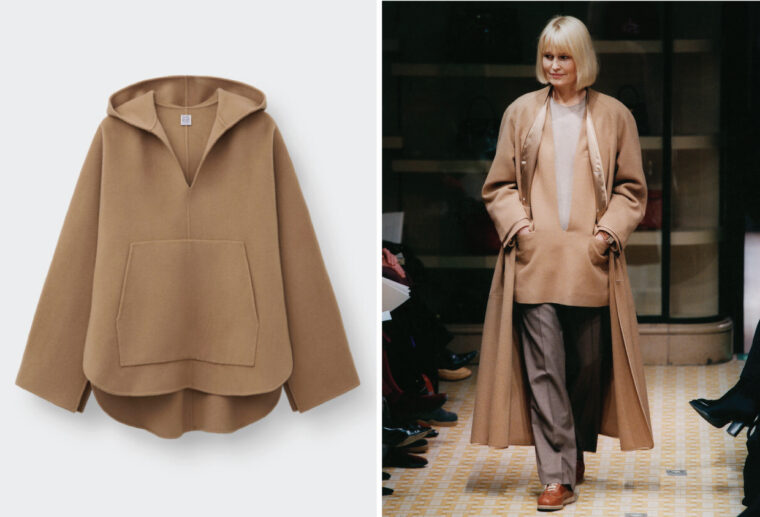 For fabrics, look for medium- to heavy-weight wools and tweeds and other heavier weights. Wool coating works great especially if it's on the lighter side. Melton would probably work well also. I'd love to try this in double-faced wool or cashmere because you could eliminate the facings and clean-finish the edges, which would be so pretty and could be really lightweight and a great layering piece. Wouldn't it be fun to wear this under a blazer?
Of course you can also use French terry or ponte, but the important thing is to have fun with texture for this style! Waffle weave would be interesting and exciting as a summer cover-up–maybe you'd even want to lengthen it for the beach to wear over a swimsuit?
What about a quilted fabric? Lyndsey pointed me to this jacquard the other day and I'm obsessed! Wouldn't that be amazing? And hey, there are the button-placket side seams, unbuttoned. See what I mean about attitude and extra volume when you open them?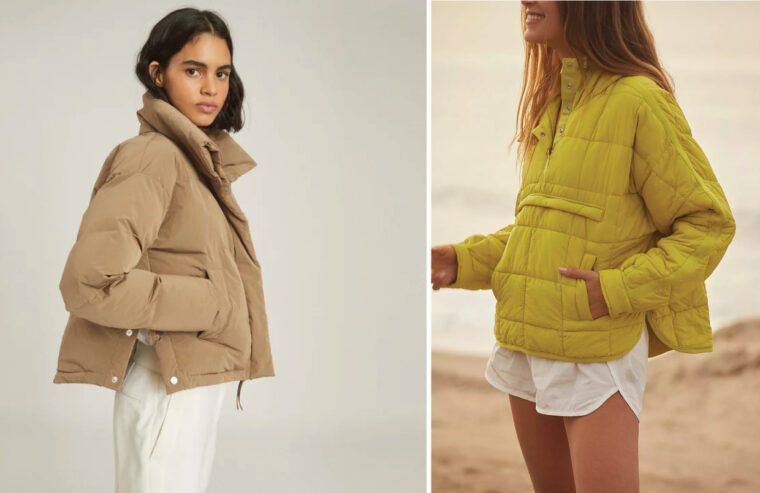 OK, you're going to ask so I'll address it now. You can absolutely sew this in lighter fabrics, too. Shirting weight? Why not? I love that contrast topstitching detail, below left. Or slightly sheer so the facing shows through. Fabulous. Why not go really sheer with organza just for the fun of it? The stiffness of the fabric would be terrific for this pattern and would really dress it up! I'd even wear something like that to the opera: can you imagine a silk organza hoodie?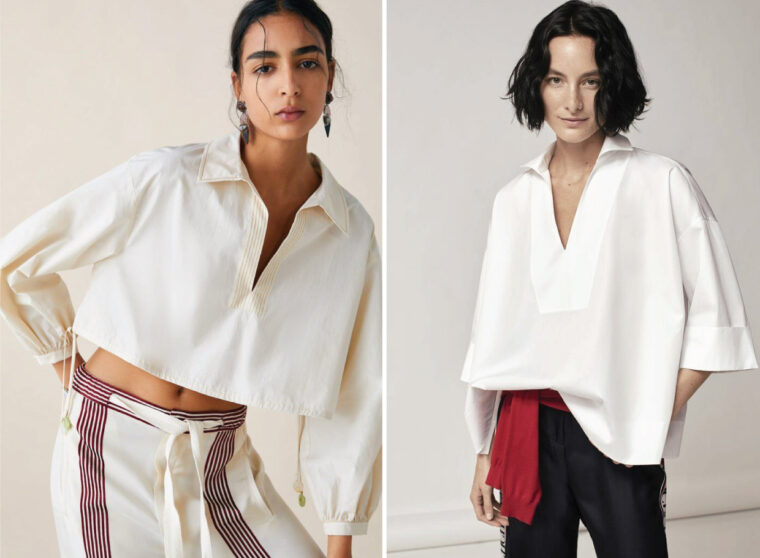 In case you're curious, for the red pullover on the pattern cover I used a wool/poly textured weave, and I think it's so much fun with the black threads in the weave. For View B I used a furry wool blend that looks like classic camel–much more traditional.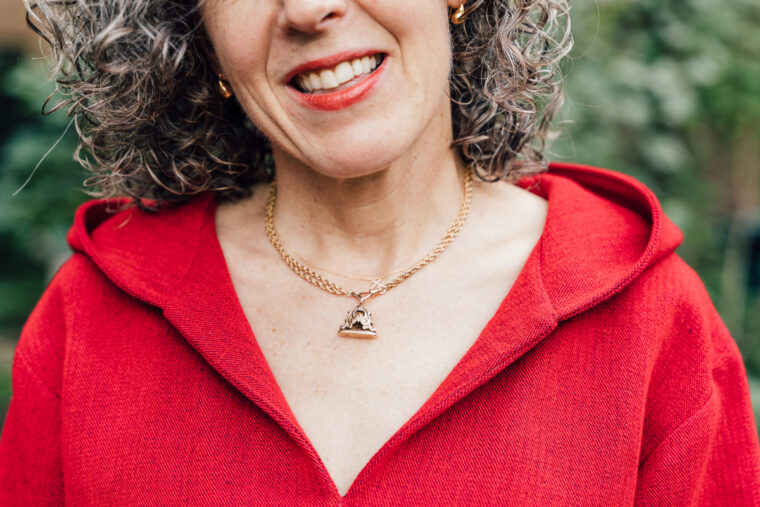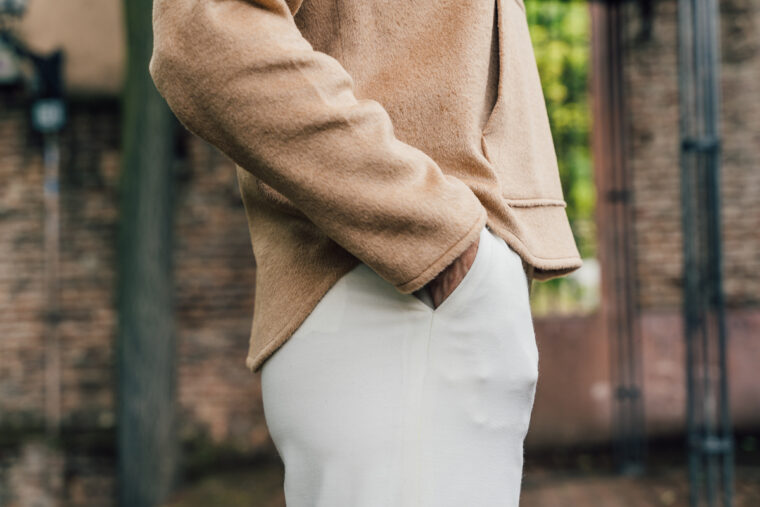 However you sew and wear it, I hope you make it your own, with your own personal style. If you want more inspiration you can also take a look at my Liesl + Co Antwerp Pullover Pinterest board for other ideas. And of course keep an eye on the blog and on our social media because we'll have lots more ideas for you in the days and weeks to come.
You can pick up your own copy of the Antwerp Pullover sewing pattern in paper or in digital format. You know I love, love, love to see what you make with our patterns, so please tag us #antwerppullover and #lieslandco so we can take a look. Happy sewing!