Hello friends!
I've been under the weather this week, but the Covid tests continue to insist that I'm negative, so who knows? In any case, today's post is shorter than usual as a result. I'm really tired of coughing.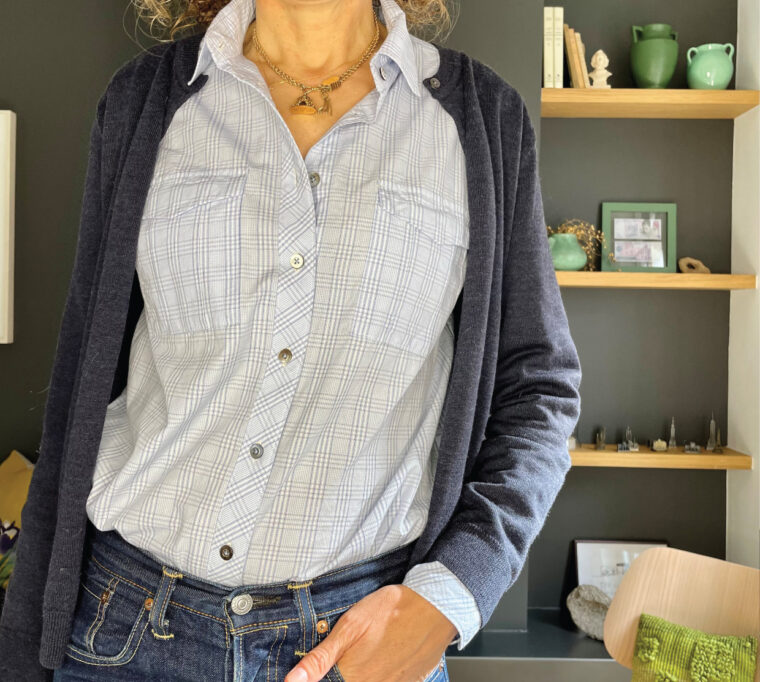 Today I'm wearing another favorite Classic Shirt, this one in a windowpane check with cuffs and button placket cut on the bias. And that got me thinking more about button-up shirts, which I seem to do a lot lately, so here we go. Again.
Pinterest Picks
I love the versatility of a button-up shirt. It looks great with jeans, trousers, skirts, almost anything. Lengthen it a bit and it becomes a tunic to wear untucked, maybe over leggings. In the summer it can be a great swimsuit coverup. It's just a versatile, classic piece, as demonstrated by these two photos I love.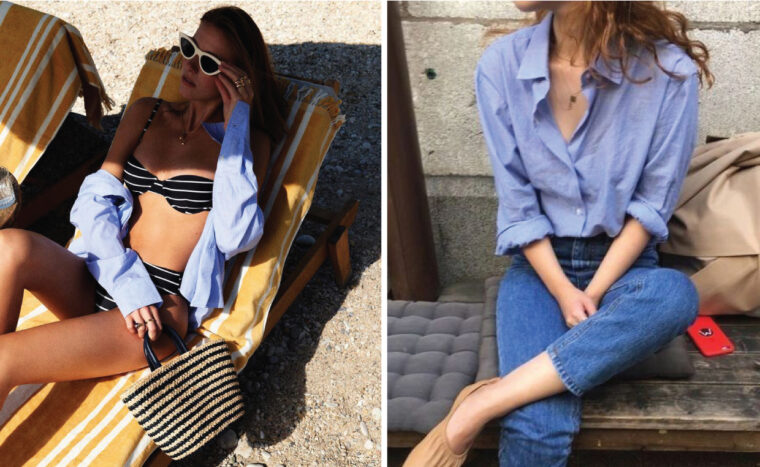 I love the back details in the photo below, left. What looks (I presume) like a classic shirt from the front has interesting blouse-like details in the back. You could use the vent from our Extra-Sharp Pencil Skirt to create the vent like the one in this photo. And if there's anything I like as much or more than a Classic Shirt it's the princess-seamed Recital Shirt, since the tuxedo pleats really elevate a shirt and make it that much more fun to dress down. (They're also a great excuse to not iron, since the antidote to those perfect pleats is to wear them all rumbled and imperfect like you picked it up off the floor when you got dressed this morning.)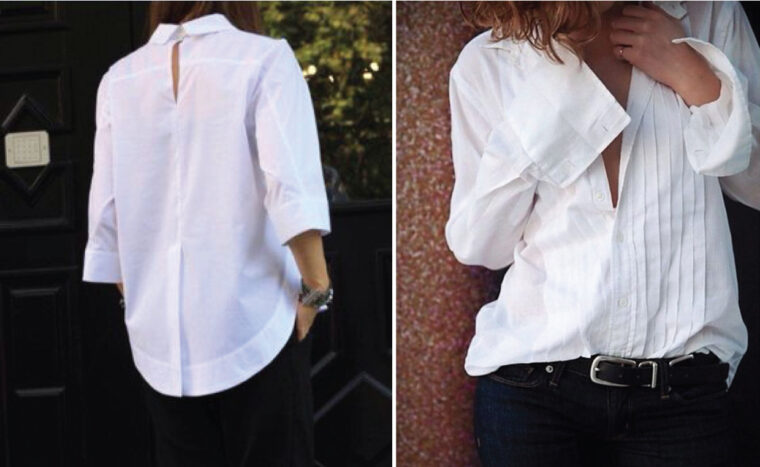 And let's not forget about the details! Maybe you'd like to try a little point at the center back of your collar, or this stunning mitered collar! All small elements that can make a huge difference and can be lots of fun to add to your sewing.

Weekend Reading
What are you sewing this weekend? I'm starting to work on fall ideas, so I'll be sewing up a few possible options and finishing a few projects I've been making for myself, hopefully to show you soon. Enjoy your weekend and we'll see you back here next week!