Did you see last week's post about ways to make the most of your sewing time? The best part of that post was all the great ideas that you left in the comments. We felt that those tips deserved their own post so that everyone else could see them, too.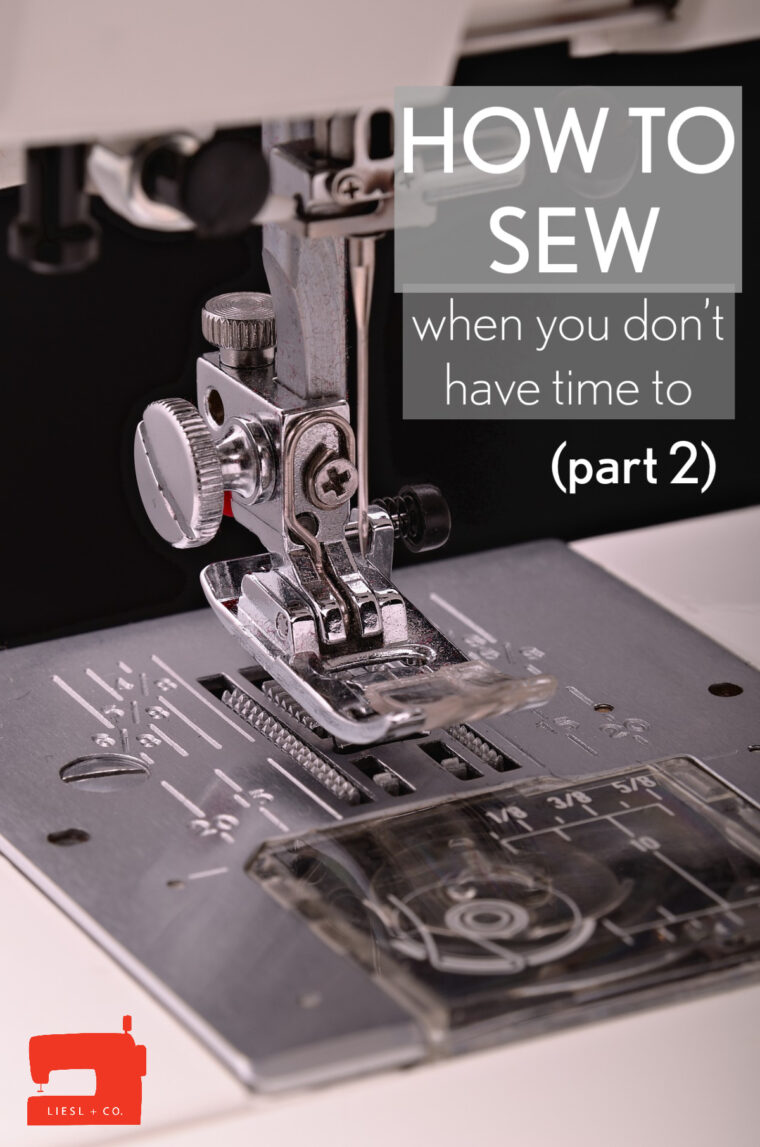 How to make the most of your sewing time: Part 2
Read the pattern envelope, cutting layout and sewing directions the evening before
"If you know in advance how to sew the pieces together, then you may be able to change the layout or alter the pieces to save fabric or time." – Rebecca
Pin pieces together in advance
"Sometimes I will pin several pieces together away from my sewing area—usually in front of the TV in the evenings. Then in the morning I can sew a seam or two even if I only have five minutes before work. It's not much, but at least I'm making some progress." – Emily
Keep the sewing machine threaded up and plugged in
"Mine currently lives on the lounge room floor with a nice white linen tea towel thrown over it during the day—and tucked behind a table. All I have to do is lift it up to sew." – Joanne.
Put down the phone
"In the 10 minutes I can spend scrolling through someone else's Instagram feed looking at what they've been crafting, I can sew a seam or cast on for some toddler socks." – Eleanor
Reuse patterns
"Next time, use the same pattern for a new fabric or modified version. I have made the Pinwheel Tunic + Slip Dress and the Seashore Sundress about 30 times and each one looks very different." – Rebecca
Set a timer
If you're concerned about spending too much time on sewing, set an alarm.
"Set a timer for 15 minutes, turn on the iron nearby and stitch 'til the timer goes off." – Joanne
Take notes
"I have a OneNote page where I list the time to cut out and sew patterns so I know I can whip up a pair of kid leggings in under one hour, including cutting out the fabric. I also list modifications or issues I had, so next time I go to sew up the pattern I know that something needed to be lengthened to 4T while using the 2T width, or that I used 18 1/2″ of elastic for the waistband." – Eleanor
Multitask
"I'll also cut out fabric on the floor of our family room while watching TV. This allows me to combine 'sewing time' with 'family time.'" – Emily
Prepare to hit the ground running next time
"Write 'next steps' on a piece of paper and include what you are doing next, e.g. 'Mark buttonholes/sew buttonholes/mark hem.' No thinking required!" – Joanne.
"I remember on an older Oliver + S video, Liesl suggested pinning the next seam ready to sew before you stop. That way, the next time you find a spare 10 minutes to sew, you don't waste time trying to remember where you were up to. Game changer." – Jamy
Make it fun
"Especially if you have limited time, make what you enjoy!" – Eleanor
Great advice, all!