Hello friends!
When we released the Marais Knit Dress + Top sewing pattern, which is designed for knits, I promised I'd show my woven version, cut on the bias. Let me give you a little background on it first.
I sewed it from a tropical-weight wool and made a full rayon lining.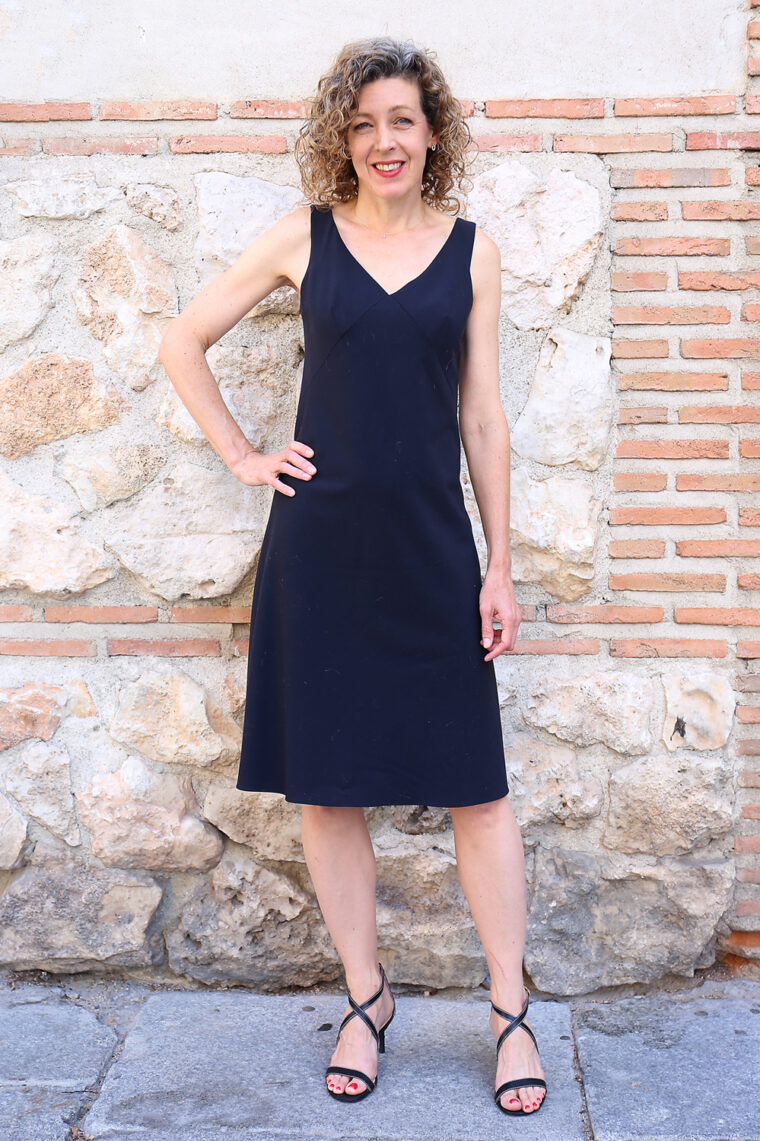 One of the challenges of developing new sewing patterns is that you can't always predict how a style will work when you conceive it. Originally I designed this dress to be for bias-cut woven fabrics. After all, I'm guessing quite a few of you are curious about working in bias!
I thought it would be fun to develop a sewing pattern specifically for a simple dress that would allow you to experiment with bias. However, from the start there were so many aspects to consider! For one, we always try to include cup sizes in our patterns to help you with making alterations to fit your own body. That means every pattern includes at least three different front bodices, which can take up a lot of space on a pattern sheet.
I wanted this pattern to be a pull-on style: First of all, no zippers, since bias is tricky enough without the stress of sewing in a zipper! However, for the fit that I wanted through the waist (not too tight, not too loose), not all bust sizes would be able to pull it on over their heads. So that was the first challenge. Then I started sewing with different fabrics, all of which have differing amounts of "give" in the bias. One fabric might stay quite tight while another would grow quite a bit when hanging on bias. So how could we ensure that you got a fit you liked when the fabric itself might differ greatly?
In the end, after a quite a few different attempts, it seemed like a better idea to offer this pattern as a knit style that can pull on over the head no matter what your cup size, since the fabric itself has plenty of stretch. Buuuuuuut, if you really want, and if you're willing to take a chance, you can still sew it in woven fabric cut on the bias!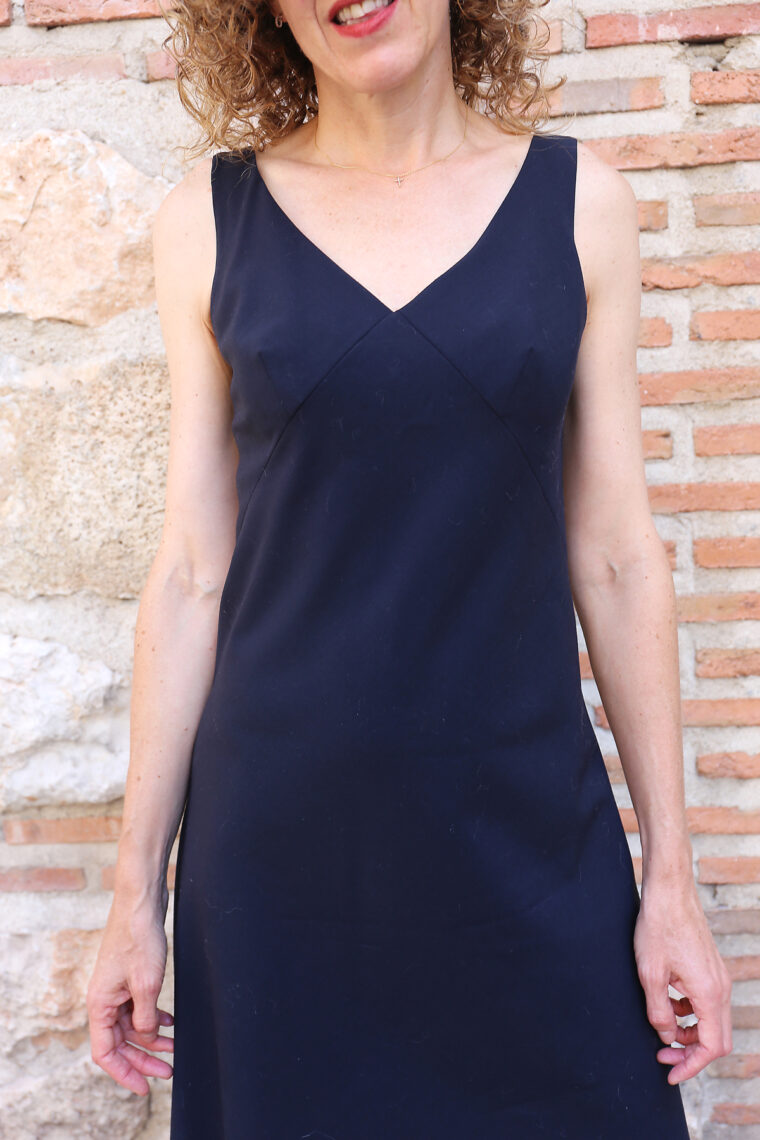 If you want to do this yourself, I would first of all suggest that you sew a size larger than your usual size, since this pattern is designed for knits and has negative ease in some places. Additionally, choose fabrics that aren't too drapey for your first attempt. The tropical wool that I used is quite stable. Silk charmeuse is a completely different animal and not for the faint of heart. Or the beginner, for that matter. Each fabric will respond differently, so keep that in mind.
Second, I would suggest that you baste the side seams when you get to that stage in the sewing. You may need to make adjustments at that point, which shouldn't be too difficult and will allow you to customize the fit as desired. Just be sure you can pull it on and off over your head before you sew the final seams!
You always have the option of adding a zipper at the side seams if desired or necessary. If you do this, I highly recommend using a stabilizer like fusible interfacing before you insert the zipper. It will make your life much easier.
Remember that working with bias means keeping your fabric as flat as possible for as long as possible. If your fabric stretches before you sew it, you'll get wavy seams that aren't really repairable. I recommend hand-basting all your edges while the fabric is flat on the cutting table, before you move it. This will act as a staystitch and will help to stabilize the fabric before you even start pinning or stitching.
You can follow the order of construction as written in the instructions or you can choose to fully line the dress as written in our Rush Hour Dress pattern. I chose to fully line mine. Keep in mind as well that the straps on this dress are very narrow, so you might prefer to hand stitch them if you line the dress. I would also recommend trying the dress on in order to pin the lining to the fabric at the armhole before you sew it; a slight shift in grain can make the entire strap torque. (Ask me how I know …)
Once you've sewn all the seams, allow your dress to hang for a day or two before you mark the hem to finish it. Bias will lengthen as it hangs, so it's best to get some of that bias working in your favor before you finish it. (I love how bias drapes on the body; it's the real advantage of all that extra work in sewing it!)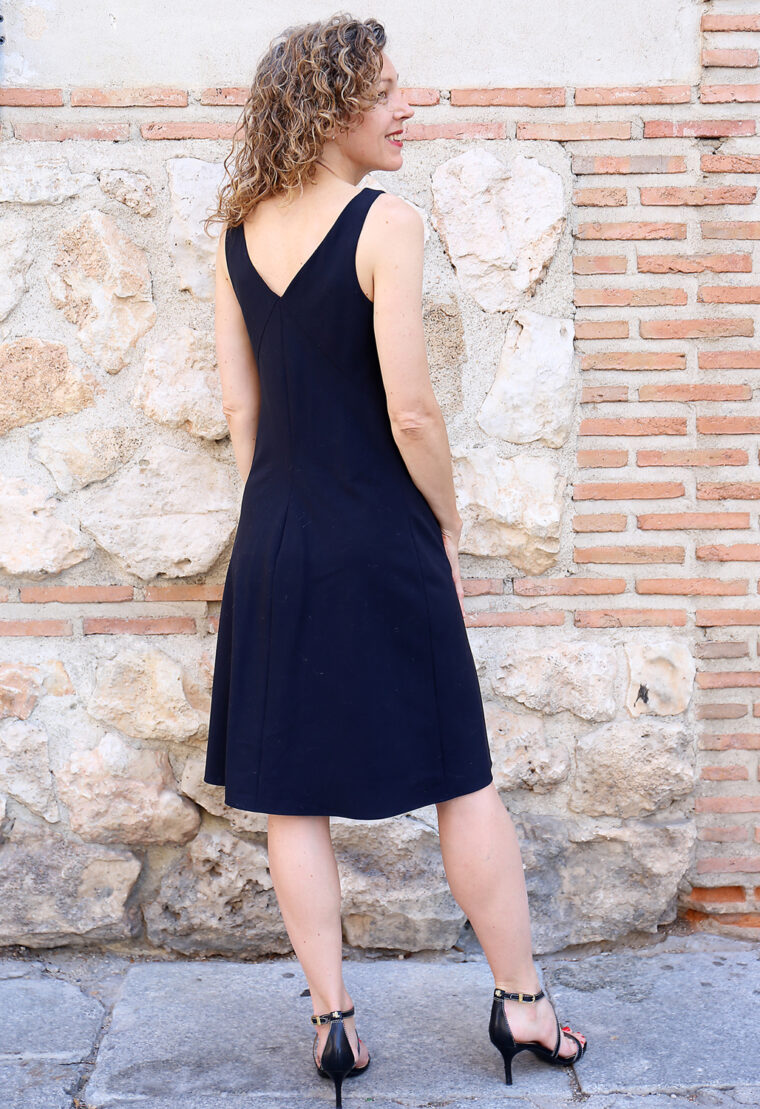 I still can't decide whether I should shorten the hem by a little bit.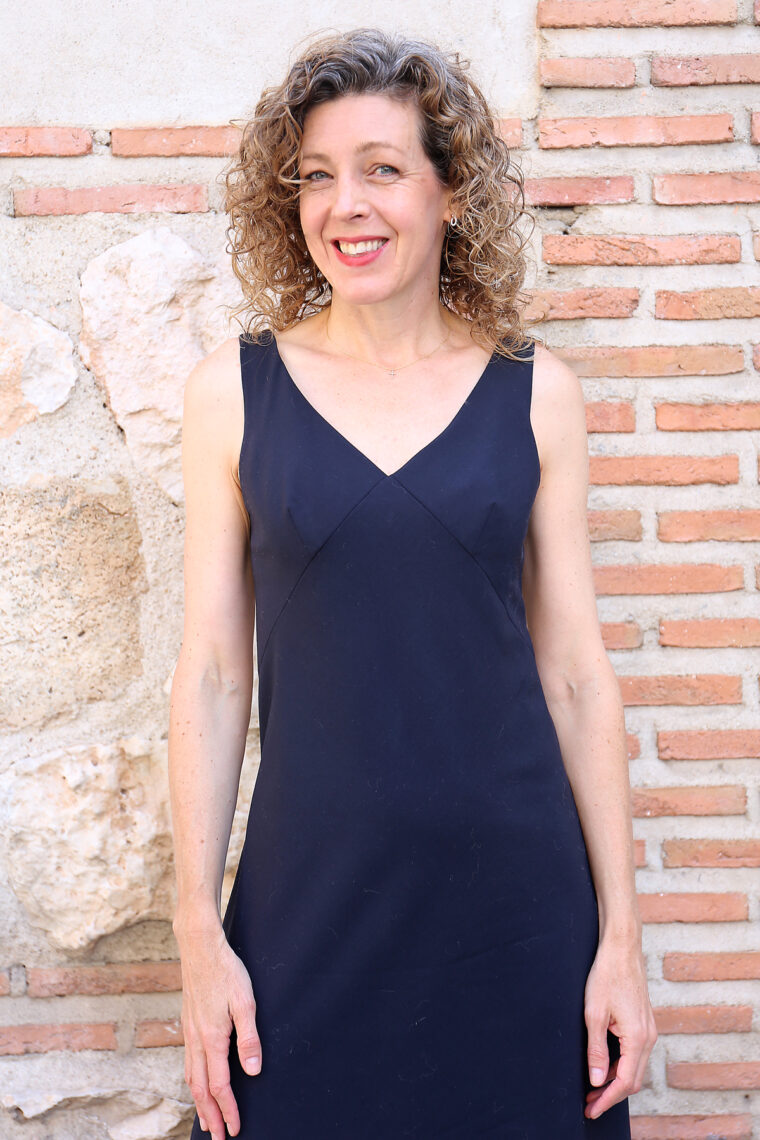 My final advice if you try this: Have fun! It's just fabric, after all, and there's no better way to learn to manipulate fabric than to try it. Relax, take it a tiny step at a time, and if it doesn't work it's not the end of the world. You'll probably learn something in the process, at least. I certainly did, just in developing this pattern!
Maybe one of these days I'll think of a pattern that will lend itself perfectly to bias woven fabric. For now, this pattern will meet you halfway if you want to give it a try. And if bias woven isn't your thing, using knit fabric will give you much more of a sure thing.
You can get your own Marais Knit Dress + Top sewing pattern right here. If you make it ,we hope you'll tag it #maraisdresstop and #lieslandco and let us know how it goes!