The beautiful red hue of this Belgravia Knit Dress stopped us in our tracks. Magda talks about her mods and fitting process in this installment of our Sew + Tell blog series.
Name: Magda
Country: Czech Republic
Where can we find you on the Internet: Blog, Instagram
Project details
Pattern used: Liesl + Co. Belgravia Knit Dress
Fabric used: I used a ponte di Roma in a gorgeous burgundy color from my local fabric
shop, Dům látek.
I have been eyeing up the Belgravia Knit Dress since its release. It's such an elegant cut, but
being made out of knit fabrics, it's also comfortable—all you could wish from an office-
appropriate dress. When I found a burgundy ponte di Roma, I knew it would look great made into the Belgravia.

I decided to make View B with the ties wrapping all the way around the waist, shortening the sleeves to 3/4 length and using the View A slit. My measurements at the time were 38 1/2″ bust, 32 1/4″ waist, and 42 1/2″ hips. So I made size 12, grading to 14 at the hips. My waist is about 3/4″ bigger than the size 12 waist, but there is enough ease in that area for it not to be a concern.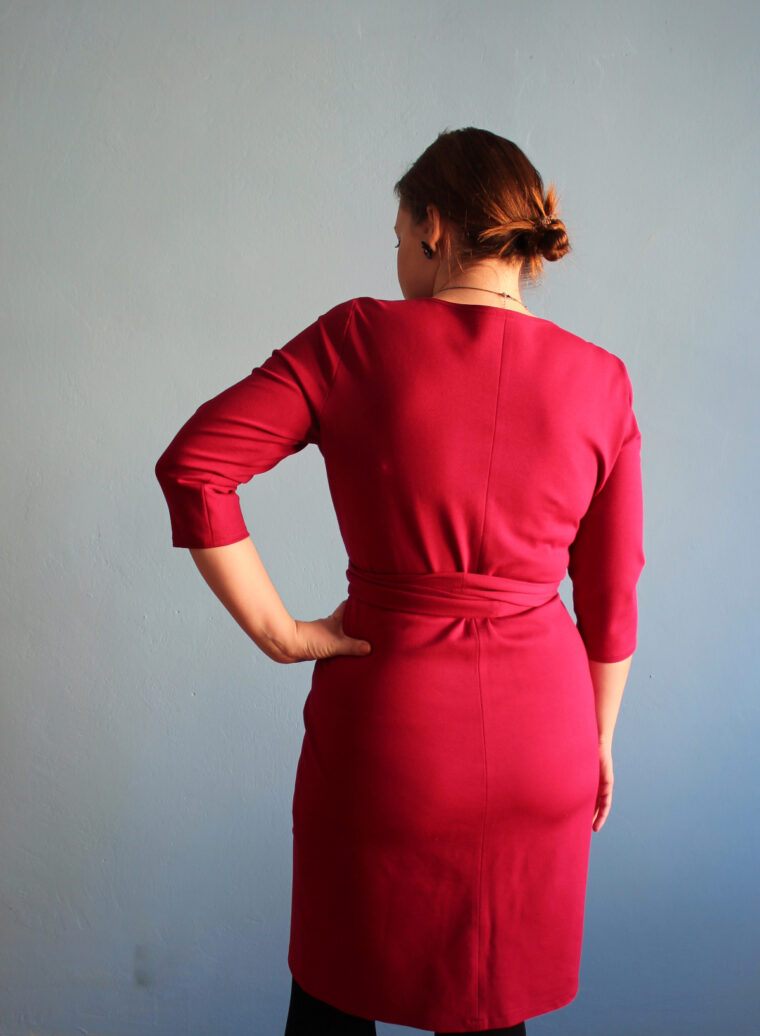 Apart from changing the sleeve length, I made a couple of other tweaks to the pattern. Before cutting, I rounded the ends of the ties slightly, and lowered the point of the V-neck by about 1 1/4″.

Once I put the dress together, it became apparent the shoulders were too wide and there was also excess fabric at the back above my waist. These issues indicated that I needed a narrow shoulder adjustment and a sway back adjustment. I usually do these adjustments, so I don't know why I didn't think of it before cutting out. So, in the end, I took the shoulder seam in by about 5/8″ and shaved off 3/4″ from the bottom of the back bodice piece (at the center, grading to nothing at the sides).

Did the fabric work well? It worked perfectly for the project. It is a medium-weight fabric,
so the dress isn't too clingy, but it also drapes beautifully, ensuring the pleats that form at
the bust and waist look great once the dress is tied.
How did the sewing go? The instructions are clear and straightforward, so it was an easy
and enjoyable sew!

What was the best part? I love the ties! They are cleverly integrated into the front bodice
pattern piece, which adds interest when constructing the dress. More importantly, they work
so well to create a beautiful fit around the bust and waist once you tie them. I will definitely
make another version of this pattern. I think it would look fab as a top as well!