The new Easton Cowl-Neck Tee is an elegant take on that humble wardrobe staple: the knit t-shirt. Several of our advisors sewed it up, and we rounded up their makes into this post chock-full of DIY drapey neckline goodness. Mire even made hers in two different size combinations to test fit, which we know will be super-useful to the fit nerds among you.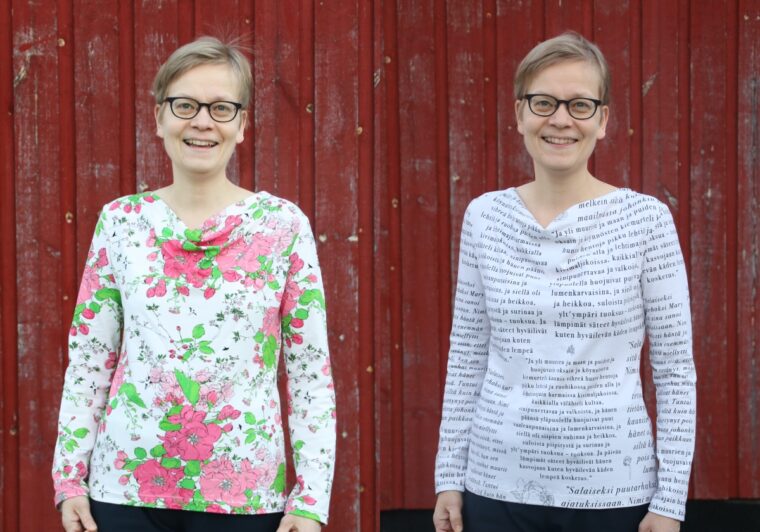 Mire says:
This pattern includes separate pieces for A/B, C, and D cup sizes. To determine cup size, subtract your high bust measurement from your full bust measurement. Up to 2" difference is A/B cup and 3" difference is C cup. As the difference between my full bust and the high bust is exactly 2″, I wondered which cup size would fit better: A/B cup or C cup. (My measurements, which put me in a size S, are: full bust 34 1/2", high bust 32 1/2", waist 27", hip 37". )
Sewing tees is quick, easy and fun and I have lots of jersey knits in my stash, so I decided to sew size S with A/B cup and also size XS with C cup to see the difference between those two sizes.
I chose to use a single jersey knit for both tees. The cowl-neck tees work best with drapey knits but I didn't have any lightweight knit fabric in my stash and I decided to use the fabrics I already had. Next time I will use fabric which has more drape than the fabrics I used.
I didn't make any alterations for size S. For size XS I graded the hips to size S. Both tees turned out great. As you can see, the tees are wearable but I prefer size XS (on the right) to size S (on the left). The shoulders of the size S are a little too wide for me. These both tees are great layering pieces under cardigans and they are much more elegant than t-shirts. This is a style of top that can be dressed up or down based on the fabric used. I plan to make a third one using merino wool knit.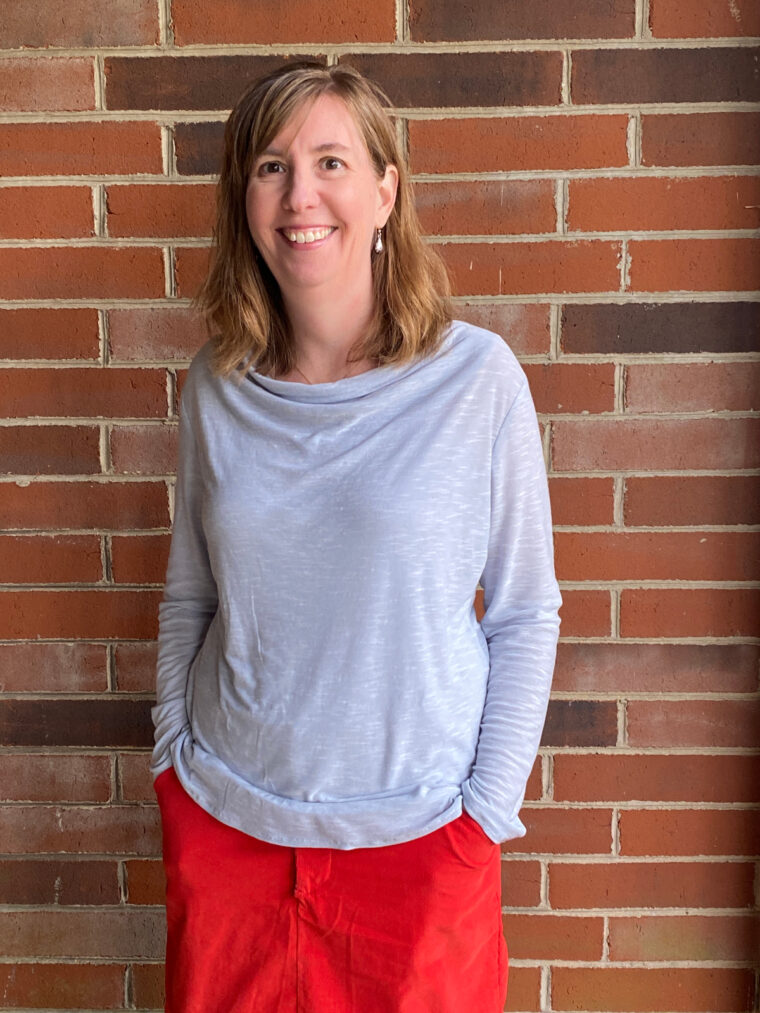 Aimee says:
This pattern was honestly the most fun I've had sewing a garment in a long time. As soon as I flipped those seams around for the neck I was like, "Wow, this is magical, how it all comes together!"
This is a super-easy pattern to sew, but it makes you feel like you've sewn something super-tricky, just because of the cowl neck. This one is going on repeat for sure in my wardrobe.
I am 5'6″ and I sewed a size M with A/B bust. It is almost a perfect fit for me. The fabric is a pretty thin rayon knit that I had in my stash and it was perfect for this.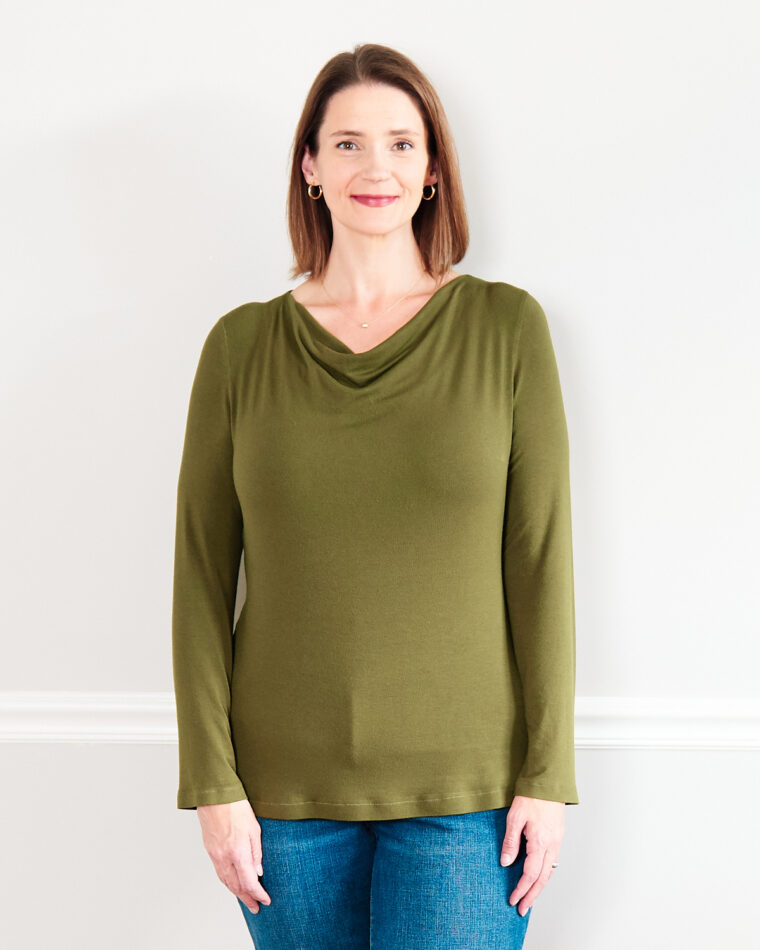 Lyndsey says:
For my Easton Cowl-Neck Tee, I used a drapey jersey from my stash that I had also used for my Belgravia Knit Dress. I think the fabric is a bamboo knit, but I'm not entirely sure.
I wanted a fabric with a lot of drape and a lot of stretch, and this one checked all the boxes! Plus, I love the color! Working with such a drapey knit fabric can be a challenge, but in the end I got the look that I wanted. I envisioned a tee that would go great with jeans for a casual weekend look and that I could dress up for work. Goal achieved!
I sewed View B with long sleeves and a back facing. I really loved the facing detail on the Maritime Knit Top, so I knew I wanted to sew that option on this pattern. I sewed long sleeves for my first version, but I will probably shorten to a 3/4-length sleeve for future versions. I measured a size M with D-cup in the bodice and graded out to the size L for the waist and hips. I love how it turned out! I'm already planning another version in a cream colored ITY knit fabric for office wear!
What about you? Are you planning to sew this pattern? When you do, don't forget to share with hashtags #eastoncowltee and #lieslandco.