We didn't recognize Beth's skirt as the Everyday Skirt when we first saw it on Instagram. Not only did she extend it to maxi length, but she made it in a jersey knit. Read on to see how she did it.
Name: Beth Van
Country: Chicago, Illinois.
Where can we find you on the Internet? Instagram
Project Details
I have to start with a confession. I only own four skirts and three of them are versions of the Everyday Skirt pattern. That probably tells you right away how I feel about this pattern! It is such a satisfying project to sew and is an easy, flattering, versatile garment to wear, just like the name suggests.
For my first two versions of this pattern, I used stable, mid-weight cottons, as suggested. For my latest version, I decided to bring to life an idea that I had in mind for quite a while: a midi or maxi length Everyday Skirt.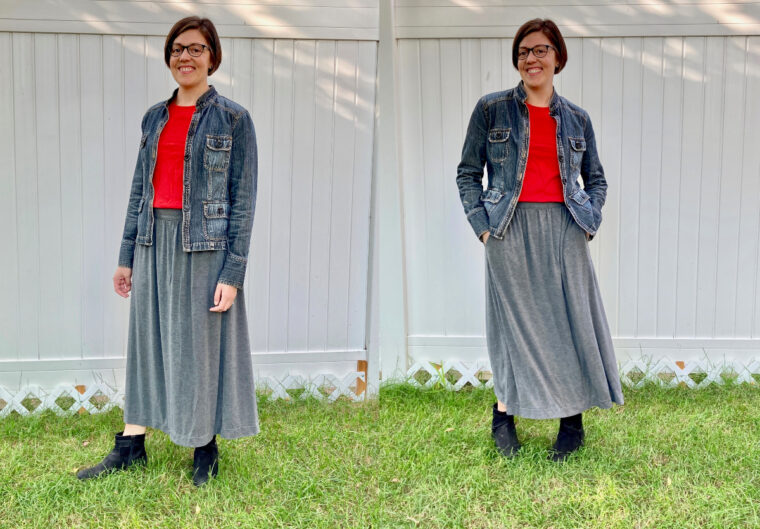 I didn't just want a longer skirt. I also wanted it to be made from comfy, swishy jersey knit. Jersey knits behave very differently than woven cottons, but I was fairly confident that my idea would work.
Pattern used: Liesl and Co. Everyday Skirt
Fabric used: Bamboo jersey knit
Did the fabric work well?
I am very happy to report that the Everyday Skirt works well when made in jersey knits! If you are not comfortable sewing knits yet, I would not necessarily suggest this as a first pattern to try, but if you are experienced sewing with knits, you are not likely to run into any difficulties.
I sewed my usual size rather than sizing down, as is often recommended when modifying a pattern for knit fabric, because I wanted to preserve the fullness of the gathers.
I made minor modifications to deal with the heavier weight and drape of the bamboo jersey knit:
The first change I made was to shorten the elastic in the back waist casing by about one inch. I did this because the weight of the longer, heavier fabric was pulling the skirt down my waist when I used the recommended elastic length.
I used one length of 1″-wide elastic instead of two parallel lengths of 1/2″-wide elastic, as the pattern calls for. This was not an intentional design decision. I used wider elastic because that was what I had on hand in my stash. I don't know if this change had any effect on the fit, but I thought I would mention it.
My final modification was to spread out the back waistband evenly over the elastic and tack it in place at the center back. I did this because, when I first tried on my skirt, the gathers in the back didn't distribute themselves evenly. Dividing the back waistband into two sections has helped prevent the gathers from bunching up too much on one side or the other.
How did the sewing go?
Sewing the Everyday Skirt pattern has been a pleasure each time I have made it! The pockets, side panels and construction of the waistband add interest, without making it too challenging to sew. I would highly recommend this pattern to both beginner and experienced seamstresses.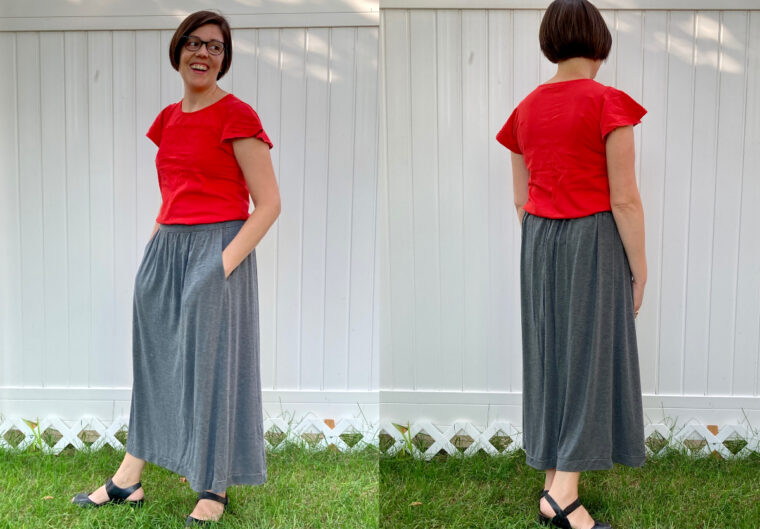 If you are new to modifying sewing patterns, this would be a great one to start with, too. I found it very simple to lengthen this pattern and still achieve the look I was after. I simply added about 10″ to the overall length of the side, front, and back skirt pieces. On the side panels, which are angled, I continued the pattern at the same angle, which means that the hem circumference of my longer skirt is also larger than the original. This worked great in such a drapey knit, but it may not be a desirable characteristic in a stiffer fabric.
What was the best part?
Putting it on as soon as I had snipped the last thread tail was the very best part of sewing this pattern! Once I got started on this project, I knew I had to finish it as quickly as possible. I probably wore this skirt three or four times before I even got a single photo because it kept going straight from the washing machine to being worn. The Everyday Skirt pattern and my newest version of it are wardrobe staples that I know I will make and wear over and over. I have even chosen this garment for the Ways to Wear It challenge!