Gemma's wardrobe of colorful Everyday Skirts caught our eye on Instagram. A British expat living Asia, she sewed her first two skirts from the pattern a few years ago and hasn't looked back. When you see the stunning garments she's created, it's easy to see why this is her favorite pattern.
I'm Gemma Payne, a Brit in my mid-40s, currently living and working in Beijing with my husband and our two daughters. I'm a teacher who has also run my own sewing business.
Like many people, I've always sewn on and off. Sewing is the perfect creative outlet, with unique, one-of-a-kind outfits or homewares as the reward.
In August 2016, My family and I moved to Almaty, Kazakhstan, which has quite a home sewing scene. I enjoyed shopping in the fabric and notion shops and was able to buy and service a sewing machine and overlocker easily and cheaply.
It was there that I first sewed the Everyday Skirt, which has truly become a tried and true sewing pattern.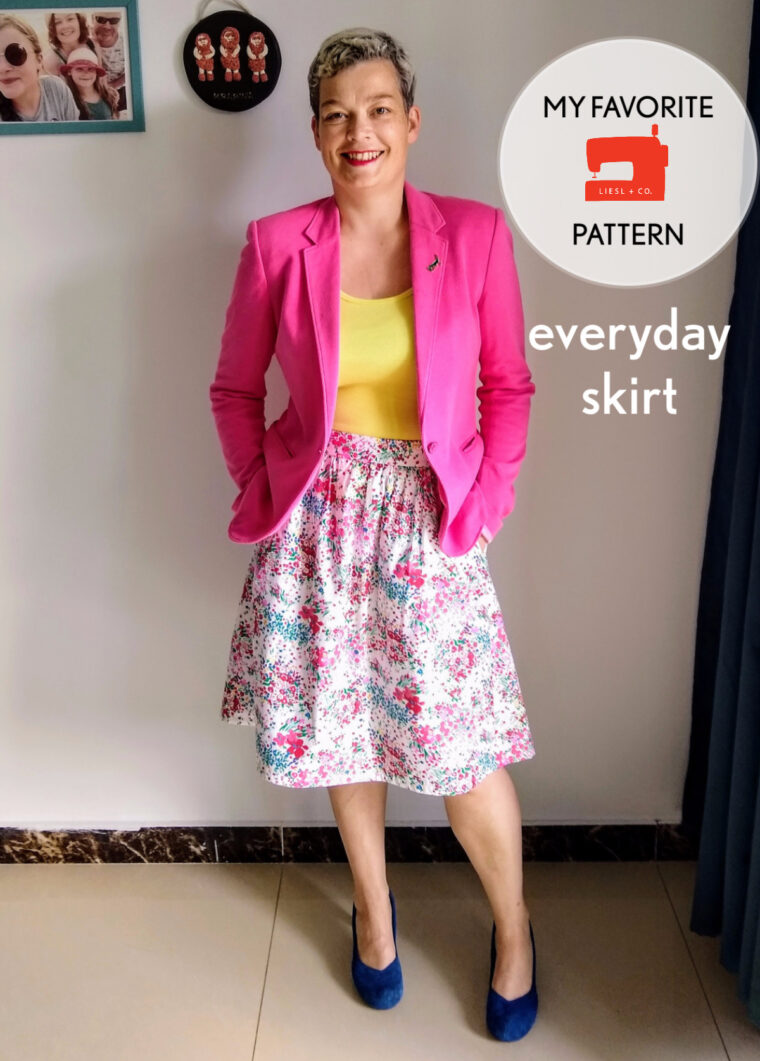 For my toile, I used a very cheap, synthetic, lightweight fabric with a floral and purple ladybird print that I bought in Almaty's famous Green Market.
My measurements put me in a medium and no adjustments were needed. I'm pretty short, 5'4″, and the length is perfect for me. I made a matching top so I can wear it as a faux dress or mix and match the pieces.
The headless shot is the only photograph that I have of my second Everyday Skirt. I made it out of a lovely heavier weight cotton floral print that I bought in a fabric shop in Almaty and I've no idea where the skirt is now. I'm hoping that it is in storage in England as I really miss it.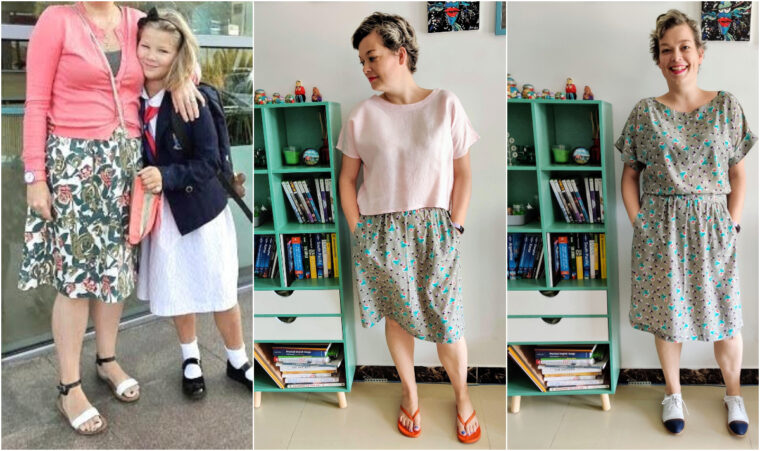 I have always had a soft spot for knee-length gathered skirts with pockets. After having children, I wanted something with a bit more of a flattering shape, especially around my tummy. What drew me to the Everyday Skirt was that it has a flat waistband at the front and is elasticated at the back. I think this is more sophisticated than a full elasticated waistband but with the same level of comfort. It is also quicker and easier to sew than a fixed waistband with a zip or button enclosure.
The skirt is classed as a beginner pattern, but it is not a basic gathered skirt by any means. The side panels that give the skirt a flattering, almost A-line shape. And of course, pockets are a must! These are the perfect depth.
The instructions are very clear and the level of finishing meant that, even as an experienced sewer, I learned a different construction method for the back elastic waist.
We've lived in Beijing in August 2019. Five months later, Beijing Municipality declared the highest level of public health emergency and our world (and everyone else's) changed forever thanks to COVID-19.
Sewing, without a doubt, kept me sane and gave me something to do that took my mind off the uncertainty of it all. I sewed up a storm (a whole new wardrobe!) including three more Everyday Skirts that I had previously cut out but hadn't got round to sewing up.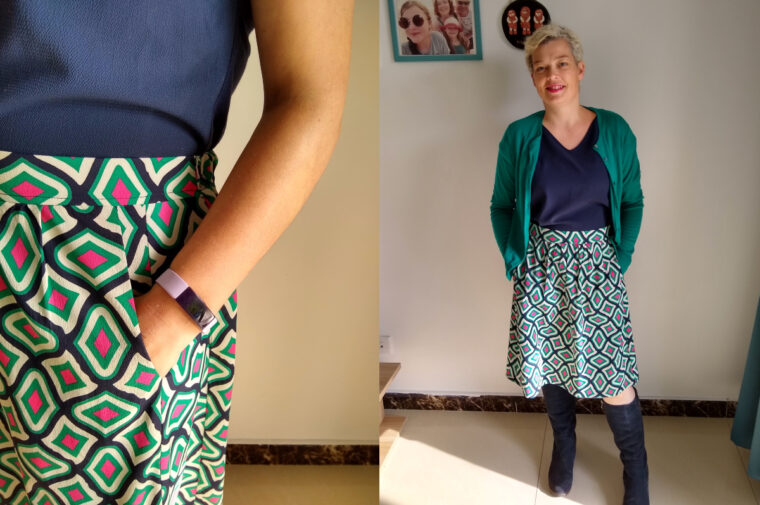 This is perhaps my favorite Everyday Skirt. I just love the drape and print of the fabric, an Italian synthetic crepe I bought in Almaty that doesn't easily crease and is the perfect weight. It's definitely a case of the right fabric for the right pattern. The skirt is a great addition to my work wardrobe.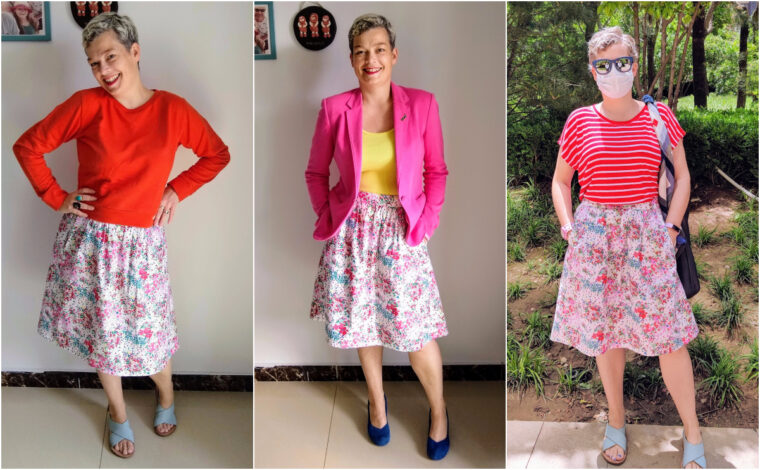 I used a very lightweight sprig floral print cotton fabric, also from Almaty, for this skirt. It was a bit too lightweight to wear as a skirt, so I added a layer of white muslin to each pattern piece and sewed them up as one fabric using French seams throughout. It is the perfect skirt to wear during warmer weather and goes with so much of my existing wardrobe.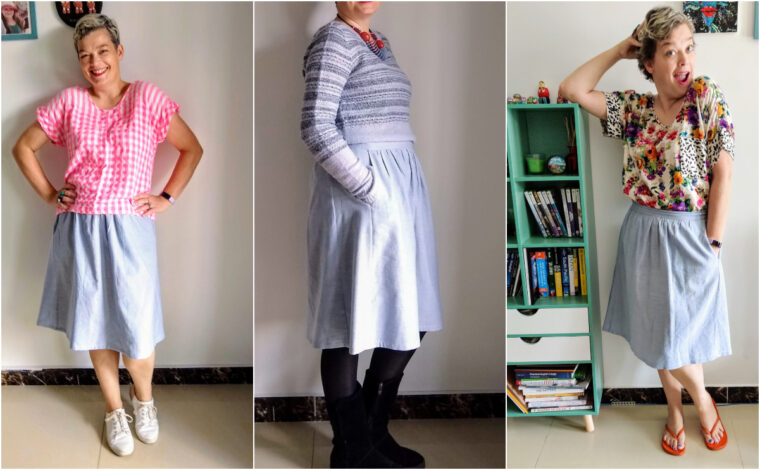 I made my final version out of a large, pale blue handwoven cotton shawl that I bought in Siem Reap, Cambodia, in 2017. The texture of the fabric is beautiful and by chance, the perfect match to a much-loved wool jumper. Together with thermal tights or leggings, it means I can continue to wear the skirt during the cold Beijing winters.
I haven't been inside a Chinese fabric shop yet, but it is so easy to shop online in China. With so many beautiful fabrics produced here, my fabric stash is looking very healthy at the moment. I will need to audition some of my light and medium weight fabrics to make a few more Everyday Skirts. Find me on Instagram to see what I choose for Everyday Skirt #6!