The Roller Skate Dress + Tunic may not be the first pattern that comes to mind when sewing for a special occasion. Jessica was able to create a stunning satin dress by thinking outside the box, and she's here to talk about it in our latest Sew + Tell post.
Name: Jessica Malcolm
Country: Australia
Where can we find you on the Internet? Blog Instagram Facebook
Project details
Link to your project
Pattern used: Roller Skate Dress
Fabric used: Satin
Did the fabric work well? Yes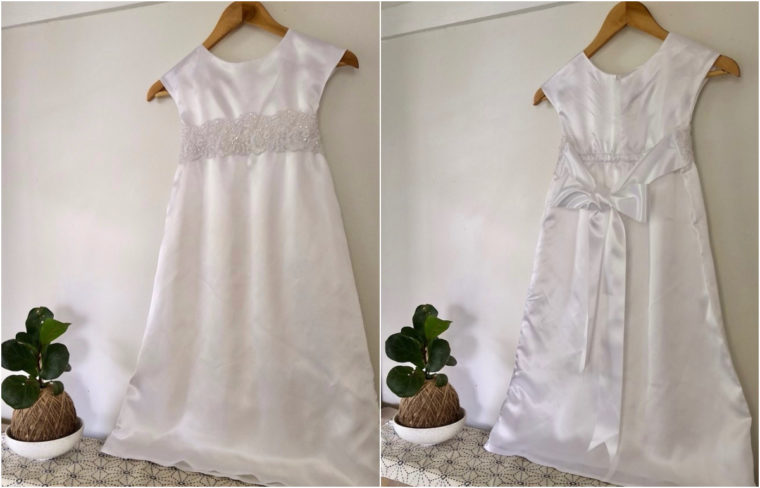 How did the sewing go?
My beautiful niece was getting baptized and my sister asked me if I would make her a baptism dress. I knew right away I would use an Oliver + S pattern, and settled on the Roller Skate Dress.
It's such a versatile pattern. I've used it many times for casual dresses, but because it's fully lined, I knew it would also be easy to make it work for a more formal dress.
I went with view A and made the whole dress from satin, with a white acetate lining. The only modification I made was to lengthen the dress, from the hem, by about 8″.
To finish, I measured out some beaded trim and attached a satin ribbon to each side, as I wanted to create a bow at the back.
I then sewed the trim and ribbon onto the dress by stitching in the ditch over the trim/ribbon join at the side seams of the dress.
A few hand tacks through the trim ensured it stayed in place, with no sagging, and finished the dress.
What was the best part?
The best part about this pattern is how well-drafted it is! I know when I sew with an Oliver + S pattern, that I'm going to get a beautiful finish (and learn something, too).